This vegan pancake recipe unites breakfast and dessert, and as expected, it's beautiful: apple-pie-flavored pancakes topped with Lotus Biscoff biscuits and dairy-free ice cream (although the toppings are entirely your call).
You'll need a bowl, a pan, and about 30 minutes. You can use any vegan milk option you like – oat, soy, cashew, almond, and coconut will all work. Just go for an unsweetened and non-barista version to avoid sweetness overload (but again, your call).
This recipe makes two servings. Just double the ingredients to make four portions!
Pancake topping ideas
Apple puree
Biscoff cookie crumbs
Vegan ice cream or yogurt
Maple syrup (obviously)
Whatever your mind and stomach can imagine
Make your own apple puree
This recipe calls for vegan-friendly apple puree. Try making your own using this simple recipe. Otherwise, you can use a store-bought version.
You'll need around four standard eating apples (any kind will work).
1. Core the apples and chop them into 2-3cm pieces. You can keep the skins on if you like, you'll just need to do one final blend at the end.
2. Put the apple pieces in a pan with a splash of water. Cook on medium heat for about 10 minutes. They should start to cook down and get mushy. If they get too dry at any point, just add a bit more water.
3. After about 10 minutes, you should start to get a thick puree
4. Allow to cool and then blitz in a blender until you get a smooth consistency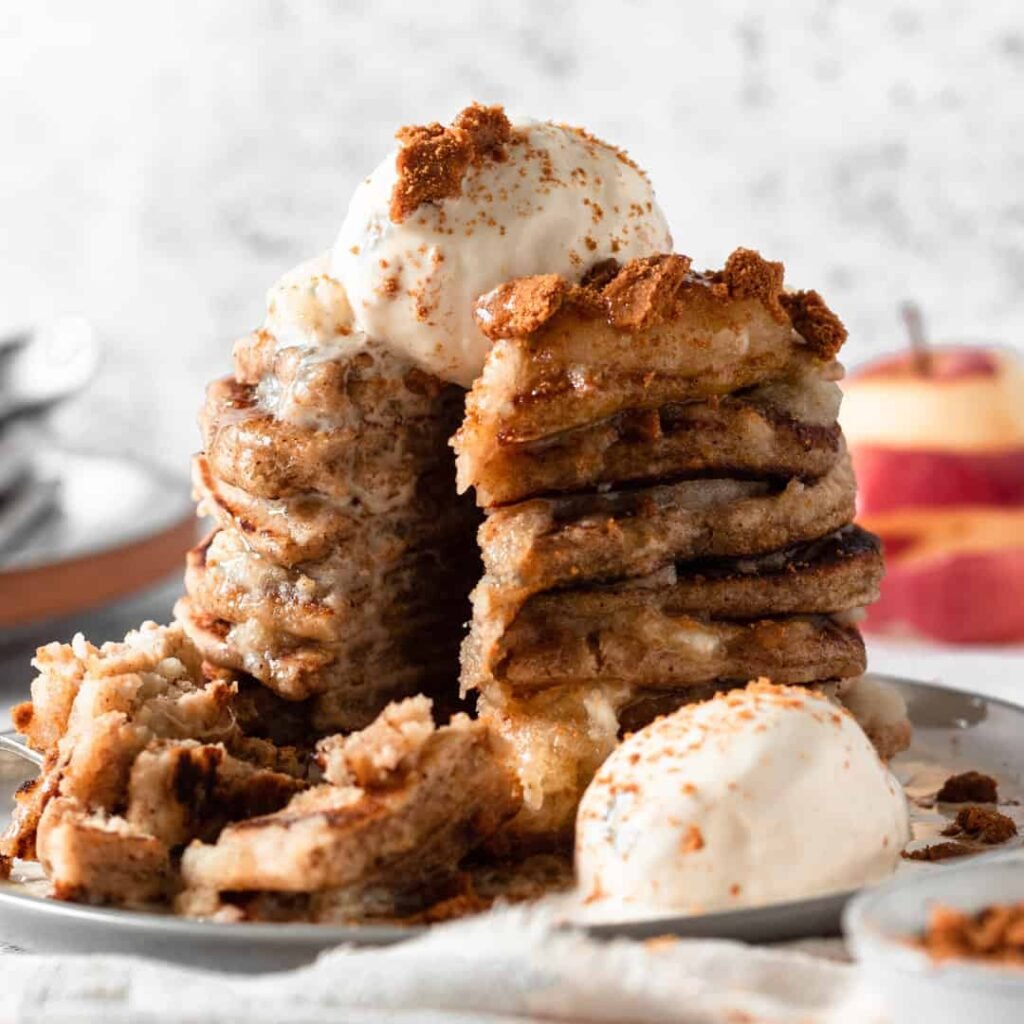 What if you don't have…
White self-raising flour. If you only have plain white flour, add an additional teaspoon of baking powder to the flour. The same goes for using a gluten-free flour, like buckwheat.
Coconut flour. This can be swapped for the same quantity of self-raising flour, but you might need a little less milk, as coconut flour is more absorbent than regular flour. Alternatively, you can swap it for oat flour, which you can make at home by blitzing rolled oats in a blender for around 15 seconds.
Olive oil. Similar oils like avocado or macadamia nut oil will work well, or even coconut oil if it is melted.
Maple syrup. Maple tends to be more subtle, but any liquid sweetener will work.
How to store
These vegan apple pie pancakes are best eaten as soon as they are made, but will store in an air-tight container in the fridge for a day or so. Just place them in the oven at 160°C for 10 minutes to warm through.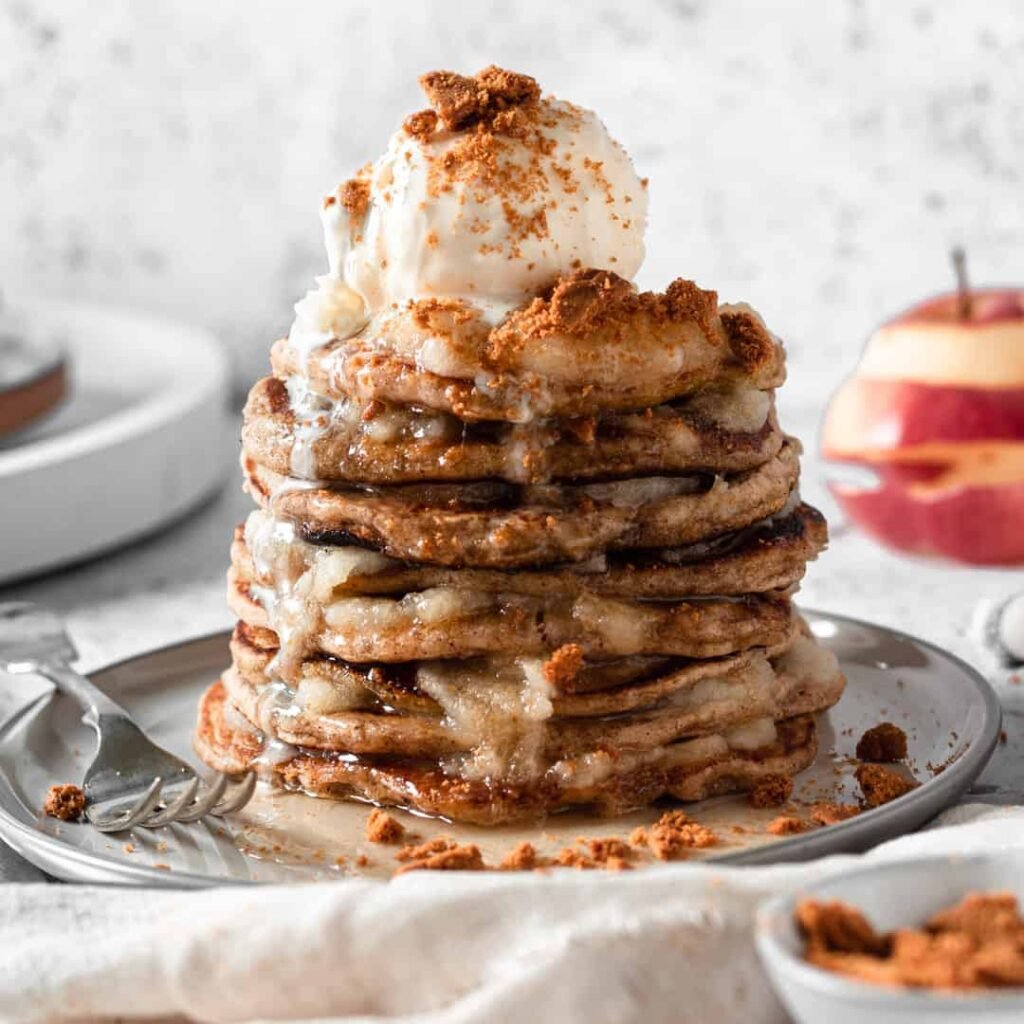 Ingredients
Dry
170

g

self-raising flour

30

g

coconut flour

1

tsp

baking powder

1.5

tsp

cinnamon
Wet
250

ml

dairy-free milk

2.5

tbsp

apple puree

1

tbsp

maple syrup

1

tbsp

olive oil
Toppings
apple puree

2

Biscoff biscuits

crumbled

vegan vanilla ice cream
Instructions
Place all of the dry ingredients in a bowl and combine together

Add the wet ingredients to the dry ingredients and stir lightly to create a pancake batter (you are aiming for a thick yet spoonable batter than you can pour)

Heat a non-stick pan over a medium heat with a little olive oil

Using an ice cream scoop (or similar), add a spoonful of batter to the centre of the pan, cooking one pancake at a time (use the back of the scoop to spread out the batter and shape into a disc). You are aiming to get 8 pancakes out of the batter

Cook for 1 – 2 minutes on each side until golden (you will know when they are cooked as you'll start to see bubbles forming on the top of the batter)

Stack the pancakes onto a plate as you cook them and cover to keep warm

Once the pancakes are all cooked, layer apple puree between each pancake to create an epic stack and top with crumbled Biscoff crumb and vanilla ice cream
This recipe was republished with permission from For The Utter Love Of Food. You can find the original recipe here, and follow the creator on Instagram here.
More like this: