If you're on the hunt for vegan dessert ideas that are simple, quick, and don't require too many ingredients, this easy strawberry galette recipe should be right up your street.
It's easy, dairy-free, and uses all plant-based ingredients, so it's an ideal addition for your next vegan dinner party.
A galette is a term typically used in French cuisine to denote foods with a pastry base. They can be sweet or savory, and often contain either fruits or vegetables as their fillings.
This one features strawberries, which are widely available in many countries, and are thought to offer a number of health benefits. As well as being rich in vitamin C and fiber, the fruit also contains manganese and potassium. A recent study found that strawberries may help to improve cognitive function and heart health.
What is vegan whipped cream?
This recipe, which comes from Viva!'s Vegan Recipe Club, also contains vegan whipped cream. Whipped cream is a hugely popular addition to many desserts, but it's typically made from dairy.
In recent times, however, demand for vegan dairy products have skyrocketed. It's now easier than ever to find dairy-free whipped cream in the supermarket, or you can make if yourself at home. This recipe contains instructions on how to do the latter.
Vegan Strawberry Galette Recipe
As well as being delicious and sure to impress any dinner party guests, this dessert recipe is also easy to make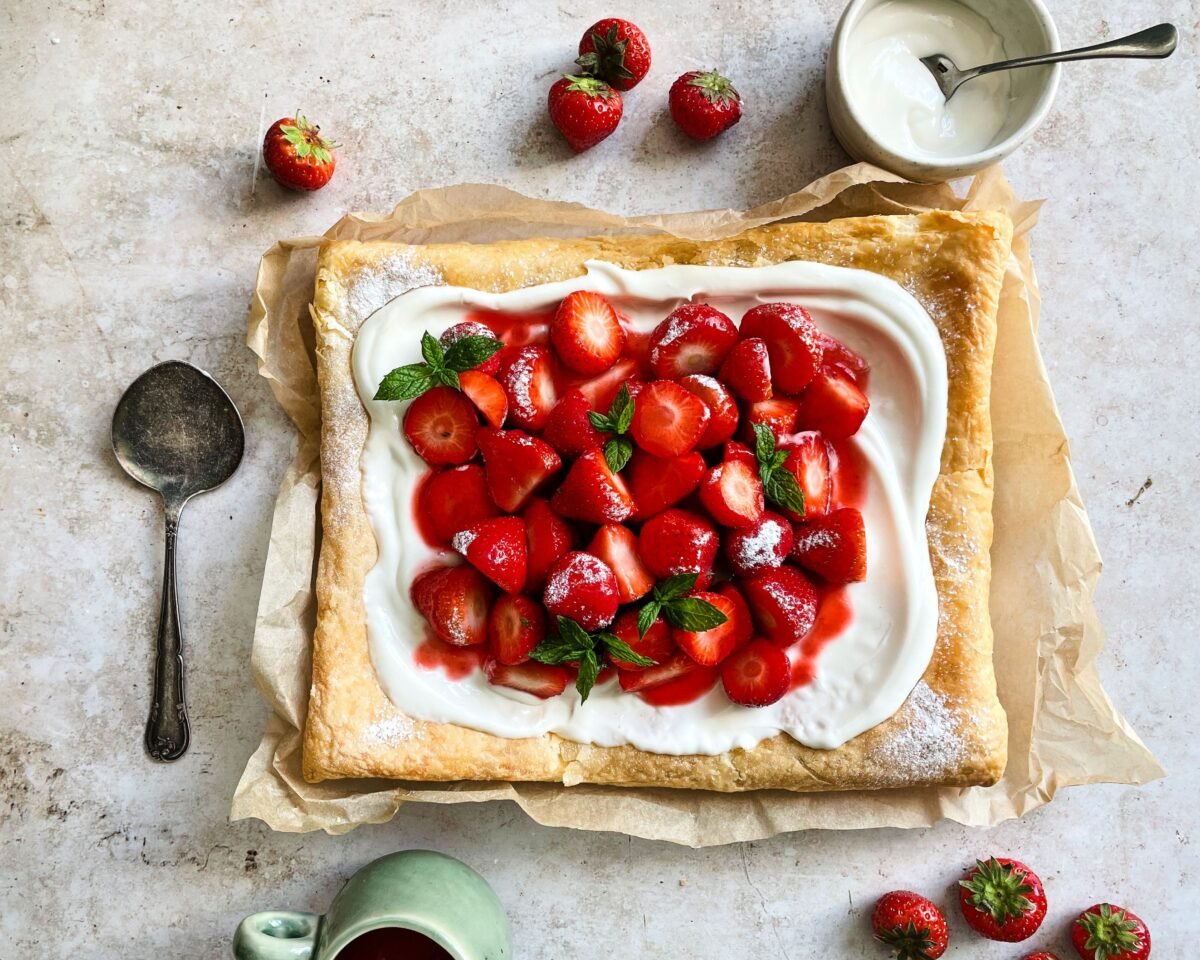 Ingredients
300

ml

unsweetened soy milk

250

g

odourless/culinary coconut oil (you can use regular if you want a coconutty taste)

melted

150

g

icing sugar

sieved

1

tsp

vanilla extract

zest of

half

a lemon

finely chopped (optional)
Strawberries
1

kg

fresh strawberries, hulled

if you leave them whole they look prettier but halving or quartering them makes them much easier and nicer to eat

4

tbsp

icing sugar

sieved
Pastry
320

g

ready-to-use vegan puff pastry sheet

Optional decoration: chopped nuts, dusting of icing sugar, edible flowers, fresh mint sprigs
Instructions
Cream
Heat the plant milk in the microwave (or on the hob for a little longer) for around 30 seconds to a minute (you want it to be warm but not hot)

Pour the heated plant milk and melted coconut oil into a high-speed blender and blend for around 1 minute

Place the mixture in the fridge for a minimum of 3 hours or overnight

Transfer the mixture to a large bowl and use an electric hand whisk or place in the bowl of a stand mixer with whisk attachment. Add the icing sugar and vanilla extract

Whisk the ingredients together on the highest setting. It will take 5-10 minutes to start to thicken – don't give up, it will happen eventually

When stiff peaks form and you have your desired consistency, stop whisking or it will start to curdle

Stir through the lemon zest then place in the refrigerator until needed
Strawberries
Liquidise 200g of the hulled strawberries and then push them through a sieve and into a jug to create a smooth paste. Stir in the icing sugar then place in the fridge until needed

Set the remaining strawberries aside until the decoration stage
Pastry
Set the remaining strawberries aside until the decoration stage

Place the sheet of puff pastry on a baking tray lined with greaseproof paper, prick it with a fork and then pop in the oven for 15 minutes or until golden

Take the sheet out, turn it over, gently press it down to flatten it again and return it to the oven for another 5-10 minutes

Leave to cool for a minimum of 15 minutes

Spread the cream evenly over the cooled puff pastry sheet, leaving about an inch of pastry showing around the edges

Place the fresh strawberries evenly over the layer of cream

Top off with the liquidised strawberry paste and optional decorations
This recipe has been republished Viva!'s Vegan Recipe Club. Click here too find the original recipe. If you loved this galette, check out some of their other dishes below: