If you're looking for a plant-based recipe for nigiri sushi, you've found it. In this dish, king oyster mushrooms offer a super satisfying chewy texture that makes them ideal as part of a vegan nigiri sushi recipe. They're typically quite large and have a long and thick stem that can be scored to feel like seafood in the mouth.
In this recipe, the king oyster mushroom nigiri sushi has an authentic Japanese topping of ume and shiso too.
What is ume?
The word "ume" is a Japanese word for "ume plum." At the same time, it is also a shorter version of the word "umeboshi."
Umeboshi is a Japanese ume plum pickle that's intensely salty and sour and is typically served on top of a bowl of rice and is very pungent, so a little goes a long way. Umeboshi is a whole ume plum pickle. In this recipe, a paste form called "neri ume" is used.
You can buy neri ume from Japanese grocery stores or any major online stores that carry Japanese speciality foods. If you have no luck, you can buy whole umeboshi and remove the pit and chop with a knife until it becomes a paste.
Ume pairs very well with shiso leaves and is the perfect way to garnish your king oyster mushroom nigiri.
What is shiso?
There are two types of shiso leaves, green and red. In this recipe, green is paired with ume. The flavor marriage of the two creates an iconic Japanese taste that everyone should try. Especially when looking to recreate popular sushi dishes.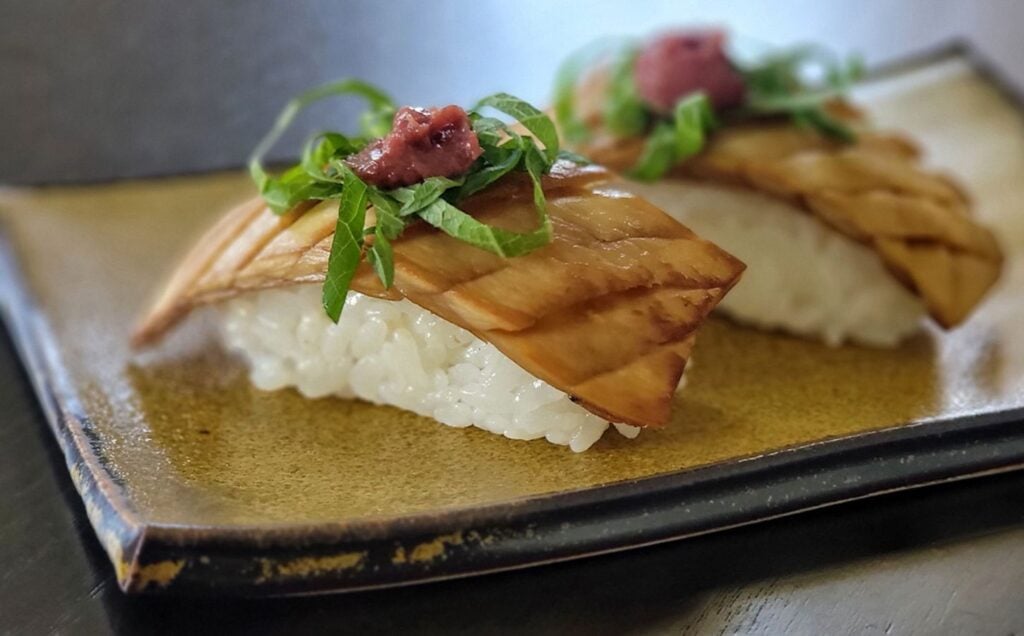 Ingredients
Vinegared Sushi Rice
2

servings sumeshi

(vinegared Sushi Rice)
King Oyster Mushroom "Fish"
4

large pieces king oyster mushrooms

(about 12 oz)

1

tbsp

neutral oil

2

tsp

soy sauce or tamari adjust to taste

1

tsp

toasted sesame oil adjust to taste
The Rest
1/2

tsp

neri ume pickled ume plum paste

(per nigiri)

8-10

green shiso ohba leaves or green shiso perilla leaves
Instructions
First, prepare sumeshi (vinegared sushi rice) using any recipe that you already like.

While the rice is cooking, start preparing the king oyster mushroom 'fish.' Trim off the top and the bottom of the mushrooms then slice them lengthwise into 8.5 -10 mm thick slabs. Also, trim the sides if you like. Then, score diagonally on both sides but be sure not to go too deep or they will break apart.

Cook the mushrooms. Heat up a frying pan to a medium to medium-high heat (a non-stick surface is recommended). Pour in neutral oil and cook the mushrooms for about 2-3 minutes on each side until golden brown. Try not to move them too much for better coloring. Remove them from the pan and lay them flat–in a single layer–on a large plate or something similar. While still warm, season with soy sauce and toasted sesame oil. Set aside to marinate until the sumeshi is done.

Once the sumeshi is ready (it should be cooled down to around body temperature), start assembling. Dampen your hands and grab a small amount of rice in one hand. Toss and roll gently to form an oval shape (don't squeeze!). Place the marinated mushroom "fish" on top. Shape it again with gentle pressure. Repeat the process.

Right before serving, prepare your shiso leaves. Clean the leaves under running water and gently pat dry with a towel. Cut off the stem and roll all the leaves together (like making a sushi roll) before slicing them thinly. To serve, top your sushi with a pinch of thinly sliced shiso leaves and a tiny amount of neri ume (about 1/2 tsp for each nigiri.)
ADDITIONAL NOTES
Don't discard the trimmed-down mushroom parts! You can save them for another meal.
What to do with leftover rice
You may have some leftover rice when preparing your vegan nigiri sushi. If so, don't throw it away! You can store in the refrigerator, like any other leftover rice, but be aware that sumeshi will harden, so store in an airtight container and eat within one to two days.
You could also make fried rice using sumeshi (though it will taste slightly sweet and vinegary).
—
This vegan king oyster nigiri sushi recipe was republished with the permission from Plant Based Matters on August 16, 2022. It was last updated on May 19, 2023. Find the original recipe here.