It's officially Halloween weekend, and people across the country will be trick or treating, watching horror films, and throwing spooky costume parties. If you're entertaining guests this weekend and are looking for vegan Halloween recipe ideas, here's how to make caramel apples.
Caramel apples are a traditional sweet treat served on Halloween. They generally refer to whole apples covered in a layer of caramel. They are then dipped in toppings like chopped nuts, chips, dried fruit, sprinkles, and candy. Not only do they taste amazing, but they also look good when served as part of a Halloween buffet. If you have kids, making them is also a great family-friendly activity to do in the run-up to Halloween.
They have their origins in the early 20th Century, and are thought to have first been made in the US. Now, caramel apples are eaten all over the world.
Here's how to make them:
Halloween caramel apples recipe
These vegan caramel apples are the perfect "make at home" treat! Whether you're hosting a Halloween party or simply want a dessert that's a little different from your standard baked goods, these apples will hit the spot!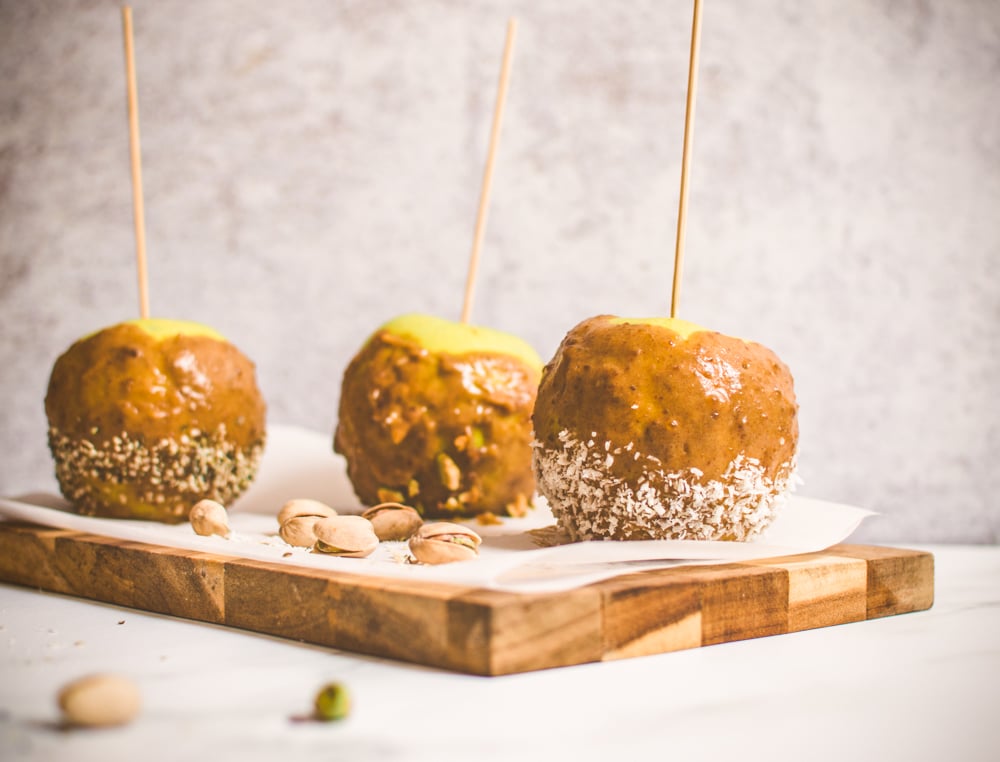 Ingredients
For the caramel sauce
1

pound

pitted Medjool dates

½

tsp

vanilla extract

¾ 

cup

coconut milk

1

pinch

sea salt
For the apples
10

apples

for this recipe, I used medium-sized Granny Smith apples, but you can use Gala apples.

10

6 inch lollipop sticks

Toppings of choice
Instructions
For the sauce
for this recipe, I used medium-sized Granny Smith apples, but you can use Gala apples.

Add dates, vanilla extract, and coconut milk to a food processor.

Process until the mixture is smooth (approx. 5 minutes). The consistency should similar to creamy peanut butter. It should stick to a spoon and spread easily. If the mixture is too dry, add additional coconut milk, 1 teaspoon at a time, until the desired consistency is achieved.
For the apples
Clean the apples and remove any stickers or labels.

Remove the stems by using a paring knife to make a small cut at the base of the stem. Make sure your fingers are safe and out of the way! Give the stem a twist, and it should pull right out.

Insert lollipop sticks where the stem was removed. Push the stick into the apple until it is almost all the way through.

One at a time, use a spoon to cover the apple with the prepared caramel sauce.

Press the topping onto the apple until it is covered.

Place apple on a solid surface, and repeat until all apples are complete.
This recipe will make enough to cover ~10 medium-sized apples. The coconut milk can be substituted with any non-dairy milk. To give your caramel a festive flavor, try adding ⅛ tsp of pumpkin spice. For salted caramel, add additional sea salt to your liking.
I chose to use chocolate chips, coconut chips, and chopped peanuts to cover my apples. There are endless options including sliced almonds, crushed cookies, granola, vegan marshmallows… use your imagination!
This recipe was republished with permission from World of Vegan. You can view the original recipe here.
More like this: