As signs of environmental degradation can no longer be ignored, the world is soberly awakening to the dire state of our planet. Over the coming 50 years, one to three billion people are projected to be left outside livable climate conditions.
Global leaders, influencers, and decision makers convene yearly in attempts to align efforts. These events gain prominence as platforms for change and, despite some making convincing claims that they're virtually pointless, they do result in widespread media coverage, something significantly lacking, especially when it comes to animal agriculture.
Making environmental events more eco-friendly
Several simple choices contribute to hosting a global event advocating for environmental changes. These may include:
choosing a central location that's accessible by attendees by low-carbon travel like train,
including environmental education if it's not central to the theme,
encouraging carbon offsets, despite their issues in their current state, and
implementing a comprehensive waste management plan (i.e. banning plastic bottles, composting food scraps, and promoting the use of reusable items).
One of the best first steps is serving a plant-based menu and changing the default. In a study published in the Journal of Public Health, two groups were observed based on the buffet choices offered to them. Group 1, which was given a typical animal-sourced buffet as the default with an available plant-based option, had only two percent of the participants opt for the vegetarian choice.
On the other hand, Group 2 was provided a plant-based buffet as the default, but they could actively choose a non-plant-based option if necessary. Surprisingly, in this setup, a substantial 87 percent of participants stuck with the plant-based choice. This study utilized a method known as "active choice," indicating how default options can significantly influence dietary decisions.
The irony of global climate conferences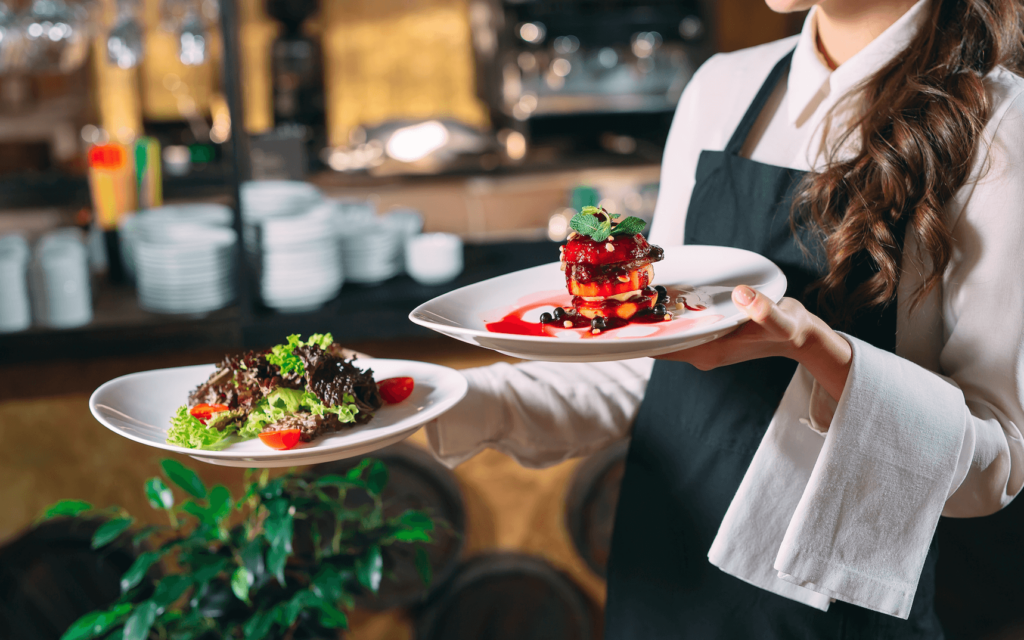 The world's largest and most high-profile climate conference is the UN Climate Change Conference of Parties (COP). While the menu selections at the event itself does seem to improve each year, there are ancillary evening group dinners, which are often held at steakhouses. The most ecologically damaging foods are beef, dairy, and fish, and the UN itself has been urging first world nations to adapt a more plant-based diet for the climate since 2019.
Last year at the COP27 in Egypt, attendees could choose a beef medallion dish (for $100), a seafood platter starter ($50), and a salmon dish ($40). The urgency to shift to a plant-based food system has begun to be taken seriously by the UN, but menus at its conferences are still dominated by animal-sourced foods. (The prior year, one attendee flew to Scotland for the COP26 dinner on a private jet to meet with a climate skeptic journalist.)
As the next COP28 approaches, scheduled for November 30, 2023, the organizers would be smart to keep in mind the environmental implications of every aspect of the conference, including its catering. Offering a fully plant-based menu will help to reduce the event's carbon footprint, but also provide a blueprint – or greenprint – for future climate centric events. Every action of COP should embody the principles of sustainability that the conference advocates for.
How much CO2 does plant-based eating save?
With nearly 70,000 participants eating two plant-based meals daily at COP28, it would equate to approximately 1.8 million climate-friendly choices. As one possible scenario, if beef was substituted with a plant-based protein dish, and all dairy and cheese were swapped to plant-based alternatives, this would spare almost 40,000 metric tonnes of greenhouse gas emissions (CO2e), and spare the equivalent of 64 square kilometers of land, and not require the use of 728 million liters of water. (These estimates are based on Poore & Nemecek, 2018 via Our World in Data).
That's equal to the same carbon emission savings of not driving a car over 154 million miles (or the equivalent of taking 8,600 cars off the road for a year). And it is the equivalent of not converting to agricultural farming more than the land area of Manhattan. As for the water use? You could save enough to fill up an Olympic-sized swimming pool 291 times.
How can this change though when there's more pressure from lobbyists than entire countries? Agribusiness delegates more than doubled at COP27, including several dozen delegates linked to the biggest meat and dairy companies. Part of this inherent issue with these conferences has finally started to be addressed. Lobbyists will have to identify themselves when registering now. Ultimately there should be little attendance allowed from those profiting off Earth's destruction unless they bring forward strict and clear reduction plans to discuss. Despite committing to be "Net Zero" by 2040, JBS, the world's largest meat company, increased its annual GHG emissions by 51 percent between 2016 and 2021 and is now responsible for more emissions than all of Italy.
Global Citizen is now powered by plants
Some event organizers have already gotten the memo. And concertgoers, especially, are more than happy with the plant-based selections. The popular music and entertainment charity event, Global Citizen, frequently runs out of animal-free options, for instance, even though the event had rarely ever served plant-based options previously.
Global Citizen is a charity concert and cause-driven event held in wealthy regions of the world, claiming to offer "definitive next steps for participants, attendees, and Global Citizens to take immediate action on urgent issues including climate change, the global food crisis, gender inequality, protecting activists and defending civic space."
They did eventually add a bold pledge to go plant-based, so it made sense that the offerings would change, since requesting attendees to ditch animal products without changing their own menu would have seemed hypocritical. Since pressure of this came, they're prioritizing plant-based catering and trying to have no animal sourced foods at all, hosting plant-based specific panels, and suggesting that "if you're making snacks for your watch party, why not make them vegan? Going plant-based is one of the single biggest things you can do to cut your carbon footprint!"
Influential attendee changes and social networks
Maggie Baird, the mother of Billie Eilish, also emphasized the significance of influential attendees demanding changes at events. She shared her perspective on how she and her world-famous daughter approach event management.
"A game-changer for events that rely on influential attendees is when those celebrities demand changes. After attending an event that discussed climate change but was not plant-based, my daughter Billie Eilish used her influence to insist that they and other leading organizations for which she performs, attends, or is honored, such as Global Citizen, Universal Music Group, and Environmental Media Association, to go plant-based, changing their status quo and making their events more sustainable in the process."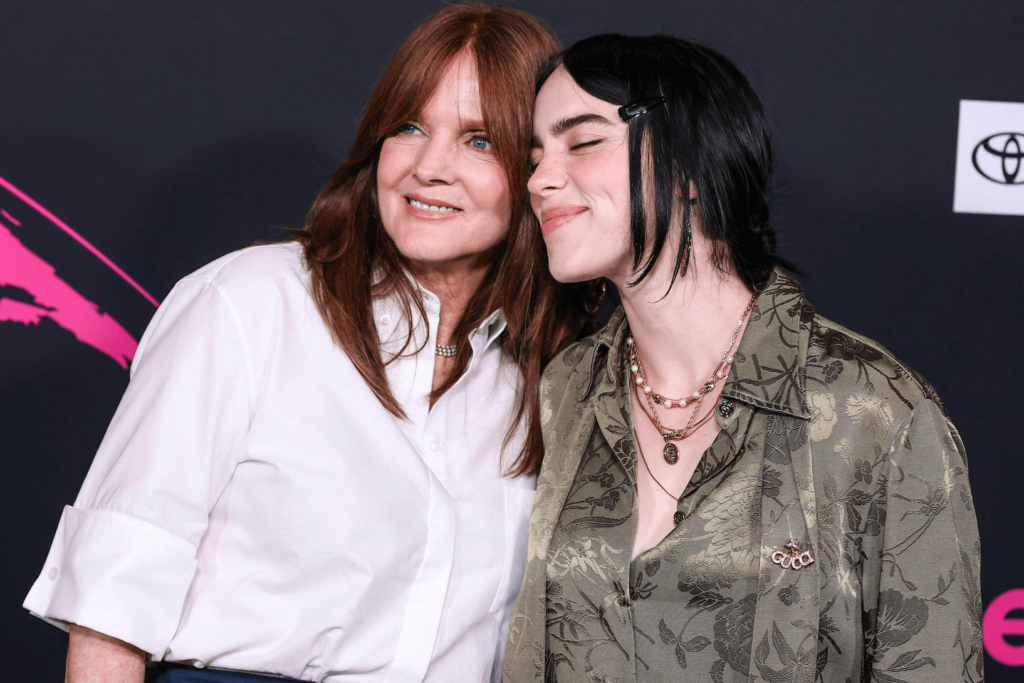 The power of social networks can be influential in creating change, across long ties or between individuals who don't even know each other. In the book Change: How to Make Big Things Happen Damon Centola highlights the importance of social networks on impacting weak ties, and the power of observed behavior in bringing about significant change.
Social change is driven by shifting norms, and social networks play a crucial role in shaping how behaviors are perceived and adapted. Blueprinting green actions, aka "Greenprinting," happens the same way imprinting does: By creating new expectations for behavior, and when this occurs at experiential events such as a Billie Eilish concert, when her tens of thousands of fans post that they're reducing waste with reusable water bottles and eating delicious plant-based meals, these new green actions can play a foundational role in change.
Smoke and mirrors: the greenwashing of events
When industries that are notorious for their environmental impact are allowed to sponsor environmental events the irony is inescapable. When the culprits fueling the crisis bankroll the perceived efforts against it, we find ourselves in a game of smoke and mirrors, which leads to distraction and delay in the important work to clean up the environment.
This happened recently at the Environmental Media Association's (EMA) event in Los Angeles. EMA is a non-profit organization that for decades has been on a mission to bring the planet's most pressing environmental issues to the forefront of pop culture, promised to be plant-based. Yet meatless options were shockingly absent for the panelists and speakers, many of whom are plant-based, and who requested special menu items that could barely be accommodated.
The main sponsor was a dairy company, Clover Sonoma. Meanwhile among items being sold there were leather products, which are far from a byproduct of animal agriculture, and carry a huge environmental impact. The EMA even posted a cringeworthy, celebrity-studded video campaign advocating for dairy with an anti-GMO theme, ignoring the fact that dairy products are associated with health issues such as an increase in breast and prostate cancer, and environmental issues related to factory farming.
A greenprint for eco-friendly events
There's a greenprint for eco-friendly events. One such success was the recent climate-focused festival "Overheated" which was held at the O2 arena in London, where a range of activities were held.
All the keynote speeches were on point, as were the screening of documentaries (including their own, produced by environmentalist Baird) A lively clothes exchange took place, amid discussions emphasizing the environmental crisis and potential solutions. The event banned plastic, encouraged bringing your own reusable water bottle and food containers, and it showed that with a little foresight, getting food and drink suppliers on board can work.
In an ecological crisis, these are the types of events we need. Eilish partnered with REVERB to guarantee her events were eco-friendly, emissions offset, waste-free, and advocated for a plant-based menu.
EIlish and Baird have established Support+Feed, a nonprofit dedicated to addressing the climate crisis by providing plant-based meals to communities experiencing food insecurity.
Food service distributors simplifying path to a plant-based future
Suppose you're eager to contribute to this positive change, but your accessible food service distributor has limited plant-based options. This situation is now changing.
Sodexo Foods, in response to a realization that 70 percent of the supply chain greenhouse gas emissions is from animal-sourced foods, now plans to increase its commitment to plant-based menus to 50 percent by 2025.
Aramark, the largest US-based food service provider, announced a commitment to compete by offering more plant-based options. This change may be motivated by an impending list ranking campuses on their plant-based offerings, and Gen Z consumers who are demanding plant-based foods and have the option to "opt out" of university meal plans if they don't reflect their changing preferences.
Major food distributors slow to add plant-based offerings have long been a barrier for easy menu swaps at large events and institutions. While it's unlikely vendors will go fully plant-based any time soon, research shows benefits of changing the default menu choice to plant-based, and requiring guests to make special requests if they prefer an animal-sourced option.
Future directions
Accountability: Create a rating system for conferences, events, and even universities, schools, and cities making efforts towards environmental accountability. New York's mayor has already made steps to bring his city into a more plant-based future.
Policy and regulation: Leaders can hold private industry accountable by offering financial incentives to organizers who have less environmental impacts; alternatively they can levy a higher tax on meat and other environmental impact choices.
Education and awareness: Increased public awareness about the environmental impact of events to drive demand for more ecologically sound options. Media coverage and social posts should include commentary on the climate impact of the event. Individuals like Greta Thunburg have made a point of leading by example.
Research: Ongoing research can identify strategies for reducing the environmental impact of events, and track progress over time. Enlist universities, think tanks, and research institutions to help here.
Collaborations and partnerships: Collaborations between event organizers, sponsors, and stakeholders can lead to innovative solutions for reducing the impact of events.
Ending greenwashing sponsorships: High-earning companies, such as dairy and fossil-fuel energy corporations, should not be allowed to sponsor climate events hoping to gain social acceptance. While industry consultation for changes is still helpful, this needs to come with strict accountability on reducing impacts.
Virtual options: The rise of AI and virtual reality, beyond the current uses, may provide a more effective way to reduce the carbon footprint of travel by hosting events where you "appear" to be in the same space. This may never match the same experience as in-person, but should be explored as technology improves and would come with more inclusivity for people with disabilities.
Takeaway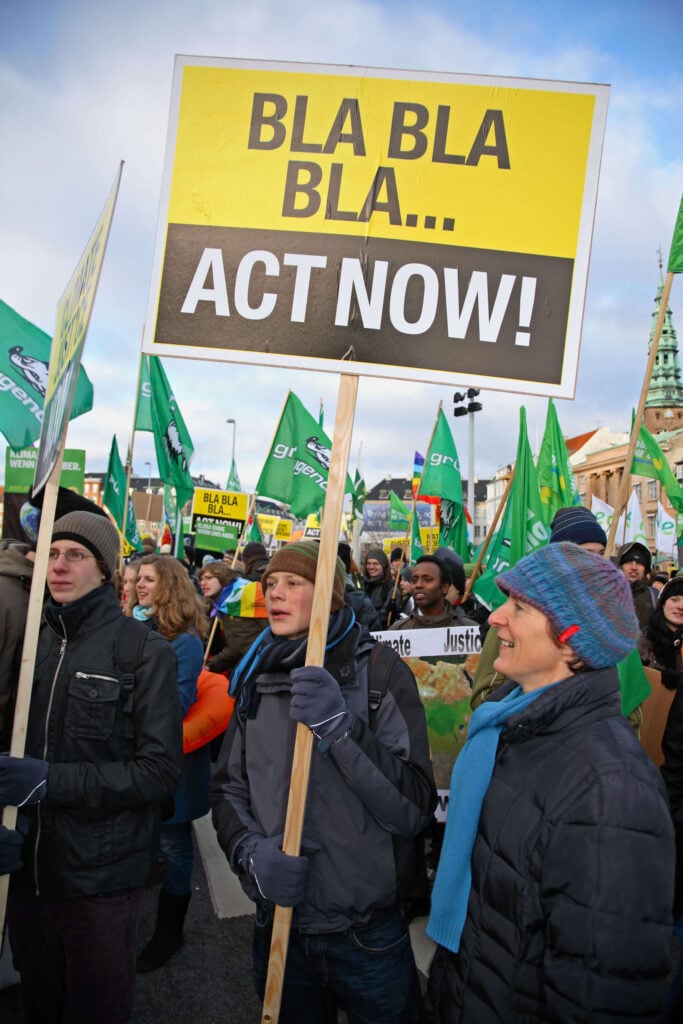 It's time for environmental events to walk the walk. Environmentalists should be the biggest allies to anyone who chooses to eat plant-based, and make their events get there too. If they aim to inspire change, they must start by embodying that change, by demonstrating that eco-friendly practices extend to all aspects of their events, including the meals.
This shift will not only align with their environmental agenda but will send a compelling message to attendees, and their global audience. Embracing a more plant-based food system will bring a positive transformation and a brighter future.