This is a sponsored post* [what is this?]
As almost the entire internet once said, bacon is life, and not many folks do vegan rashers better than La Vie. In fact, the award-winning food tech startup is so good at what it does that the French pork lobby complained about unfair competition, citing the hyper-realistic appearance and flavor of La Vie's plant-based bacon lardons. That's quite the endorsement.
Now, the sizzling French brand wants you to help it become the largest plant-based pork maker in the world by supporting its crowdfunding campaign. Founders Nicolas Schweitzer and Vincent Poulichet aim to raise a grand total of €1 million, which the startup will then use to expand its reach and "revolutionise" the future of sustainable and indulgent food.
"At La Vie, our mission is to indulge and unite as many people as possible while accelerating their switch to a plant-based diet," explains Schweitzer, co-founder and CEO of La Vie. "Through crowdfunding, we are inviting people everywhere to be a part of our revolution and literally own a slice of the UK's best-tasting vegan bacon."
The crowdfunding campaign—set to run from the 7th to the 28th of September—will help La Vie grow its existing lead within the plant-based food sectors of the UK, France, and Benelux, as well as fund expansion into new markets and territories by 2030.
The brand also plans to extend its portfolio to a whopping 100 items and develop five new "technological building blocks" that La Vie believes will help it to "surpass pork" in both taste and nutrition. With this crowdfunding campaign, La Vie is inviting investors and consumers alike to contribute to a more sustainable planet without compromising on taste.
'Investing in La Vie means joining a pioneering movement'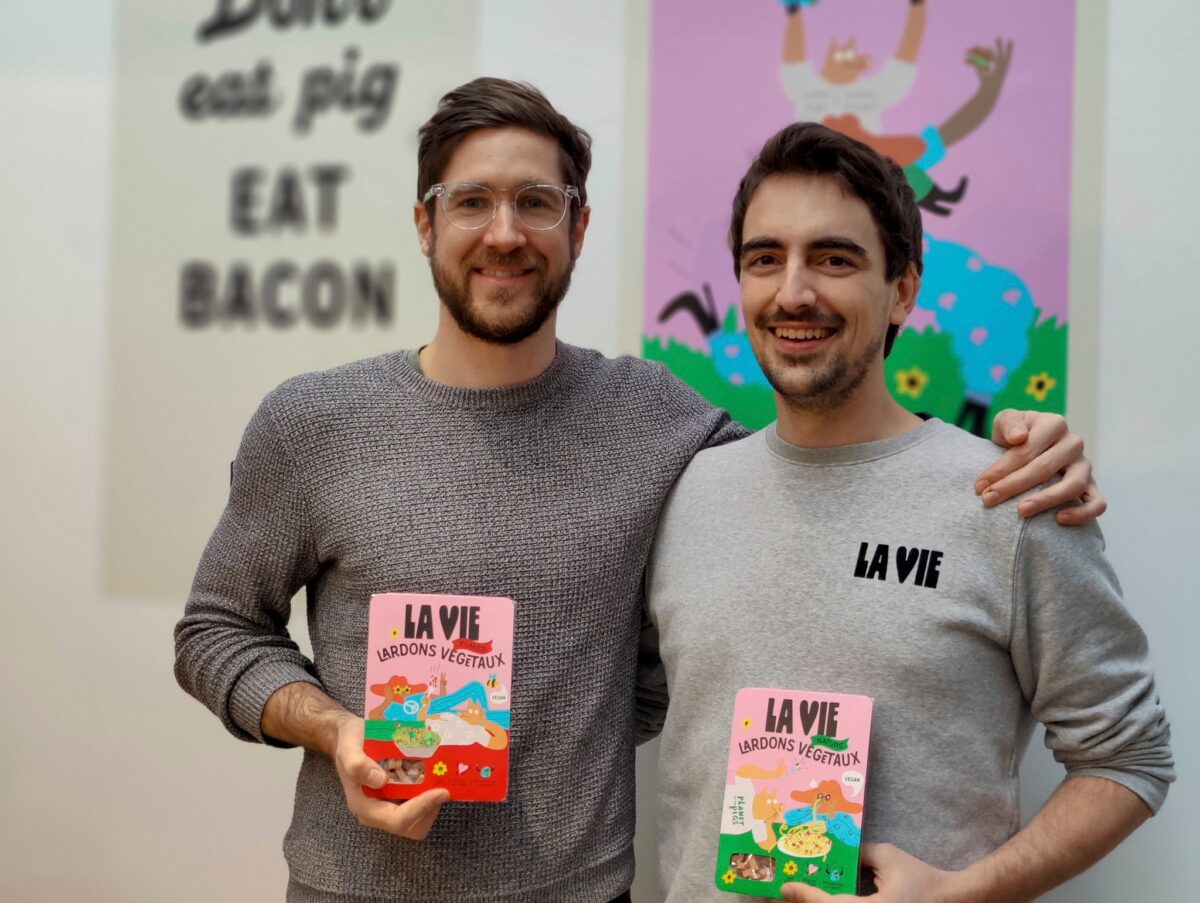 La Vie's current star ingredient is a patented plant-based fat technology that closely mimics animal-derived meat's taste, appearance, and texture – making it a popular choice for all consumers, regardless of dietary preferences and lifestyle.
Thanks to a combination of five-star taste and sharp, quirky marketing, La Vie is well on its way toward its desired domination of the vegan pork sector. The ongoing 'OOH' campaign, in particular, sees the brand entertaining the public with its cheeky, humorous, and disruptive ads, including a new series to promote the crowdfunding drive.
La Vie's provocatively amusing tactics are clearly working; it boasts thousands of social media followers, and the brand says it's developed a particularly strong following among Generation Z (those born between 1997 and 2012).
La Vie is available in over 4,600 retail stores and 3,000 plus restaurants internationally, including international powerhouses like Burger King, and is one of the few brands to continue to see growth despite an overcrowded marketplace and ongoing cost of living crisis. In fact, La Vie has achieved a staggering +379 per cent increase in sales since last year.
At the very start of 2022, La Vie announced a record series A fundraising round of 25 million euros from investment funds and prominent celebrities committed to environmental protection, including Academy Award-winning actor and vegan advocate Natalie Portman.
Explaining the appeal of La Vie — which aptly translates from French as 'the life'— as an investment opportunity, Schweitzer says: "Investing in La Vie means joining a pioneering movement where flavours, sustainability, and profitability join to create a brighter future for food and food tech. In just two years we've sold 2.5 million products, tripled our growth, and saved 90,000 pigs and 2 million tonnes of CO2."
Bacon a difference: the benefits of plant-based protein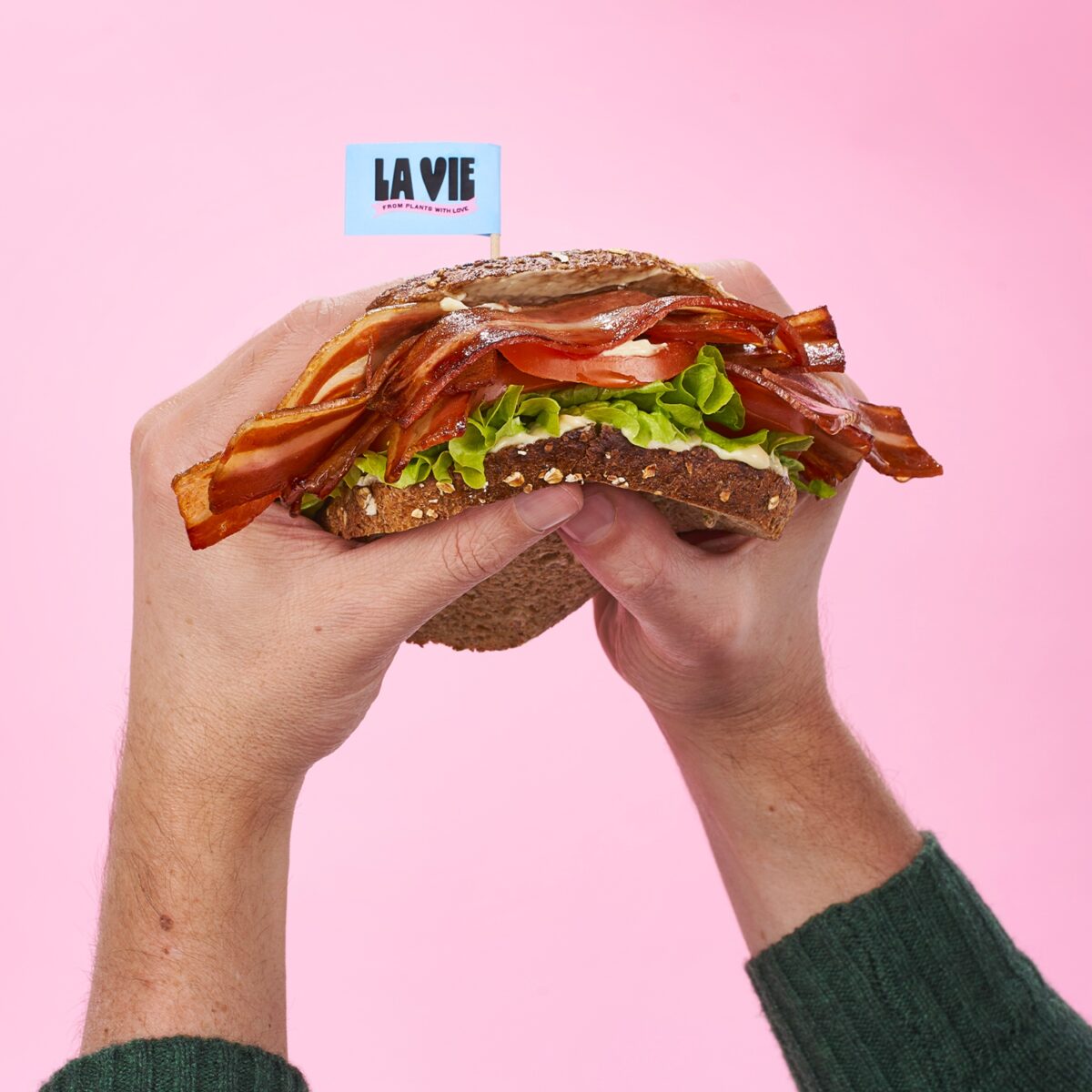 Bacon may still be one of the internet's favourite proteins, but animal-derived varieties are not well-regarded for their ethical cost, environmental impact, or nutritional value. But while traditional, highly processed bacon products are rich in saturated fats and sodium, plant-based proteins are — on average — far better for human, animal, and planetary health.
La Vie's vegan-friendly bacon products are no exception. They boast a relatively short list of just seven ingredients, one less than the leading brand of pork-based lardons. Furthermore, the brand says its products are free from all unnecessary chemicals or fillers, and that they do contain "superior nutrition" when compared to similar animal proteins.
For example, La Vie's lardons are said to contain 11 times less saturated fats and 33 per cent fewer calories — with 15 times more fibre — than traditional pork-based lardons. They also contain 14.9g of protein per 100g. But swapping mass-produced animal products for plants isn't just good for human health, it's also great for planetary and animal health.
Overall, La Vie aims to save over 200 million pigs' lives and reduce 12,000 tons of CO2 emissions, simply by supporting consumers to make more sustainable food choices and swap pork for plants. The company is quick to emphasize that it aims to achieve these ambitious goals primarily by ensuring that La Vie ™ products are fantastic to cook with and eat.
"By leveraging our two pillars – technology and a strong brand identity, we are breaking all the industry norms," adds Schweitzer. "Opening up our capital to everyone at this strategic moment is a unique opportunity to create a global community of change-makers!"
To learn more about La Vie and join the brand's community of 100,000 plus fans, follow on social media @laviefoods.uk. You can also directly support La Vie's crowdfunder here.
Please don't invest unless you're prepared to lose all the money you invest. This is a high-risk investment and you're unlikely to be protected if something goes wrong. So please only get involved if you can afford to lose the money you put in.
* This is paid-for content. Funds from this article help Plant Based News continue to provide millions of people around the world with free content they know and love. We only work with brands we support and use ourselves.