A Canadian company specializing in realistic "seafood" alternatives has just raised $26 million in a seed funding round.
Konscious Foods creates plant-based tuna, salmon, and more. It specializes in frozen realistic seafood alternatives, and stocks sushi rolls, poke bowls, and onigiri stuffed rice snacks, among others. These are available to buy in upmarket stores in the US and Canada, including Whole Foods Market.
Konscious Foods plans to use the seed money to grow its retail and food service presence. It is expected that its products will be available in 4,500 stores by the end of the year.
The company was set up in 2023 by Yves Potvin, a classically trained French chef who started popular plant-based brand Gardein. "This investment validates our excitement about the demand – and critical need – for seafood made from plants," Potvin said in a statement. "With the rising demand for fish, and subsequent overfishing crisis, we feel it is crucial to have better-for-you, better-for-the-world seafood options that don't sacrifice taste or texture.
"The funds will allow us to focus on sales and marketing efforts as we expand distribution across North America and continue our goal of making sustainable, delicious plant-based food widely accessible."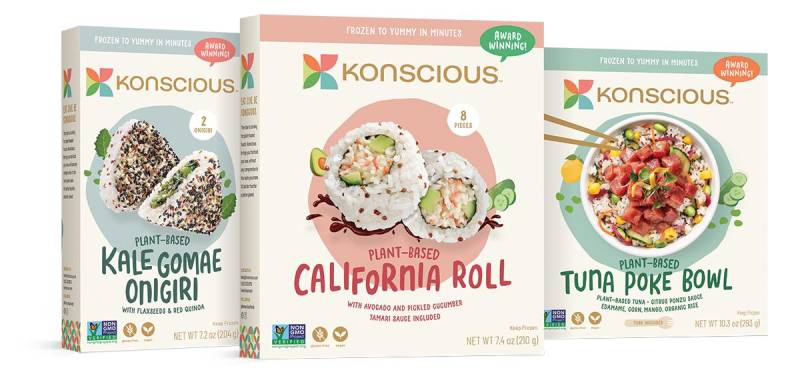 The problem with 'seafood'
As well as being cruel (around two trillion fish are farmed and killed for food each year), the "seafood" industry is also hugely unsustainable and a key contributor to the climate crisis.
Experts have stated that the ocean could be severely depleted of fish by 2048. This is largely due to industrial fishing. Modern fishing techniques often use huge weighted nets (known as bottom trawlers) to catch as many fish as possible. These can be hundreds of meters long and wide. They will catch any fish in their path (as well as unintended species like dolphins and turtles, known as "bycatch").
Coral reefs, which are vital to the health of the ocean and our planet, are destroyed by industrial fishing. The fishing nets often blast coral reefs if they're in their path, but they also have an indirect impact. Coral reefs depend on herbivorous fish to keep them healthy. This is partly because they feed on the algae that grows on them. When these fish are taken from the ocean en masse in these nets, it disrupts the entire ecosystem, and leaves the coral reefs unhealthy and susceptible to damage.
The rising popularity of vegan fish
When compared to other meat alternatives, the vegan fish market has been relatively slow. It's thought, however, that there will be a boom in popularity of plant-based "seafood" in the coming years.
A report published last year predicted that the global vegan fish market would rise to £1.3 billion by 2031. It was valued at just $41 million in 2021. A number of well-known vegan companies, including Wicked Kitchen, are investing in the space – and it's not just plant-based brands getting in on the action. Well-known tinned fish brand John West recently released a vegan version of its tuna, in a move described as a "major milestone."