British fashion designer and animal rights advocate Stella McCartney has received a CBE from King Charles III in recognition of her contributions to both fashion and sustainability.
The presentation, held at Windsor castle, comes after McCartney was recognized in the late Queen Elizabeth II's 2022 Birthday Honours list.
McCartney previously received an OBE, again for her services to fashion, in 2013. The latest honor makes a more direct reference to her continued efforts to champion sustainable materials, production, and attitudes. These come in the wake of a worsening climate crisis.
King Charles is said to have been impressed by McCartney's work at the COP26 summit in 2021. The monarch found her fashion exhibition "enlightening and inspiring," according to the Daily Mail.
What is a CBE? How is it different to an OBE?
A CBE, or Commander of the British Empire, is an honor given under the Order of the British Empire, which King George V established in 1917 to show recognition to those who have made significant contributions to non-combative fields, like science, art, and charitable work.
A CBE is the highest rank, aside from damehood and knighthood. It's gifted to those who have a "prominent" but "lesser" role at a national level, or a "leading role" at a regional level in terms of their contribution to the community, according to the UK cabinet website.
Around 100 people receive a CBE each year, from either the monarch or their representative from the Royal Family.
On the other hand, an OBE (Officer of the British Empire) recognizes individuals with regional or county-wide contributions, and is one step down from a CBE. An MBE (Member of the British Empire) is intended for those making major local contributions.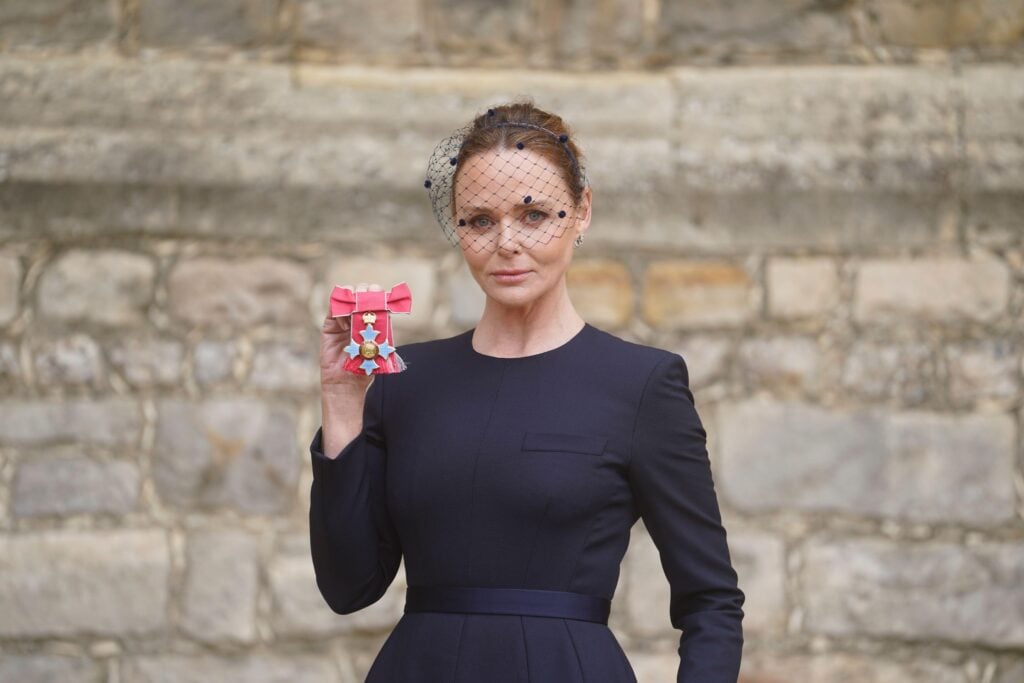 'A proud and emotional day'
Speaking about her CBE, McCartney was seemingly delighted to have her sustainability work recognized alongside her clothing line.
"Humbled to be recognized for my mission to bring sustainability to fashion," she said in a statement.
"As a British designer, this is such a proud and emotional day for me — not only to receive this incredible accolade from King Charles III, but also to have been included in Her Majesty Queen Elizabeth II's final Birthday Honours."
Highlighting the work of other sustainability champions
Prior to receiving her CBE, McCartney had ramped up her mission to put sustainability at the forefront of her messaging.
It was reported in January that she is collaborating with five key figures within the climate activism sphere. Together they are showcasing their work while also promoting the STELLA skincare line.
Amongst the figureheads of the "Stella Voices" initiative is renowned conservationist Dr. Jane Goodall. UN Spirit Award winner Xiye Bastida is also included. Both are featured in STELLA skincare photo campaigns and will have their accomplishments promoted across the Stella McCartney platform.