A plant-based brand has unveiled a pork rib product, which comes complete with what are thought to be the world's first edible vegan "bones." 
Slovenian company Juicy Marbles specializes in realistic whole cut meat products made with completely vegan ingredients. Its flagship product, a 750g tenderloin steak, has been highly praised for its resemblance to the real thing.
The new product, Plant-based 'Bone-In' Ribs, feature bones created by Juicy Marbles that are almost entirely made from protein. The company states that once you've eaten the ribs, you can bake, fry or air-fry the bones into puffed, crispy snacks that contain as much protein as beef jerky. While the ribs aren't available to market yet, they are set for release in early 2024. 
'Fun from every angle'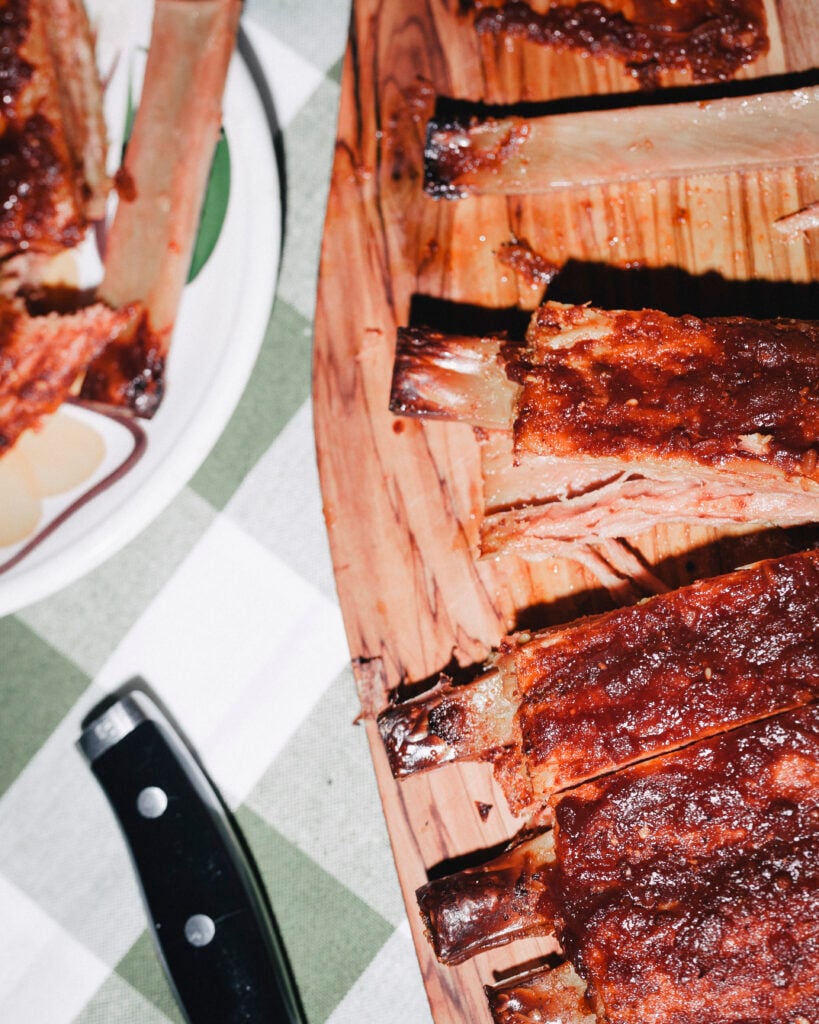 "To some, bones from plants may be an ideological provocation, but we shouldn't take these things too seriously. It's just fun from every angle," said Juicy Marbles co-founder Vladimir Mićković. "It was also fun developing them. Since we made the bones ourselves, we could actually question the concept of bones in general. We could challenge ourselves to make them useful – even edible. At Juicy Marbles, we don't just aim to re-create a shape of meat, but the entire experience, as well as the macro/micro nutrient profile."
According to the creators, the product is adaptable to a number of different recipes, and was created to support a "primal" joy of sharing a rack of ribs. Despite their ethical costs, real animal ribs are a hugely popular food choice in many countries in the world. 
"Anyone cutting down on meat can probably confirm that the hardest part is not missing meat's flavour, but feeling excluded from cultural traditions," said Mićković. "That's why we chose ribs as our next product, rather than another cut of steak. We wanted to create something that evokes the primal joys of sharing food."
The problem with eating ribs
Pork ribs made from pig meat come from animals who have been subjected to what many deem to be significant cruelty throughout their lives.
More than a billion pigs are farmed and killed for food each year. Pigs can recognize their names, work collaboratively, and also possess significant problem-solving skills, but they aren't able to fulfill any natural behaviors on most farms.
In the UK, around two thirds of pigs are kept on factory farms. Female pigs – known as sows – are kept in cages called farrowing crates that don't give them any room to turn around for up to six weeks at a time after giving birth. Their babies nurse next to them in an area called "the creep," but the sow cannot nuzzle or access her children. 
When they reach slaughter age, pigs are often gassed to death with a high concentration of CO2 gas. Around 86 percent of UK pigs are killed this way. The gas forms on acid on every wet surface it touches, including lungs, eyes, and throats. Experts have stated that this causes them to "burn from the inside out."
More like this: