The United States is often regarded as a good destination for vegans and those interested in trying out plant-based cuisine. Across its 50 states, you can find a variety of vegan restaurants, shops, markets, and more. Half of all US restaurants now offer vegan options, and 9.7 million Americans are now following a plant-based diet, roughly four percent of the population.
That said, the quality of the vegan experience does vary quite a bit depending on where you find yourself. So which is the most vegan-friendly city in the country? A new study by WalletHub for 2023 has revealed a league table of the best vegan destinations across the States.
WalletHub achieved its rankings by comparing many factors, such as how many vegan restaurants are found in each place, the cost of vegan groceries, access to farmer's markets, vegetable nurseries, the number of smoothie bars, and more. The diversity of plant-based options within each destination was looked at also. A 100-point system was used to grade each city.
The top 20 vegan cities in the US
So, without further ado, here is how the USA's top 20 vegan cities rank:
Portland, Oregon
Los Angeles, California
Orlando, Florida
San Diego, California
Phoenix, Arizona
San Francisco, California
Seattle, Washington
Miami, Florida
Austin, Texas
Oakland, California
Lexington-Fayette, Kentucky
Tampa, Florida
Las Vegas, Nevada
Chicago, Illinois
Louisville, Kentucky
Fort Wayne, Indiana
Washington, D.C.
Irving, Texas
Atlanta, Georgia
St. Louis, Missouri
The rankings show that the West Coast is among the best for the vegan experience, with five cities on the western side of the country eating up the table, four in California alone.
New York City didn't make the top 20, ranking in 32nd place. However, this reveals how hot the competition is as New York has 135 vegan and vegetarian-friendly restaurants. Chicago and Washington D.C., two of the biggest US cities outside the West Coast, did not make the top 10 — Chicago alone has 67 vegan and vegetarian restaurants. With 100 entries, the bottom three were Chula Vista CA, Baltimore MD, and finally Greensboro NC filling the bottom spot.
The Winner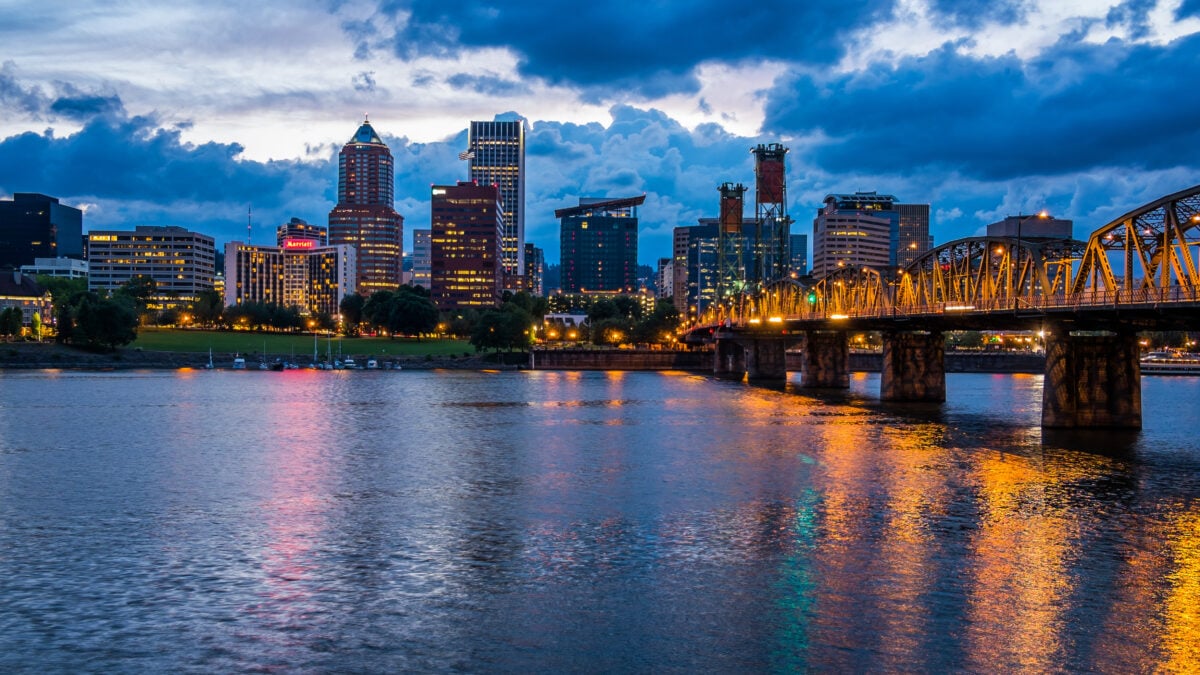 Proving to be the premier vegan destination in the US, first place went to Portland, Oregon, with a great international reputation among vegan cities also. Besides the number of vegan businesses in the city, with 52 completely vegan restaurants and 17 vegetarian eateries, Portland also scored well in the study thanks to its affordability, diversity, and accessibility to plant-based options.
In terms of variety, Portland has choices that cover pizza, donuts, dairy-free cheese shops, ice cream, fully vegan grocery stores, and even a vegan strip club.
Portland is known for its sustainability initiatives and infrastructure. The city uses green streets, ecoroofs, trees to manage stormwater, protect water quality and improve watershed health.
Portland's Vegan Highlights
Here are some of the most popular vegan restaurants and shops Portland has to offer.
Priding itself on being affordable, Miss Tacones, as the name suggests, is a taqueria that is among Portland's best-loved vegan spots. Besides tacos, there are tortas, nachos, and burritos. Menu items include made-from-scratch seitan with garlic cashew crema, asada-stuffed chimichangas, and dusted buñelos with dulce de leche.
This Vietnamese comfort-food eatery on SE Morrison, rose to national fame when chef Thuy Pham was featured in Netflix's Street Food: USA. It serves homemade porkless bao buns, banh mi, barrel-aged coffee beans, pho, and ube croissants.
The Bye and Bye is a pub with an all-vegan menu. It has a huge heated patio and menu items include a 'meatball' sub with almond parmesan, spicy tofu weeping tiger sandwich, and a chili pie served with Fritos. On the weekend the brunch menu offers waffles, tofu, soyrizo-infused scrambles and more.
There are lots of health-oriented places to choose from in Portland, and few will leave your gut microbiome happier than Fermenter. The homemade kombucha is flowing here, but there are plenty more including jojos with koji (fermented soybeans on rice), and a homemade millet and black lentil tempeh patty as the Fermenter Burger. Other in-house-made drinks include fermented ginger beer and kefir cola.
This vegan and gluten-free ice cream store has been getting the nostalgia factor going for its many customers, with old-fashioned flavors like marionberry cobbler, salted peanut butter brittle, and triple chocolate brownie, and an interior to match the throwback vibes. The ice creams are made from coconut cream, and the cones are all wheat and gluten-free.
A Sri Lankan curry house with an all-vegan twist. Its assortment of roti, rice and curry bowls are all very highly-rated. There are plenty of gluten-free options. Mirisata translates from Sinhala to "spicy curry," although there are milder options to go for if you're not a heat fan.
After years of selling its dairy-free cheeses at farmer's markets and Portland retailers, the team behind Cultured Kindness opened this vegan cheese shop and deli. Vegan spins on classic cheeses include soft brie and smoky gouda. A lot of the cashew-based cheese are made small-batch, and are reported to be very close in taste to the dairy equivalents.
More like this: