Love to travel and eat vegan food? Ken Spector and Eric Brent of HappyCow have compiled a list of the top 10 most vegan-friendly cities worldwide! This list is determined by three factors: the number of vegan restaurants in a 5-mile radius in the most vegan restaurant-dense area in each city, the number of vegan/vegetarian/veg-option restaurants in the same 5-mile radius, and our impression of the over-all vegan-friendliness of the city.
London has seen a major explosion in the number of vegan restaurants this past year. London was the first city on HappyCow to surpass 100 completely vegan restaurants in 2017, and presently has 110 vegan places in a five-mile radius within the city. The "How Many Vegans?" survey conducted in May of 2016 by the Vegan Society found that there are about 542,000 people following a vegan diet in Great Britain, of which around 120,000 live in London. Veganism is no longer a niche market in the UK – it has gone mainstream.
London has an abundance of vegan-friendly stalls, bakeries, cafes, and smoothie bars. When in London, you are never more than a tube stop away from anything vegan you might desire. London has you covered with offerings including PickyWops, an outstanding vegan pizzeria with a new larger location in South East London; the acclaimed 222; and fine vegan dining at Italian favorite Fed By Water. The world's first vegan chicken shop, The Temple of Hackney, opened its second location and continues to be a major draw. Ethnic favorites include Itadaki Zen JapaneseMacrobiotic restaurant, Zionly Manna with delicious Caribbean / African food, Andu Caffe on the east side for Ethiopian, and, for people with a big appetite, the Dou Dou – Qing vegan Asian fusion buffet.
If you crave something sweet, try the gourmet vegan cupcakes at Ms. Cupcake or Vida Bakery or sample the amazing selection of vegan ice cream at Yorica. Brighton's famous vegan Italian restaurant Purezza opened in March of 2018 in London. For a retro vegan dining experience of ordering food and eating it inside of a converted old double-decker London bus, check out Just FaB – Food Bus. Within a few minutes in the Camden Market area, you can walk to 5 different vegan restaurants and food stalls including Young Vegans Pie Shop with their fantastic pies and desserts, Club Mexicana with their authentic vegan tacos, Spicebox with fragrant and delightful vegan Indian food, Rudy's Dirty Diner with tasty vegan American fare, and Good Dog Vegan Hot Dogs for your vegan chili hot dog cravings.
The word vegan can be seen all over the city, on the streets and in the tube stations, and there are so many vegan events in London now that it can be a challenge to keep up.
Vegan food shopping is a breeze in London, as there are loads of health food stores with vegan products, plus several completely vegan grocery stores including Organic For the People andGreenBay in west London. For those interested in raw foods, Paradise Unbakery and Tanya's Superfoods are perfect choices for gourmet raw delights. Vegan apparel can be found at The Third Estate. London is even home to a fully vegan hair salon The Rabbit Hole Vegan Hair Parlourand a vegan bar/restaurant called The Blacksmith & The Toffeemaker.
Even international chain Pizza Hut has jumped on the vegan bandwagon offering vegan cheese at all their locations in London and throughout the UK.
Veganism continues to be one of the UK's fastest growing lifestyle movements, and this is certainly reflected in London's exploding vegan scene. With the incredible number of superb quality vegan restaurants, the word "vegan" appearing throughout the cityscape, the number and quality of vegan events, and the sheer number of vegan products that can be found at mainstream stores, England is our new top pick for the world's most vegan-friendly city.
Watch our video of London VegFest.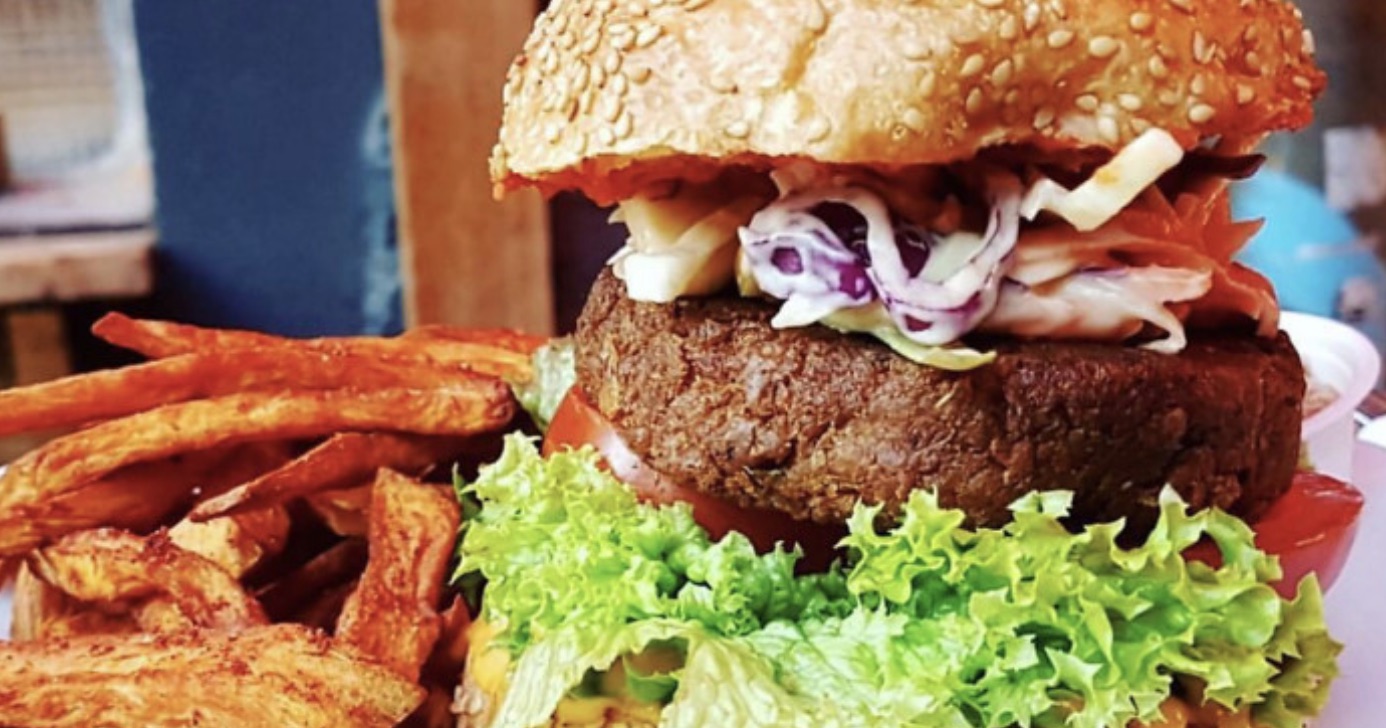 The vegan scene in Berlin continues to grow and thrive. Berlin upholds its reputation as an international vegan destination. The number of vegan restaurants within a 5-mile radius around Berlin has grown to 65, and an additional 320 vegetarian and veg-option restaurants are listed on HappyCow. The word "vegan" is visible on restaurant signs throughout the city. Berliners are familiar with the widely accepted and practiced vegan lifestyle, and it is incredibly simple to find options through this hip city. From stellar pizzas at La Stella Nera, world-class vegan döner kebab at Vöner der Vegetarische Döner, and creative gourmet cuisine at Lucky Leek orKopps, to healthier, raw vegan gourmet delights at Rawtastic, you can find any type of vegan dish you are craving. If you are in the mood for ethnic cuisine, the number of Vietnamese-style restaurants has exploded over the past few years. Top-rated 1990 Vegan Living has Vietnamese tapas style dishes including delicious mock meat and tofu plus great cocktails, andChaostheorie is a bar that also sells vegan comfort food.
If you are seeking a place to enjoy brunch, Cafe Vux is one of the least expensive but has excellent quality food. After yoga at the Jivamukti Berlin yoga center, enjoy healthy German cuisine and juices at Jivamukti Cafe, or if you want a quick vegan burger or quiche, check out EmmaPea Vegan Food and Bar. Sun Day Burger is a popular spot for an inexpensive vegan burger.
Berlin is known in the vegan community for their "vegan avenue" called Schivelbeiner Straße which boasts the vegan shoe store Avesu (shipping worldwide), the vegan clothing store Deargoods, and Veganz vegan grocery store with Goodies Cafe inside. If you can't find what you are looking for at Avesu or Deargoods, you may want to head over to vegan clothing stores Loveco and Suessstoff. If you're still craving sweets, you can get your vegan doughnut fix at either of Brammibals Doughnuts two locations or check out gourmet cake shop I Am Delicious. Balaram Eis serves incredible peanut vegan ice cream with pieces of chocolate, peanuts, and salted caramel. If you're seeking a permanent souvenir, you can even get a vegan tattoo at Lightworkers.
Berlin's vegan scene continues to thrive and expand, and it's a truly an awesome city for vegans.
Watch our video of Berlin's famous vegan avenue.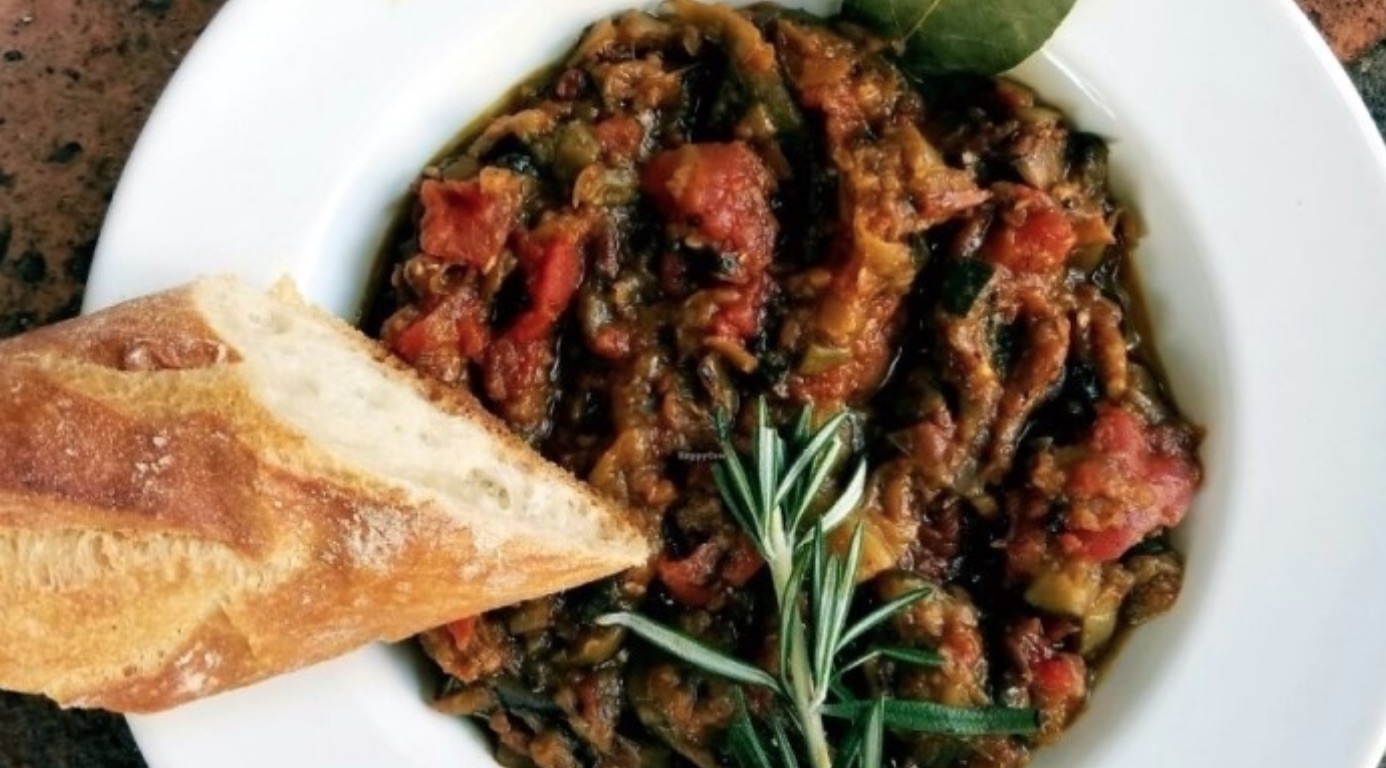 With its incredibly diverse variety of cuisines, New York is considered by many to be the international food capital of the world. New York's vegan scene continues to flourish, boasting 64 vegan restaurants in a 5-mile radius of the city. For a quick, tasty meal or a fresh juice, Terri's locations can be found throughout the city. Terri's-owned and socially conscious restaurant P.S. Kitchen opened the summer of 2017 and features an artisanal menu of small and large plates, desserts, and bar drinks. Some other spots for delicious, affordable, fast and tasty eats are Marty's V Burger with their fantastic veggie burgers and vegan buffalo wings and V-Life, a little shop and juice bar offering vegan wraps, burgers, salads, smoothies, and more.
If you are seeking an upscale experience, Candle 79 and Blossom are delectable choices, both specializing in elegant vegan American/International fusion dishes. These two restaurants also have less formal, less pricey offshoots throughout the city. Hangawi and Hangawi's sister restaurant Franchia Vegan Cafe offer spectacular vegan Korean/Asian fusion food. If you are in the mood for French vegan food, Delice & Sarrasin serves amazing vegan crepes and vegan versions of other French classic dishes.
New York City has numerous vegan bakeries including Erin McKenna's, and Sweets By Chloe (bakery portion of By Chloe), vegan coffee shop/bakery Jack's Stir Brew Coffee, vegan doughnut bakery Dun-Well Doughnuts, vegan confectionery Confectionery!, and raw dessert shop Rawsome Treats. Vegan shoe store Moo Shoes caters to your vegan feet. The city that never sleeps is becoming more vegan every day, and you will be able to find anything you crave here.
To avoid missing some of these hidden vegan gems in New York and other cities globally, use our HappyCow app and sort by highest rated!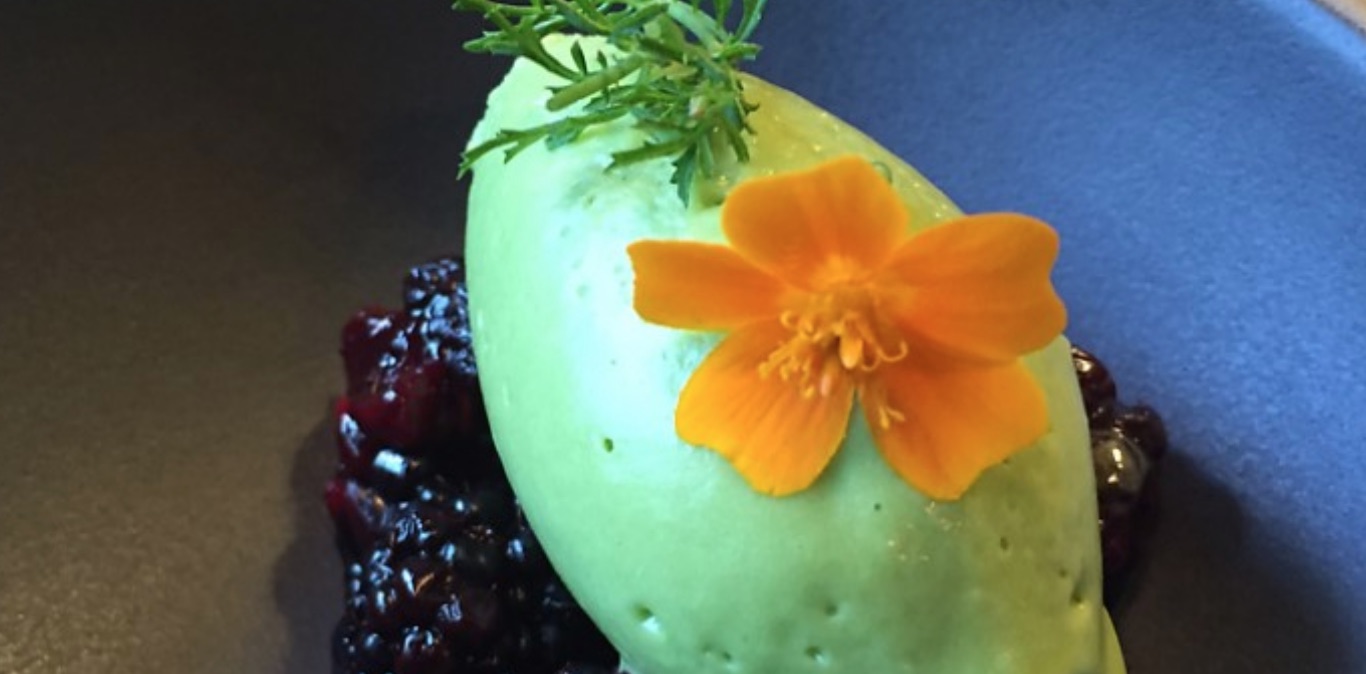 Veganism and plant-based eating are an integral part of Portland's social fabric. The city's landscape is dotted with a wide variety of fabulous vegan eats, including 20 types of vegan artisinal cheese produced at Vtopia Cheese Shop & Deli. In the same building you can find the new and highly popular Ichiza Kitchen and Teahouse, a teahouse specializing in shojin ryori-style food. Top-rated Aviv serves delicious Israeli cuisine, and if you are in the mood for gourmet, artisinal pizza, check out Virtuous Pie. Canteen is an excellent choice for healthier smoothies, bowls, and fresh salads. Top-rated American/European fusion restaurant Farm Spirit has exquisitely prepared and presented small plates, and Paiche, a Peruvian restaurant that became vegan late last year also focuses on beautiful, small plates. Higher-end Epif, a restaurant and pisco lounge inspired by the Andes region of South America, became vegan in the last year.
In the mood for a quality vegan burger? Next Level Burger is an Oregon plant-based business with 6 locations across 4 states including its Portland location. After your burger fix, check out Oracle Coffee Company which serves some of the finest cups of coffee around with an array of Pennsylvania Dutch-style baked goods supplied by Shoofly Vegan Bakery. If you are craving a delicious gourmet vegan donut, be sure not to miss Doe Donut. Back to Eden is considered by many as the best bakery / sweet shop in Portland, and they opened a second, much larger, restaurant next door to their original location. The restaurant focuses on brunch and pizza. All menu items are vegan and gluten-free.
In addition to many vegan restaurants, Portland is well known for having a number of vegan food carts such as Sushi Love, which serves elegantly prepared vegan sushi; a vegan bed and breakfast,The Cherokee Rose Inn; a vegan shoe/handbag/clothing/accessory store, Ether Shoes Warehouse; and a decadent vegan chocolate shop, Missionary Chocolates. There is even a vegan strip mall with a vegan tattoo shop, Scapegoat Tattoo; a vegan grocery store Food Fight! Grocery; a vegan bake shop, Sweetpea Baking Co.; a vegan clothing shop, Herbivore Clothing; and a vegan massage therapy studio, New Moon Massage. The secondFood Fight! location is evolving into a new vegan mini-mall with a vegan cafe, Jet Black Coffee Company, next door and a vegan Mexican food cart, Vegan Gorditos. Homegrown Smoker Vegan BBQ opened a restaurant and has highly rated mouth-watering vegan barbeque, and nearby you can find Sudra's second location.
If you enjoy a vegan cocktail with your vegan food a number of new vegan bar/restaurants have opened in Portland including Maxwell bar, Modern Times, and Capitol. Portland even has adult entertainment clubs which serve exclusively vegan food.
Portland is a very hipster and eco-friendly city, and within a 5-mile radius, there are 40 fully-vegan restaurants, 27 vegetarian restaurants, and 154 veg-friendly restaurants. Portland's high density of vegan establishments means you won't have to travel far to find what you are looking for, and several more vegan restaurants are scheduled to open in the next few months.
Watch our video highlights of Portland VegFest.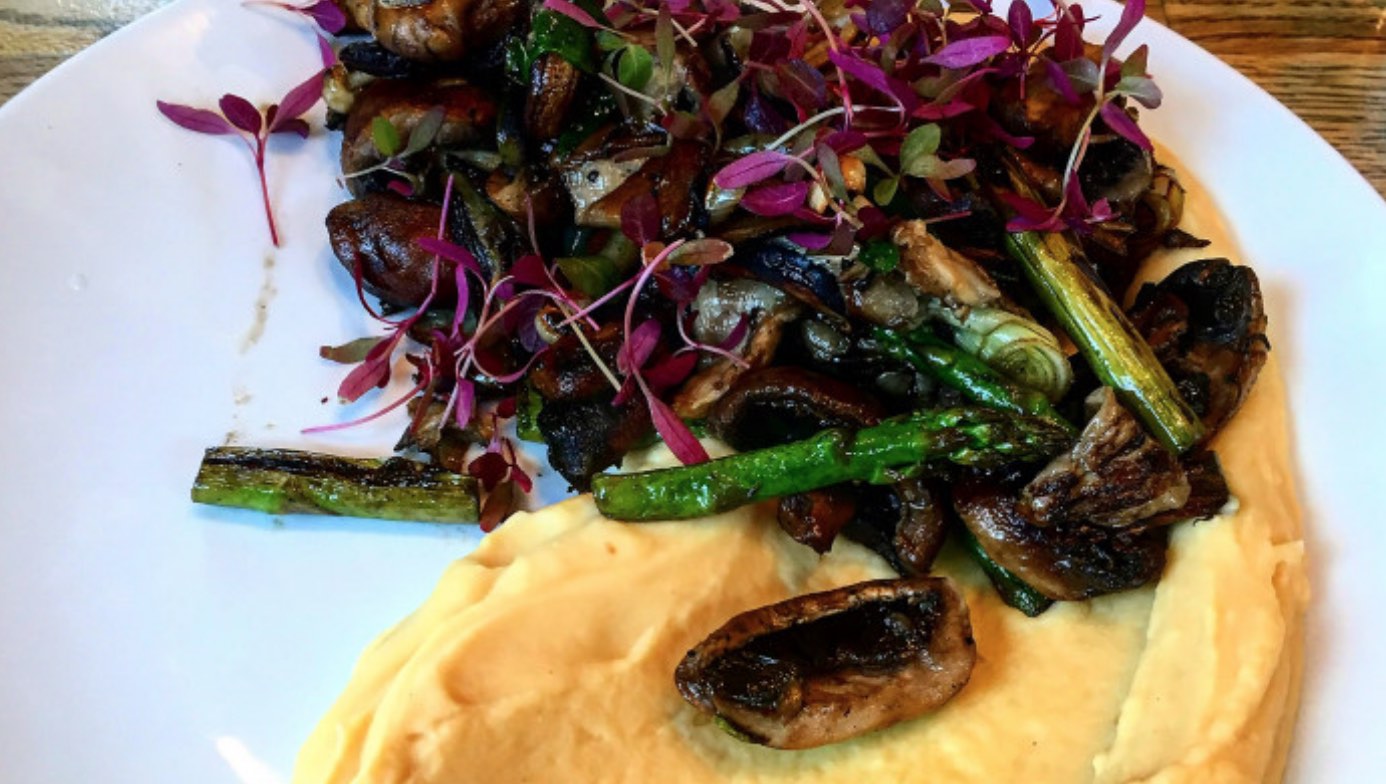 Israel has the highest percentage of vegans globally, with an estimated 5 to 8 percent of the entire population being vegan, an estimated 400,000 people and growing. Many of these vegans inhabit Tel Aviv. Most of the 31 fully-vegan restaurants in Tel Aviv serve a combination of Israeli / Middle Eastern / Mediterranean cuisine with some western influence. The first vegan cafe in Tel Aviv, Anastasia, has excellent main dishes and raw desserts and is very popular throughout the day. Four One Six, an all vegan modern New York-style bar and restaurant, makes their own vegan "steak" and has fabulous desserts.
Zakaim Vegan Boutique is considered one of the top vegan places to eat in the city, with a menu featuring Persian and Middle Eastern fine dining. Tel Aviv also boasts one of the world's few authentic vegan Ethiopian restaurants, Tenat, with an authentic atmosphere and top quality meals. If you are seeking vegan Sushi, try The Green Roll, and if you are in the mood for gourmet raw food, check out Neroli Organic Juice Bar and Rawfood Diner. Hatool HaYarok has some of the city's best vegan pizza, topped with house-made cashew cheese.
Meshek Barzilay Deli offers salads and hot dishes which you can eat inside or in their outside section. They also have a coffee bar with vegan cakes, a juice bar, and products such as gourmet vegan cheese, spreads, bread, wine, organic produce and more. Next door is Meshek Barzilayrestaurant, which serves mostly vegan dishes.
If you're after a quick bite, try the popular veggie fast food and diner-style restaurant Goodness, and if you fancy vegan kebab, shawarma, schnitzel, and burger, we recommend Falafel Mevorach. For vegan fast food that is not fried, check out Nature Boys, and Jars and Bowls for salads, legume bowls, and shakes.
The city also has a vegan grocery store, Taam L'Chaim – Taste For Life.
Due to the density of the vegan population, the restaurants, and city's vegan mentality, Tel Aviv upholds its reputation as one of the world's vegan capitals. The Israeli Defense Force continues to provide vegan meals and leather-free boots and helmets to vegan soldiers. International pizza delivery service Dominos offers vegan cheese at all of their branches in Tel Aviv and throughout Israel.
HappyCow's Tel Aviv city page lists 31 vegan, 29 vegetarian, and 138 veg-friendly eatery options. Most of these restaurants are concentrated within a 1-mile radius of the city center. Israel has the most vegans per capita and the vegan food options in Tel Aviv are incredible.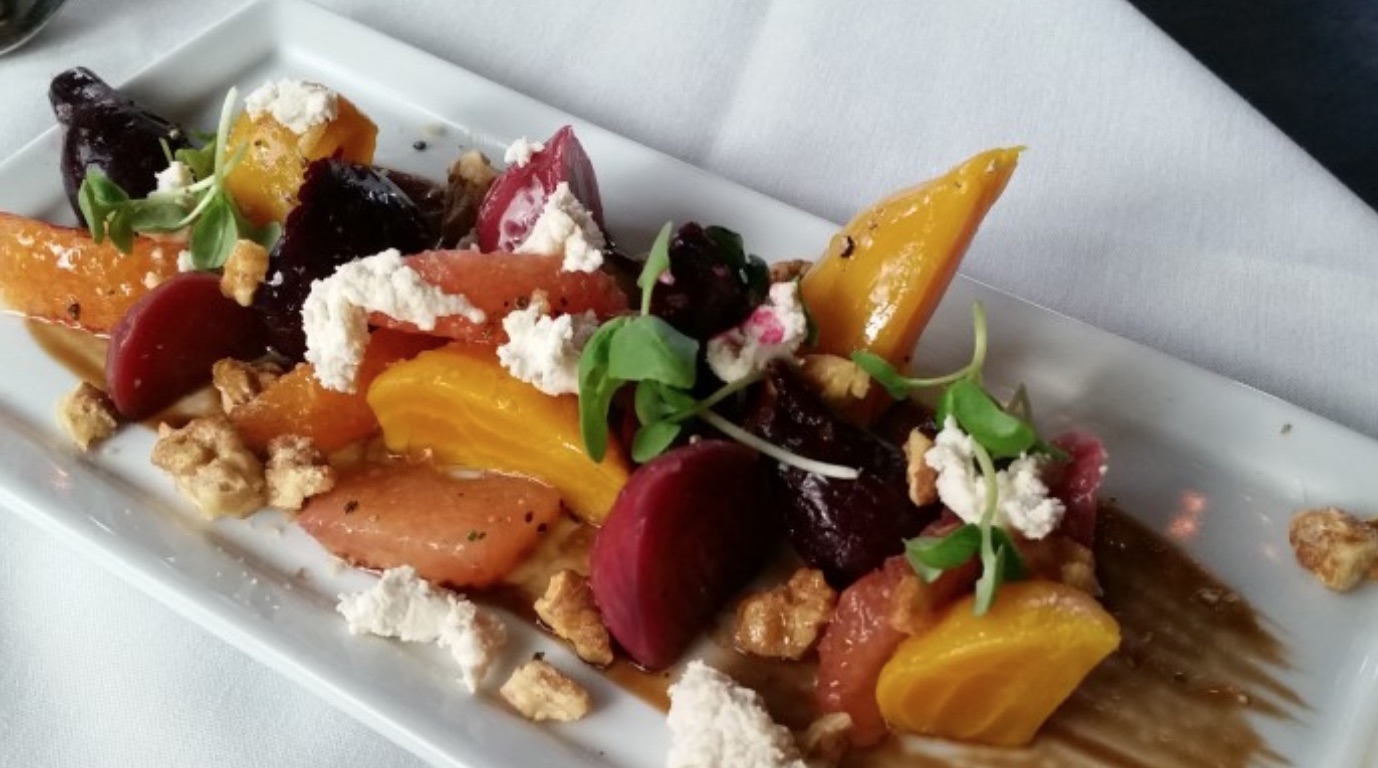 Although Los Angeles may be best known for Hollywood celebrities, including a number of vegan ones (Joaquin Phoenix, Alicia Silverstone, and Casey Affleck, to name a few), Los Angeles is also a vegan mecca, boasting 42 fully-vegan and another 142 vegetarian and veg-friendly restaurants in a five-square mile area. You won't have any trouble finding delicious healthy (or less-than-healthy) options throughout this large city. LA is known for its wide variety of international vegan cuisines, including 18 vegan Thai restaurants (we recommendArraya's Place and Satdha), three vegan Ethiopian restaurants (Rahel Ethiopian Vegan Cuisine, Azla Vegan, and T&T Lifestyle), a mouth-watering vegan cheese restaurant (Vromage), an upscale gourmet vegan Japanese restaurant with 2 locations (Shojin), the second location of vegan Vietnamese favorite Au Lac, and the world's first and only Cuban vegan restaurant (Equelecua Cuban Café). Vegan cheese pizza can be ordered at an increasing number of restaurants throughout the city, or you can choose to stick with entirely plant-based Cruzer Pizza. LA is also home to iconic vegan musician Moby's Little Pine vegan bistro, serving upscale Italian/Mediterranean fusion dishes; and also to celebrity chef Tal Ronen's wildly successful Mediterranean fusion restaurant, Crossroads. Some superb vegan bakeries include Donut Farm, Erin McKenna's Bakery LA, and Pomegranate. Moo Shoes is nearby for vegan shoes and accessories. Newer additions to the Los Angeles vegan scene include Los Angeles's first all-vegan restaurant/bar Beelman's and a nearby quirky restaurant/bar with great American/fusion food The Dankness Dojo at Modern Times.
Although these options are spread out over a large area of the city, it's no wonder why LA is often referred to as a vegan haven.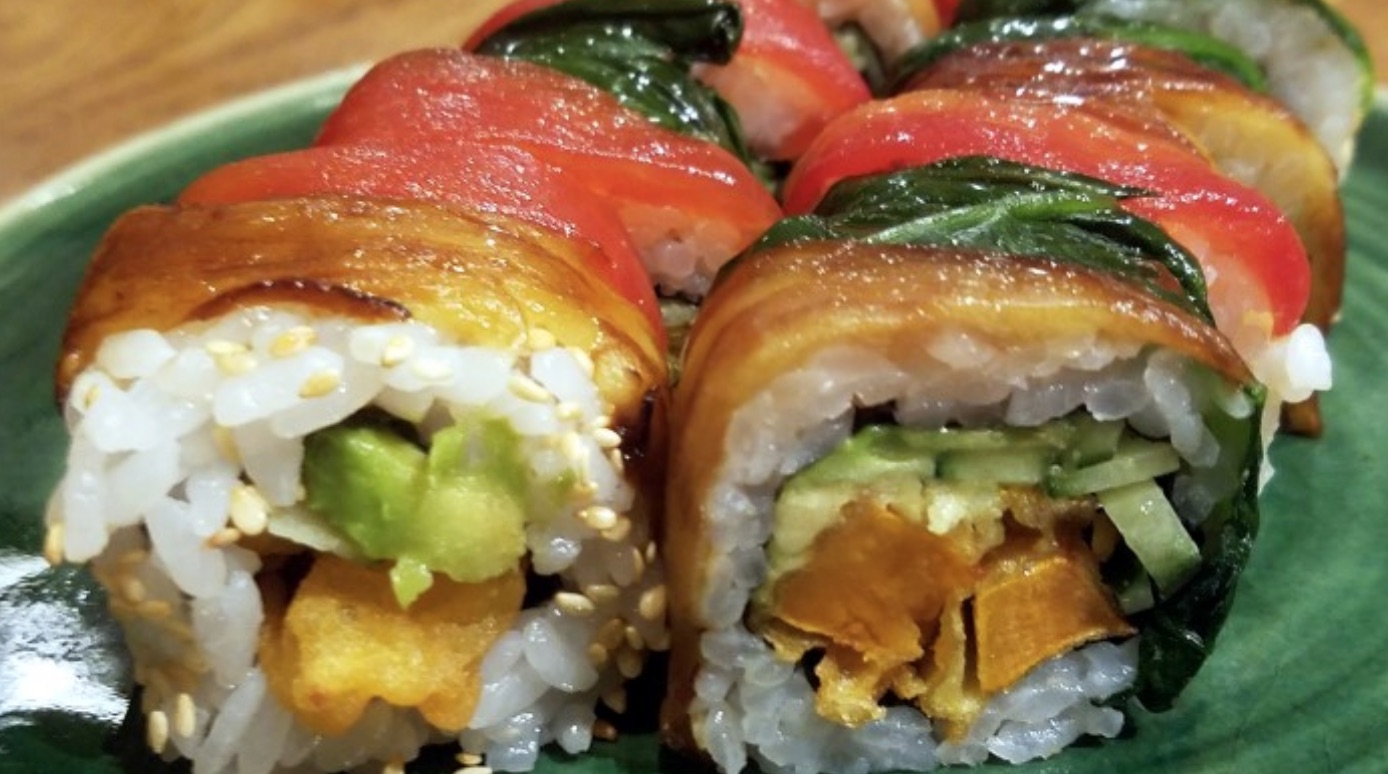 Warsaw continues its tremendous vegan growth spurt in 2018, with 47 vegan restaurants now in a 5-mile radius, and with most of those within just a one-mile radius. The density of vegan restaurants in Warsaw makes it incredibly convenient to walk from restaurant to restaurant. Warsaw's famous vegan burger joint Krowarzywa's added its fourth location, based upon its success of being voted twice as the "Best Burger in Warsaw," beating out all competing meat burgers. The city has two spectacular vegan sushi restaurants, Edamame and Youmiko Vegan Sushi; an excellent vegan Italian restaurant, Leonardo Verde; a world-class vegan ramen restaurant, Vegan Ramen Shop; and a number of other classic restaurants including Vege Miasto, Lokal Vegan Bistro andVege Bistro, all showcasing vegan versions of traditional Polish dishes such as pierogi (dumplings), golabki (cabbage rolls), and Schabowy (meat cutlets).
There are also a growing number of excellent middle eastern/falafel restaurants includingFalafeLove, with its two locations, Vegan Na Moliera, Tel Aviv with five locations, and Falafel Beirutwith three locations. Akwarium and Vegestacja offer superb vegan ice cream; Lokal Dela Kremserves gorgeous cakes and other baked goods; and, if you are seeking desserts with the healthiest ingredients in the city, S?odki Bez is a fine choice. With its three locations, Keboom offers vegan kebabs with many calling it Warsaw's top kebab.
Physalis confectionery creates superb to-order cakes, pies, pastries, and macaroons. Warsaw has two vegan grocery stores, Evergreen and TerraVege; a vegan and organic certified wine shop, Solvino Bio; a new vegan shoe store, Amanas; and even two vegan nail salons, Salon Wisla & Nailed It.
Within a 5-mile radius, HappyCow has over 112 listings for veg-friendly options in the city of Warsaw, and this city's vegan scene continues to flourish and grow.
Watch our video of Warsaw's vegan scene | See vegan Warsaw documentary by Patryk B.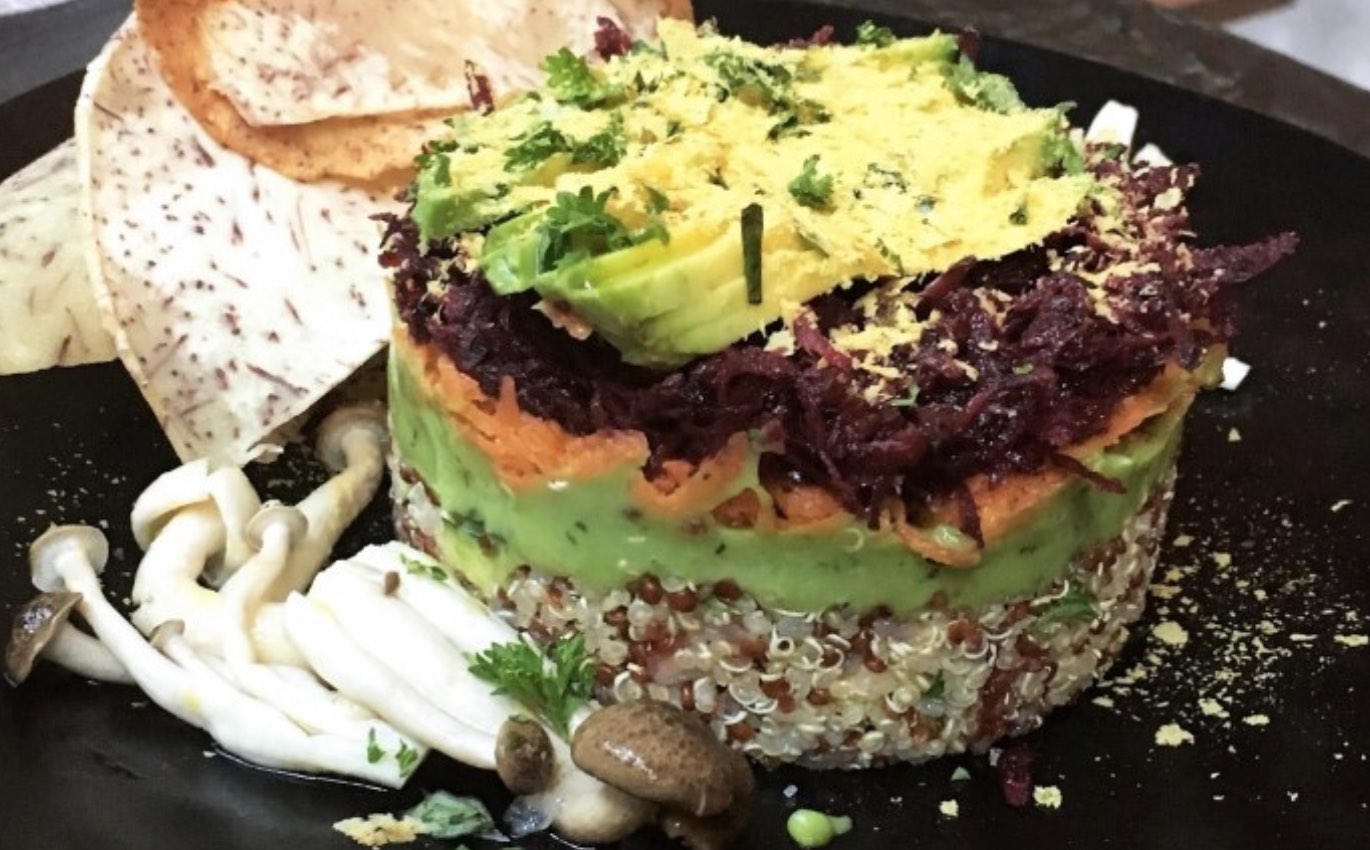 Entering the top ten this year is Canada's most populous city. Toronto has long been known in the vegan scene for one of the largest vegetarian events in North America (watch our Toronto Veg Food Fest video here), and the number of vegan offerings in this city has exploded over the past few years.
Another branch of the locally famous Apiecalypse Now vegan pizzeria opened earlier this year and continues to serve outstanding vegan pizza-by-the-slice.
Famous Canadian Chef Doug McNish opened his Mythology Diner in late 2017, featuring veganized versions of classic diner foods such as the Reuben sandwich and Salisbury steak. Doomies from Los Angeles opened a Toronto branch, and this newer location of the vegan American fast food restaurant has also become a mainstay for vegan versions of American classics north of the border.
Toronto is filled with create-it-yourself vegan protein bowl restaurants like Urban Herbivore with 4 locations and Kupfert and Kim with 6 locations. For delicious salads, soups, and smoothies, SÜÜP Health Bar is another popular choice.
For an upscale vegan experience, Planta is the go-to restaurant, and you can also try their casual offshoot called Planta Burger which offers vegan burgers, crab cakes, and milkshakes. If you are into ethnic foods, Vegetarian Haven features superb Asian fusion cuisine. For Jamaican favorites, One Love Vegetarian and Ital Vital's two locations will satisfy you with the tastes of this tropical island.
If you are into healthier vegan food, Rawlicious has you covered with their raw vegan lasagna, pizzas, wraps, salads, and desserts. If you like your desserts more traditional, check out the 2 locations of Bunner's Bake Shop and Sweet Hart Kitchen. Are you seeking vegan shirts, shoes, purses, wallets, and accessories? The Imperative is the place to go. For vegan meats, cheeses, and other vegan foods, check out Good Rebel grocery store.
Toronto's vegan scene has come a long way the past few years and continues to grow.
With a population of only 1.26 million people, Prague comes up in the top 5 of most vegan restaurants per capita in the world. Although Prague has 48 vegan restaurants listed on HappyCow within a 5-mile radius, most of these restaurants fall within a 2-mile radius. Just a few years ago, the great majority of vegan restaurants in Prague were comprised of the 8 Loving Huts that you can find throughout the city, but over the past couple of years, Prague's vegan scene has grown rapidly. Highlights in this beautiful, small city include Bistro St?echa ("roof" in English) which offers delicious and inexpensive vegan, primarily Czech cuisine, and is owned by a worker cooperative where all who work there can eventually become members. This socially conscious cooperative offers jobs to underprivileged people who are having difficulty finding a job, such as former prisoners, and the homeless.
Chlebí?ek is a shop and a tiny bistro where you can buy and eat typical Czech open sandwiches ("chlebí?ky"), which are very popular in Czechia at all kinds of events. Forrest Bistro is a new bistro/café/restaurant which offers a daily lunch menu in addition to the regular menu. The food is a fantastic fusion of many world cuisines and occasionally includes Czech cuisine. The restaurant also makes some of the best coffee in town. Waipawa Letná offers great vegan burgers and Czech classic meals like fried cheese or "sví?ková" gravy with dumplings, and another great vegan burger place is Pastva.
Moment is one of the early vegan restaurants in Prague, and is best known for their tasty brunch, featuring scrambled tofu, bagels, shawarma, and quesadillas. Amitabha, is a reasonably-priced self-serve Thai buffet. Since it is located in a basement, the temperature remains pleasantly cool in the warm Prague summers. If you love vegan buffets, Veganland's three locations offer excellent Asian-style pay-by-weight buffets.
Blue Vegan Pig Shop offers delicious American style donuts which are very popular in Prague. If you are into raw vegan gourmet cuisine, the three locations of bistRAWveg are a perfect choice.
Due to the vast number of vegan choices and the density of vegan restaurants in this small city, Prague is a superb choice for vegan travel.
Watch our video with some insider vegan tips in Prague here.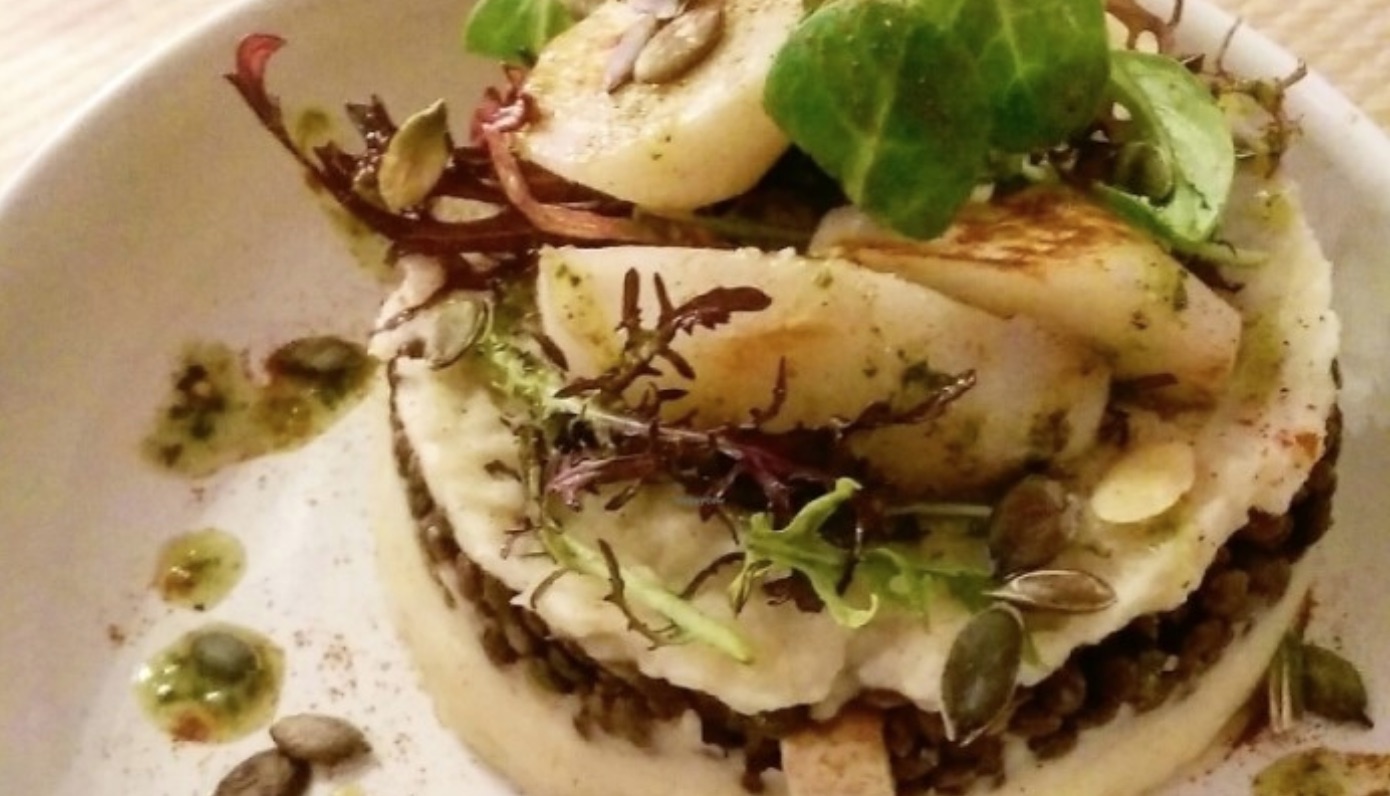 Entering the top ten this year is one of the world's most popular tourist destinations. Although Parisian cuisine is better known for its dairy and meat/fish, this city has transformed over the past few years into one of the world's top destinations for vegans.
Paris has a variety of fine vegan restaurant choices. Gentle Gourmet is a vegan restaurant featuring refined cuisine, both classical and contemporary. With their 2 locations, Hank Vegan Burger serves what many consider to be the best vegan burger and fries in Paris. Sister restaurant Hank Vegan Pizza serves a variety of top-quality vegan pizzas by the slice. Another top-rated fast food vegan spot is Super Vegan best known for their vegan kebab with garlic sauce. Season Square features soups, burgers, pasta, rice dishes, and desserts. If you crave a vegan hot dog, Hot Vog or Le Tricycle are your spots.
For your sweet tooth, Cloud Cakes is a vegan coffee shop and bakery featuring vegan croissants, light meals, and excellent coffee. Jo and Nana Cakes has amazing vegan cookies, pies, and cakes, and they also serve a mouth-watering vegan quiche. More delectable pastries and other desserts can be found at Laélo and VG Pâtisserie. Carmen Ragosta, a concept store combining a restaurant and a clothing boutique, serves outstanding vegan Italian cuisine with a French twist, and what may be the finest tiramisu in the world.
In the mood for vegan Asian food? International vegan chain Loving Hut and Bodhi Vegan are local favorites. The highly-rated and popular Le Potager Du Marais serves traditional French foods made vegan, as well as outstanding onion soup and vegan bourguignon. Le Potager De Chalotte and Hope serve delicious seasonal gourmet European and French cuisine. Le Faitout offers a variety of soups, salads, and desserts, and becomes a tapas bar in the evenings. My Kitchn serves healthy, and very tasty organic vegan food, smoothies, and cocktails, and has a vegan version of Fois Gras called Faux Gras. HappyCow's top-rated La Palanche d'Aulac, offers authentic Vietnamese cuisine. If you prefer to be guided by locals around the city to some of the hottest vegan spots, check out Vegan Culinary Tours Paris.
Paris has a number of fully vegan stores, including Un Monde Vegan and Mon Epicerie Paris, which have a fine selection of vegan food products. Jay & Joy is a shop specializing in vegan cheese. If you need vegan body care or cosmetics, Veganie has a variety of international vegan brands.
Paris has come a long way in terms of vegan offerings, and we are delighted to see in our top ten one of the world's most visited cities.
Roaming the gorgeous streets of Paris while navigating with the HappyCow app will make your Parisian experience even more delightful!
Watch our video highlights of Veggie World Paris.
Thanks to these HappyCow Ambassadors for their suggestions and guidance:
Sassyvegan – London Ambassador
J-Veg – Berlin Ambassador
slo0go – New York Ambassador
Cascadian – Portland Ambassador
Brok O. Lee – Tel Aviv Ambassador
Mirage – Warsaw Ambassador
Vegan GiGi – Toronto Ambassador
Tereza-soucitne.cz – Prague Ambassador
Ricardo – Paris Ambassador
JulieEA
Julie Ammons – Proofreading
By Ken Spector & Eric Brent July 1, 2018