If you were one of the many Brits who grew up eating Müller corners, you'll be delighted to know that the brand has finally released a vegan version with a dairy-free yogurt base. 
The plant-based versions come in two flavors – Strawberry & Pomegranate and Vanilla Chocolate Maxi Balls. The yogurts are made with a coconut alternative. Like the original Muller Corners, the vegan options feature one compartment with vanilla yogurt, and the other with either compote or chocolate balls.
Müller has also released two vegan rice puddings. These come in vanilla and chocolate flavors, and are made with a coconut alternative. All the products are available at Asda, and will cost £1.25. 
"When we spoke to consumers it was clear that plant-based Müller favorites represented a real opportunity, as long as it maintains our trademark taste," commented Toby Bevans, strategy and marketing director at Müller Yogurt & Desserts. "Plant-based and dairy products have co-existed in shopping baskets and fridges for a long time, so making the nation's favourite dairy brand accessible to more people is a really exciting and natural move."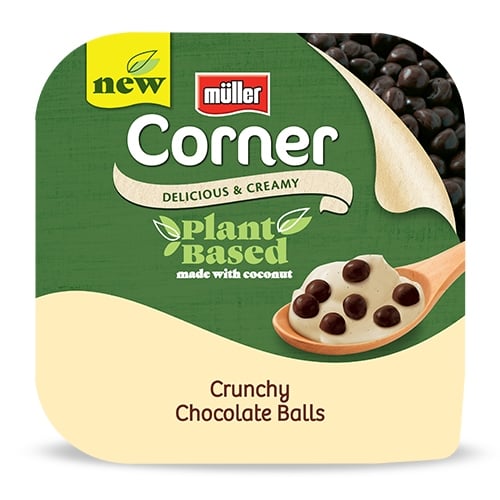 The rising popularity of vegan yogurt
Previously a rarity on supermarket shelves, it's now easier than ever to find dairy-free yogurt on your weekly shop.
The global vegan yogurt market was valued at USD $1.2 billion in 2021, and it's been projected to grow to $9.58 billion by 2030.
As well as Muller, a number of other mainstream brands have introduced plant-based versions. These include Benecol, Petits Filous, and Danone. Vegan brands like Alpro, Nush, and Oatly also sell popular dairy-free yogurts.
Is the UK moving away from dairy?
There has been a boom in demand for alternatives to traditional dairy products in recent years. We see this most starkly with fluid milk consumption, with people drinking around 50 percent less than they did in the 1970s.
This is partly attributable to the rising popularity of plant-based milk. Generation Z in particular are more likely than others to opt for oat, almond, soy, or other vegan varieties.
A study published last year found that almost half of that age group felt shame around ordering dairy. While half of them still preferred cow's milk, more than half intended to give it up in the next year.
It's worth noting, however, that the overall demand for dairy is still strong. According to stats from 2020, 98.5 percent of UK households still buy fluid milk. What's more, demand for cheese is growing. According to figures from 2022, 35 percent of the population eat it two to three times a week, while 71 percent of consumers had bought cheddar in the last three months.
A recent study found that British vegetarians, who consume more dairy than any other dietary group, felt less guilt about eating cheese than milk.
More like this: