No country loves biscuits more than the UK. In 2017, Brits reportedly consumed £3 billion worth of biscuits – an average of 106 packets per household. While it may not be the healthiest habit, vegans needn't miss out on the national pastime of eating biscuits. If you eat a plant-based diet, here are the best vegan biscuits you can find in the UK.
Some of the nation's favorite biscuit brands just so happen to be vegan already. There are also a number of delectable, purposely vegan options to try. And if you'd prefer to try your hand at making your own vegan biscuits, we've got you covered with a bunch of great recipes.
Why aren't some biscuits vegan?
Quite a few biscuits available in supermarkets contain milk powder and/or butter. Often it's in the name, like "All Butter Shortbread" or "Milk Chocolate Digestives." Sometimes it isn't obvious that a pack of biscuits isn't vegan and you need to read the ingredients. Confusingly, some biscuit brands have gone back and forth between using a vegan recipe and a non-vegan recipe, like Jammie Dodgers (which are currently vegan). 
Here are the ones that we know for sure are vegan, even if they don't intend to be. Please note, ingredients lists are subject to change, and you should always check the label before buying. Many of these brands carry a risk of cross-contamination of milk, meaning they aren't suitable for allergy sufferers.
Accidentally vegan biscuit brands
Oreos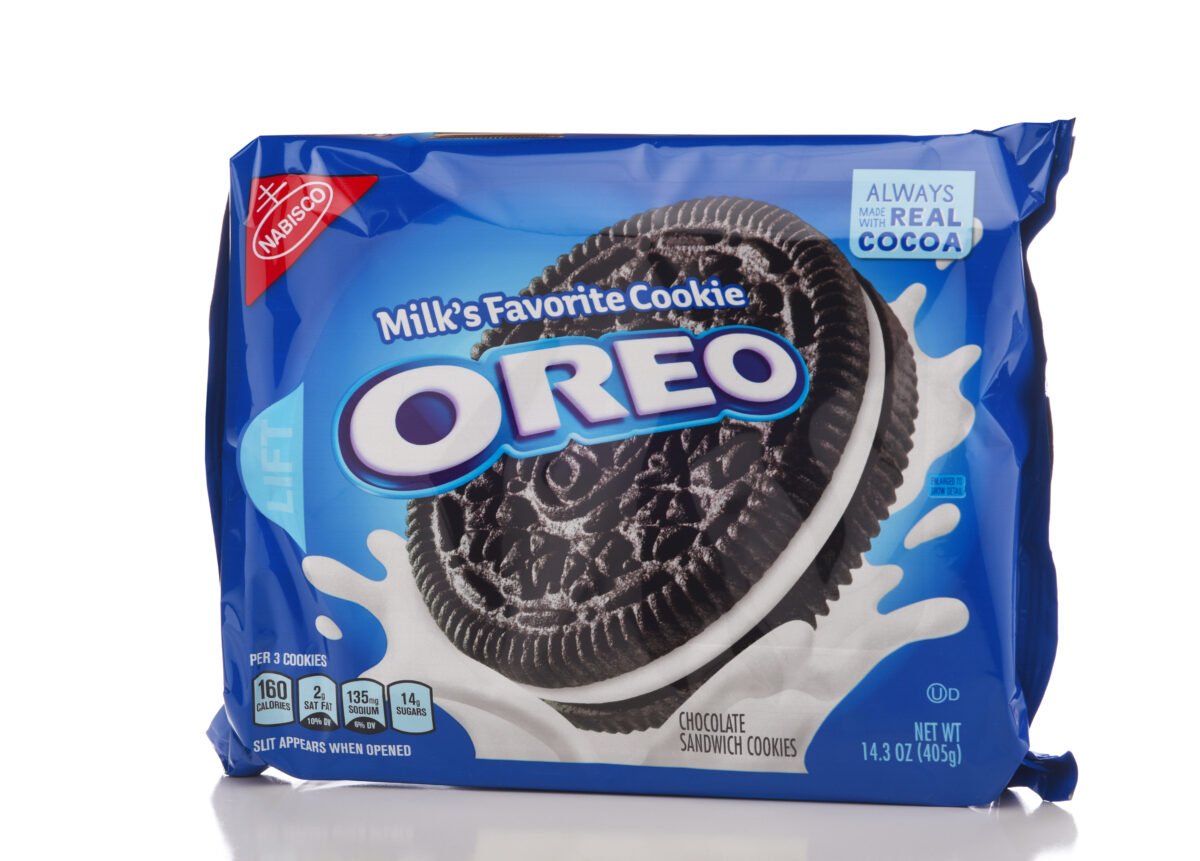 These popular American biscuits are made mainly with wheat, vegetable oils, cocoa powder, and various food additives. This makes the classic Oreo cookies safe for vegans. The Vegan Society has also certified several other Oreo products, including Oreo Choco Brownie, Oreo Original Base Cake Crumb, and Oreo Golen.
You can find out more about Oreos and which types are – and aren't – vegan in our Oreo deep-dive.
Digestives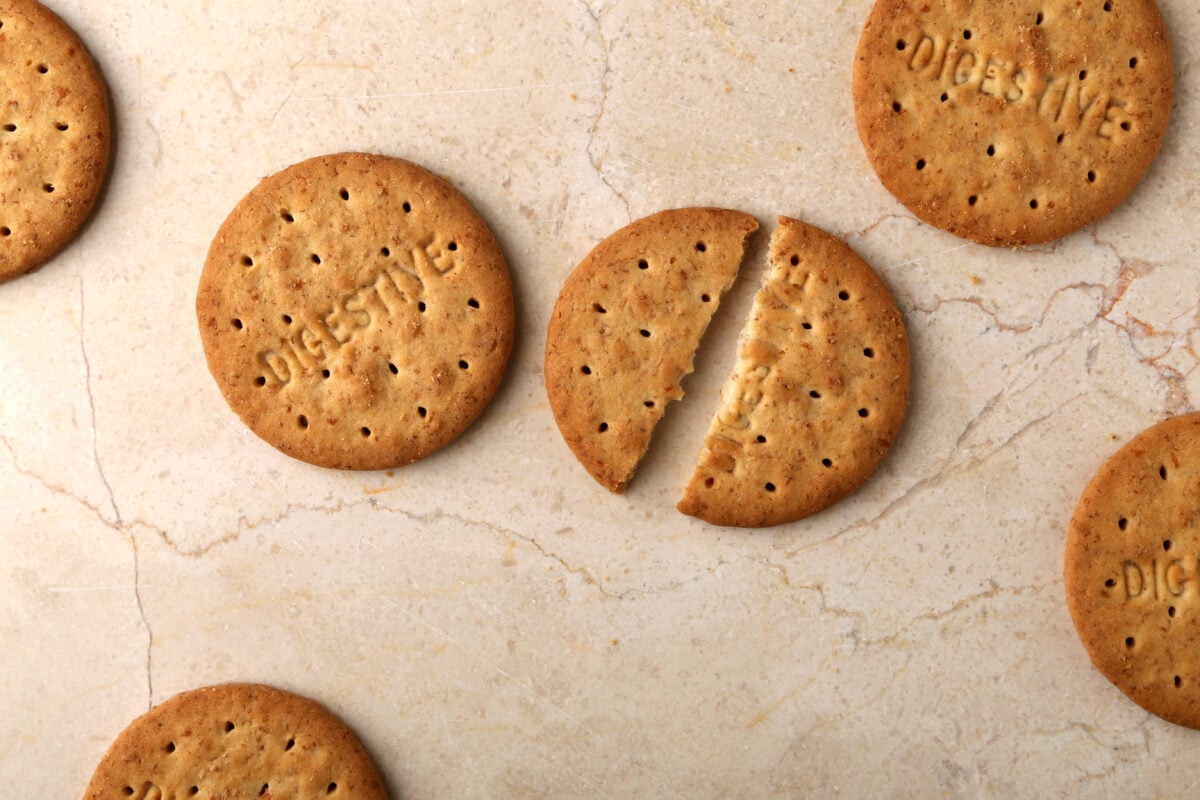 Digestives are a staple of the British biscuit scene, first produced by McVitie's in the 19th century. Originally created to aid digestion through the inclusion of bicarbonate soda, digestives are now a hugely popular treat to have with tea or coffee.
McVitie's changed its recipe to remove dairy and make its digestives vegan in 2019. A number of brands besides McVitie's make their own digestives. The products made by Tesco, Lovett's, and Doves Farm are vegan, but Jacob's Hovis Digestives contain dried whey (milk). 
Tesco Dark Chocolate Digestives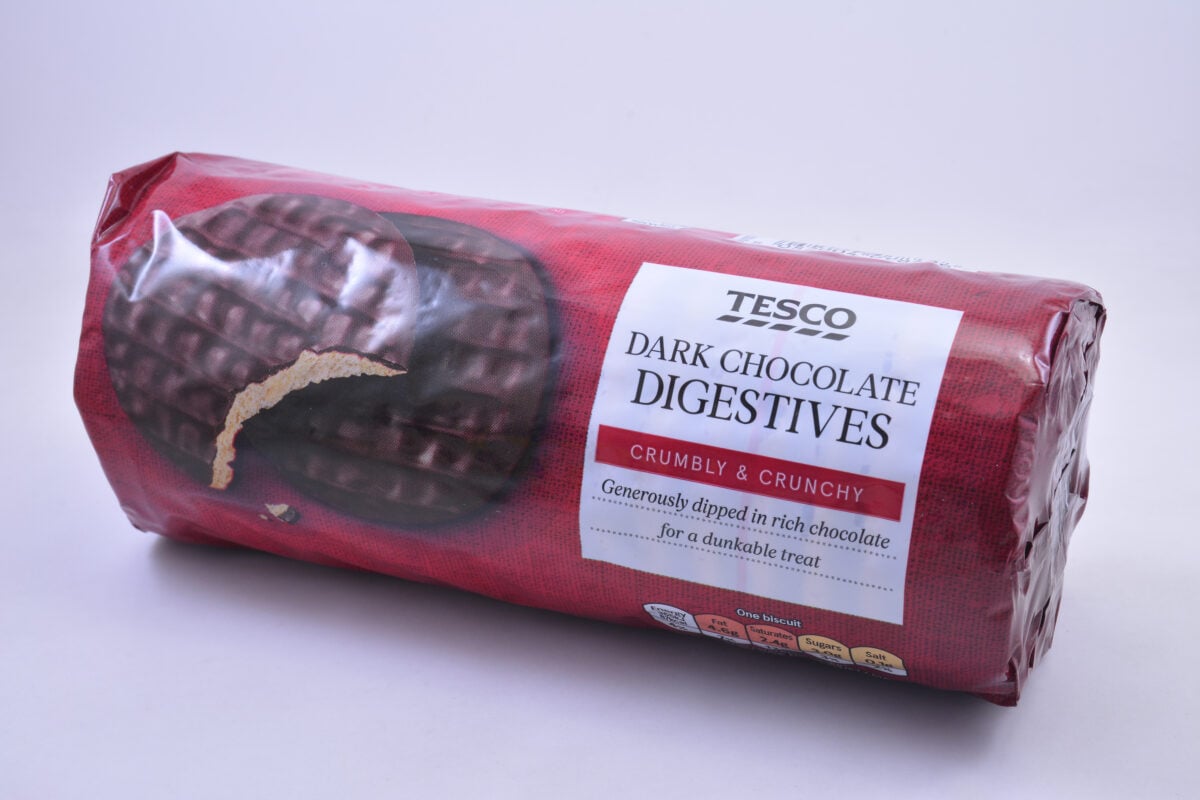 If you like a bit of chocolate on your digestives, you'll need to look beyond McVitie's, whose chocolate digestives are not vegan. Luckily, Tesco's Dark Chocolate Digestives are!
Hot tip: we like to assemble our own chocolate digestives by topping a McVitie's original biscuit with some vegan chocolate like Montezuma's Dark Chocolate Giant Buttons.
Bourbon Creams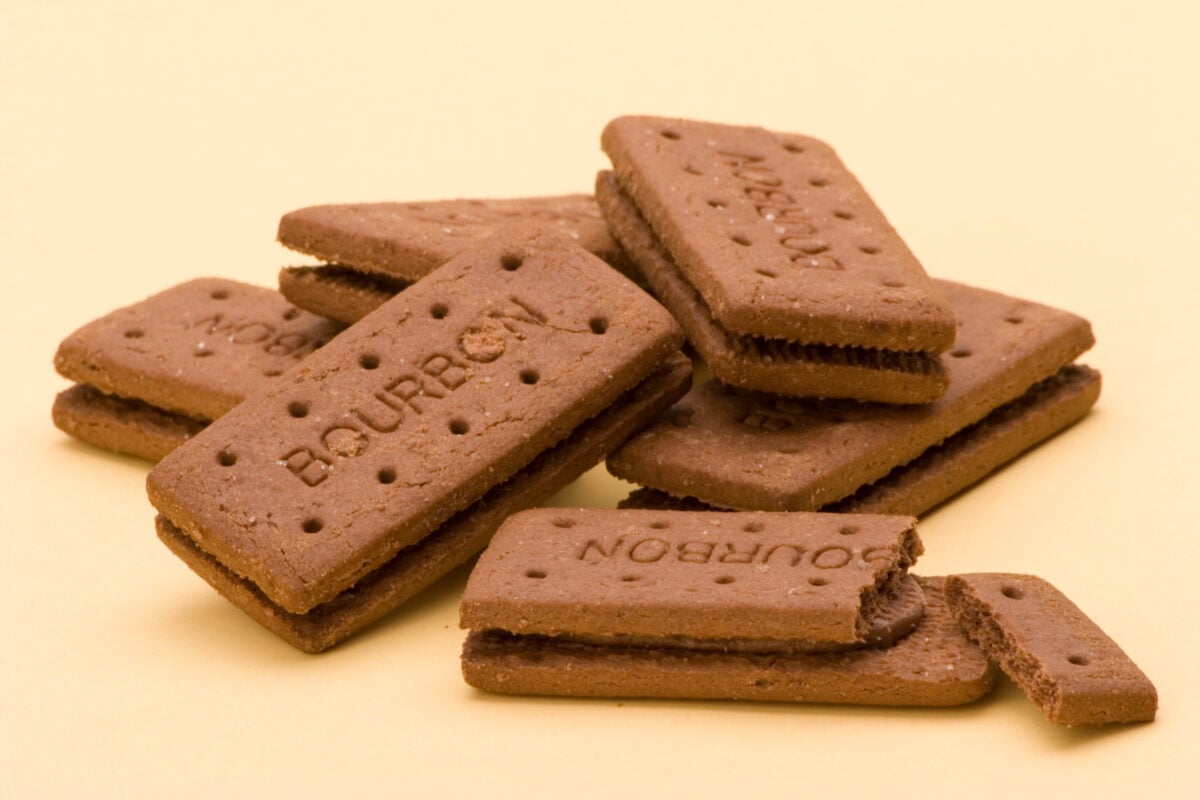 A little dry, a little chocolatey, bourbon creams are great with a cuppa. Sainsbury's, Tesco, and Co-op have their own brand versions, all of which are vegan.
Lotus Biscoff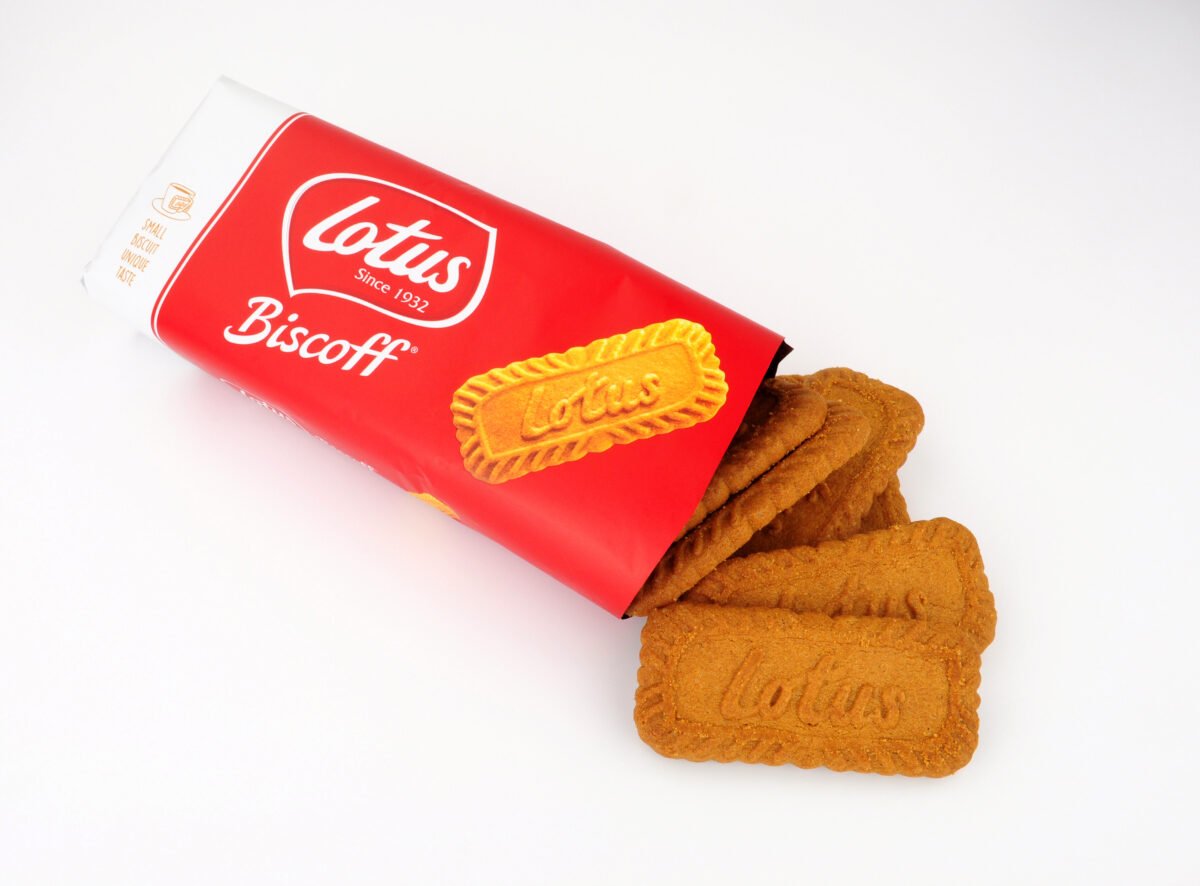 When I lived in the Netherlands, a Lotus Biscoff biscuit came with every coffee I ordered in cafes. A custom that would certainly be welcome in the UK. Indeed, Biscoff is a portmanteau of biscuit and coffee! A biscuit sandwich version now exists too, with a layer of Biscoff cream between two biscuit halves. The original are vegan, but the Milk Chocolate cream ones are not.
Biscoff is also available in the form of a smooth or crunchy spread. It has eased the transition of many a new vegan wondering what to replace Nutella with.
Rich Tea Biscuits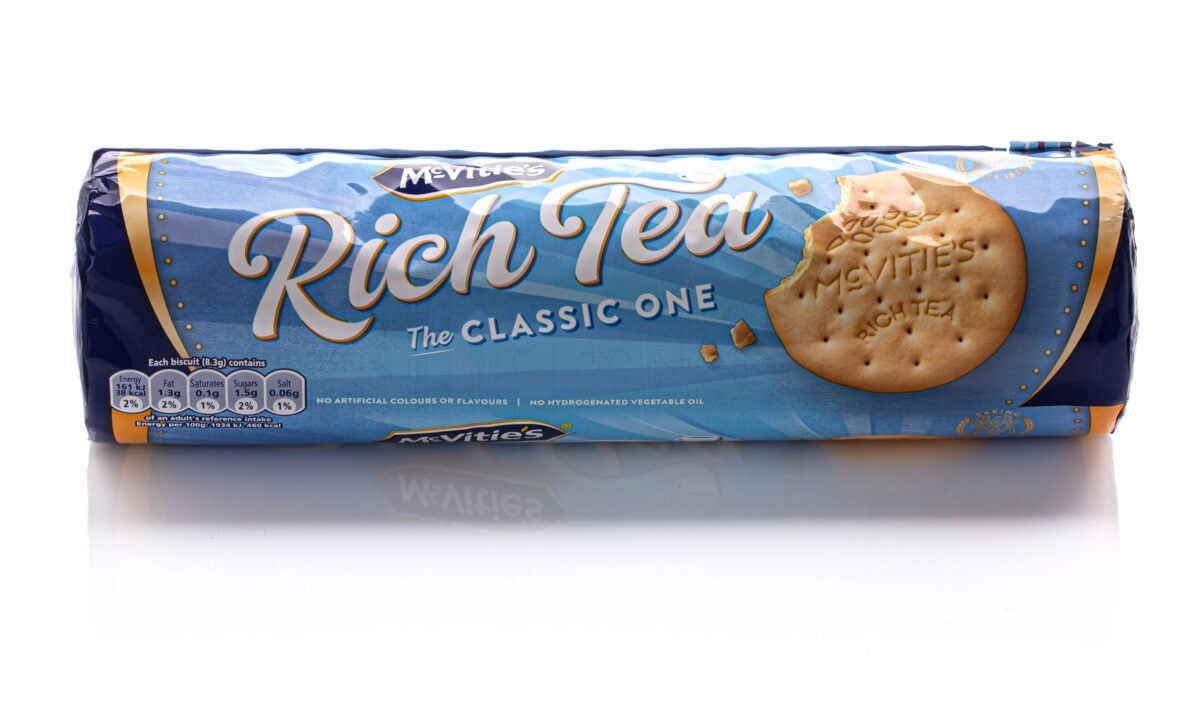 McVitie's Rich Tea Biscuits are labeled as "suitable for vegetarians" but do not contain any animal products in the ingredients. If you want to err on the side of caution, Tesco and Asda make own-brand versions that are definitely vegan. 
But you might want to give Sainsbury's Rich Tea Biscuits a miss, as they contain mono- and diglycerides of fatty acids. These can be derived from plants or animals, but this is not specified in the ingredients list. Schar Gluten-free Rich Tea Biscuits are definitely not vegan as they contain milk and eggs.
Ginger Nut Biscuits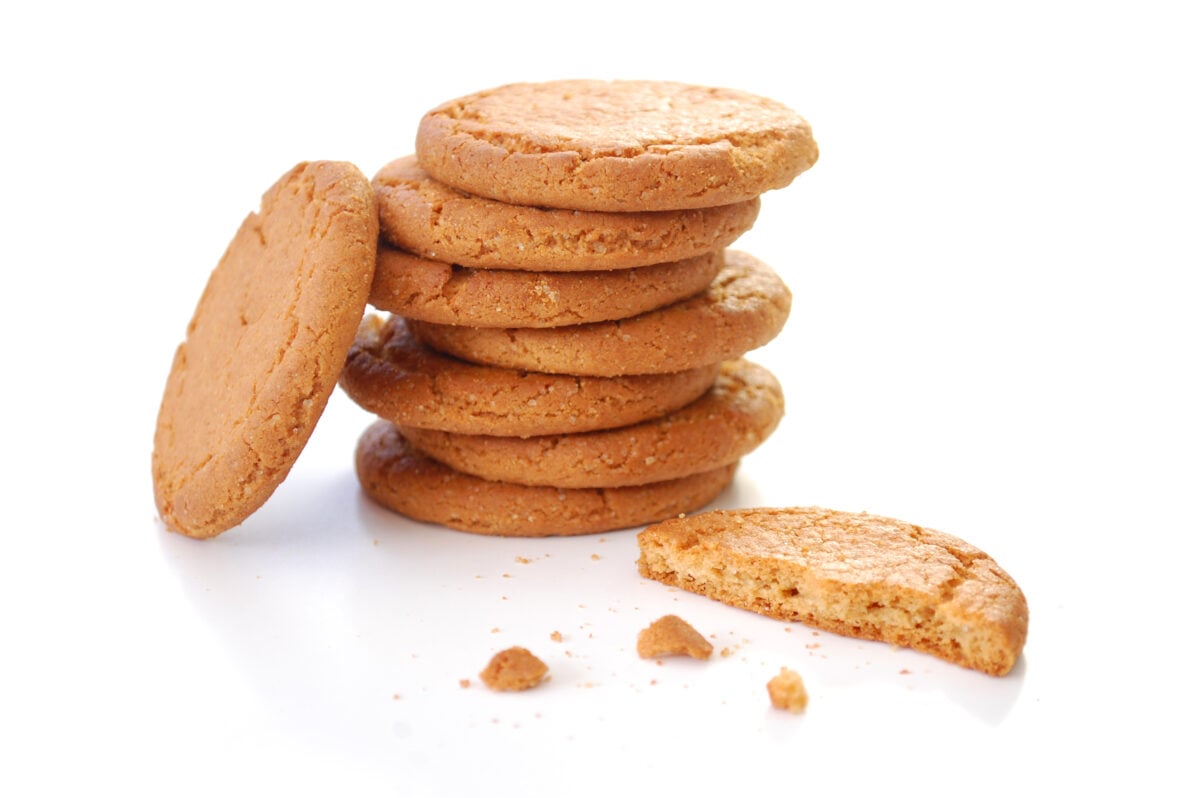 For biscuits with a little kick to them, you can't go wrong with Ginger Nuts. McVitie's are vegan, even if they are labeled as "suitable for vegetarians" like its Rich Tea Biscuits. Tesco and Morrisons both have own-brand Ginger Nut Biscuits which are vegan. For those wanting to avoid wheat, Nairn's does a lovely vegan Stem Ginger Oat Biscuit.
Hobnobs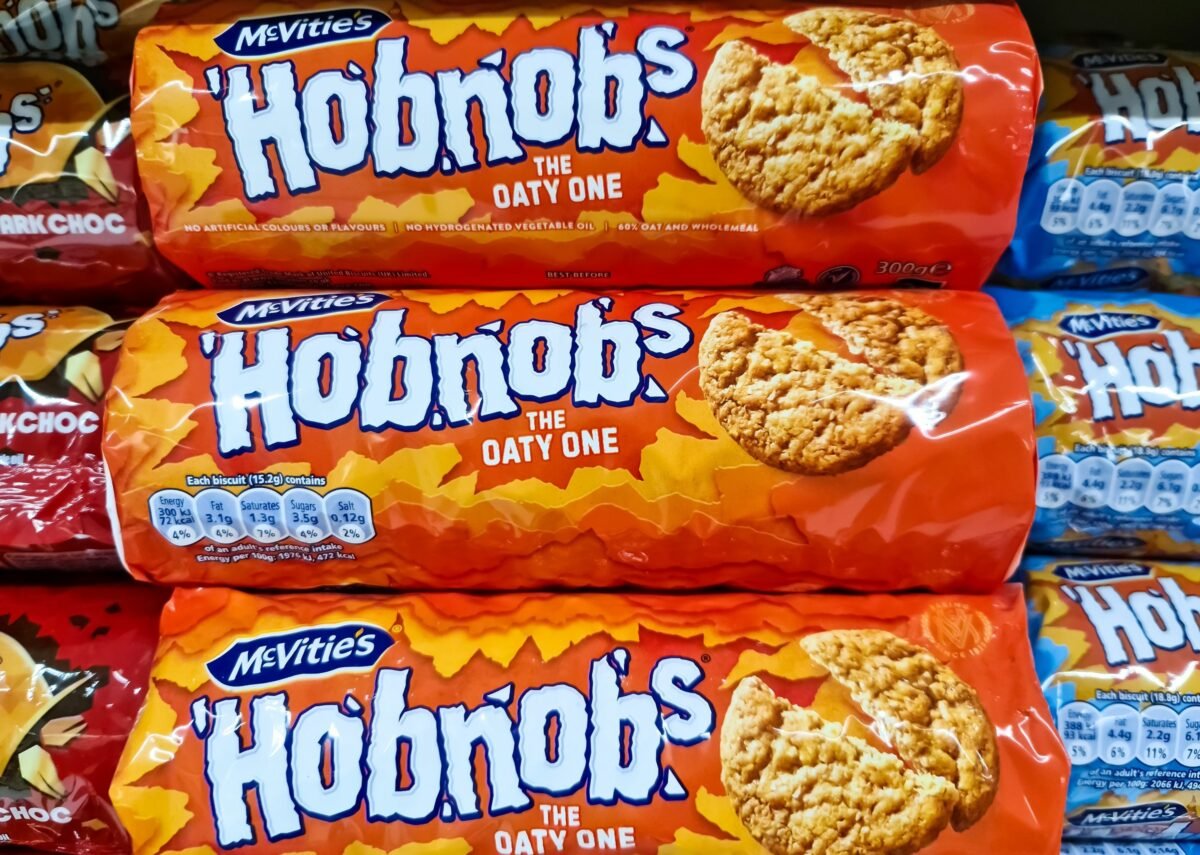 These popular oaty biscuits are fortunately vegan. More indulgent than a digestive, they're excellent for dipping in your preferred hot beverage.
Fox's Party Rings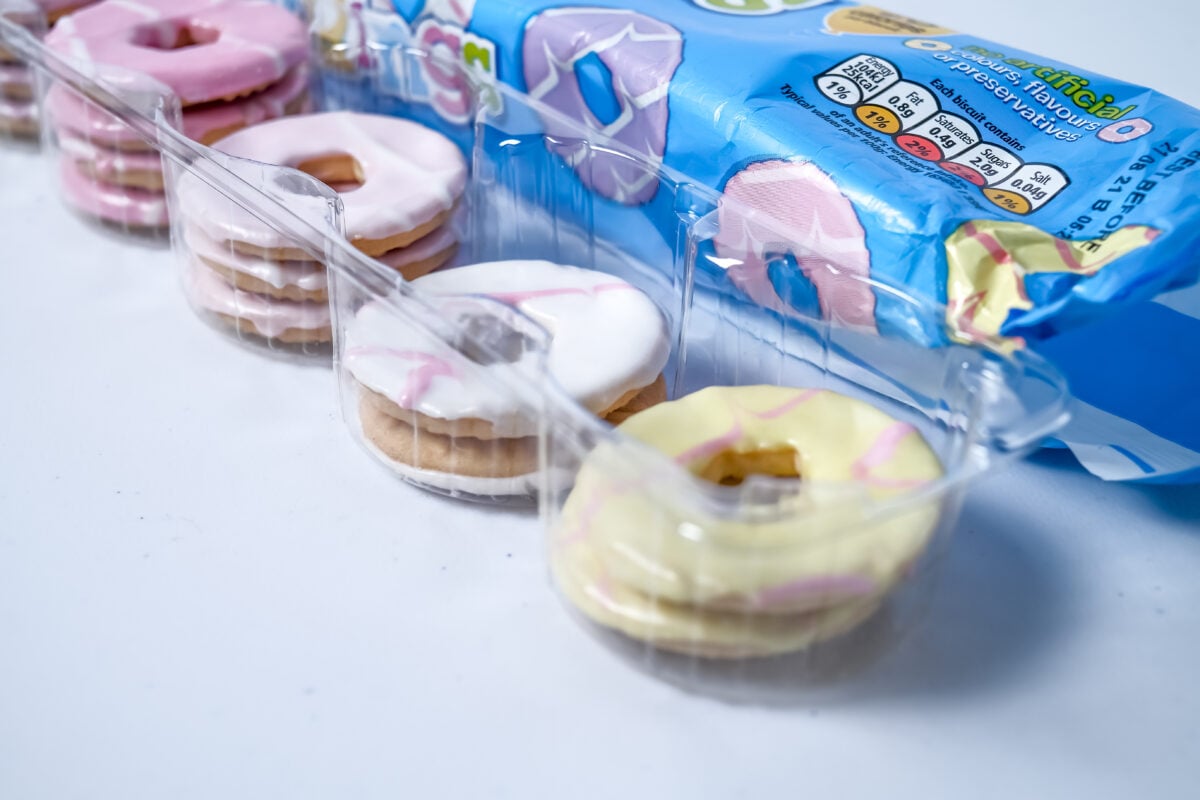 Hosting a party (for kids or adults)? You can put out a plate of Party Rings with a clear conscience, as these colorful iced biscuits are free from animal ingredients.
Fruit Shortcake Biscuits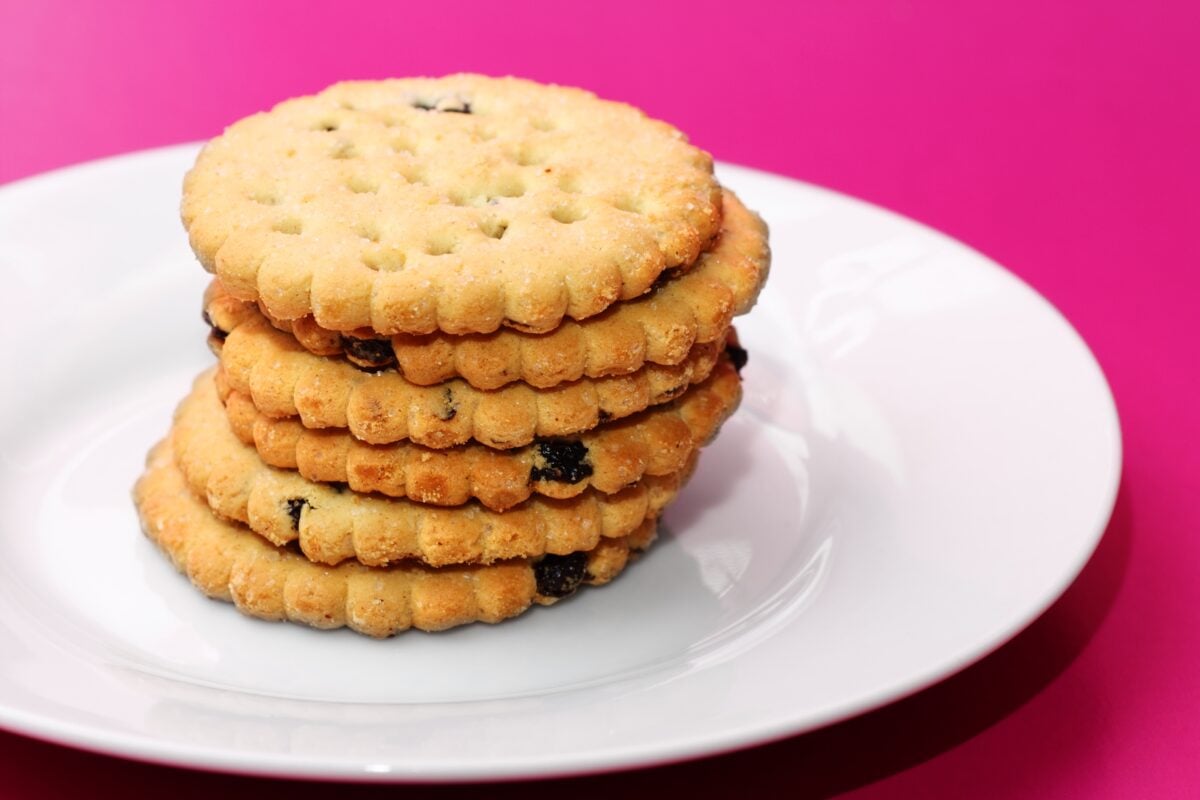 The currants in these biscuits give them a nice chewy texture and lull us into believing they are not that unhealthy. McVitie's and Tesco both make vegan ones. Nairn's has an oaty version that are vegan and a bit less sugary than the others.
Jammie Dodgers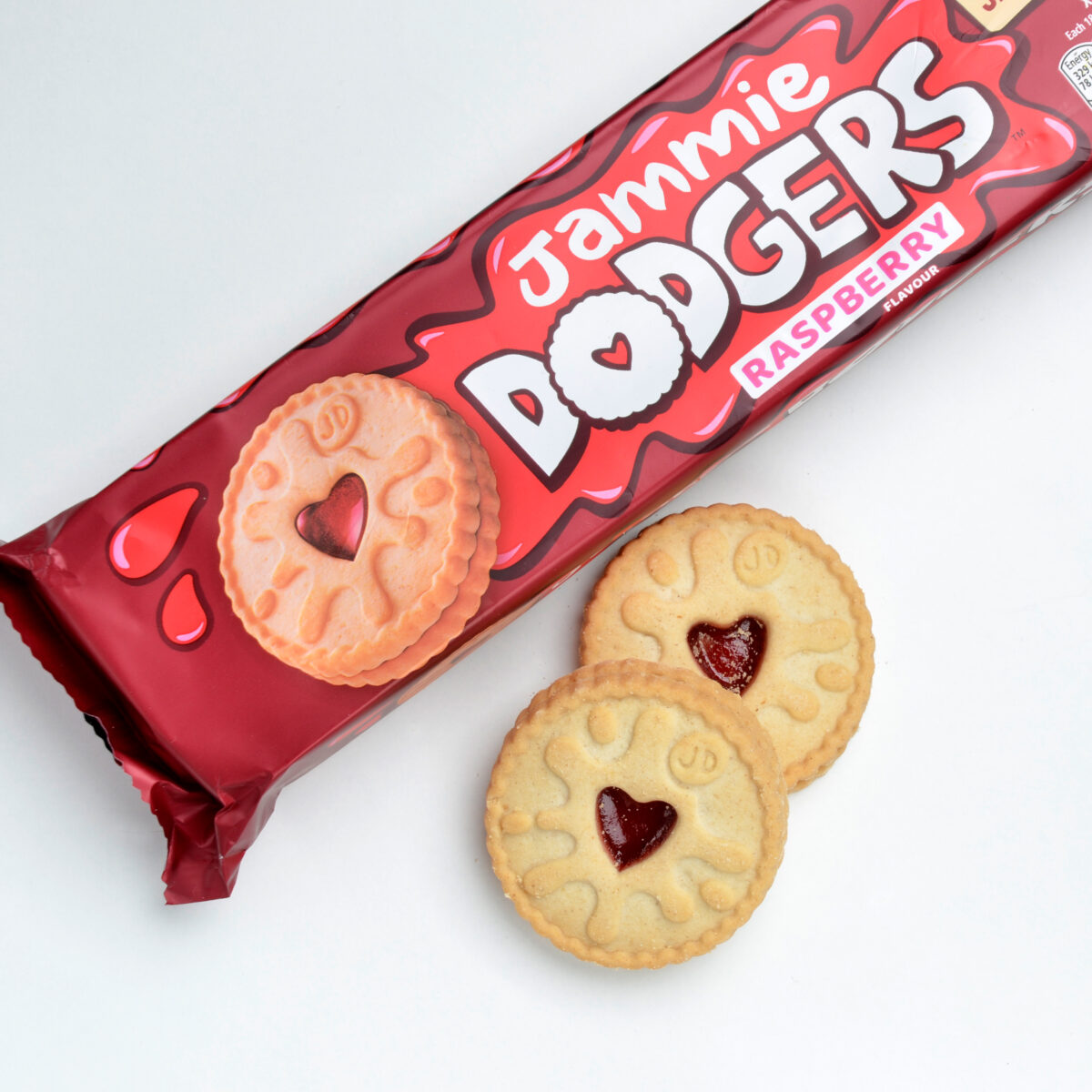 Not only are the original raspberry flavor Jammie Dodgers vegan, so are the other Dodgers, including the Choccie Dodger. We're not sure we fancy the Jammie Dodgers Cola Bottle flavor, though.
Maryland Vegan Choc Chip Cookies

Maryland launched a vegan version of its choc chip cookies in 2021. Given their small size, it's easy to eat one too many of these before you notice most of the packet is gone.
Vegan biscuit brands
We may need to stretch the definition of "biscuit" a little here, as most of the vegan options tend to be marketed as cookies. But in order not to muddy the waters too much, we'll stick to the crunchier, smaller products that are more in the spirit of a biscuit.
Rhythm 108
The biscuits by this vegan biscuit and chocolate brand come in erroneously named "Share Bags" – we certainly don't share them. With six flavors, including Double Chocolate Hazelnut, Lemon Ginger Chia, and Coconut Crunch, the biscuits are all gluten-free. The packaging is also plastic-free and compostable.
D*MN GOOD
Previously Raw Bake Station, this relaunched plant-based cookie brand has four flavors of snack-sized cookie bags to choose from. D*MN GOOD kindly sent a sample of Ginger Choc & Orange, Salted Double Choc, and Vanilla & Choc. The cookies are crunchy and not overly sweet. All were tasty, but the Ginger Choc & Orange were our favourite.
GÂTO Nut Butter Cookies
The Mini Double Chocolate Hazelnut cookies are made with hazelnut butter, gluten-free oats, cacao, and dark chocolate. Bags of the bite-sized cookies pack 4g of plant protein each and are available at Ocado.
Mr. Organic Biscuits
This Italian organic, plant-based brand makes Digestives with Chocolate Chips, Orange Biscuits with Cocoa Beans, Cocoa Biscuits, and Multigrain Biscuits with Chia and Flax Seeds. The brand's other selling points are that its biscuits are free from palm oil and have zero air miles, since it uses rail, road, and sea to get its products to the UK.
What popular biscuits aren't vegan?
Biscuits containing chocolate, unsurprisingly, are not always vegan. For example, McVitie's Milk or Dark Chocolate Digestives, or Penguin biscuits.
Nice biscuits are a popular coconut flavored biscuit dusted with sugar that are not usually vegan. Tesco's ones contain milk and Sainsbury's version contains mono- and diglycerides of fatty acids of unspecified origins.
In case you believe Jaffa Cakes are a biscuit, we are sorry to inform you that they are not vegan. But they aren't a biscuit either – they have been legally ruled as cakes for tax reasons.
Vegan biscuit recipes
Of course, you can always forgo buying biscuits at a store and make your own. Here are some great recipes to try.
Vegan food blog Wallflower Kitchen has you covered for all the classic British biscuits. This list of recipes includes custard creams, bourbon biscuits, digestives, and – controversially! – jaffa cakes.
Domestic Gothess has a recipe for Vegan Shortbread Fingers that will take you just 20 minutes or prep time and yield 24 biscuits.
Fancy something a bit indulgent? Project Vegan Baking has a recipe for Vegan Viennese Whirls filled with buttercream and jam.
Alternatively, you can try these vegan cookies and cream biscuit recipe, or these apple pie cookies.
More like this: