The famous treat was created in England, however inspired by Austrian biscuits, hence the name. Now thanks to Tom, we can eat them vegan!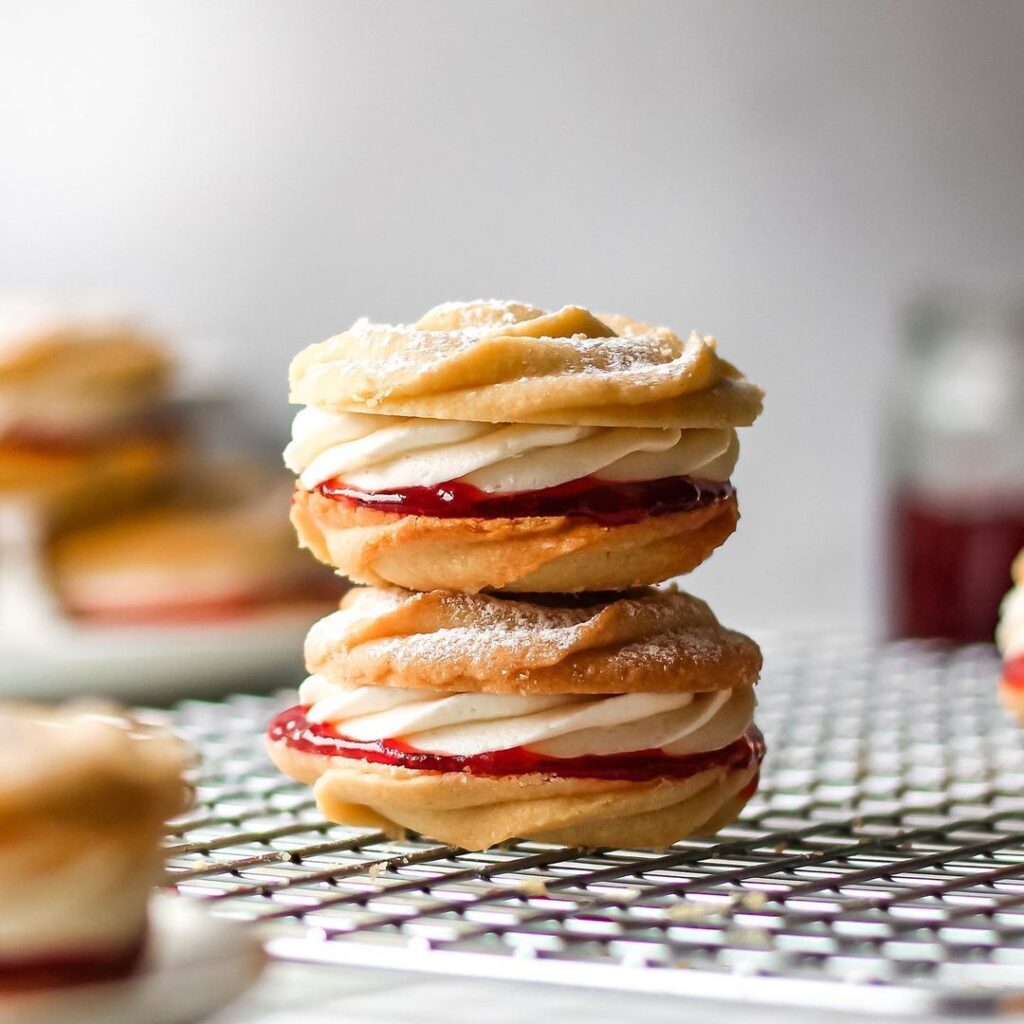 Ingredients
200

g

vegan butter

softened

230

g

plain flour

50

g

icing sugar

2

tsp

vanilla extract

optional

pinch

salt

optional
Buttercream
120

g

vegan butter

softened

200

g

icing sugar

2

tsp

soy milk

1

tsp

vanilla extract

optional

200

g

seedless jam

cherry or raspberry
Instructions
Pre-heat the oven to 190C (170C fan oven or 375 F).

Line a baking tray with parchment. Optionally, mark out 2-inch circles for where the whirls will be piped.

Place the vegan butter in a large mixing bowl with the icing sugar and beat with an electric whisk for 5 minutes until pale and fluffy. Sift in half the flour and use a spoon to gently mix the flour in. Once fully incorporated, sift in the 2nd batch and repeat.

The final texture should be thick but malleable/pipeable. If your dough is too thick then use vanilla extract or a teaspoon of plant milk to thin it out. (Note: the more liquids you add to the batter, the less the biscuits will hold their shape in the oven.)

Scoop the batter into a piping bag fitted with a 1cm open star tip. If the batter is too stiff to pipe, warm it up with your hands. Pipe 20-24 rose-shaped whirls on the baking tray. I like to start in the centre of the circle and carefully pipe outwards, creating an elegant spiral.

Put the tray in the oven and bake for 12 minutes until lightly golden brown.

Take them out of the oven and set aside to cool while you work on the fillings.

Buttercream: Use an electric whisk (or stand mixer) to cream the vegan butter in a large mixing bowl until light and fluffy.

Sieve in the icing sugar and cream together until fully incorporated. Add a small amount of plant milk if the buttercream is too thick.

Prepare a piping bag with an open star nozzle and scoop the buttercream into the piping bag.

Take a cooled biscuit and pipe a swirl of buttercream on the bottom of the biscuit. Take another biscuit and spoon a small amount of jam into the centre and then sandwich both biscuits together.

Do this for all the Viennese Whirls and serve!