Food service provider Sodexo Campus has revealed that when plant-based food is offered as the default option, 81 percent of university students choose it.
The figure is a key finding from a "landmark study" conducted by Sodexo across three campuses it services. These were New Orleans' Tulane University, Philadelphia's Lehigh University, and the Rensselaer Polytechnic Institute in New York.
Working with the think tank Better Food Foundation and the Food for Climate League, Sodexo carried out an experiment. The exercise involved preparing eight pairs of meals that offered one vegan and one meat option apiece. These were then presented to students in two ways, to gauge their interest in vegan dining.
On plant-default days, only vegan dishes were put out, but with an option for students to ask for meat alternatives. Control days saw both meat and plant-based meals presented side-by-side. This continued for 35 lunch services, in one dining hall across three separate locations.
Collated data showed that on plant-default days, a majority (81 percent) of students stuck with a vegan meal. This was up from 31 percent of students regularly choosing plant-based options, when presented foods in a standard way.
"This study confirms what we've seen repeatedly — that Gen-Z students are not only open to plant-centered dining, but that they feel good about eating in places that center plant-based meals," Jennifer Channin, Better Food Foundation's executive director, said in a statement.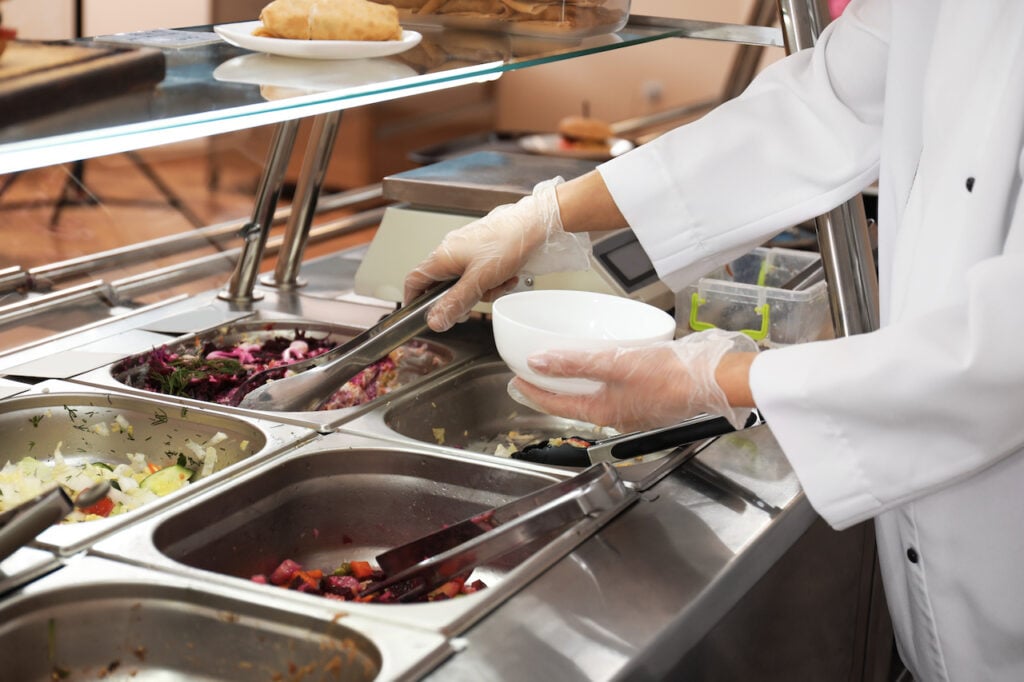 Feeding into Sodexo's plant-based university plans
The findings likely sit well with Sodexo. Last year, it announced its intention to convert 50 percent of its menu options to plant-based by 2025. This aligns with the organization's climate goals, too. During the recent experiment, on days when the plant-based dish was served as the default option, food-related emissions declined by an average of 23.6 percent across the three campuses.
"We recognize that reducing our animal-based food purchases is a key part of our carbon reduction strategy," Brett Ladd, CEO of Sodexo Campus US, said in a statement. "Having the plant entrée as the default demonstrated that people are open to trying and enjoying plant-based options with the added benefit of helping the planet."
In total, Sodexo aims to cut its environmental impact by at least 34 percent, again, by 2025. As such, it worked with the Humane Society of the United States to improve its staff's plant-based cooking skills.
Students demand less meat
Increased plant-based campus catering is being driven by more than just Sodexo's desire to curb emissions. 
In the UK, students from 20 universities joined forces to call on decision-makers to remove animal products from their food. The campaign is supported by the activist organization Animal Rising.
This ties in with recent thinking that universities are prime locations for leading a plant-based revolution.
"Universities can and should act on what is already clear, namely facilitating and promoting extensive dietary shifts towards healthy plant-based nutrition," a new opinion article published by the Lancet Planetary Health journal says.
"To motivate and enable swift and coordinated action, we suggest aiming for at least halving the amount of animal-based food consumed in canteens within the next three years."