A vegan cafe in Bangkok has just launched what's thought to be Thailand's biggest vegan burger: The Plant-Beast.
The cheeseburger is being served at Eat.Co, and features ingredients from some of Thailand's biggest plant-based brands. These include a patty from Let's Plant Meat and vegan cheese from Swees Cheese.
Eat.Co made The Plant-Beast in response to the viral Burger King burger featuring nothing but 20 slices of American cheese. The "Real Cheeseburger" was launched in Thailand, and a photo of it went viral after being released last month. In a statement on the launch, Eat.Co said Burger King had inspired them to do some "burger insanity of their own."
The Plant-Beast is said to weigh 3.7kg and measure 12 inches, which is the same size as a traditional pizza. Eat.Co says it provides enough to feed eight people, but that it still has a considerably lower carbon footprint than a regular sized beef burger.
"In Thailand, eating is a sharing experience, which you don't usually get to experience with western food," Max Hellier, who runs plant-based social enterprise Root The Future, told Plant Based News. "But Eat.Co have brought East and West together to give us a plant-based sharing experience in the form of a cake/pizza-sized burger."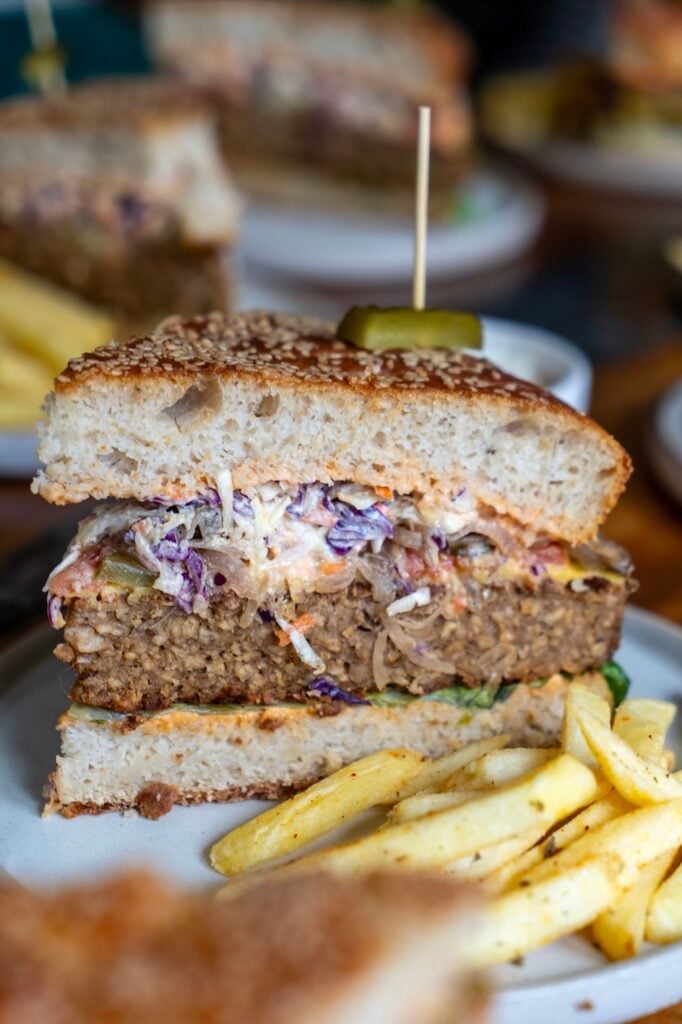 'A plant-based paradise'
Thai cuisine is known for being vegan-friendly. Popular plant-based ingredients like tofu and coconut milk are famously used in many traditional dishes, and the country has also seen a boom in popularity of meat-free eating in recent years.
"Thailand has always been a plant-based paradise, but in the last three to four years the scene has really exploded," said Hellier. "Even during the pandemic we saw dozens of plant-based eateries and companies launching."
Eat.Co specializes in a variety of dishes, including full English breakfasts, burgers, "salmon" toast, and even a vegan fried egg. According to Hellier, The Plant-Beast is proving a popular addition to its menu. "We're hearing from our community that people plan to order the monster vegan burger as a birthday cake to share with their friends, some people have taken it upon themselves to try and eat the gigantic burger all by themselves and others are just excited to take half a dozen friends to go and enjoy the burger together."
More like this: