Vegan singer Billie Eilish is the star of Gucci's ad campaign for its new vegan leather bag.
The Horsebit 1955 bag is made from Demetra, a vegan leather alternative developed by Gucci. Demetra is 75 percent plant-based, using viscose, wood pulp, and non-GMO corn-based plastic. The remaining 25 percent is made from synthetic materials derived from fossil fuels. Gucci is exploring how to increase the proportion of non-fossil fuel materials in Demetra.
"I am honored to be part of Gucci's evolution in rethinking tradition," Eilish told Vogue. "It's a new understanding, and one that isn't afraid to evolve in a new direction, that truly matters to me."
Eilish, 21, has been vegan since she was 12-years-old and is an outspoken advocate for animals and climate activist.
Leather in fashion
Previous incarnations of the Horsebit 1955 bag used to be made from leather, or canvas with a leather trim. The original bag was named 1955 for the year of its launch, and was redesigned in 2019 as the Horsebit 1955. Besides these bags, Gucci uses leather in a lot of its clothing, from trousers to gloves to trench coats.
Though ever more fashion brands are ditching fur, leather continues to be a popular and widely used material. Globally, the leather market is valued at USD $468.49 billion in 2023 and is projected to grow to $738.61 billion by 2030.
In a 2022 video on Instagram, Eilish explained how she learned about the treatment of animals in the food system and the climate impact of animal farming. Leather is a co-product of meat production and has its own negative impacts on animals and the environment.
Earlier this year, Collective Fashion Justice published a report detailing the abuses suffered by cows in the leather industry. Cows are subjected to mutilations including dehorning, castration, hot iron branding, nose ringing or piercing, and tail docking without pain relief.
Another report by the group shows how leather production is responsible for serious environmental pollution, water use, and greenhouse gas emissions. It reports that 300 to 400 million tons of heavy metals, solvents, toxic sludge, and other wastes from leather tanneries leach into waterways every year. Meanwhile, producing one cow skin leather tote bag uses 17,128 litres of water – the equivalent to 23 years of one human's drinking water needs.
Kinder, more sustainable fashion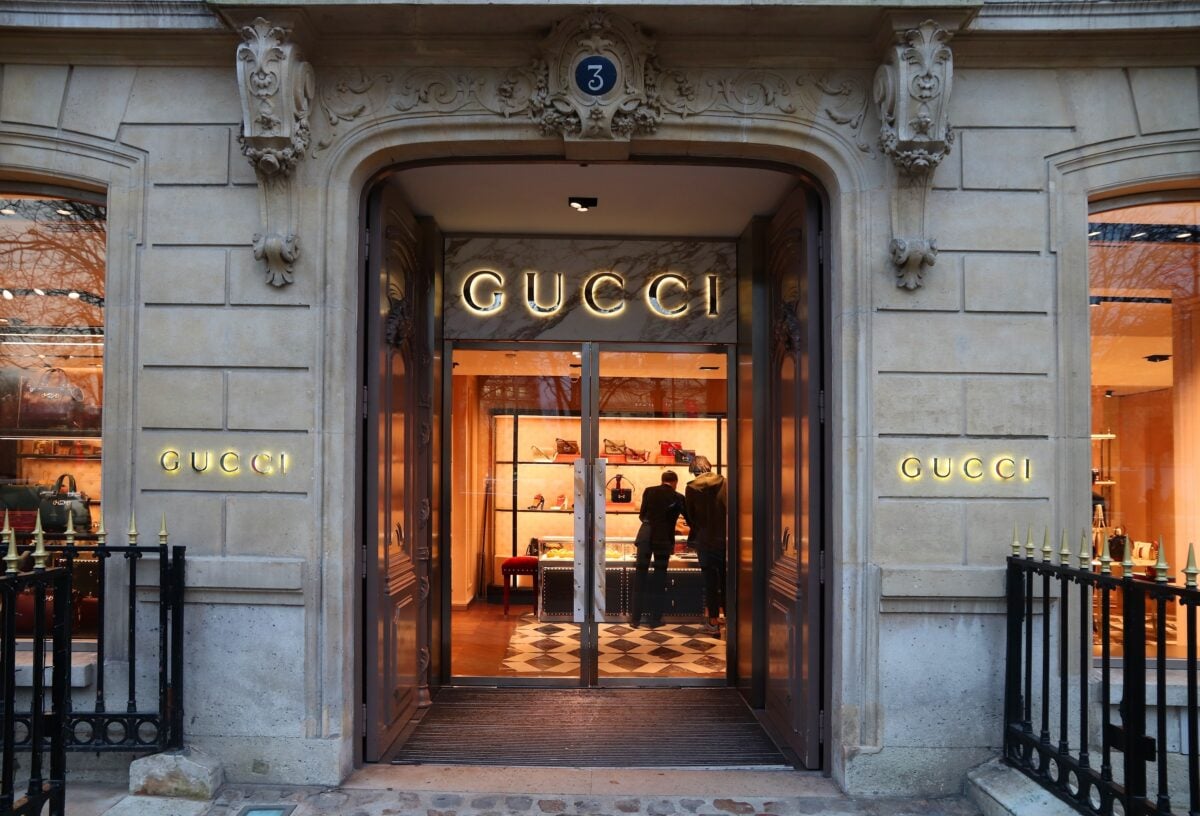 Gucci has working to become more sustainable and kinder to animals for more than a decade. In 2017 it stopped using fur and angora, starting with its 2018 Spring/Summer collection. It has been working on lowering its climate impact and developing circularity in its supply chain since 2020.
Emma Håkansson, founder of Collective Fashion Justice and author of Total Ethics Fashion, told Plant Based News that Gucci's new vegan bags show progress in the fashion industry.
"These bags are stitched together by artisans paid a living wage, they use predominantly plant-based, as well as certified organic and recycled materials, and are totally animal-free," she said. "This is what bold strides towards total ethics fashion looks like.
"There is a notion that to use materials which move us beyond animal exploitation means leaving behind heritage crafts, but Demetra shows the opposite to be true. A next-generation leather made in responsible tanneries brings together heritage and our future, towards total ethics fashion, through a just transition."
More like this: