A new report exposes the "continued failure" of fashion brands and the media to address the animal abuse and cruelty rife within the leather industry.
Collective Fashion Justice published the findings in collaboration with animal rights group FOUR PAWS. They detail a lack of traceability in leather supply chains, animal welfare policies that fail to address core issues, and an absence of media coverage relating to the ethical implications of leather.
Leather is made from the skin or hides of animals, usually cows. While it's often thought of as a "byproduct" of beef, leather is actually a multi-billion dollar in its own right. It's a hugely popular material used to make coats, shoes, belts, and more at a wide range of fashion brands.
The animal cost of the leather industry
The report, which was veterinarian-approved, detailed a number of "inhumane" practices farms raising cows for leather.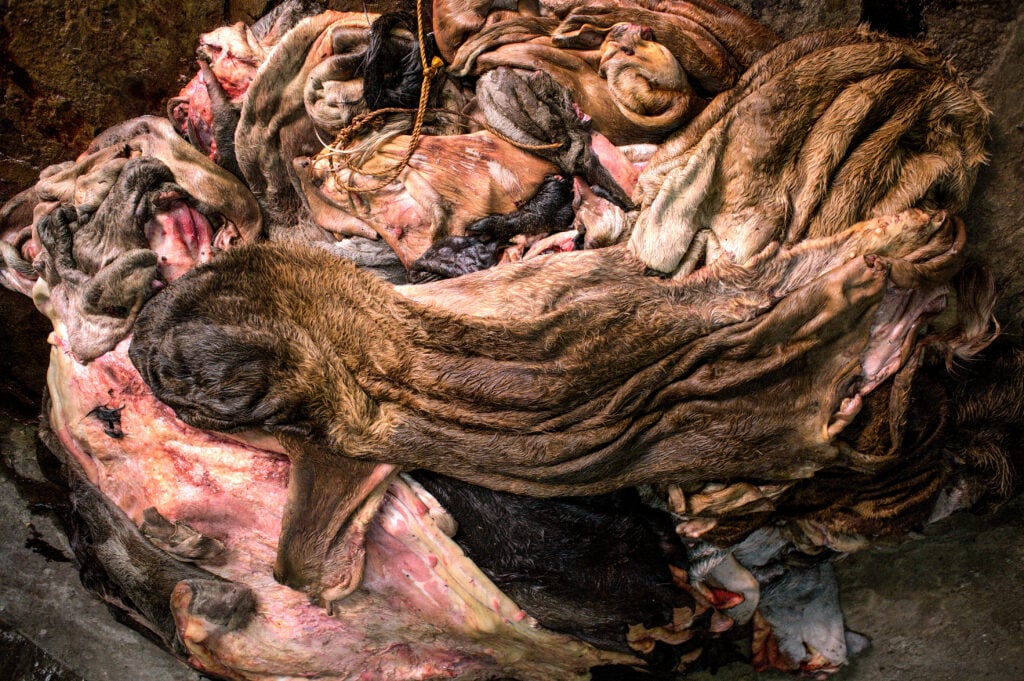 Animals were subjected to mutilations including dehorning, castration, hot iron branding, nose ringing or piercing, and tail docking without pain relief. Authors also found evidence of "beatings and mistreatment," including cows being waterboarded during smuggling to roadside slaughterhouses.
When being transported between countries, cows were also put at risk of being "cooked alive" in "intense heat" onboard ships with 20,000 other cows. 
Fashion and media 'ethics-washing'
The report claims that the fashion industry and media is failing to take responsibility for animal welfare breaches. Out of 250 companies analyzed by Fashion Revolution, only 12 percent were able to disclose where their raw materials were sourced. This meant that guarantees of "animal welfare" were not possible.
Despite this, fashion brands often use terms like "responsible" and "ethical" to describe their leather goods.
"The fashion industry intentionally hides the reality of animal exploitation and slaughter in the production of their shoes, bags and clothing," Emma Håkansson from Collective Fashion Justice told Plant Based News (PBN). "While people are aware that leather is the processed skins of animals, all advertising and messaging from the fashion industry is designed to normalise this and limit questioning."
The report also found that less than a quarter of articles relating to leather and its alternatives in publications like Vogue Business, WWD, and Business of Fashion contained a mention of animal welfare.
Collective Fashion Justice is calling on the fashion industry to stop this "ethics-washing" (which is the practice of falsely advertising products as ethical). It's also calling on them to invest in research into leather alternatives. 
"The fashion industry has a responsibility to address the cow in the room," Håkansson told PBN. "Discuss ethical issues in fashion media, conferences and events. Create animal protection policies that are worth something, and set up a timeline for a shift beyond animal-derived leather. For people, our fellow animals and the planet alike, a just transition beyond leather is critical."