The City of Edinburgh Council has officially endorsed the Plant Based Treaty, becoming the first Scottish city and first capital in Europe to do so.
The Plant Based Treaty aims to address the environmental damage caused by today's food system. It does this, in part, by promoting vegan sectors over industries that rely on animal exploitation, such as beef and dairy. These categories, like many other animal-based "foods," are the source of significant greenhouse gas emissions, as well as pollution, biodiversity loss, and land and water use.
In order to combat these issues, the Plant Based Treaty zeroes in on three core principles: relinquish (no further deforestation for animal rearing purposes), redirect (a clear transition from animal-based food production to plant-based systems), and restore (actively restoring ecosystems by planting trees and rewilding landscapes).
Edinburgh signs the Plant Based Treaty
Edinburgh, home to more than half a million people, is now the 20th city or town to endorse the Treaty. It joins Los Angeles (the largest city in California), Boynton Beach in Florida, Haywards Heath in the UK, Didim in Turkey, and a slew of Indian cities which have done the same.
Edinburgh City Council's decision follows an assessment report that looked at the implications of endorsing the Plant Based Treaty. It was presented at the Policy and Sustainability Committee yesterday (January 17).
"There is robust evidence that diets high in plant protein and low in meat and dairy make for lower greenhouse gas emissions, and that consequently, shifting consumption towards plant-based diets has a major mitigation potential," the report reads.
It also compares endorsing the Treaty to "declaring a climate emergency" — "It is an acknowledgement that food systems are a main driver of the climate emergency and that a shift towards plant-based diets can go a huge way in reducing greenhouse gas emissions," the report says.
"Overall, the science is clear, meat and dairy consumption must reduce to achieve climate targets," it concludes.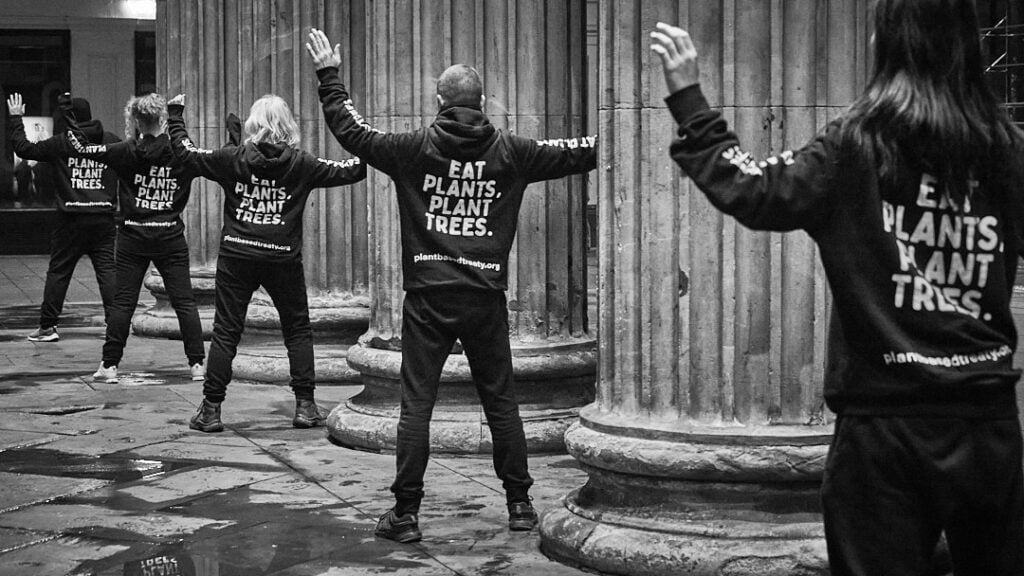 Green Councillor Steve Burgess brought forward the motion to endorse the Treaty in March of last year. He describes the shift towards plant-based foods as a "win-win-win for society."
"They have a lower environmental impact, significant health benefits, and reduce animal welfare impacts," Burgess noted.
"Green councilors very much welcome the decision by Edinburgh council to endorse the Plant Based Treaty as we proposed," he said in a new statement. "Edinburgh council's leader will now be writing to the First Minister of Scotland to encourage the Scottish Government to also express support for a Plant Based Treaty to be negotiated at a global level."
Plant Based Treaty gains momentum
It's not just cities that are getting involved with the Treaty. More than 240 councilors from nearly 60 UK towns and cities have individually signed it. These include Conservative, Green Party, Labour, and Liberal Democrat councilors.
A further 70,000 individuals from across the world have endorsed the campaign. In addition, more than 1,000 businesses and 1,000 NGOs and community groups have done the same. Linda McCartney Foods, BOSH, Extinction Rebellion, the Environmental Alliance Project, and chapters of Greenpeace are among its supporters.
"Edinburgh has lived up to its reputation as a global climate leader by acknowledging the critical need to reduce greenhouse gas emissions from the food system to achieve our climate targets," said Nicola Harris, communications director at Plant Based Treaty.
"Promoting plant-based food across Edinburgh will help residents make informed choices that are better for the planet, personal health, and animal protection."
"Everyone can join the movement by asking their local councilors to support the Plant Based Treaty and put forward a motion for their town, city, or county to endorse," Harris continued. "By developing plant-based food strategies to address consumption-based greenhouse gas emissions we can make great inroads in delivering the emissions cuts needed this decade to avoid catastrophic climate breakdown."
Paul McCartney, alongside his entrepreneurial daughters Mary (a photographer and filmmaker) and Stella (a fashion designer), issued their own statement of support.
"We believe in justice for animals, the environment and people," they wrote. "That's why we support the Plant Based Treaty and urge individuals and governments to sign it."
UK residents can send an automated email to their local councilors asking that they endorse the Treaty using this form. For more information about the Plant Based Treaty, visit its website.