Plant-based egg innovator Eat Just has thrown its support behind drag artists and the LGBTQIA+ community to protest new anti-drag legislation in the US.
Specifically, it is targeting Tennessee, which recently became the first US state to ban drag shows, including brunches, in public spaces.
The state passed a bill at the start of March that prohibits drag shows, cited as "adult cabaret performances," from occurring in public or in the presence of children. Drag is also no longer allowed to be shown within 1,000 feet of places of worship, public parks, or schools.
More than 15 other states, including Texas, Idaho, and Nebraska, have also introduced anti-drag bills.
As a result of the new legislation proposals, Eat Just (the maker of Just Egg) has launched its "Brunch Is For Everyone" campaign. It sees the food manufacturer sponsoring drag brunches in Tennessee and supplying them with its vegan egg products. 
Eat Just will also match customer tips given to drag performers at sponsored brunch events.
"We usually stay out of politics, but when you mess with brunch, you mess with us," Tom Rossmeissl, head of global marketing for JUST Egg, said in a statement.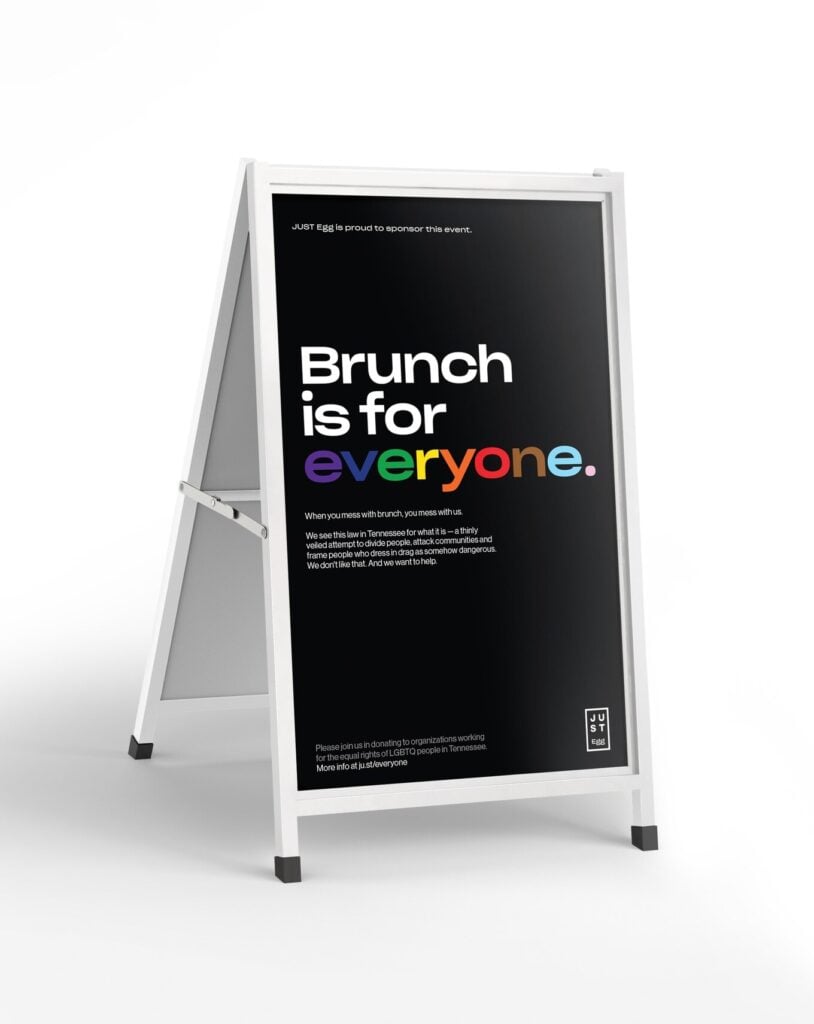 "Our brand is committed to building a more just, more inclusive world. And we know this wave of anti-LGBTQ legislation is doing the opposite. We want to help, and we're pretty damn good at brunching, especially for a good cause." 
A temporary reprieve for drag brunches
One day before the anti-drag legislation was due to come into effect in Tennessee, district judge Thomas Parker granted a two-week injunction.
In his ruling, Parker stated that the new law was too broad. Furthermore, he said that sponsors had failed to adequately demonstrate the need for such legislation. Parker even suggested that the bill was at odds with the US's treasured First Amendment, which protects freedom of expression.
The timing of the injunction was fortuitous, as it allowed Eat Just's first "Brunch Is For Everyone" drag event to proceed legally on April 2. The all-ages daytime performance, called Rainbow Brick Brunch, was held at the Atomic Rose club in Memphis. Members of the Eat Just team traveled from California to attend.
It is reported that the event was hugely popular, leaving room for standing patrons only. Eat Just's vegan breakfast sandwiches are also understood to have sold out.
Sending a message to drag fearmongers
Eat Just maintains that the legislation proposals in Tennessee and elsewhere are attempts to divide communities. This, while trying to smear talented and expressive performers by painting them as predatory and a threat to family values.
Responding to this rhetoric, Eat Just reiterated that it wants to help create a "healthier, more sustainable, and more just world." As such, it has committed to a multi-platform fundraising effort that will donate funds to the Human Rights Campaign. Local LGBTQIA+ charities, including the Tennessee Equality Project, also stand to benefit.
In addition, Eat Just pledged to raise money to fight the prospective new laws filtering out to multiple US states.
"This law sends a clear and concise message to queer Tennesseans that we are not valued here. Its chilling effects should outrage every American who believes in free speech," Bella BuBalle, show director and host at the Atomic Rose, said in a statement.
Global drag superstar RuPaul also commented on the issue, posting an Instagram video that accused politicians of bully tactics and distraction. 
Stating that moves to restrict drag performers and gender-affirming care are simply ploys to take attention away from administrative failures to provide equitable healthcare, education, housing, and jobs, "Mama Ru" ended by reminding people to vote and to donate to the ACLU's Drag Defense Fund.