We know, we know. Hummus is delicious but with the lashings of oil, it's not what you'd call a "health food," right? Well, this creamy mushroom hummus recipe changes all of that by drastically reducing the oil, adding nutritious vegan yogurt, and packing in flavor with a mushroom topper.
What we really love here is that nothing goes to waste. Even if you're the kind of vegan that stashes away your aquafaba when cooking, it's easy to forget about it in the fridge. Here, the heart-healthy chickpeas and their water make the bulk of the dish and work together to create a creamy consistency.
Plus, it's amplified by earthy tahini and tangy yogurt to create a moreish plant-baseddish you'll add into your regular cooking roster.
How to serve hummus
We've yet to find anything that hummus can't improve. From potato waffles to chunks of crusty bread or carrot sticks, it works with just about everything.
Our preference is to make a large portion of mushroom hummus, then serve with a selection of dipping foods. That way, you can contrast the silky mouthfeel of the classic vegan snack with something a little snappier or crispier. Fresh vegetable crudité and breadsticks are a classic for a reason, so don't overlook them, but for something more unusual, try fried rye bread. Trust us, it's incredible.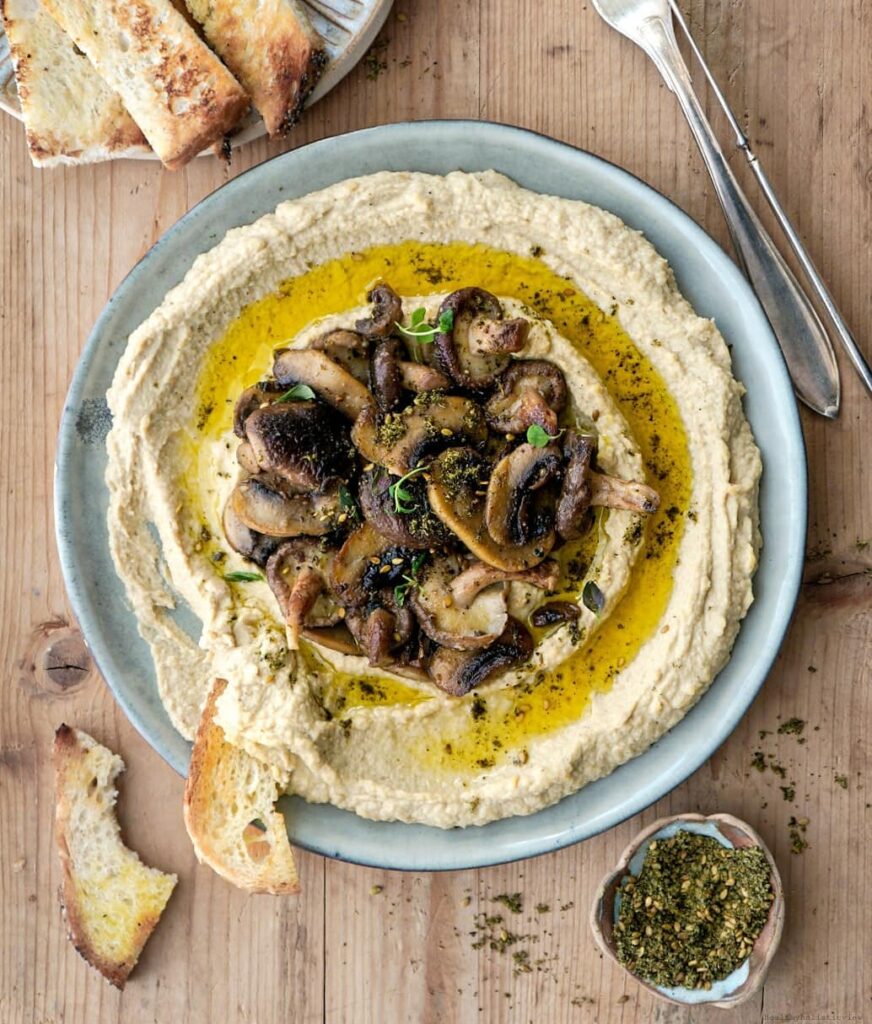 Ingredients
380

g

chickpeas

(including the water)

1/2

lemon

(juice)

1

clove

garlic

1

tbsp

tahini

3

tbsp

vegan yogurt

2

tbsp

water

1

tsp

cumin

1

tsp

Himalayan salt

sprinkle

black pepper

1

tsp

olive oil

(and more for drizzle)
Instructions
Pour all of the ingredients (except for the olive oil) in to a blender and mix together until creamy. Add one tsp olive oil and stir with a spoon. Pour on to a plate and spread out. Drizzle some olive oil and top with your favourite toppings. Enjoy!!

I fried up some meadow and shiitake mushrooms with Himalayan salt, black pepper, cumin, fresh thyme and a little sprinkle of Ceylon cinnamon for the topper. It really makes a difference!
Top tips for the best creamy mushroom hummus
Quality ingredients make for the best food and when a recipe is short, it pays to splurge on at least the star of the show. In this case, try to buy chickpeas that are large, unsalted, and delicate straight out of the tin. Organic options are often a little tastier.
Lemons are also a make-or-break hummus ingredient. Buy fresh and unwaxed and roll on your counter to release the juice before cutting open and sqeezing.
—
This creamy mushroom hummus recipe was republished with permission from Healthy Holistic View. Find the original recipe here.