Chickpeas are the stars of the show in most hummus recipes. But this vegan hummus recipe is made with creamy cannellini beans (aka white kidney beans) and tangy sorrel (spinach works too!). It's full of flavorful ingredients like tahini, lemon, and garlic. Make this versatile plant-based spread at home in about 10 minutes!
What is sorrel?
Sorrel is a leafy green that falls between an herb and a leaf vegetable. It has a bright, tart, lemony flavor similar to dipping spinach into lemon juice. It grows wild in many parts of the United States and is often cultivated by local farmers.
There are two types of sorrel that are great for making hummus, French sorrel, and sheep sorrel. French sorrel has a mild lemony flavor and is easy to cultivate. Sheep sorrel has a stronger, somewhat sour flavor and, like its taste, grows wild.
Where can I find sorrel?
The most common place to purchase sorrel is at your farmer's market in the spring and summer. It grows well here in the Pacific Northwest and is a frequent flyer in my CSA box. You might even be lucky enough to find it in the "local" section of your natural grocer. Windowsill herb gardening is another fun option.
Recipe substitutions
If sorrel is rare in your area or out of season, spinach is a tasty substitution. Make the recipe as directed. Taste the finished dish and decide if it needs a squeeze of lemon to brighten the mild spinach or a pinch of salt.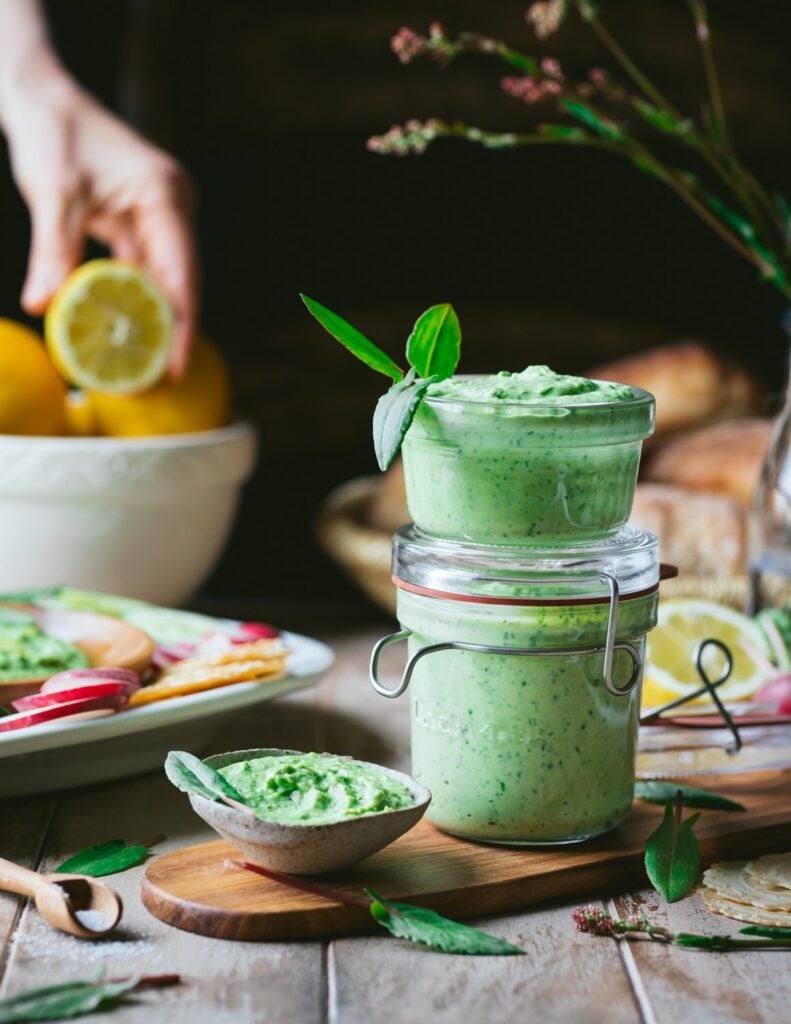 Ingredients
2

cups

of fresh sorrel leaves

packed (French or sheep sorrel)

1

15 oz / 425g / 1½ cups can of cannellini beans, drained and well rinsed.

¼

cup

2 oz. tahini

2

tablespoons

of freshly squeezed lemon juice

about 1 medium lemon

1

teaspoon

of lemon zest

about 1 small lemon

1

clove

of garlic

minced or pressed (2 small cloves if you really love garlic)

1

teaspoon

of kosher salt

Water to thin the hummus

if needed

Olive oil for serving

optional
Instructions
Fluff your sorrel into a food processor and pulse until the leaves are finely chopped.

Plop all of the other ingredients on top and pulse until it looks smooth and creamy. There will be little green specks of sorrel.

Take a look at the consistency and decide if it needs to be thinned with water depending on how you choose to use it. If it spreads easily with a butter knife but clings to a spoon when turned over, no water is needed to use it as a dip. For pasta, pour in 1 tablespoon of water at a time and blend to thin the hummus until it is loose but not runny (no more than ¼ cup).

Give it a taste and decide if it needs additional salt to make the flavors pop or a tad more lemon for brightness.

Serve with a drizzle of olive oil on top! (optional)
Tips for a fool-proof vegan hummus recipe
Use a food processor, not a blender to leave a hint of texture in your hummus. A high-powered blender will blend the ingredients into a smoothie bowl instead of hummus.
Blend your sorrel first. This lets you decide how large you'd like the green specks in your hummus to be. Use the pulse setting to finely chop the sorrel, stopping to scrape the sides down a couple of times. Stop blending when the sorrel is minced but not pureed.
Drain and rinse canned beans for a clean mild flavor. The aquafaba or bean water in canned beans can taste overly "beany" when mixed into hummus.
Mince or press your garlic before blending. Whole garlic cloves will leave little spicy chunks in the hummus even after being pulsed multiple times in a food processor.
Use fresh lemon juice and zest. I promise it's worth the extra three minutes to zest and juice a lemon. Your hummus will taste so much cleaner and brighter than using artificial lemon juice from a plastic bottle.
Add salt to taste. I know, I know, you've heard this a million times before. But… your food really will taste better if you test the finished dish and decide if it needs a pinch more salt. Use less salt if your canned beans are salted.
Thin with water only if necessary. Once all your ingredients are blended, drag a butter knife through the hummus. Can it be easily spread on pita bread or scooped up with a cracker? If it's too thick, add water, a tablespoon at a time, until creamy but not runny.
—
This vegan hummus recipe was republished with permission from Vegetafull. Find the original recipe here.