Not every baking endeavor needs to be a kitchen marathon. In fact, some of the best makes takes just a few steps and this raw vegan apricot energy bar recipe is one you have to try. Here, you can just throw the ingredients into a food processor, add the seeds and nuts, compact it all together, and leave it to set in the fridge.
Packed with heart-healthy nuts, dried fruits, and dark chocolate, these raw vegan bars are a brilliant addition to lunchboxes but equally, can be taken out on bike rides or kept in gym bags for a post-workout snack.
While the dipped chocolate presentation looks incredible, don't feel as though you can't get creative. A drizzle, spots, or even a double-dip would all work well too.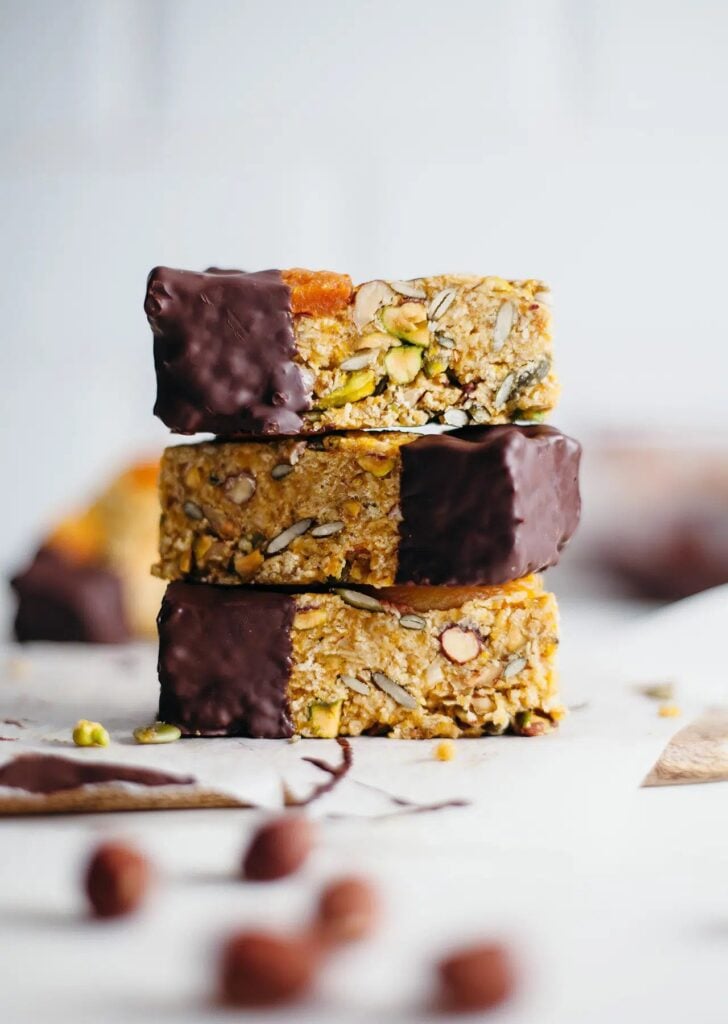 Ingredients
200

g

/ 7oz dried apricots

plus extra for decoration

4

tbsp

maple syrup

100

g

/ 3.5oz coconut oil

200

g

/ 7oz oats

2

tbsp

ground ginger

60

g

/ 2.1 hazelnuts

60

g

/ 2.1oz pistachios

60

g

/ 2.1oz pumpkin seeds

80

g

/ 2.8oz dark chocolate
Instructions
Transfer the apricots to a small bowl and cover with hot water straight from the kettle. Leave to soak for 5 minutes (this will help them break down), then drain and transfer to a food processor along with the maple syrup and coconut oil. Process until fully combined.

Add the oats and ginger to the food processor and pulse half a dozen times until mostly combined. Then transfer the contents of the food processor to a mixing bowl.

Roughly chop the hazelnuts and pistachios, and add them to the bowl along with the pumpkin seeds. Stir everything until fully incorporated.

Line a 7" square tin with baking paper and pour the mixture into the tin. Even out the top with the back of a metal spoon or by pushing down using a small piece of baking paper. Then decorate with a few apricots on top and even out the top again, pushing the apricots into the mixture.

Pop the tin in the refrigerator for 2 hours.

Remove the bars from the tin.

Melt the chocolate in the microwave or in a bowl on top of a saucepan containing a little water on a medium heat. Once the chocolate has melted, transfer it to a small glass or bowl.

Dunk the end of each bar into the chocolate and place on a piece of baking paper to cool.

All done! Keep the bars in an airtight container in the refrigerator for up to 1 week.
Raw vegan ingredient notes
Maple syrup is vegan-friendly, but only if it is pure and not blended with other ingredients. Be sure to check the label to avoid choosing a brand that mixes maple syrup with non-vegan sweeteners. These can include honey.
There are some people who won't consume maple syrup as part of a raw vegan diet. This is due to the processes necessary to turn freshly extracted tree syrup into a useable product, including boiling. Though technically not a raw product, many raw recipes include maple syrup and it is a widely accepted compromise.
—
This vegan energy bars recipe was republished with permission from So Vegan. Find the original recipe here.