The vegan chocolate market has skyrocketed in the last few years, and you can now buy dairy-free versions of everything from white and milk to dark and hot chocolate.
It was a tough gig, but we decided to try as many vegan chocolate products as possible to tell you which are worthy of a spot in your kitchen. We are happy to report that we found a host of delicious, dairy-free chocolate treats for every occasion.
That friend who is so cool it hurts and, by proxy, impossible to buy for? We found the perfect sweet treat. Budget-friendly options that don't compromise on taste? We've got you covered. We even found the best protein chocolate for avid gym goers.
So, without further ado, and with counteractive salty snacks at the ready, let's dive into a world of non-dairy chocolate that doesn't have to involve strange reclusive men wearing top hats and dancing around their factories.
Best chocolate for the sugar conscious: Plamil So Free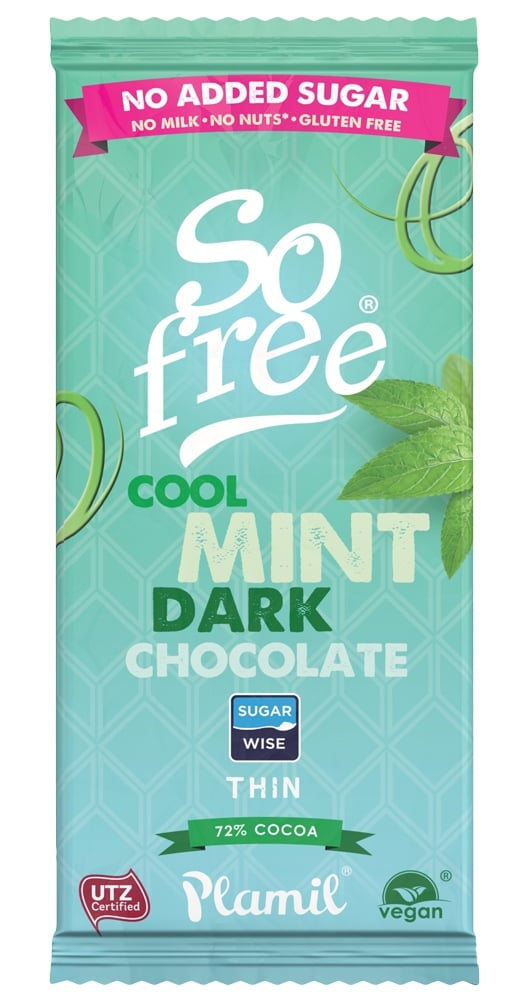 Plamil Foods' So Free manages to be creamy, tasty, and sweet (but without any added sugar) across the whole range. 
Moreover, it has created a vast array of flavor profiles that just work. For us, the Cool Mint Dark Choc bar gave us the mint Aero nostalgia we didn't know we were missing. Delicious.
Try some yourself here.
Best vegan hot chocolate: Islands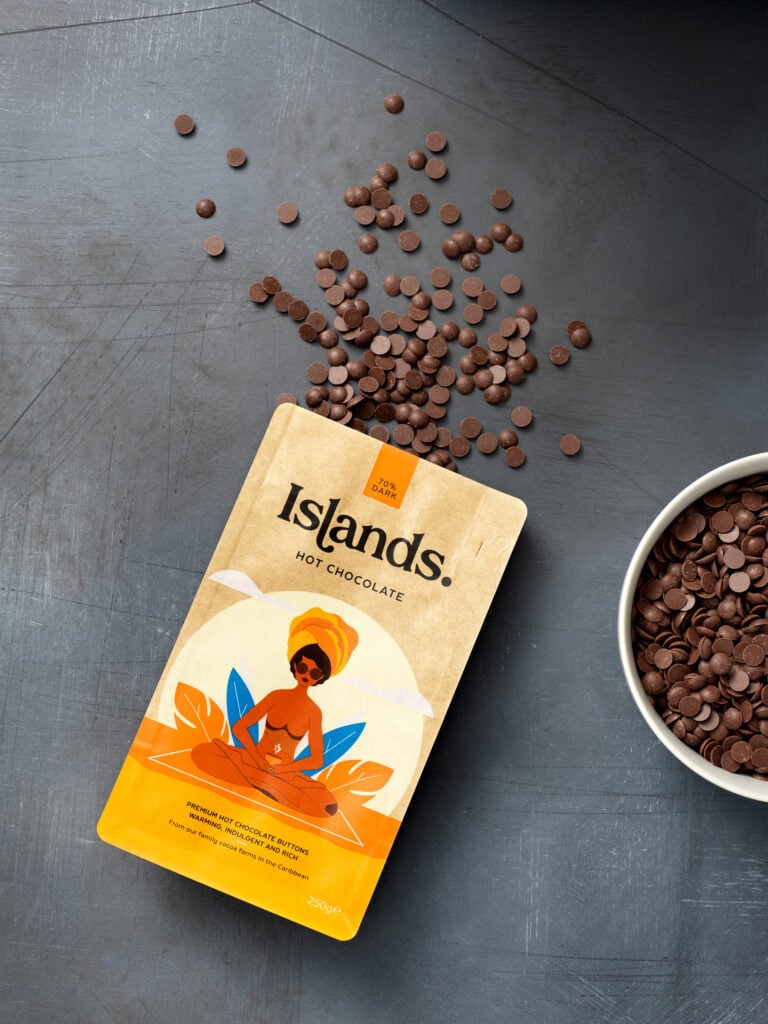 Islands Hot Chocolate was not only tasty, but also eco-friendly, ethical, and delivered in recyclable packaging.
You know that really good hot choc that you get in independent coffee shops? The one where they take the time to dissolve lozenges of high-quality choc into your oat milk? Well, you can get that at home now, thanks to Islands.
Buy it here.
Best for impressing fancy folk: Janice Wong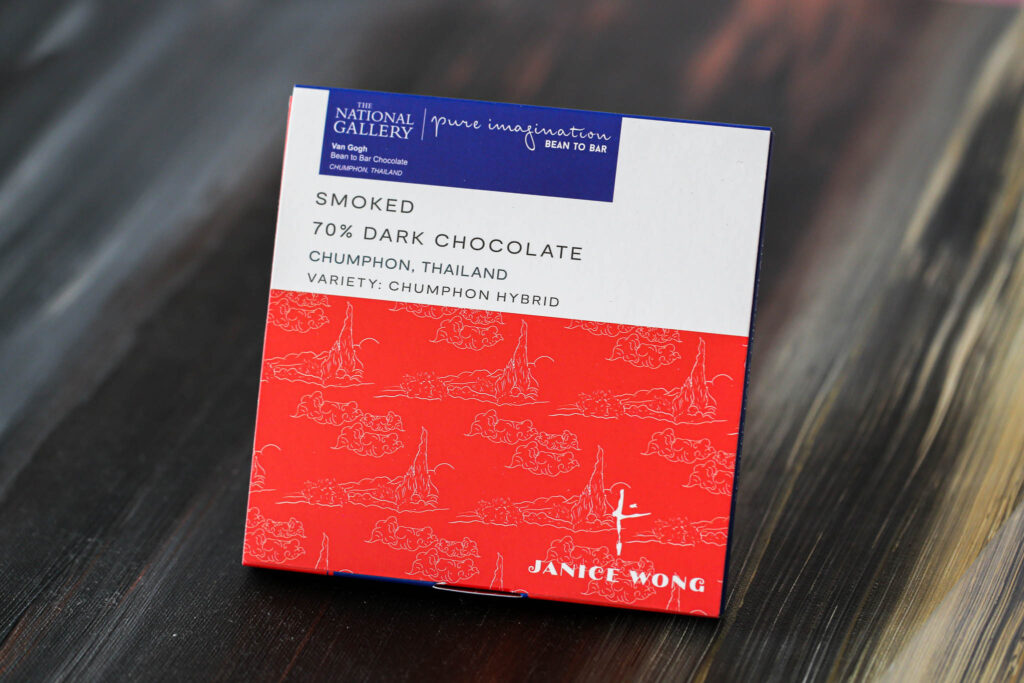 Some chocolate is an experience, and that's what we found with Janice Wong's bean-to-bar vegan chocolate.
Straying away from the usual tropes, Wong's chocolates feature more unusual flavors including smoked, gingerflower, and lemongrass. These won't be for everyone, but anyone with a refined palate and a desire to appreciate truly spectacular packaging will love every single variation. We absolutely loved the chai version.
Treat someone special here.
Best for after the gym: Misfits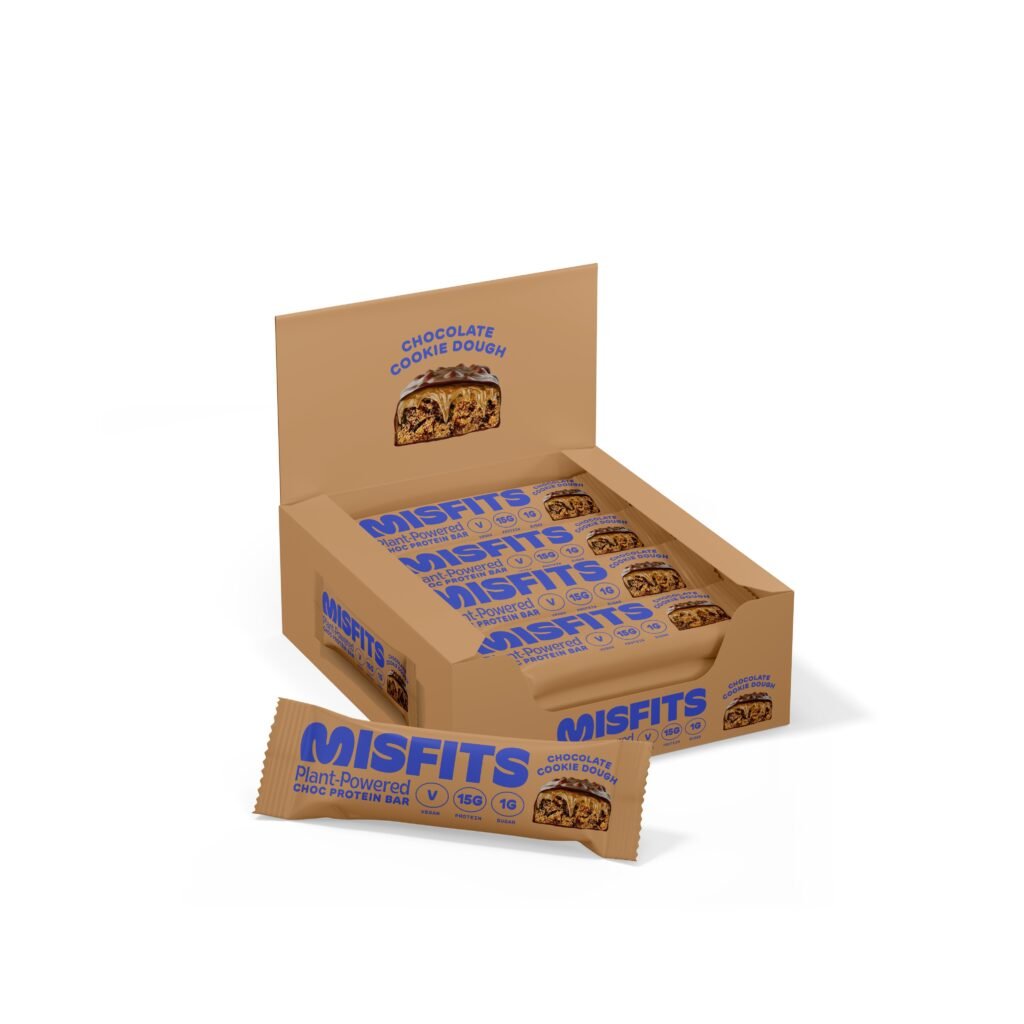 Chocolate after the gym? Sounds like an exercise plan almost anybody can stick to, and Misfits makes it even easier with a cookie dough chocolate bar.
Gooey, rich, and peppered with chocolate chips, this is not your average vegan protein bar. On that note, it doesn't have any of the weird synthetic aftertaste that so many protein products do. It felt like a naughty treat, but delivered 15g of protein for less than 200 calories and kept us full until lunchtime (we're early morning gym people, don't hate).
Stock up on your post-pump fuel here.
Best supermarket vegan chocolate: OMV! by Asda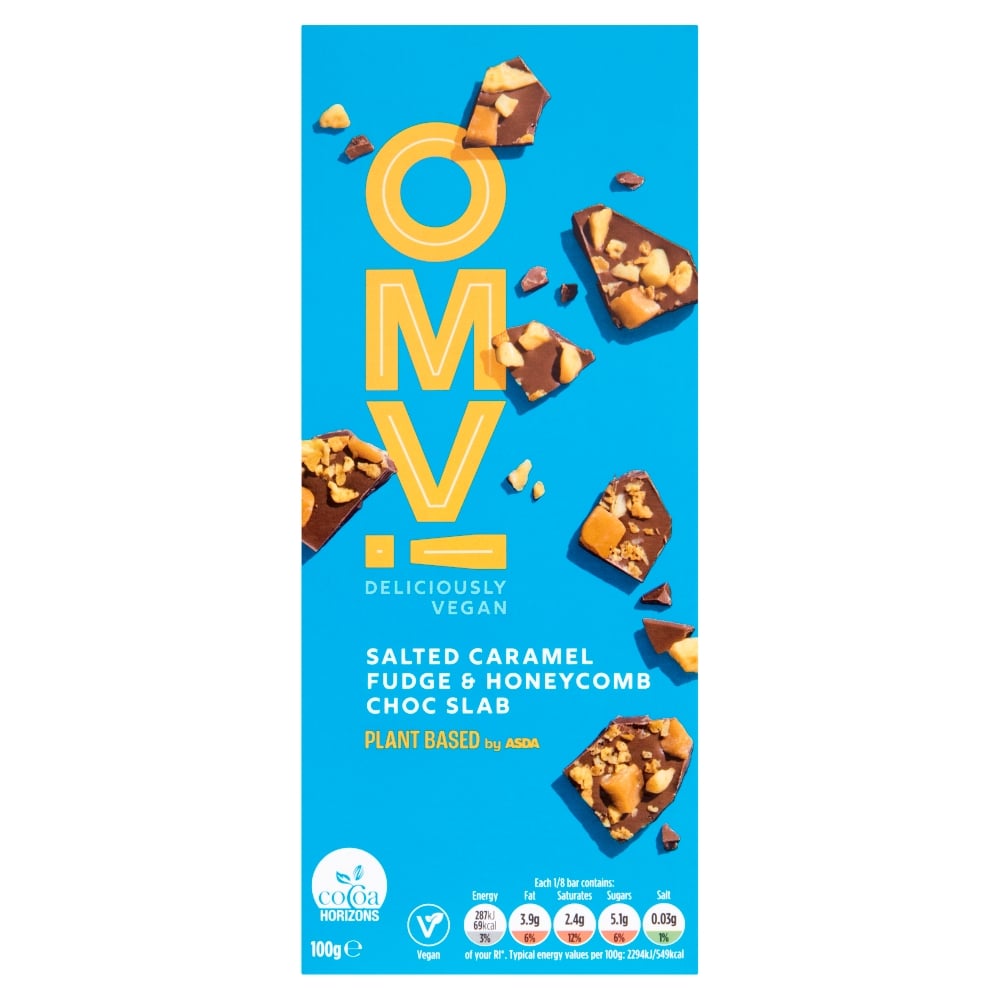 This was a hands-down win, and we have to tip our caps to the plant-based team at Asda. Consistently impressive with their new vegan releases (who can forget the 97-product Christmas range from last year?), they've done it again.
We tried the Salted Caramel Fudge & Honeycomb Choc Slab, Blond Choc & Almond, and Choc Orange & Caramel Crisp. Each was a unique and very pleasing flavor, but it was the addition of the chunky pieces, such as chewy fudge cubes, that really tipped the scales. We will have no qualms at all about making a trip to Asda just for some movie night chocolate any day of the year.
Try the OMV! range yourself here.
Best baked vegan chocolate goodies: Cake or Death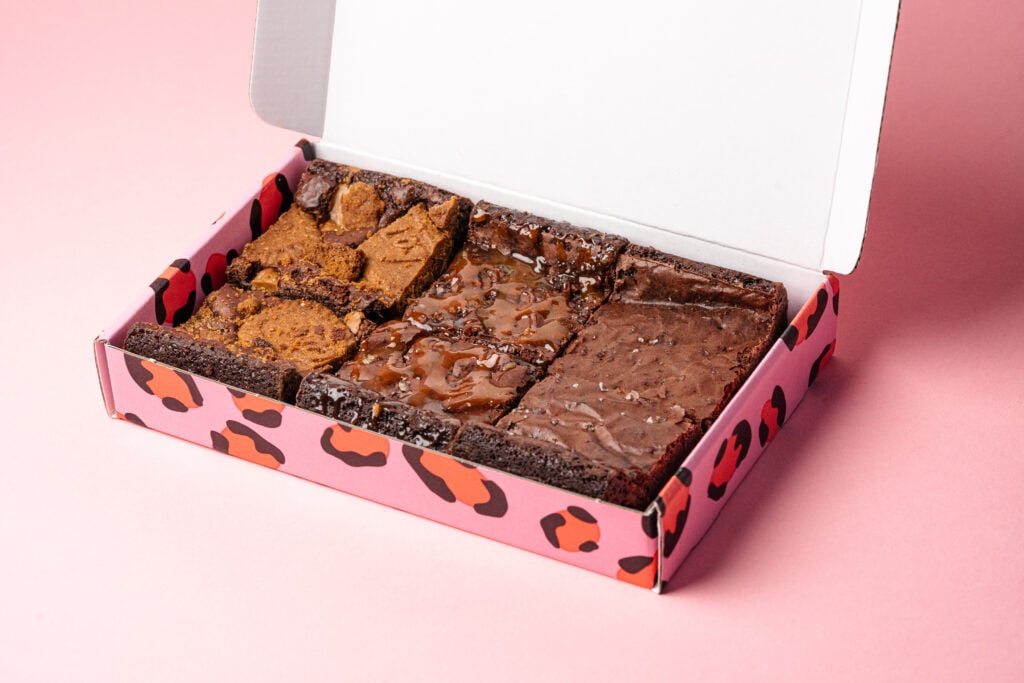 We don't know where to start with this one because we are still dreaming about the brownies that we tasted. Delivered to your door in a fabulous pink leopard print box, Cake or Death's vegan brownies were the kind of baked goods you always hope to be able to master at home but know you never will.
The perfect combination of fudgy but with a chewy edge, every bite was mouth heaven and yet somehow, not so sickly that we couldn't have eaten the entire box of six. Our selection included sea salt, salted caramel, and Biscoff brownies (we know, drool!). We have officially saved the details of this brilliant bakery so we can send treats to our favorite people throughout the year.
Treat yourself or someone else here.
Best funky flavor range – HiP Chocolate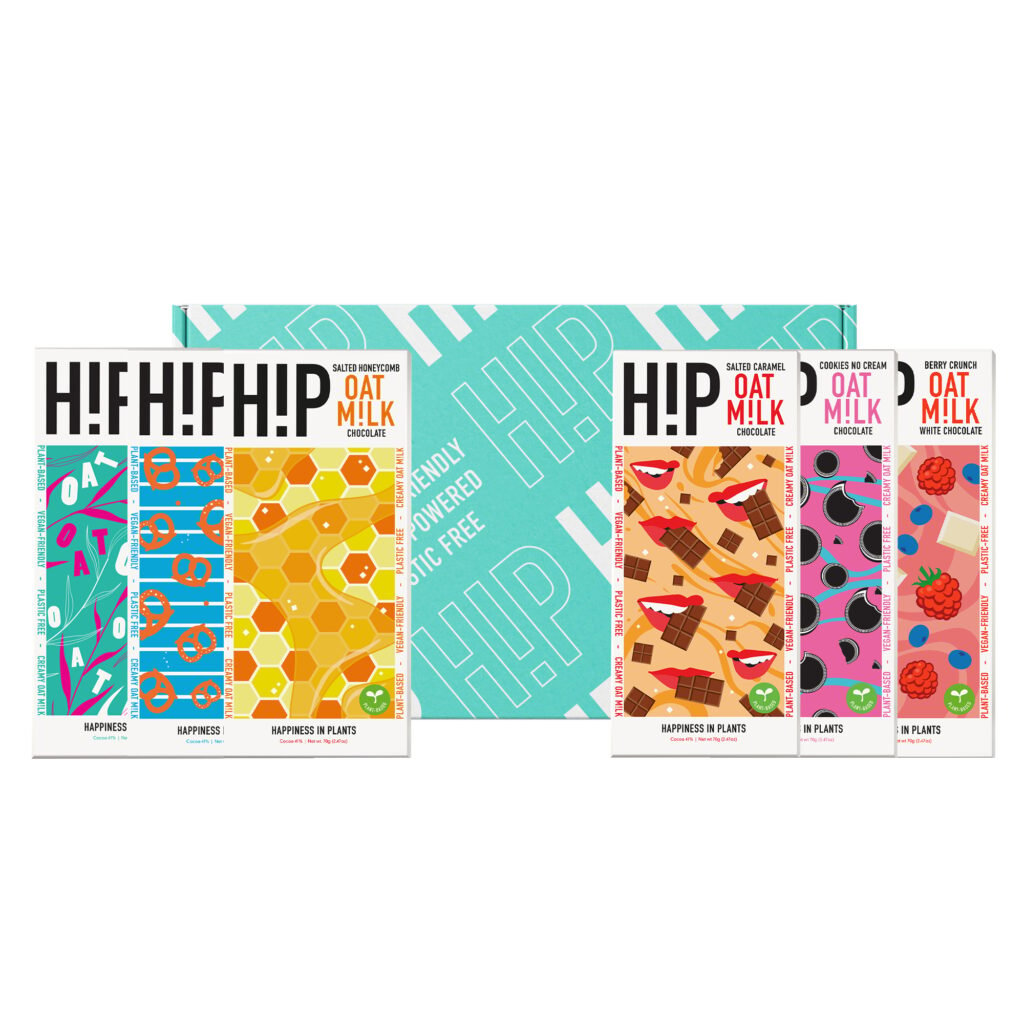 A long standing favorite due to its fantastic range of flavors, HiP was always going to be included in this round-up. Not least because its bars are traditional stocking filler for some of us, especially those with small humans running about and needing more sugar.
Made using oat milk, HiP chocolate has a natural richness and taste that lends itself well to a variety of fun additions, including pretzel pieces, cookies, and fruit. But don't overlook the unadulterated versions either, they really showcase how good the bases are and should definitely be on your "grab and enjoy" list.
Find your perfect flavor here.
Best for zero-waste baking: Bottled Baking Co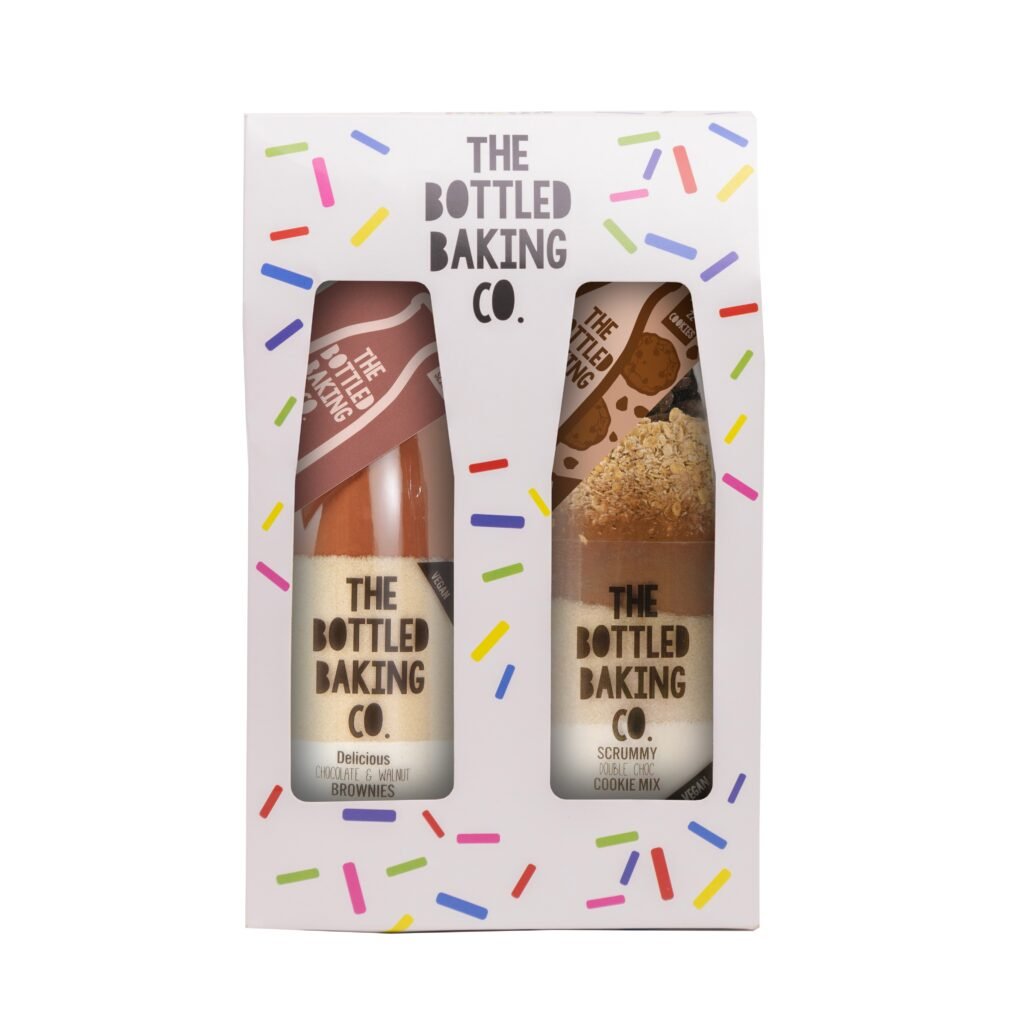 If you're trying to cut down on your non-recyclables but love baking, you'll know the struggle of sugar coming in plastic bags, chocolate chips frequently not having eco-packaging, and more. Bottled Baking Co takes all the hassle out of planning a baking day by delivering a glass bottle with all of your ingredients inside, ready to tip out, combine and cook.
We tried the Double Choc Chip Cookie jar and loved the whole experience. It was fun to do with kids, not too messy (kids cannot wield a wooden spoon with grace), and the cookies were delicious. 10/10 would do again.
Up your baking skills here.
Best for when you just want a huge hunk of vegan chocolate: Tony's
If you've ever noticed that vegan chocolate tends to be a little thinner or stingier than milk-filled bars, you are not alone. In fact, it has become something of a bugbear to us that we have to (usually) pay more to get less. However, Tony's has us covered.
Instantly recognizable by its bright paper packaging, Tony's chocolate comes in whopping 180g bars that really hit the spot. There are three flavors currently suitable for vegans, including the incredible Dark Almond Sea Salt that, frankly, has us wondering why we ever missed Toblerones. Ooooh. Maybe this is the sign Tony's needs to make a Christmas Tony-rone?
Be unapologetic about your chocoholism here.
Best mainstream favorites dupes: Buttermilk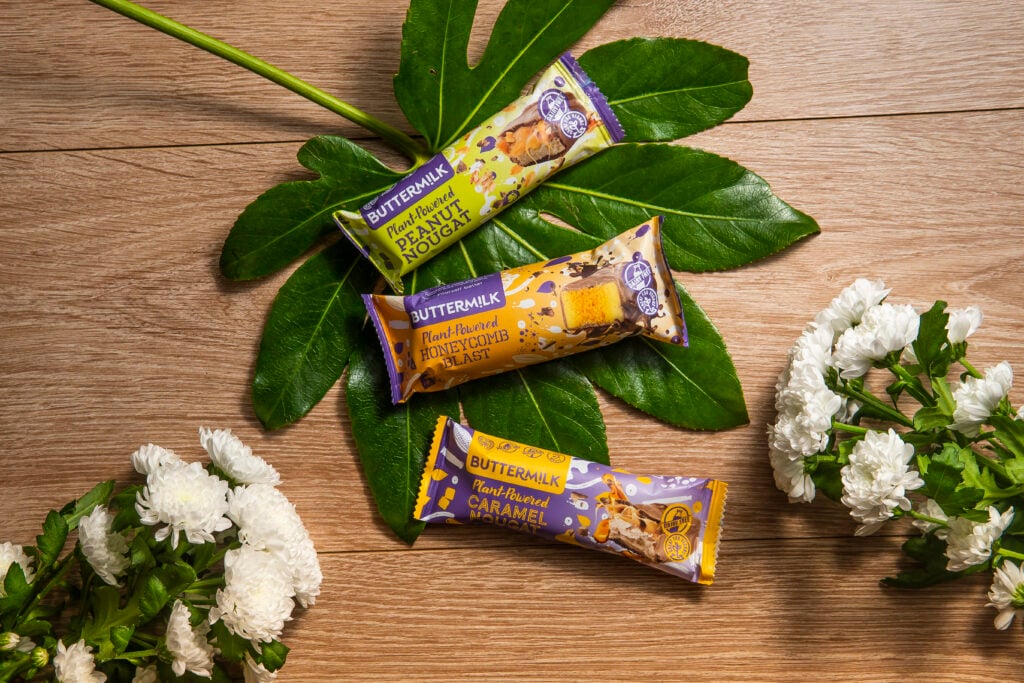 If you've been vegan for a while, you'll remember the dark old days of not being able to find a decent dupe of your favorite regular chocolate bars. Fancy a Crunchie? Forget it. Desperate for a Snickers? Tough luck! But now, Buttermilk has answered all of our prayers.
We've loved Buttermilk for a while, and have reached for its Mars, Snickers, and Crunchie dupes on many occasions. In our wildest dreams, it will take on Lion bars next. No pressure, guys, but if anyone can absolutely nail it, you can! Top tip: pop your Peanut Nougat Choccy bar (Snickers) in the fridge before eating. You're welcome.
Enjoy an old school taste with none of the cruelty here.
Best attempt by a mainstream chocolatier: Cadbury's Plant Bar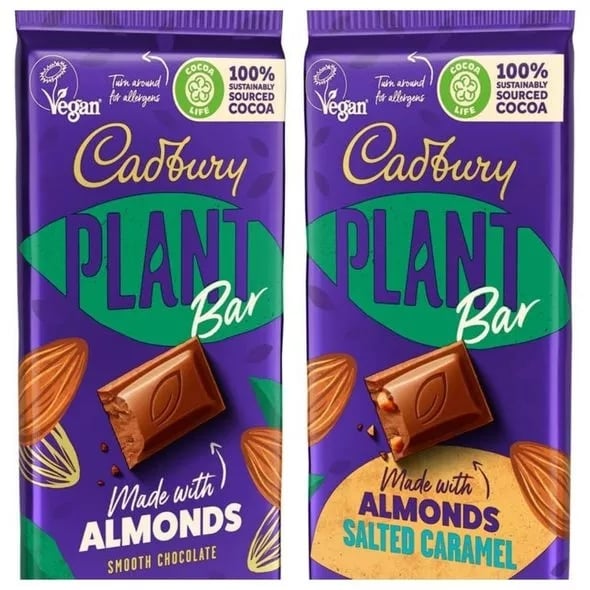 Is the Plant Bar our favorite? No. But it remains a good bar at a decent price point that will be an easy switch for some who need a recognizable brand attached. Unless they have a nut allergy, as almond paste is a key ingredient here.
The taste is very nice. You get that nostalgic creamy Dairy Milk vibe and it's always good to feel specifically catered for. However, we all liked Bournville and enjoyed its "accidentally vegan" credentials. We think plenty of us are still smarting from the decision to revamp the Bournville recipe to include milk, just before the release of a more expensive vegan bar. Why, Cadbury? Why? We will still celebrate you on World Vegan Chocolate Day though.
You can find the Plant Bar in most large supermarkets, or in bulk here.
Best resealable (haha!) vegan chocolate treat: Pip & Nut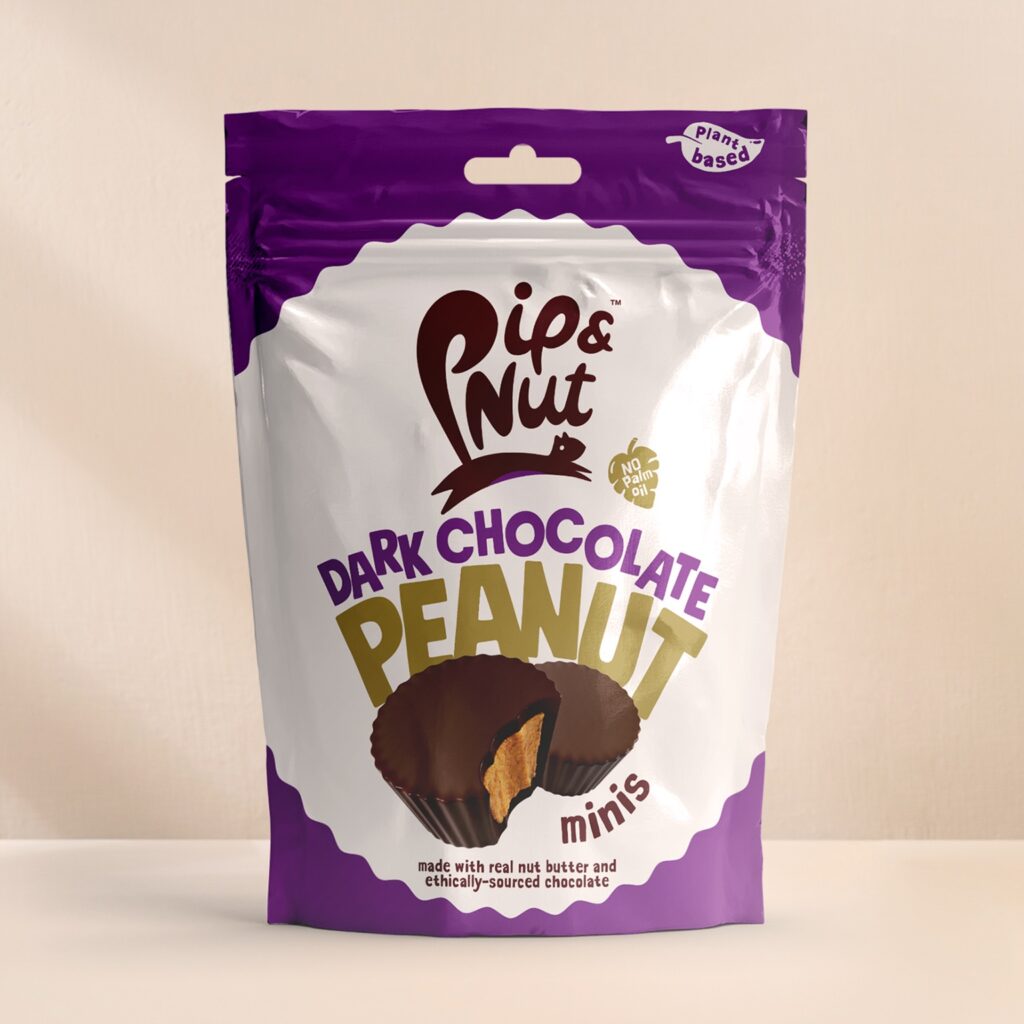 Few things beat a really good peanut butter cup, and who better to make one than Pip & Nut? Purveyors of some of the most delicious nut butters around, adding dark chocolate into the mix was a very good idea.
We love the notion of being able to dip into a bag of peanut butter cups before resealing and leaving them for another day. It makes us believe we actually have self control. In reality, the entire bag was demolished by three of us in around 10 minutes, with zero regrets. This would be the perfect snack to take to the cinema, just in case options there are limited.
Buy your share (again, haha!) bag here.
Best accidentally vegan chocolate: Ritter Sport Marzipan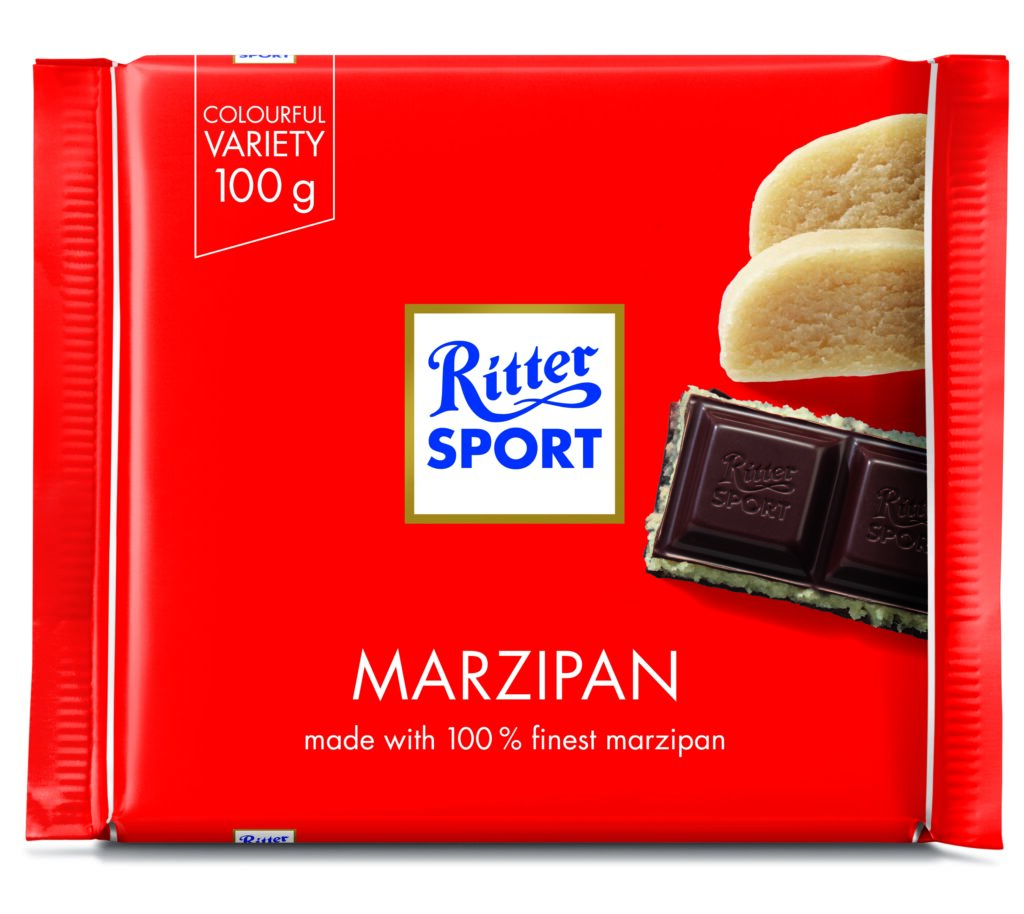 The Ritter Sport square packages are iconic in their own right, but add dark chocolate and marzipan into the mix and we have a new accidentally vegan chocolate champion. Sorry, Bournville, it was good while it lasted.
The really nice thing about the Ritter choc is that it's dark enough to add the right balance to the ultra-sweet marzipan filling, creating a delightful and oddly refined-tasting treat. Bonus points for pleasing kitchen cupboard tessellation are awarded, in addition to being an easy snack for on the go. Seriously a new favorite.
Marvel in the marzipan here and buy from most large supermarkets.
Best for when you just need a little treat: MyVegan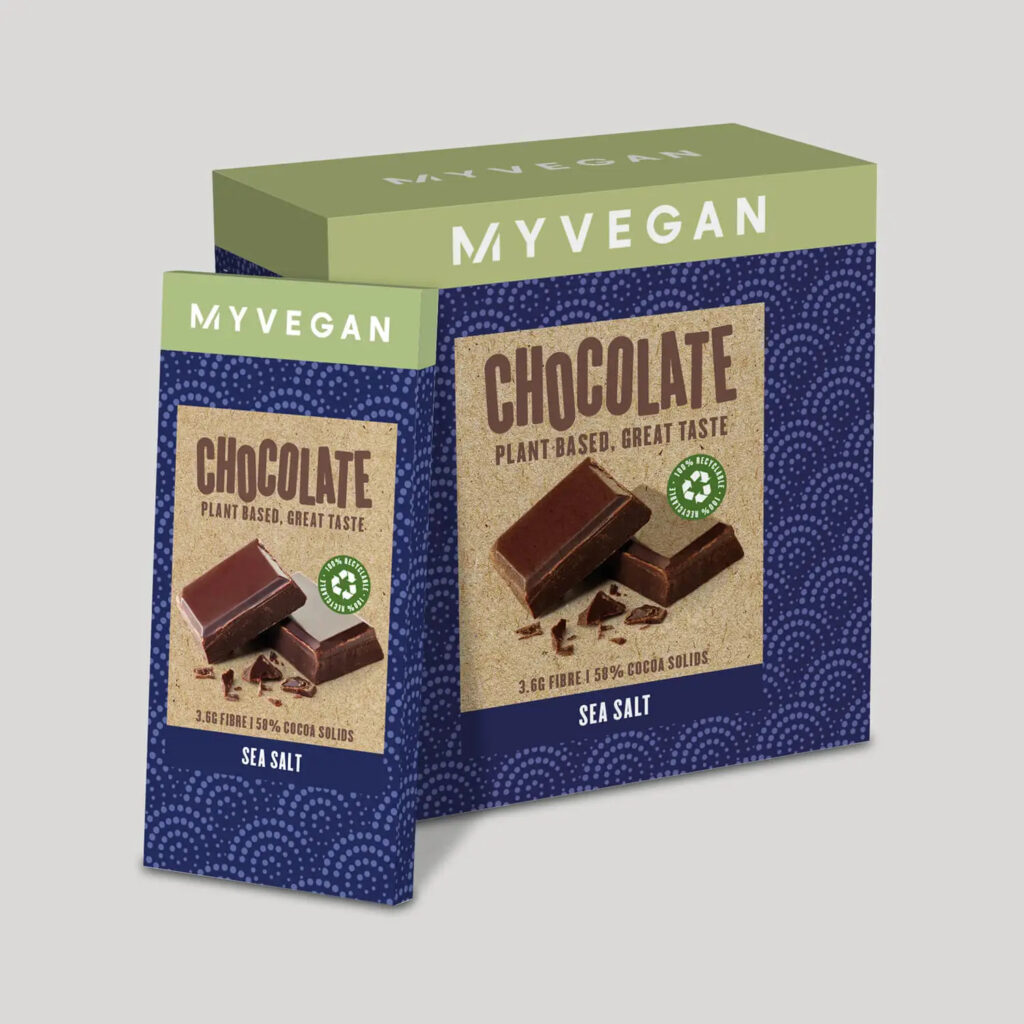 Most known for its range of vegan supplements and performance enhancers, MyVegan also keeps people on track with small but perfectly tasty chocolate bars and protein brownies.
The baked brownies are small but well conceived in terms of protein dose. They are small enough to fit in a stuffed gym bag or a coat pocket, meaning you'll never forget to fuel up after a workout again. It's the small chocolate bars, however, that are the real winners. The absolute right size for giving a sweet hit without going overboard, ruining your appetite, or macros, we were really surprised by how nice the chocolate is, given that it contains just over four grams of protein. Good things do come in small packages.
Top up your protein here.
Best for stopping the show: Chococo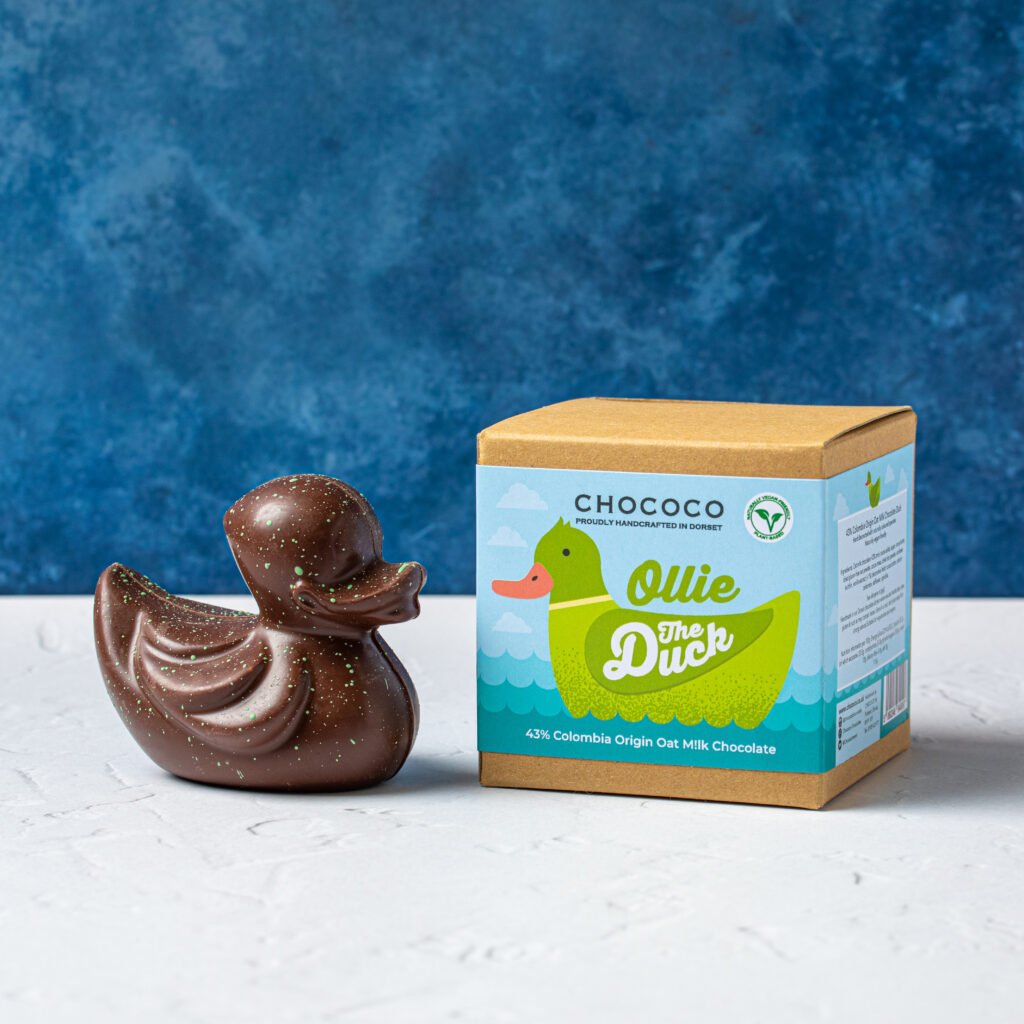 We're no strangers to exciting foods and clever design, but when the Chococo goodies arrived from Dorset, there was an audible gasp. And it was because of "Ollie the Dark Chocolate Duck."
First off, Ollie is a good-looking chap. Made from Ecuadorian chocolate, he is a sight to behold. But the addition of (hand-painted!) cocoa butter speckles took things to a whole new level. And, of course, he was delicious. Rich, silky, and luxurious, Chococo did the unthinkable: made vegans not feel bad about eating a duck. This would make a lovely gift for anybody, for birthdays, Christmas, or World Vegan Chocolate Day. Plus, a very honorable mention also goes to the hot chocolate, which comes in a sustainable metal tin and tastes lovely.
Cast your eyes over Ollie here.
Best for kids (of all ages): PLAYin CHOC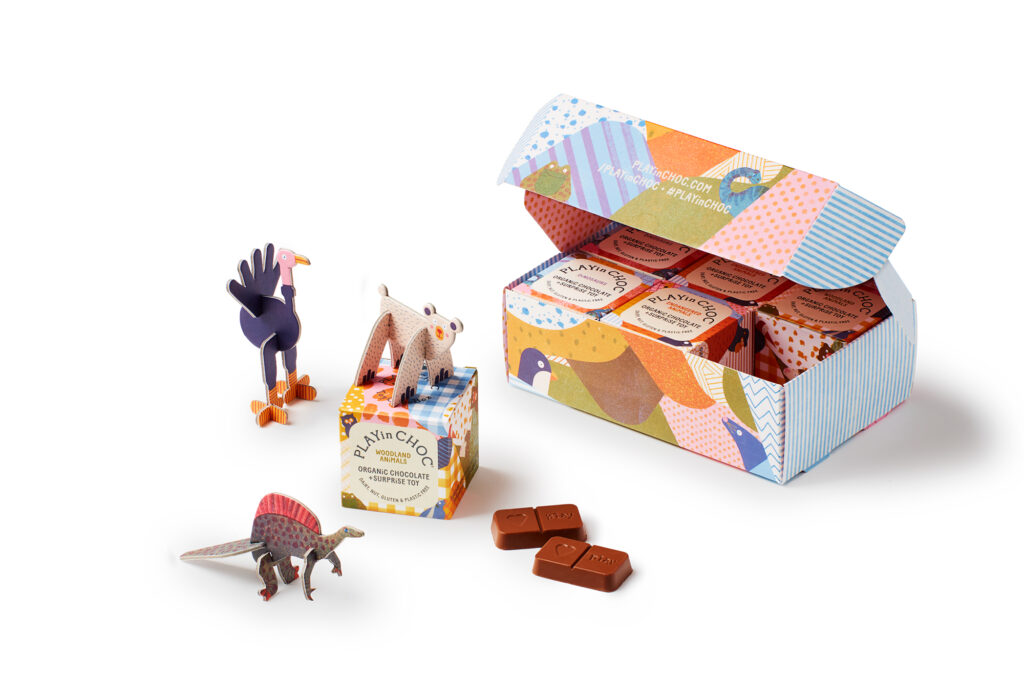 Spoiler alert: we saved our favorite until last.
PLAYin CHOC had us totally immersed from the second we opened our delivery box. Vegan, allergy-free, organic, AND sustainable, this is a brand that really thought about how it could cater to as many people as possible. The result is a range of chocolates that look beautiful, taste mind-blowingly good, and will always be in our cupboards from here on out.
The plain chocolates are a taste sensation, thanks in part to the coconut sugar that removes any bitterness. But the ultimate products in the catalog are the ToyChoc Boxes.
Inside home-compostable little boxes you'll find lozenges of chocolate and a toy, The latter has to be pushed out of its cardboard support and made, like a kit model. There's also an information card about the creature (a dinosaur, woodland or endangered animal) that you've made. The fact that this chocolate is suitable for vegan, allergy-aware households and zero-waste fans alike makes it our ultimate top choice.
Shop the PLAYin CHOC range here
We hope you found something to tempt your tastebuds on World Vegan Chocolate Day here. If you'll forgive us, we're off for a lie-down and a bag of super salty pretzels now.