With demand for vegan fish growing, more people than ever are seeking out plant-based alternatives to tuna and other "seafood" products. While it's possible to find vegan tuna in many supermarkets around the world, you can also make if yourself at home. This vegan tuna sandwich recipe teaches you to do just that.
The recipe, which comes from World of Vegan, shows you how to make fishless tuna using artichoke. You can use this ingredient to make plant-based tuna sandwiches reminiscent of those that many of us ate as children.
Benefits of artichoke
Artichokes, which have their roots in the Mediterranean, are a versatile ingredient, and they can mimic the shredded and meaty texture of tuna. This recipe requires canned, rather than fresh, artichoke, and you should look for one packed in water or brine.
While many people believe artichokes to be vegetables, they are actually a type of thistle. They have for centuries been utilized for their supposed health benefits, with some people believing them to be good for heart and liver health.
Artichokes are low in fat, rich in fiber, and contain good amounts of vitamin C, folate, magnesium, and potassium. They can be found in most supermarkets in varying forms, and can be used in a number of dishes.
The benefits of giving up fish
While many people enjoy the taste of meals like tuna sandwiches, there's no denying that eating fish supports an industry with huge ethical and environmental costs.
It's thought that up to 2.7 trillion fishes* are killed each year. The industrial fishing industry kills vast numbers of sea animals with huge nets and long lines, including unintended species (known as bycatch). Billions of fishes are also raised on farms, where they are often forced to swim endlessly in circles, with many suffering from disease and injury.
The plant-based seafood market has catapulted in the last few years – and it's been estimated to hit $1.3 billion by 2031. As well as the many brands selling vegan fish at the supermarket, you can also easily make fish substitutes at home.
Vegan 'tuna' sandwich recipe
It's now easier than ever to enjoy fishless tuna as a vegan – all you'll need for this recipe is artichoke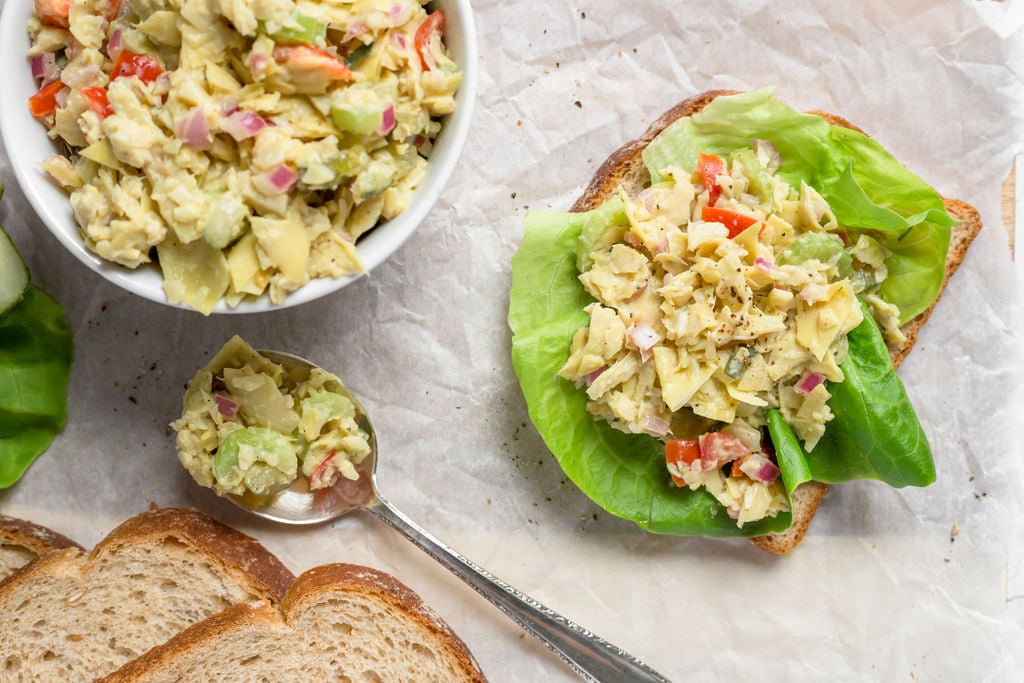 Ingredients
2

cans

artichokes

whole or quartered packaged in brine, not marinated

1/4

cup

vegan mayo

1

tsp

yellow mustard

1/2

red onion

2

stalks

celery

finely diced

2

spears

dill pickle

finely diced

8

cherry tomatoes

1/4

tsp

black pepper

1/8

tsp

salt

if desired (taste first)

8-12

sliced

sandwich bread

4-6

large lettuce leaves
Instructions
Open the cans of artichokes and drain the water well. Use your hands to squeeze our the majority of the brine, and place artichokes into a food processor. Pulse 8-10 quick times until the artichokes look roughly shredded (should be a tuna-like consistency). Do not over-blend

In a medium bowl, add the shredded artichokes, vegan mayo, yellow mustard, diced onion, diced celery, diced pickle, tomatoes, and black pepper. Mix with a spoon until thoroughly combined

Lightly toast bread. For each sandwich, lay a large piece of lettuce on the bottom slice of toasted bread and top with a generous layer of artichoke "tuna" salad. Top with the other piece of bread, cut in half using a sharp knife (if desired), and enjoy
More like this:
*We choose to use the term "fishes" rather than "fish" to emphasize their individuality