As the fall months unfold, many of us are seeking warming and wholesome dinners that provide comfort against the ever-cooling temperatures. Squash, with its robust and earthy flavors, is an ideal vegetable to anchor such autumnal dinners. This wild rice-stuffed squash recipe is not only packed full of nutrients, but vegan-friendly as well.
Squash is a type of vegetable that belongs to the gourd family. There are a number of varieties of squash, including butternut squash and acorn squash, and you can use either of these (or both) for this recipe.
Squash is popular for its ability to add depth to various meals. Its inherent sweetness complements the savory notes of fall-inspired dishes, creating a satisfying and balanced dining experience.
The fall is also the perfect time to buy squash if you're a fan of seasonal eating. Squash varieties are readily available during the fall months, making them good choices for those looking to incorporate seasonal and locally sourced produce into their dinners.
Health benefits of squash
Butternut squash, which this recipe recommends, is high in vitamins A and C. Vitamin A is essential for eye health, immune function, and cell growth, while vitamin C is crucial for immune system function and skin health. Butternut squash is also a good source of several B vitamins, including folate, niacin, and thiamine, which are vital for energy metabolism and the functioning of the nervous system. Additionally, the vegetable provides important minerals like potassium, magnesium, and manganese, which support heart health, bone strength, and overall metabolic function.
Butternut squash is notable for its antioxidant content, including beta-carotene, beta-cryptoxanthin, and alpha-carotene. These antioxidants are known for their role in reducing oxidative stress in the body, which can help in preventing chronic diseases.
Where to buy squash
Butternut squash should be readily available at your local supermarket or farmers market. If you'd rather use acorn squash, this may be slightly trickier to find, but it should still be located in many grocery stores.
Wild Rice-Stuffed Squash recipe
This vegan wild rice stuffed squash is healthy yet comforting, making it an excellent option for a hearty winter dinner. Made with wholesome ingredients like butternut squash and wild rice, It's gluten-free and won't weigh you down, but it's incredibly flavorful and will please vegans and non-vegans alike.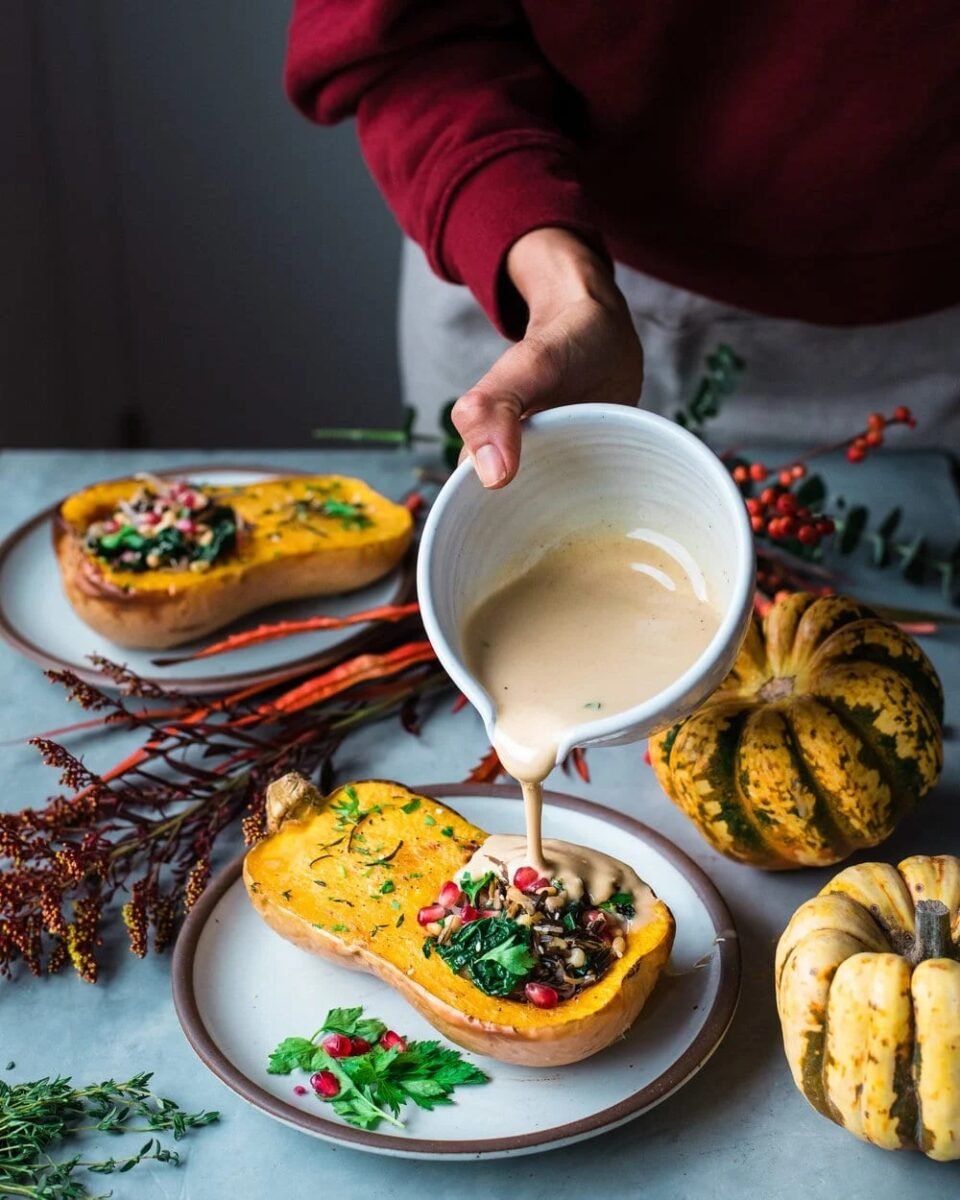 Ingredients
4 medium butternut squash OR 4 medium acorn squash

Kosher salt and pepper to taste

1

cup

wild rice

1.5

cups (355ml)

vegetable broth for Instant Pot method, OR 3 cups (710ml) vegetable broth for stovetop method

1

tbsp

 olive oil + more for roasting squash

4

shallots, sliced thinly

4

cloves

garlic, minced

4

cups

(~270g) Tuscan/Lacinato kale, shredded

1/2

cup

(~70g) toasted pine nuts or pumpkin seeds

1/2

cup

(~15g) parsley leaves, roughly chopped

1/2 

cup

 (~10g) basil leaves, roughly chopped

1/4

cup

(~30g) dried cranberries

1/2

cup

(~80g) pomegranate seeds

1

tsp

orange zest

1

tbsp

freshly squeezed orange juice

1

tbsp

extra virgin olive oil

1/4

cup

(~64g) good-quality tahini
Instructions
Preheat the oven to 425°F (or 218°C).

Roast the squash: Slice each butternut squash or acorn squash in half and scoop out the seeds and gunk with a spoon. Place each squash half, cut side up, on a baking sheet and rub each with a bit of olive oil, kosher salt, and pepper. Roast acorn squash halves for 45 minutes and butternut squash halves for 50-55 minutes or until the flesh is fork tender and lightly browned.

Rinse the wild rice well.

Wild Rice, Instant Pot Method: Add the wild rice and 1 1/2 cups vegetable broth to the inner pot of the Instant Pot. Secure the lid and select the Pressure Cook/Manual setting for 25 minutes. Allow a natural pressure release and drain off any remaining liquid.

Wild Rice, Stovetop Method: Place the wild rice and 3 cups of vegetable broth in a saucepan over medium-high heat. Bring to a boil, then turn the heat down and cover. Simmer for 40-45 minutes, or until the kernels have burst open. Drain off any remaining liquid.

Make the wild rice salad: Heat the 1 tablespoon olive oil in a skillet. Once hot, add the shallots and cook until they are starting to soften, about 4 minutes. Add the garlic for 1-2 minutes, stirring frequently, until golden.

Add the shredded kale and season to taste with salt and pepper, stirring for 1-2 minutes or until the kale is starting to soften.

Turn off the heat and transfer the vegetable mixture to a large bowl. Add the cooked and drained wild rice, along with the pine nuts, chopped parsley, chopped basil, dried cranberries, pomegranate seeds, orange zest, orange juice, and 1 tablespoon extra virgin olive oil. Toss well to combine and incorporate the flavors. Season to taste with salt and pepper.

Stuff each squash cavity with the wild rice salad. Drizzle each half with tahini. Serve with additional chopped parsley on top, if desired.
NOTE: you can also scoop out flesh from the roasted butternut squash to create a more hollowed out boat. That way, you can add more of the wild rice filling into each boat.
This recipe was reposted with permission from Rainbow Plant Life. You can view the original recipe here.
More like this: