If you're not a fan of cooking elaborate meals during the week, and are just looking for something simple, tasty, and requiring minimal washing up, this roasted cauliflower and apple recipe could be just what you're after.
For this recipe, all you'll need is a large mixing bowl and oven tray. Many of its ingredients, including olive oil and salt and pepper, may already be in your kitchen cupboard. The rest should be readily available in most grocery stores.
The benefits of cauliflower
It's safe to say that cauliflower is having a bit of a moment right now. It's had a bad rep in the past (many of us will have not-so-pleasant memories of eating overcooked and tasteless cauliflower at roast dinners…), but it's now seeing a surge of popularity due to its nutrition and versatility.
One of the most significant benefits of cauliflower is its nutrient density. It's regarded as an excellent source of vitamins C and K, and it provides a good amount of folate and vitamin B6. Cauliflower is also rich in antioxidants and phytonutrients, which can help protect against various diseases. The high fiber content in cauliflower is beneficial for digestive health, aiding in regular bowel movements and maintaining a healthy gut.
Cauliflower can be used in various recipes, from raw salads to steamed, stir-fried, or mashed dishes, making it easy to incorporate into many meals.
When is cauliflower in season?
Cauliflower is accessible year-round, but its peak season typically falls in the autumn months, from September to November. This means that now is the perfect time to experiment with cauliflower recipes.
During this time, cauliflower is often at its freshest and most flavorful, and you might find it at lower prices due to its abundance. The cost of cauliflower can vary depending on the region and the time of year, but it is generally considered to be a low-price choice, especially when purchased in season.
You can find cauliflower in most grocery stores, supermarkets, and farmers' markets. For the best deals and the freshest produce, shopping at local farmers' markets or subscribing to a community-supported agriculture (CSA) box during the peak season is recommended. Additionally, many stores offer both conventional and organic options, catering to different preferences and budgets.
If you want to try your hand at a new cauliflower recipe, try this roasted apple and cauliflower.
Roasted cauliflower and apple recipe
This roasted cauliflower and apple recipe is packed full of flavor and makes for a perfect midweek meal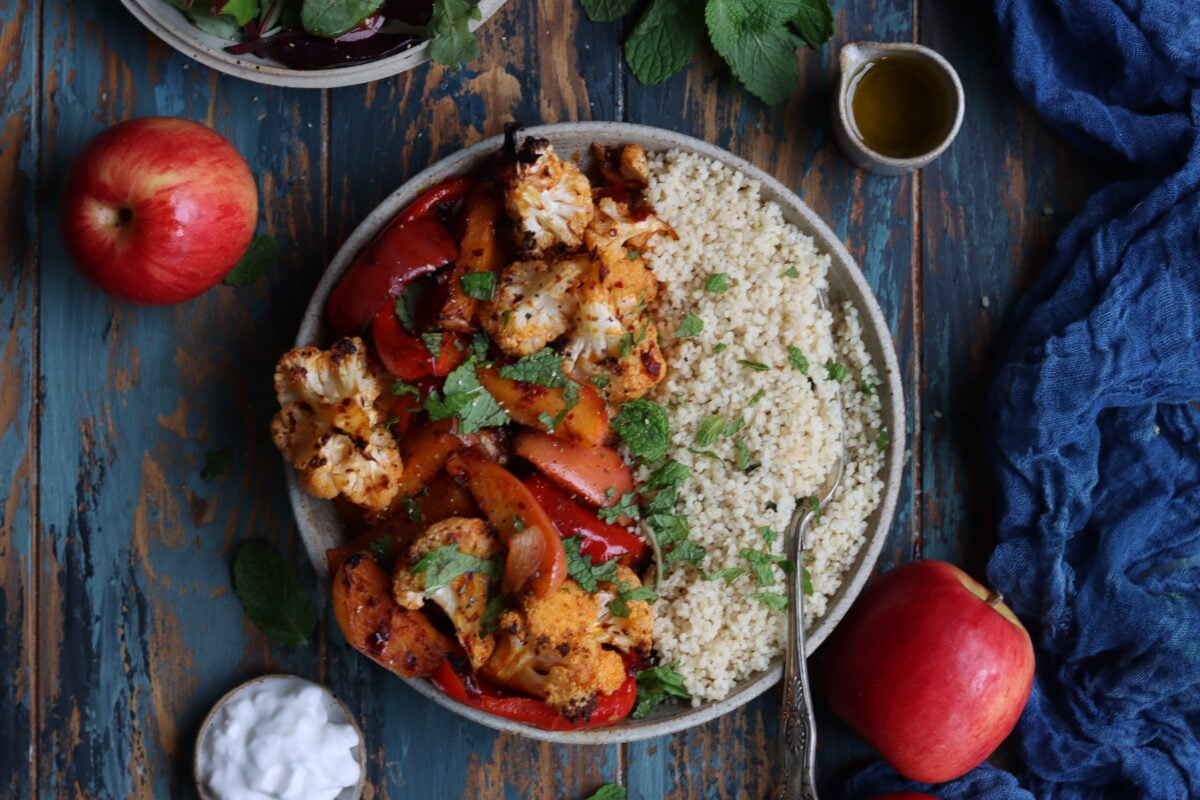 Ingredients
2

JAZZ apples (cored and cut into thin slices)

400

g

cauliflower florets

2

red peppers (cut into chunky slices)

4

cloves

garlic

4

shallots (each cut into segments)

2

tbsp

olive oil

1

tbsp

sherry vinegar

2

tbsp

harissa

Salt & pepper to taste
Instructions
Preheat the oven to 200C fan.

Break the cauliflower florets apart, cut the peppers into strips, break apart the shallots and peel the garlic cloves before adding to a large bowl.

Mix the olive oil, harissa, and sherry vinegar together and pour over the veg.

Get your hands involved to ensure the veg is well covered.

Place the marinated veg on an oven tray and bake for 20 mins.

Take out, give it a mix and bake for another 10 minutes.

Serve with couscous, coconut yoghurt and mint leaves.
More like this: