This vegan shakshuka recipe will make you look forward to Sunday brunch! Comforting and full of flavor with sautéed shishito peppers and onion, this elevated tofu scramble comes together within half an hour from start to finish.
What is shakshuka?
Shakshuka is traditionally a dish of poached eggs in a sauce of tomatoes, olive oil, peppers, and onion. It is basically a cucina povera recipe (translates from Italian as "cooking of the poor" or "peasant cooking"). Don't let the terms fool you. This tastes better than many dishes made with more lavish ingredients.
In the last decade, Israeli-British chef Yotam Ottolenghi has helped to popularize the dish in the Western world.
Where is shakshuka from?
Many sources claim that shakshuka can be traced back to the Ottoman Empire, where it was made with meat, though there doesn't seem to be any specific proof. Adding to the confusion, many scrambled egg dishes with tomatoes exist around the world. Shakshuka's conception is also attributed to Tunisia, Spain, Morocco, Israel, and Yemen.
Menemen, a similar dish, certainly has Mediterranean origins. Turkish migrants from Crete seemingly brought it to the town of Izmir in the 1920s. The former Cretans migrated to a district called "Menemen" in the city and started making their delicious tomatoey stew. The dish was adopted by the whole country, thanks to its comforting taste, affordability, and practicality.
The difference between menemen and shakshuka is how the preparation of eggs. Usually, the eggs in shakshuka are poached whereas in menemen they are scrambled—though not always.
Other versions of shakshuka exist all over the globe with minor differences in ingredients. These incllude huevos a la flamenca (Andalusian, with chorizo), uova in purgatorio (Italian, different spices), and matbukha (North African, minus the eggs).
How to substitute eggs for a vegan shakshuka
Here, eggs are substituted with soft silken tofu in this otherwise authentic Turkish version of the dish. Soft regular tofu or Just Egg will work as well. From a purely aesthetic perspective, the Just Egg scramble will look the most authentic.
Additionally, if you really like the flavor of eggs, add black salt (kala namak) to mimic the flavor.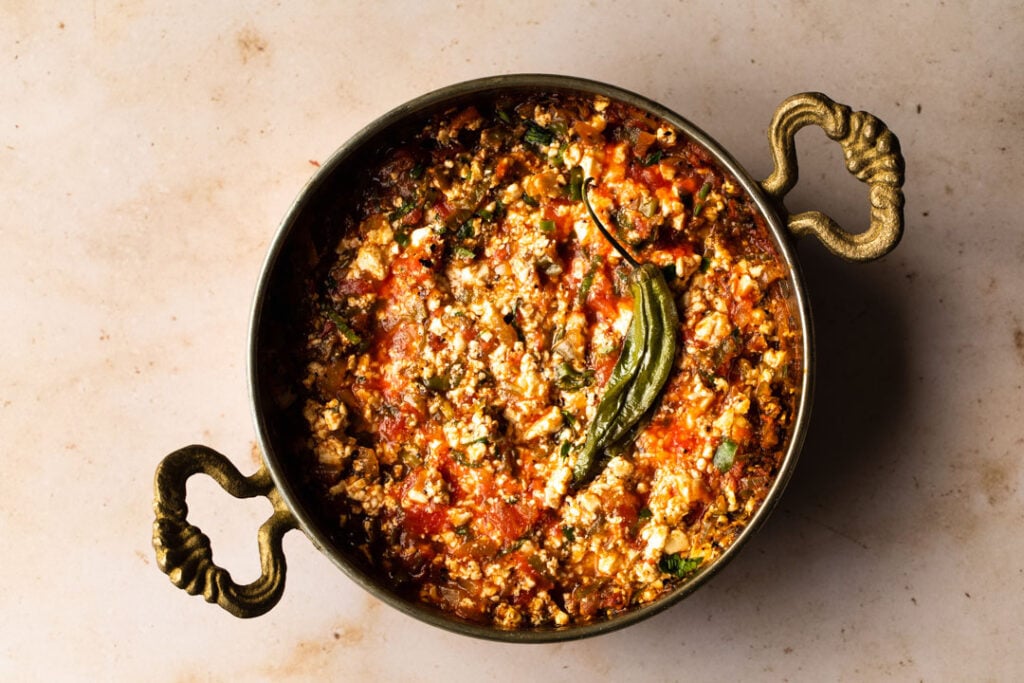 Ingredients
2

tbsp

olive oil

plus more for serving

1

cup

onion

finely diced (about 1 small onion, ~120g)

1

cup

shishito peppers

finely diced (see note 1, ~110g)

1

cup

tomatoes

chopped and peeled (see note 2, ~200g)

1

block soft silken tofu

see note 3, ~400g

1

tsp

Urfa chili flakes

see note 4

¼

tsp

dried oregano leaves

salt & pepper to taste

⅛ teaspoon black salt (kala namak)

optional

parsley

chopped (to garnish)

bread

to serve
Instructions
Heat olive oil over low heat in a nonstick skillet or traditional sahan. When the oil is warm, add the onion, shishito peppers, Urfa chili flakes, and dried oregano, then stir.

Season with salt and pepper. Cook over low-medium heat for 10 minutes, stirring frequently.

Once the onions and peppers are softened, add the tomatoes and continue cooking for another 10 minutes.

Add in the tofu (or Just Egg scramble), and break it off. Season with regular salt or black salt and pepper one more time, and gently stir. Cook for another few minutes until the tofu gets warm (or longer if using Just Egg).

If desired, add extra olive oil and chopped parsley to serve. This dish is usually enjoyed without utensils, using bread as a delicious vessel instead.
You may also use Padron or Anaheim peppers if you don't mind the extra spice. Some prefer using canned San Marzano tomatoes in the winter when there are no good fresh tomatoes available.
1 tofu block is usually 14-16oz. You may also substitute with regular soft tofu, or Just Egg's vegan scramble.
Urfa pepper is a smoky, incredibly delicious type of chili from Turkey that takes months to make. It is a staple for Turkish cooking. It is highly recommended to use Urfa biber in this dish; however, Aleppo or regular chili flakes in combination with smoked paprika would work as well.
This recipe was republished with permission from Aegean Delight. Find the original recipe here.