If you think that spicy food is only for cold days and daring palates, then just you wait! This vegan spicy coconut noodles recipe will tempt you over to the hot side but that's not all. You'll also want to start reaching for the chillis all year round.
What we have here is a heavenly combination of tasty vegan ingredients, all rolled into one incredible dish that you'll want to devour by the bowlful. Moreover, there's nothing 'unhealthy' to get hung up on either, just some dependable tofu, tasty noodles, and creamy coconut milk.
Don't forget that when using chillis or any other type of spice, you are in control. You do not have to follow any recipe to the letter, so adapt the amounts of ingredients that you are inexperienced with. Give yourself the grace to add a little more next time, or perhaps substitute something you prefer. After all, cooking is an ever-evolving skill and food should be a pleasure so trust your instincts.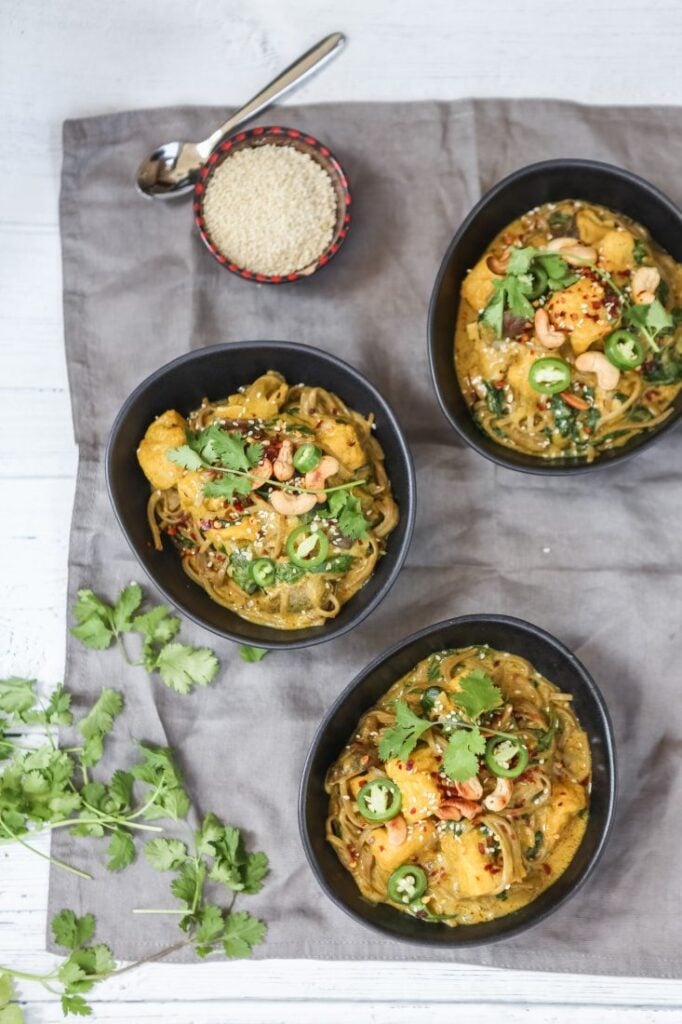 Ingredients
Spice paste
25

g

ginger

(peeled)

3

cloves

garlic

2

red chillies

(seeds included)

2

stalks lemongrass

1

tsp

coriander seeds

1

tsp

ground turmeric

Splash vegetable oil
Noodles
1-2

onions

finely diced (or use 4 shallots)

130

g

mushrooms

(eg shitake or any of your choice)

500

ml

vegan stock

200

g

spinach

400

ml

tinned coconut milk

200

g

noodles

(eg soba)

100

g

deep fried tofu puffs

(halved )

Fresh coriander

Squeeze fresh lime juice

(optional)

Sprinkling of crispy fried onions

(optional)
Instructions
Cook the noodles according to the instructions on the packet, drain and set aside.

Blend the spice paste in a high-speed blender or food processor. If you don't have one, a pestle and mortar will also work.

In a large saucepan or wok, fry the spice blend for a few minutes then add the onion and mushrooms.

Stir through and heat for a further few minutes.

Add the stock and coconut milk, bring to the boil and then simmer for 10-15 minutes.

Add the spinach, tofu and the noodles and simmer for a further minute.

Remove from the heat (do not drain — it's supposed to be a slightly soupy dish) and serve with fresh coriander and a squeeze of lime juice.
Top tips for the best vegan spicy coconut noodles
Deep fried tofu puffs can usually be found in Asian supermarkets. However, if you're drawing a blank, you can substitute regular tofu chunks. We would recommend using a firm or super-firm tofu, to ensure the cubes hold their shape. Alternatively, you can press firm tofu and bake slowly in the oven, to get a crispier addition.
If you don't have a high-speed blender, you can make your spice paste using a pestle and mortar. Just add all of your ingredients to your bowl and break them down until you make a smooth paste. It's an oddly satisfying task that will make your food taste even better.
—
This vegan spicy coconut noodles recipe was republished with permission from Viva's Vegan Recipe Club. Find the original recipe here.