Kedgeree refers to a dish made with flaked fish, usually haddock, cooked with egg, spices, and vegetables. At first glance, this dish couldn't be less vegan-friendly – but did you know it's possible to create it using all plant-based ingredients? Below is an incredible recipe for vegan kedgeree – complete with swede-based smoked "haddock".
Traditional kedgeree is thought to have originated in India in the 14th Century. Since then, it's spread in popularity around the world, and is regularly eaten in the UK.
This recipe uses swede to mimic haddock, and it comes from vegan recipe developer Lucy Johnson (owner of Edible Ethics). She used liquid smoke and seaweed to give the vegetable a similar taste to smoked haddock, and she also replaced eggs with tofu. If you fancy getting experimental in the kitchen, this recipe is definitely one for you.
Benefits of swede
Swede (also known as rutabaga) is a root vegetable that tends to be readily available in supermarkets across the UK. It's round in shape, and has a purple-green skin. The inside of a swede is a yellow-orange color.
The vegetable is regarded as highly nutritious. One serving (386g) provides more than 100 percent of your RDA of vitamin C. Swede also contains potassium, magnesium, Vitamin A, and calcium.
Tofu as an egg alternative
This recipe is one of many that uses tofu in place of egg. While at first this may seem unusual, tofu is becoming an ever more popular alternative to egg. Mixing tofu with black salt, which this recipe does, gives the vegan protein an eggy taste. Adding nutritional yeast into the mix gives it an added boost of protein and vitamin B12, and the turmeric gives it an eggy color.
Vegan kedgeree recipe
This vegan kedgeree uses tofu and swede in place of egg and fish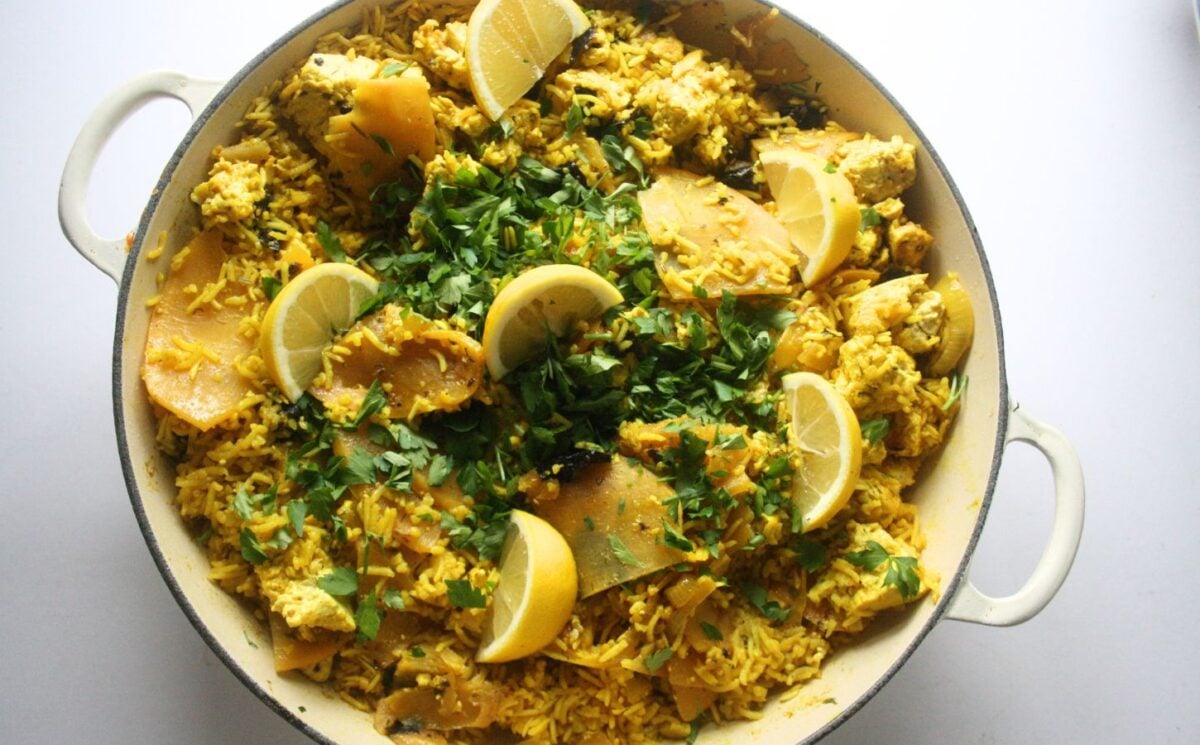 Ingredients
Vegan smoked swede 'haddock'
400

g

swede

2

tsp

liquid smoke

2

tsp

salt

2

tbsp

lemon juice

1

sheet

sushi nori

crumbled

4

tsp

agave

1

sprig

dill

Black pepper
The kedgeree
1

onion

finely chopped

3

cloves

garlic

finely chopped

200

g

brown basmati rice

100

g

bulgur wheat

2

tsp

curry powder

1

tsp

ground turmeric

1

tsp

ground coriander

2

bay leaves

600

ml

porcini stock

the water from about 10g dried porcini mushrooms soaked in hot water for about 20 minutes
Tofu spice mix
400

g

firm tofu

1/2

tsp

black pepper

1

tsp

black salt

1

tbsp

nutritional yeast

1/2

tsp

ground turmeric
Toppings
1

handful

fresh parsley

chopped for garnish

1

lemon

sliced into wedges for serving
Instructions
Make the swede 'haddock'
Start by creating your vegan swede 'haddock', heat up your oven to 180 °C and finely slice (about 2mm thickness) your swede either using a mandoline or sharp knife.

Inside a large mixing bowl, rub the salt into your swede slices and then place them inside a steamer and steam for about 15 minutes. They should be soft but with a slight bite to them.

Let the steamed swede cool down inside the steamer or in a colander before adding them to an oven dish with the remaining smoked 'haddock' ingredients, make sure to rub the ingredients into the swede pieces.

Bake the swede for about 10 minutes and then add in the crumbled nori to the dish and cook for another 5 minutes.

Allow the swede mix to cool whilst you get started with the rest of the vegan kedgeree dish.
Make the vegan kedgeree
Cook the chopped onion in oil in a heavy based pan for about 10 minutes, then add in the chopped garlic and cook for an extra 5 minutes (or until cooked).

Add curry powder, ground turmeric, ground coriander and a pinch of salt. Stir until fully coated.

Add the rice and bulgur wheat to the pan. Fry for a minute.

Add the porcini stock. Bring to the boil and then cover and simmer for 15 minutes.

Take off the heat and leave to stand covered for 10-15 minutes.

Whilst waiting, cook the tofu. Heat up a dash of oil in a frying pan and tear up bits of the tofu into the pan. Then add the spices and fry until they fully coat the tofu.

Add the swede lox into the pan just to reheat. Once it is all hot, leave aside and add to the rice dish just before serving.

Sprinkle the parsley on top and serve with lemon wedges.
When cooking you need to ensure the grains have enough liquid to cook in, so top up with stock as necessary.
If you are stuck for time, you could prepare the vegan smoked swede 'haddock' ahead of time. Follow the beginning of the recipe to make this element and then allow it to cool before placing it in the fridge in an airtight container. You can keep this in the fridge for a few days before cooking with it.
This recipe was republished with permission from Edible Ethics. You can view this original here.
More like this: