We know what you're thinking and no, we aren't pranking you with a vegan stinging nettle pesto recipe. Far from being an unpleasant and painful dining experience, nettle pesto is nutritious, delicious, and can be very cost-effective too, if you have a patch of stingers in your garden.
Moreover, what a conversation starter. Picture the scene: you've invited a few people over for dinner and served up a gorgeous pesto pasta dish. Everyone is raving about your cooking skills and suddenly, someone asks for the recipe. That's when you drop the bomb that they've been eating nettles and nobody believes you. Cue a fantastic discussion that touches on the benefits of foraging. Hurrah!
The trick here is to blanch your stinging nettles, to prevent their tongue-tingling powers from causing injury. From here, it's as simple as making regular pesto.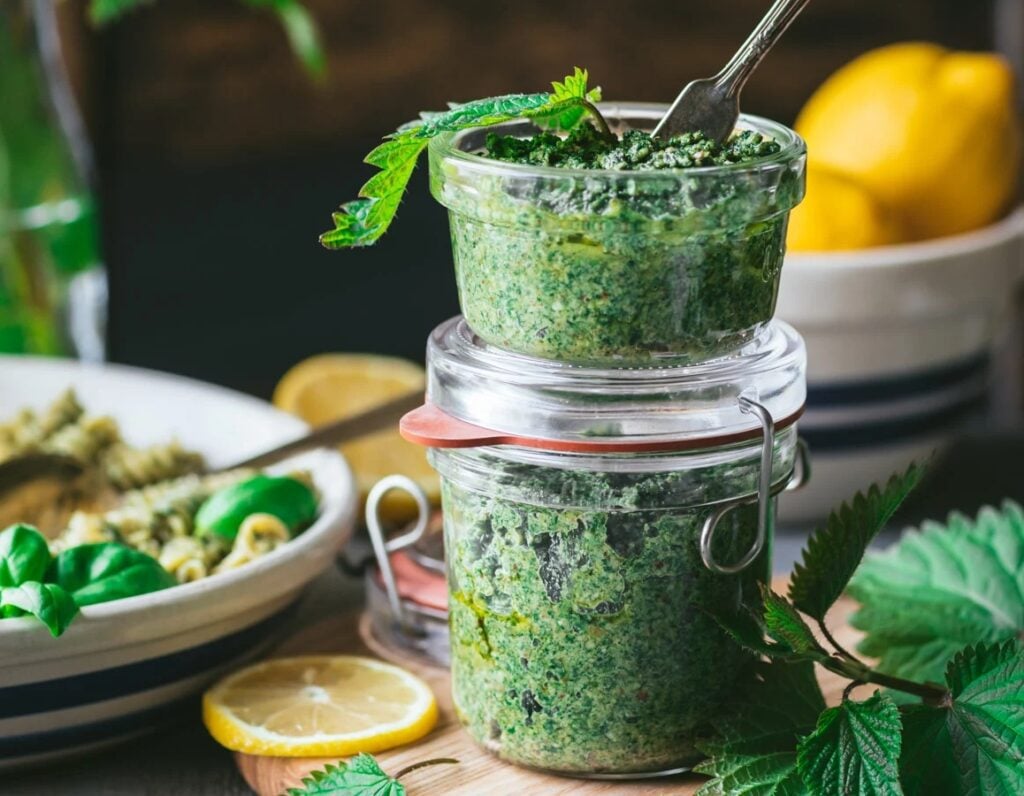 Ingredients
6

cups

90 g of stinging nettles, blanched, squeezed dry, and chopped

Salted water for blanching the nettles

(2 quarts of water mixed with 1 tablespoon of kosher salt)

1

cup

115 g of walnuts

1-2

minced garlic cloves

(2 cloves if you really love garlic)

2

tablespoons

of nutritional yeast

2

tablespoons

of freshly squeezed lemon juice

1

teaspoon

of lemon zest

1

teaspoon

of kosher salt

½

teaspoon

of freshly ground black pepper

2-3

tablespoons

of olive oil

2-3

tablespoons

of water
Instructions
Deactivate the stinging nettles – In a 4–6-quart pot, bring 2 quarts of water with 1 tablespoon of salt to a rapid boil. Use a gloved hand and tongs to plunge the nettles into the boiling water. Blanch for 60 seconds only. Drain the nettles in a colander and rinse under cold running water. (You can also immerse them into an ice bath, but I find cold water does the trick.) Gather the nettles in your hands (They won't' sting, I promise!) and squeeze all the extra water out by forming them into a tidy round ball. Roughly chop the nettles and set aside.

Make the pesto – Add the walnuts to a food processor (not a blender) and pulse until coarsely ground. Next, add the nettles, garlic, nutritional yeast, lemon juice and zest, salt and pepper. Process until a chunky paste begins to form.

With the motor running, drizzle in the olive oil. Then slowly add the water. You're looking for a consistency that is thick enough to spread on a cracker or thin enough to toss with pasta. So, add more or less liquid depending on how thick/thin you like your pesto.

Sprinkle in a dash of salt and pepper and taste before adding more. You're looking for a burst of flavor that makes you immediately want to take another bite!
Top tips for your vegan stinging nettle pesto
You can store leftover pesto in an airtight container in the fridge for up to two weeks. You can use it to make delicious pasta dishes or as a garlic bread or pizza sauce. The possibilities are endless so be sure to experiment. We love making pesto croutons for a crunchy salad topper.
This vegan stinging nettle pesto recipe was republished with permission from Carol Clayton AKA Vegetafull. Find the original recipe here.