Many of us grew up eating lasagne, and there's nothing quite like a large comforting bowl of it on a cold evening. While traditional lasagne is made using meat and dairy, there are a whole host of vegan lasagne recipes incorporating a wide range of vegetables. This creamy vegan lasagne features Brussels sprouts and mushrooms.
Lasagne is popular for its creaminess, and there's no need to sacrifice this if you're vegan. This recipe, which comes from Rainbow Plant Life, is just as creamy as its animal-based counterpart. It uses a tofu-based ricotta to achieve this, which is simple and quick to make at home.
Why Brussels sprouts?
It's safe to say Brussels sprouts have a bad rep. They're best known as the least popular component of Christmas dinner, and the idea of putting them in a lasagne would seem horrifying to some. If you're yet to learn just how incredible Brussels sprouts can be, we recommend giving this recipe a go, pronto.
When they're not over-boiled for Sunday dinners, Brussels sprouts can be a hugely delicious vegetable. According to recipe developer Nisha Vora, she added in shredded sprouts to make this lasagne more "unique".
Brussels sprouts are regarded as a highly nutritious vegetable. They are particularly rich in vitamin C and vitamin K, with one serving providing 53 percent and 91 percent of your RDA respectively. They also feature folate, as well as small amounts of magnesium and potassium.
For this recipe, you can either buy ready-shredded Brussels sprouts from the supermarket, or shred them yourself at home.
Here's how to make it:
Brussel's sprouts and mushroom lasagne recipe
This vegan lasagne recipe features all the creaminess and cheesiness of traditional lasagne – but without any animal products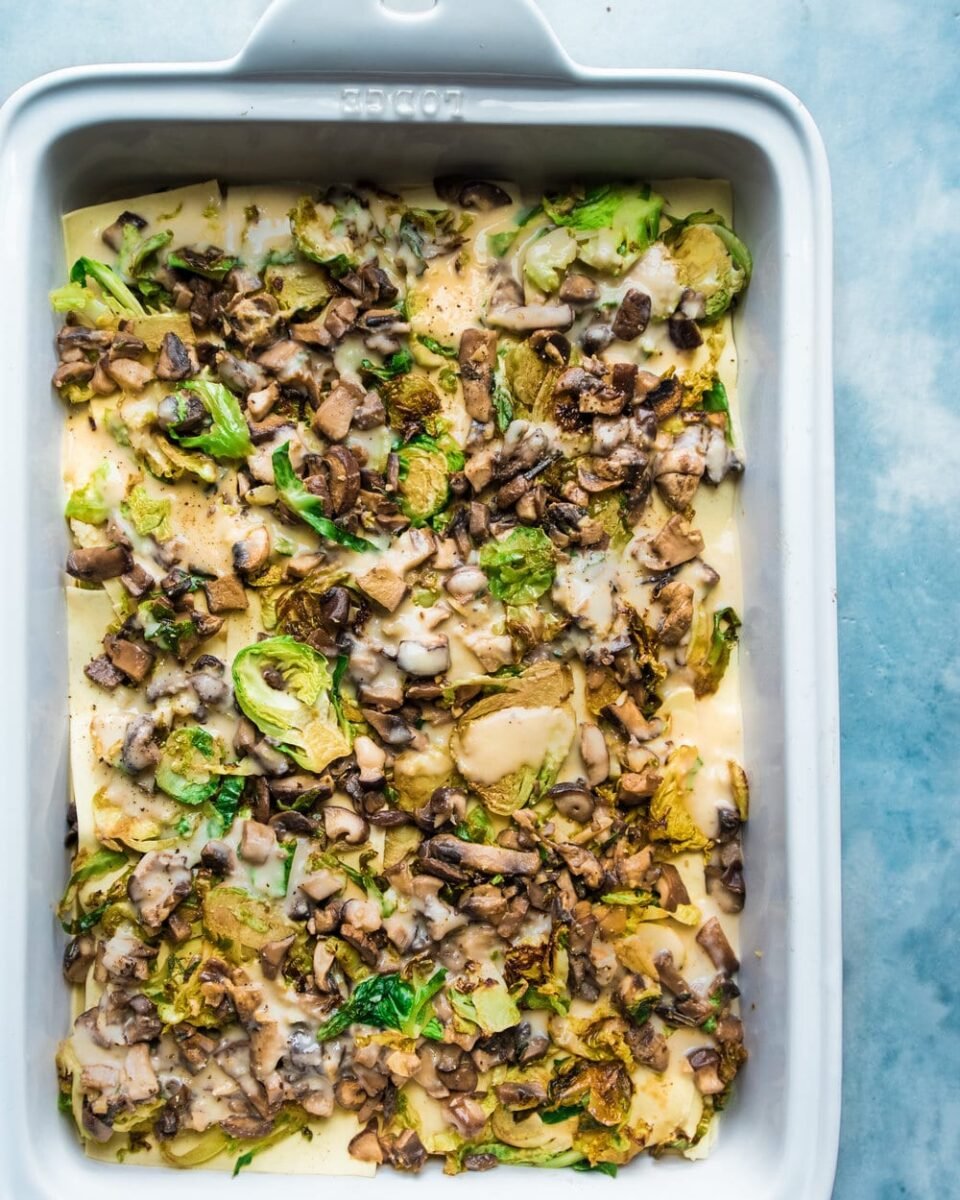 Ingredients
Lasagne ingredients
1 (9-oz)

package of no-boil lasagne noodles (about 15 sheets)

1

pound

Brussels sprouts, shredded

1

tbsp

olive oil

1

tbsp

high-quality balsamic vinegar

1

tbsp

vegan butter (or olive oil)

16

oz

cremeni or button mushrooms

8

oz

shiitake  mushrooms, stems removed (can substitute more cremini or button mushrooms)

4

cloves

garlic, minced

2

tsp

fresh rosemary, chopped

1 & 1/2

tbsp

fresh thyme leaves

1

tsp

kosher salt + more to taste

Freshly cracked black pepper to taste

1

tbsp

mild yellow or white miso paste

1

cup

shredded vegan cheese (such as mozzarella)

Garlic Béchamel Sauce (recipe follows)

Tofu Ricotta (recipe follows)
Tofu Ricotta Cheese Ingredients
1 (14-oz)

block of extra-firm tofu

1/4

cup

nutritional yeast

1

tbsp

mild yellow or white miso paste

2

cloves

garlic, minced

1/2

tsp

onion powder

1 & 1/4

tsp

kosher salt + more to taste

1/2

tsp

black pepper

1 & 1/2

tbsp

extra virgin olive oil

1

small lemon (half of the zest and all of the juice)
Garlic Béchamel Sauce Ingredients
1/4

cup

vegan butter

1

cup

diced yellow onion (about 1 medium onion)

6

cloves

garlic, minced

1/4

cup

all-purpose flour

1 (13.5-oz)

can

"lite" coconut milk

1

cup

unsweetened nondairy milk (almond milk, oat milk, etc.)

1 & 1/4

tsp

kosher salt

1/4

tsp

freshly grated nutmeg

Freshly cracked black pepper to taste

1/2

cup

 vegetable broth or water, as needed
Instructions
Lasagne directions
Make the Tofu Ricotta and Garlic Béchamel Sauce (recipes below).

Preheat the oven to 350F. Adjust the oven rack to center position.

Soak the lasagne noodles. Arrange the lasagne noodles in a 9- by 13-inch baking pan and cover with hot (not boiling) water. Let soak for 10 minutes, then remove them and arrange in a single layer in an oiled baking sheet. Pat dry the 9- by 13-inch baking pan.

Chop the vegetables. Working in batches, place the mushrooms in a food processor bowl fitted with the S-blade and pulse a few times until the mushrooms are roughly chopped. For the Brussels sprouts, use the slicing attachment to grate the sprouts (or buy shredded Brussels sprouts).

Heat 1 tablespoon of olive oil in a large (12-inch) skillet over medium-high heat until shimmering. Add the shredded Brussels sprouts and 1/2 teaspoon kosher salt and black pepper to taste. Cook until the sprouts are still bright green in color, stirring occasionally, for 6 minutes. Stir in the balsamic vinegar and cook for 1 minute. Remove the sprouts and set them aside in a bowl. Clean out the skillet.

Using the same skillet, add the vegan butter until melted. Add the mushrooms, stirring occasionally, until the moisture evaporates and they begin to brown, about 8-10 minutes. Once starting to brown, add the garlic, thyme, and rosemary, 1/2 teaspoon kosher salt, and black pepper, and cook for 1 minute. Push the mushrooms to one side and add the miso paste. Once the miso has warmed and softened, stir it into the mushrooms. Transfer to a separate bowl than the Brussels.

Assemble the lasagne: Pour 1/3 cup béchamel onto the bottom of the 9- by 13-inch pan to cover. Add a layer of lasagne sheets (3-4 sheets), 1/3 of the sprouts, 1/3 of the mushrooms, and 1/3 of the remaining béchamel on top, making sure to cover all of the lasagne sheets with sauce. Add 1/3 of the tofu ricotta, spreading it out as evenly as you can. Repeat the layers two times. Finish the top with the shredded vegan mozzarella.

Cover the lasagne with aluminium foil and bake for 30 minutes. Remove foil and bake for another 15 minutes. If desired, place the lasagna under the broiler for a few minutes, keeping a close eye on it to prevent burning.
Tofu Ricotta Cheese Directions
Drain the block of tofu and dab away the excess water with some paper towels.

Place the tofu and remaining ingredients in a food processor and pulse until the texture is chunky but a little smooth, similar to ricotta cheese. For a smoother texture, blend until you have a spreadable texture. And for a chunky texture, mash up the tofu with a fork, and then mix in the rest of the ingredients with a spoon.
Garlic Béchamel Sauce Directions
Heat a large skillet over medium heat. Add the vegan butter, and once melted, add the onion. Cook for 5-7 minutes until the onion is softened and lightly browned. Then add the garlic and stir frequently for 2 minutes to prevent burning.

Reduce the heat to medium-low and add the flour, whisking constantly for a minute until well incorporated. Gradually pour in the lite coconut milk and almond milk in stages, whisking after each addition to prevent clumps, and then cook for 2 minutes until the sauce has thickened.

Transfer the sauce to a high-speed blender and add the kosher salt and black pepper to taste. Blend until the sauce smooth and creamy. Taste the sauce for seasonings, adding more salt or pepper as desired. If the sauce seems thick, stir in 1/2 cup of vegetable broth or water to thin it out.
This recipe was republished with permission from Rainbow Plant Life. You can find the original recipe here.
More like this: