Made with a vegans favourite secret, Aquafaba! They look so perfect, you won't want to eat them! (But it would be hard not to) Why not make these this Christmas?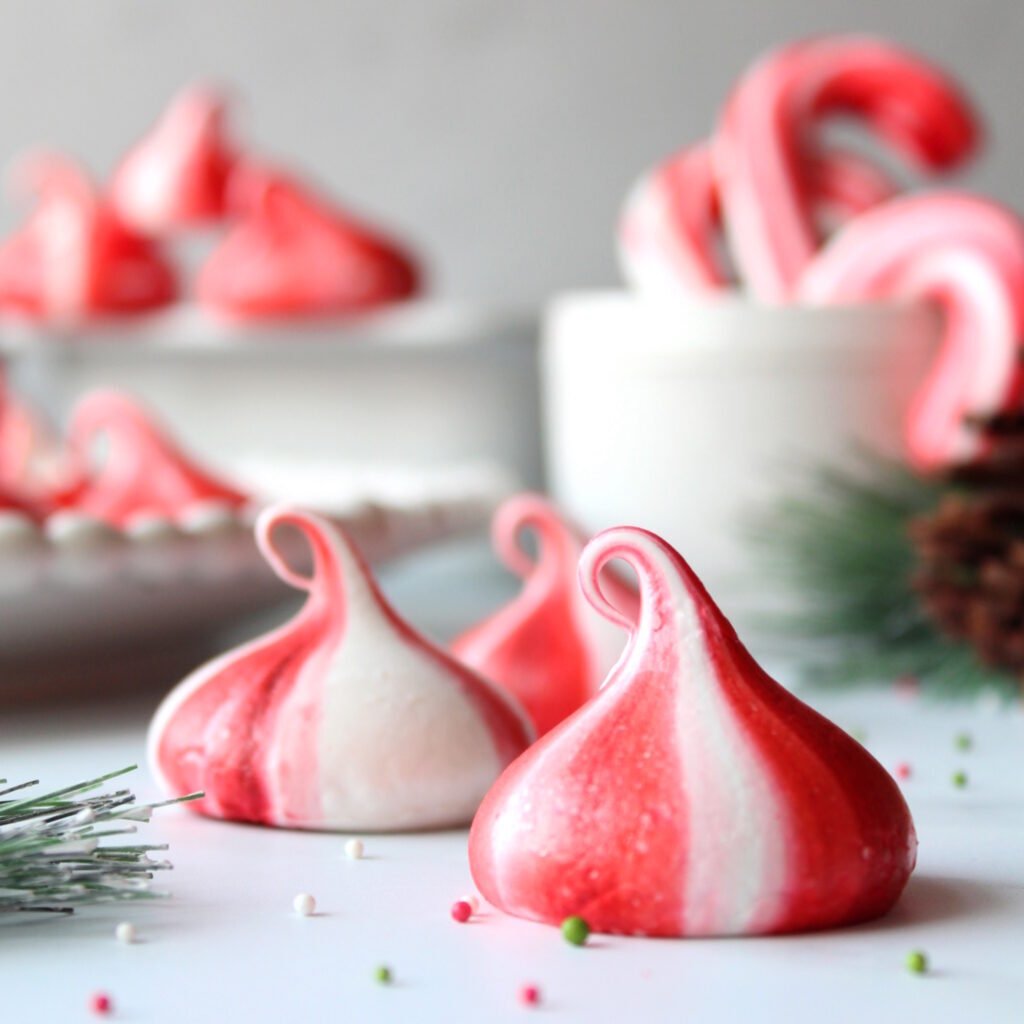 Ingredients
300

g

aquafaba

(2 cans of 400g chickpeas, unsalted)

250

g

caster sugar

fine

1/2

tsp

cream of tartar

red gel food colouring

1

tsp

peppermint extract
Instructions
Pour the contents of the cans of chickpeas into a measuring cup through a sieve to collect the liquid (aquafaba). You will need at least 300ml and no more than 350ml.

Pour the aquafaba into a pan with the 250g caster sugar and use a low heat to bring the liquid to a simmer. Keep stirring the mixture until all the sugar is dissolved and reduce the liquid for 15 minutes total. We are aiming to reduce the aquafaba by half to 150g. Since the sugar will not reduce in weight, the aquafaba will be ready when it has reduced to 400g (250g sugar + 150g aquafaba).

After 15 minutes weigh the mixture. If it is more than 400g then continue to reduce.

Leave to cool for an hour in the bowl of a stand mixer until room temperature.

Line a baking tray with parchment and pre-heat the oven to 85C (185F).

Add the cream of tartar to the aquafaba and beat on low-medium speed for 10 minutes. Once it reaches a very white creamy consistency, turn it up to high for a further 10-15 minutes until firm peaks. Add in the peppermint extract and mix for 30 seconds more.

Fit a piping bag with a large 20mm circular piping nozzle. Invert the piping bag and paint in red vertical stripes along the nozzle end of the bag.

Scoop the meringue into the piping bag. Pipe the meringues on the baking tray.

Bake in the oven on the middle tray for 2 hours. Turn off the oven and leave them to cool in the oven for a few hours or overnight.