Christmas is simply a great excuse to create elaborate and show-stopping recipes such as this Christmas Tree Garlic Bread Sharer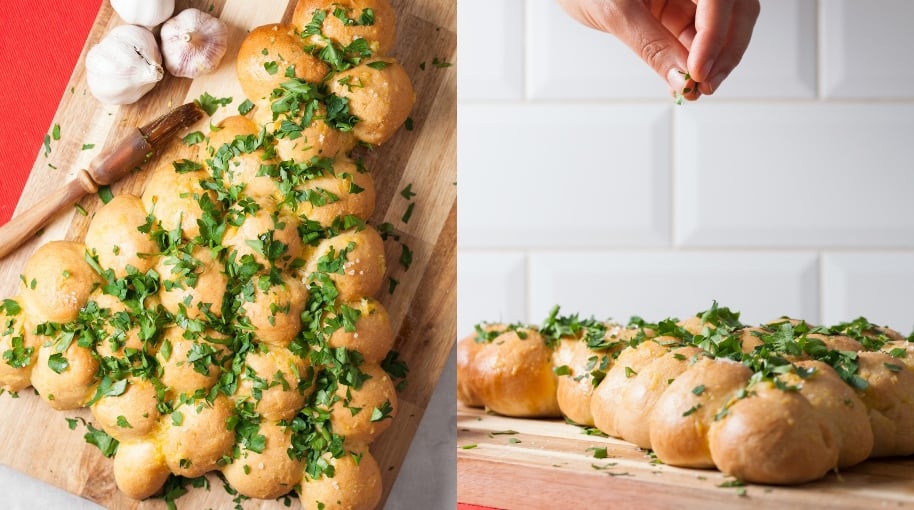 Ingredients
500

g

17.6oz strong white bread flour

1/2

tbsp

fast action yeast

3

tbsp

dairy

free margarine

6

garlic cloves

large handful of parsley
Instructions
Add the flour, yeast and a pinch of salt to a large mixing bowl and stir to combine. Make a well in the middle, then pour in 3 tbsp of olive oil and 300ml (10 fl.oz) of tepid water, and mix with a wooden spoon.

Transfer the dough to a well-floured surface and knead for 5 minutes, then place the dough in a lightly oiled bowl and cover with a damp tea towel to prove for an hour or until the dough has doubled in size.

Uncover the dough, then lightly punch it a few times to remove the air bubbles. Then tear off a small piece of dough (roughly 35g (1.2oz) in weight), roll it into a ball and place it in the middle and at the top of a large lined baking tray. Repeat with the remaining dough, forming a tree shape as you place the dough balls onto the tray.

Cover the Christmas tree with the damp tea towel and leave it to prove for a further 20 minutes.

Meanwhile, preheat the oven to 200°C / 390°F fan-assisted.

Brush the Christmas Tree with olive oil, then bake it in oven for 15 minutes or until golden brown.

Meanwhile, melt the margarine with 1 tbsp of olive oil in a small pan on a medium heat. Finely grate the garlic, then add it to the margarine mixture and simmer for 2 minutes.

Remove the Christmas Tree from the oven and transfer it to a serving plate or board. Brush with the garlic margarine, then top with a generous sprinkling of salt.

Roughly chop the parsley, discarding the stalks, and sprinkle it all over the tree. Et voila! Christmas is here!