Since Vladimir Putin launched his senseless attack on Ukraine on February 24, the country and its people have suffered tremendously.
But as hateful acts ripped through the second-largest European country, after Russia, people came forward for one another, forcing light into an otherwise dark and horrific situation. 
One of those sources of light has been the public's love for, and commitment to, animals.
'They deserve to be protected'
Andrea Cisternino, a photographer who runs a farm animal sanctuary in Ukraine, announced he will not be evacuating the country. Instead, Cisternino says he is staying to care for his shelter's 400 animal residents. And, that he would "rather die" than leave them behind.
"I will die here for my animals… I have to think about saving the refuge and its 400 guests who deserve to be protected at any cost," Cisternino wrote on his Facebook page, which now has 70,000 followers.
It's there that the animal-lover shares updates on his circumstances. One clip shows Russian military helicopters flying overhead the shelter, which is home to cows, pigs, horses, goats, sheep, dogs, and cats. At other times, Cisternino can hear gunfire outside.
"There's the curfew from 10 pm to 7 am, we have to turn everything off," Cisternino said, per Euronews.
"I've never seen a war before. This morning I was looking out of the window, one kilometer away there was a mortar hit and I smelt gunpowder," he explained. "I was not used to it."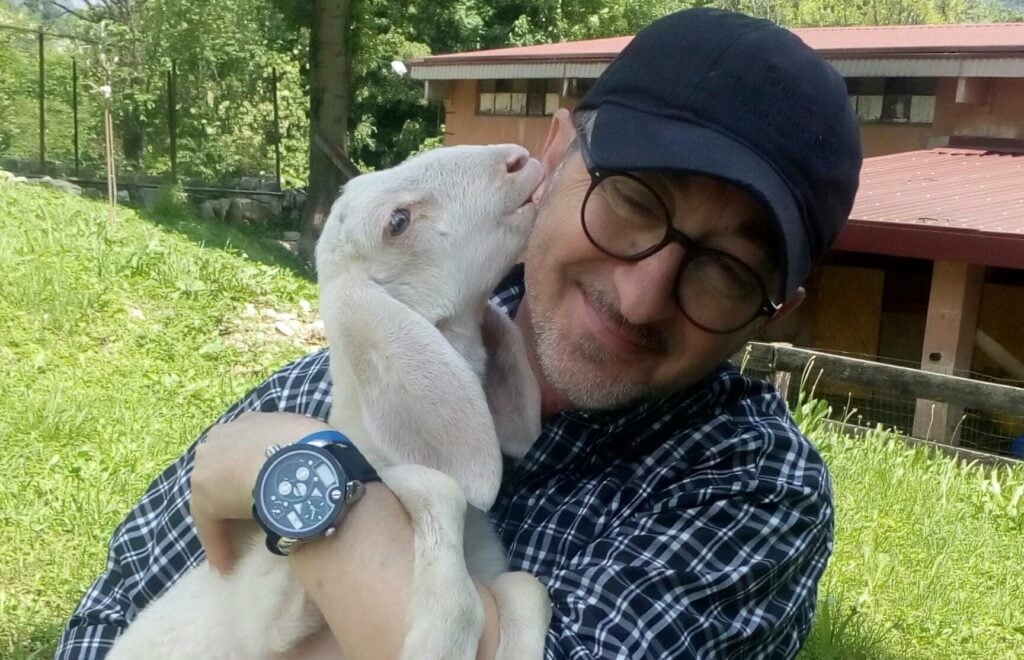 He later added: "Now there are shots coming from two opposite sides, the smoke is arising from the right and left. But mainly they start from [the airport], I think. But now they're fighting not far from here, so…"
Cisternino's posts ceased on February 25, but a Facebook user wrote yesterday that they had spoken to his partner, Vlada. Vlada reportedly confirmed that Cisternino and the animals are safe, as well as three other people who are with them. Those interested can donate to the sanctuary here.
Devotion to animals
Similar scenes are unfolding elsewhere in Ukraine, with many people choosing to stay with their companion animals, despite the risks.
Rishabh Kaushik, a software engineering student at Kharkiv National University, intended to fly home to India with his family last week but changed his plans when he did not get clearance to bring his rescue dog, Maliboo.
"I decided then that if my dog can't leave, I won't either. I know that there is risk in staying on but I can't just abandon him. Who will take care of him if I go?" Kaushik, whose family is now back in India, said to The Times of India.
"I have my family members to take care of me. But for Maliboo, I am his whole family. Nobody will take care of him if I leave him here," he added. "I have taken his responsibility, I will take care of him no matter what happens."
Courageous volunteers at animal rescues are making similar sacrifices.
Volunteers at Shelter Ugolyok, Happy Paw, Sirius, and Shelter Friend, for example, are working tirelessly to protect thousands of dogs, cats, and other animals amid the warfare.
These non-profits are in desperate need of food and other supplies; those interested in donating or contributing financially can head to their Instagram pages (linked above) for more information. There is another list of charities at the bottom of this article.
Kyiv Zoo employees have also stayed behind to care for the facility's roughly 4,000 animals, with staff moving in to provide 24-hour supervision.
Nearby missile strikes and other forms of combat have been extremely distressing for the zoo's inhabitants, which includes Ukraine's only gorilla, Tony. Elephants and other vulnerable species are being given sedatives during the missile strikes and shootings.
Animal shelters hit
According to the Ukrainian animal rights organization UAnimals, at least four shelters have been hit by Russian shelling. Disturbingly, Russian forces were shooting both people and animals at wild animal shelter The Ark.
Further, the Best Friends Shelter has been completely destroyed by shelling, with first reports stating that more than 1,000 dogs died in the resulting fire.
It was confirmed today that workers at the facility were able to open the cages so that dogs and cats could escape (although, many of the animals stayed anyway). The dogs who left are now running around outside of the shelter amongst "constant shelling" with no food or water, UAnimals said.
Residents at the Gostomel animal shelter also suffered, with multiple animals dying from heart attacks due to nearby explosions.
Others were hit by bullets, and homeless animals living nearby the rescue have also died. Thousands more remain at risk; there are an estimated 50,000 stray animals living in Ukraine.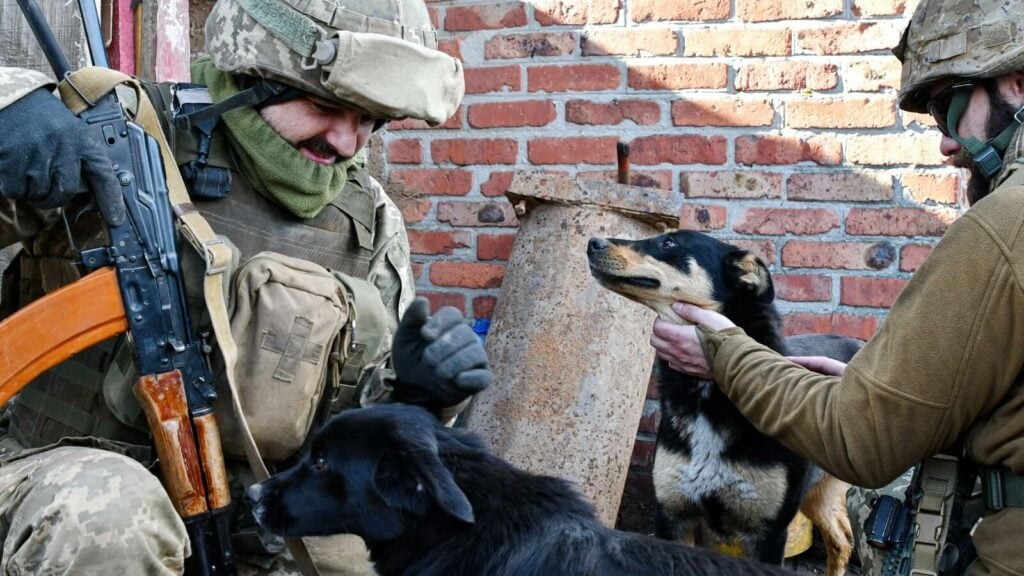 European Commission calls on member states to help families with pets
One million people have fled Ukraine since Russia's invasion, according to the United Nations' refugee agency. But due to border restrictions, among other factors, many are forced to make a decision between staying in the warzone or leaving their companion animals behind.
In an effort to help such families, the European Commission has advised all 27 EU Member States to loosen their veterinary paperwork requirements for pets, so that those with companion animals can cross borders more easily to seek refuge.
Animal rights charity Humane Society International/Europe (HSI) commended the "precedent setting" and "compassionate" sentiment. The organization's executive director, Ruud Tombrock, released a statement in response.
"We are deeply concerned for the people and animals impacted by Russia's military action in Ukraine, and so we welcome the European Commission's recognition that people fleeing the conflict care deeply about their companion animals as beloved members of their family and will want to keep them safe," Tombrock said in a statement sent to Plant Based News.
"Those seeking refuge will be greatly relieved to know that they can make evacuation plans to EU countries with their pets without unnecessary delay. This is a precedent-setting compassionate stance from the EU that we very much hope will be replicated around the world during similar conflict situations.
"People should not have to jeopardize their own safety in efforts to prevent their animals from being left behind to fend for themselves."
At the time of writing, Austria, Bulgaria, Czech Republic, Germany, Hungary, Lithuania, Poland, Romania, and Slovakia have all relaxed entry restrictions in order to assist those who need it, PETA reports.
Animal charities in Ukraine, and where to donate
PETA
PETA, thought to be the world's largest animal rights organization, is one of the many working tirelessly to assist people and animals in Ukraine.
A team from PETA Germany traveled to the Polish and Romanian borders to provide on-the-ground assistance. The non-profit has picked up at least six refugees as well as dogs and cats. One "caring guardian" had carried her cat Crimsee more than 37 miles out of the warzone, according to PETA. The charity said that when she arrived, the woman "was so exhausted that she could barely stand."
PETA Germany is also helping deliver supplies like blankets, and coordinating the drop-off of 40,000 pounds of pet food to shelters in Ukraine.
The animal rights charity has also released a video report on the situation in Ukraine in collaboration with vegan streaming service UnchainedTV.
The International Fund for Animal Welfare (IFAW)
IFAW is providing emergency aid to Shelter Pif – located in Donetsk in eastern Ukraine, which is home to more than 800 dogs – and the Holivka Shelter, located in Gorlovka in eastern Ukraine with 300 dogs. The latter rescue was recently hit by shelling, resulting in the death of one animal. Despite the damage, staff have remained at the facility to continue caring for the animals.
Save the Wild
Save the Wild, an animal protection organization, manages White Rock Bear Shelter which rescues bears suffering in private zoos and circuses, for example.
The team are now working relentlessly to save as many animals as possible from the disaster in Ukraine. Lending their support to fellow rescue centers, White Rock Bear Shelter has helped transport several lions and tigers, an African wild dog, caracals, and a monkey.
The animals were transported from Wild Animal Rescue to a Zoo Poznań in Poland for temporary shelter. It was uncertain whether the animals would make it to the Polish border, when "tragic news" emerged that Russian tanks had surrounded the convoy, the zoo wrote on Facebook.
But the animals "miraculously survived the transport through the area covered by war and fire," the zoo said. It added that the animals "are a symbol of saving life, the value of which is enormous, especially when we witness war crimes committed against people and animals in Ukraine."
You can donate to Save the Wild and White Rock Bear Shelter here
UAnimals
Providing support to shelters in need across Ukraine, UAnimals has sent supplies to at least 14 facilities so far.
You can donate to UAnimals here
And a list of resources for those fleeing Ukraine with their pets can be found here