Jim Jones, a member of the iconic Hip Hop group from Harlem called Dipset (aka the Diplomats), recently appeared on the The Black Vegan Cooking Show, hosted by chef Charlise Rookwood, in New York City.
The renowned rapper is a native of Harlem – which is a part of New York City known for its legendary landmarks and experiences like The Harlem Renaissance, The Rucker Basketball Tournament, Sylvia's Restaurant, The Apollo, and Shrine, among many others.
In an exclusive interview with Plant Based News (PBN) on the set of The Black Vegan Cooking Show, Jones shared insights into his journey towards a more conscious and healthy lifestyle, the power of food, and the importance of speaking up for change.
An early love for fitness
Jones' health and fitness journey started in his early years, fueled by his love for athletics. "I've been an athlete all my life," he states, recalling his days of playing football and racing at a young age. He learned workout routines from friends who returned from school with newfound fitness knowledge.
"Growing up in Harlem most of my friends got in trouble and had to go away to school," Jones says. "They would come back home from school all buff and they showed you how to work out."
As he entered the music industry, Jones expanded his workout routine with the guidance of professional trainers, transitioning from bodyweight exercises to gym workouts. "A lot of my friends were going to school and coming home showing me how to do pull-ups as actual trainers, and I took that as an avenue to help them promote what they were doing," he shares.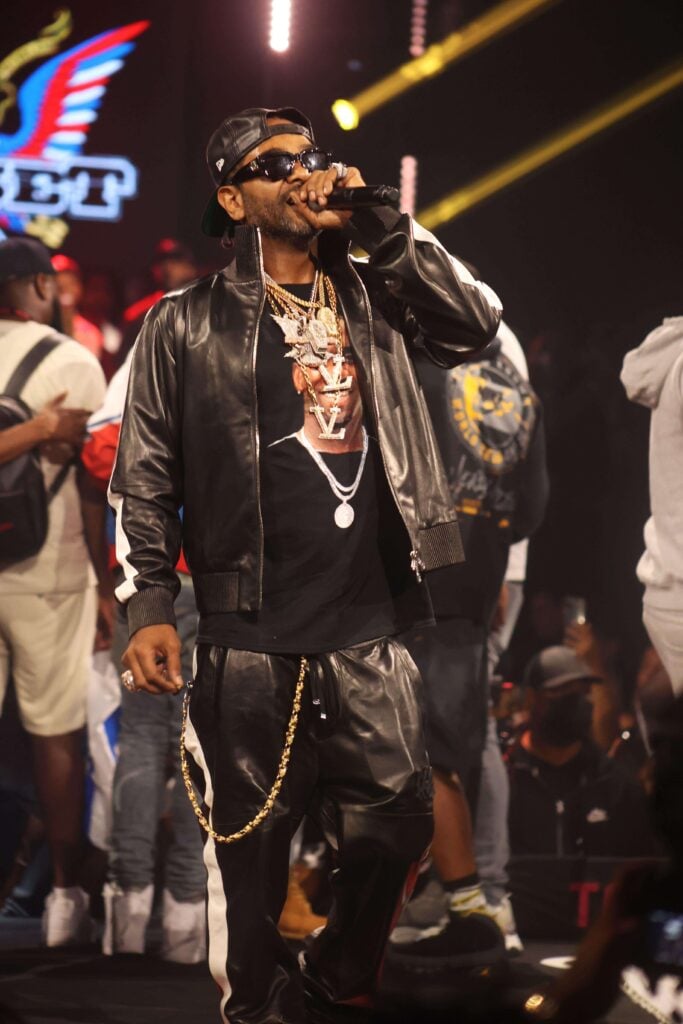 The power of food
Jones said that while he had never considered a fully plant-based diet in the past, he's always been conscious about what he eats, and this has had a profound impact on his overall wellbeing. "I try to eat 50 percent better today than I did yesterday," he says.
"When I'm eating good, everything moves better for me," he says, explaining that the heightened energy, mental clarity, and improved digestive health motivates him to prioritize conscious eating. "It helps you think better. Your brain is not foggy, like you're just on a whole different mission. Your energy is up… you can feel it. So, it's like, your body tells you when you need to start implementing certain things."
This serves as a compelling testament to the importance of listening to and understanding our bodies. Indeed, our bodies can be seen as vessels that house our spirits. When we perceive our bodies as the (luxury) vehicles of our dreams, we naturally aspire to maintain them in optimal condition.
Jones acknowledged the power of making incremental changes towards a healthier lifestyle, and how food can be a tool in healing and repairing the body. If we indulge in "unhealthy" foods one day, we can counterbalance that by prioritizing nutrient-rich vegetables and teas in the following days, to flush out toxins and support our system. Consciousness and mindfulness play a pivotal role in ensuring the proper functionality of these "vehicles" for our wellbeing.
Education is key to healthful food choices
Despite the divide between access to health-conscious grocery options like Whole Foods and traditional supermarkets like Key Food in Harlem, Jones believes knowledge about the benefits of different foods is essential to healthier choices, regardless of the store one visits.
"You need the knowledge of what you need to put into your body. What foods are beneficial for you to live longer? What foods are beneficial to your body? That's most important. And if you know that, then you could go to any supermarket – you could go inside the cornerstore and pick up some food that's gonna be beneficial to your body," he emphasizes.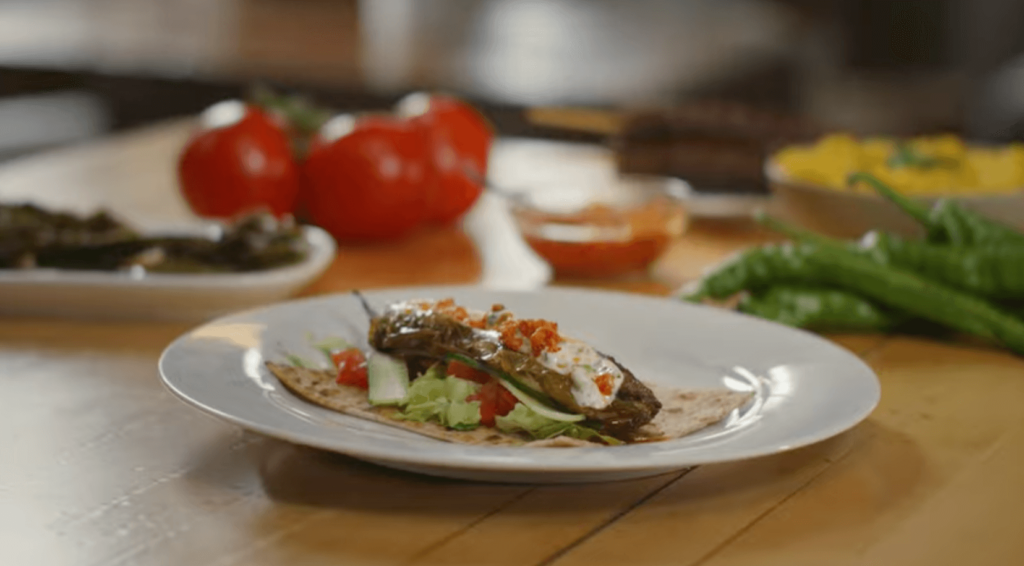 One significant issue that stands out is the lack of educational nutritional outreach, particularly to the Black and Latino communities in the USA. These communities often face the detrimental effects of addictive foods abundant in high fructose corn syrup, food dyes, and excessive sugar. Comparatively, when I travel and observe the packaging of foods in Europe and Asia, it becomes evident that the USA has much ground to cover in educating the general public about healthier alternatives.
The basic options available are often laden with unnecessary additives and ingredients, which can be quite disheartening. There is a pressing need to prioritize comprehensive nutritional education to empower individuals to make informed and healthier choices.
Speaking up for change
It can be a slow and steady path of sharing information about nutrition and the impact of food — whether it's through independent media coverage, movements like Black VegFest and Vegmama Salon, or new vegan food launches etc. — all while taking action to protect animals and the planet.
So influential voices speaking up for change is key. Jones acknowledges the powerful intersection of Hip Hop culture and promoting healthier choices, and believes the Hip Hop community can help spread more awareness about the importance of maintaining a healthy lifestyle.
"We need people of influence to understand the benefits of knowing what a diet is. And I ain't talking about dieting, I'm talking about… what you intake, what you put into your body," Jones tells us.
Jones also expressed concern about harmful trends, such as the excessive consumption of substances like lean (codeine syrup). Again, he stressed the importance of influential figures speaking up and providing guidance to the youth, encouraging them to explore healthier lifestyles and make better choices.
"I've always been an advocate of telling these young youth of the right way to go and things that's going to f**k their life up. I'm not trying to impose my will on anybody because I want us all to experience life, have fun, and take the road that we need to take," Jones says. "But some of the roads you might not have to go down so far if you just listen to some of my words and listen to some of the things that I'm telling you. Influence is everything."
He adds: "Any time you get through to one person, that's one more person that we can add to the list that we've helped."
'The Black Vegan Cooking Show'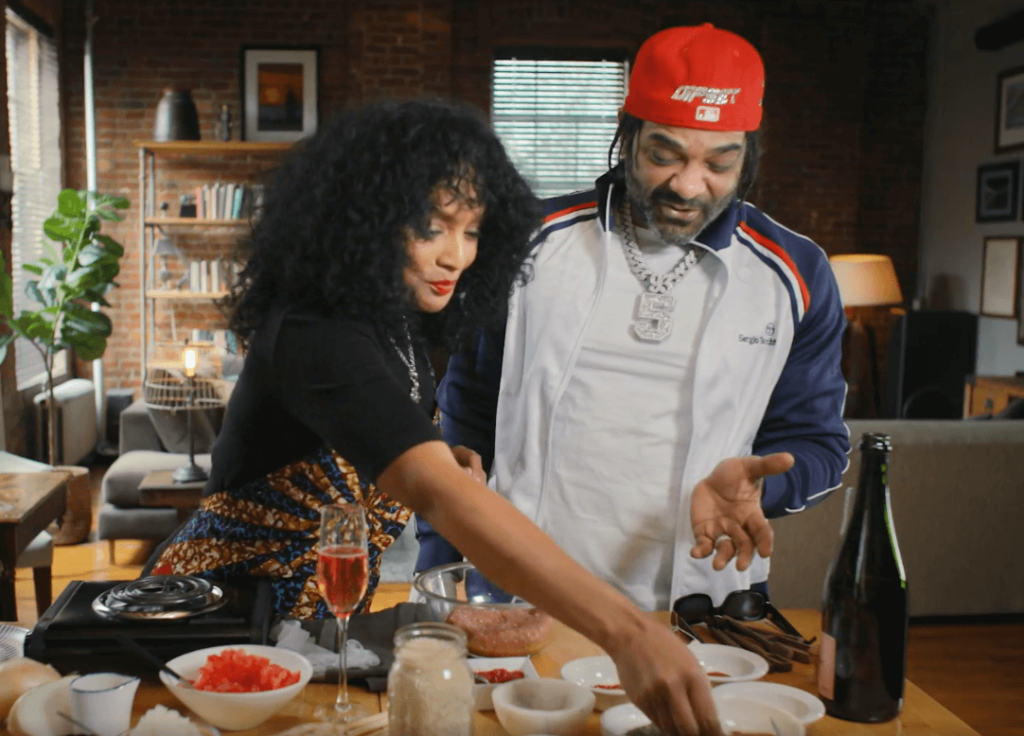 During the interview, Jones raved about his experience with Chef Charlise Rookwood aka VeganSoulicious on the set of The Black Vegan Cooking Show. "The food [by VeganSoulicious] was incredible. I won't say this is my first vegan meal. I've eaten burgers from different spots but to sit here and watch it being cooked… from the beginning, not just seeing the end product… It was good as sh*t! I was surprised! It took me by surprise," he says.
"I would have not eaten two of them sh*ts at all if this wasn't good, like they ain't paying me enough for that sh*t," Jones remarks. Towards the end of filming he enthusiastically proposed that VeganSoulicious take on the challenge of creating a vegan chopped cheese – a NYC staple that holds a special place in the hearts of Bronx, Brooklyn, Queens, and Manhattan residents (much like "Philly cheesesteaks" are to Philadelphia).
The anticipation of witnessing Jim and VeganSoulicious team up to remix this iconic cornerstore meal into a plant-based version has me absolutely geeked for a new episode! Stay tuned to find out if VeganSoulicious makes it happen.
You can watch The Black Vegan Cooking Show ft. Jim Jones below this article, or on YouTube. Watch more episodes of The Black Vegan Cooking Show right here.