A German discount supermarket chain recently trialed charging customers in accordance with a food's climate and health costs.
The Penny chain, which operates 2,150 branches in the country, introduced new prices for nine products in all of its stores for a week-long trial at the start of August. These prices reflected the "true costs" ("wahre Kosten") of the mostly meat and dairy items.
The prices were determined by experts from two universities, the Nuremberg Institute of Technology and the University of Greifswald. The costs reflected the impact the products have on the climate, soil, water use, and health. Weiner sausages rose from €3.19 to €6.01 and fruit yogurt inflated to €1.56 from €1.19. Vegan schnitzels were also given higher prices, but these were less so, at just a five percent increase. The cost of Maasdam cheese, for comparison, was increased by 94 percent. 
"We wish to create an awareness around the hidden environmental costs of groceries," Stefan Görges, Penny's chief operating officer, told German media. "We need to put out the uncomfortable message that the prices of our foodstuffs which are accrued along the supply chain in no way reflect the environmental on-costs."
The environmental impact of animal agriculture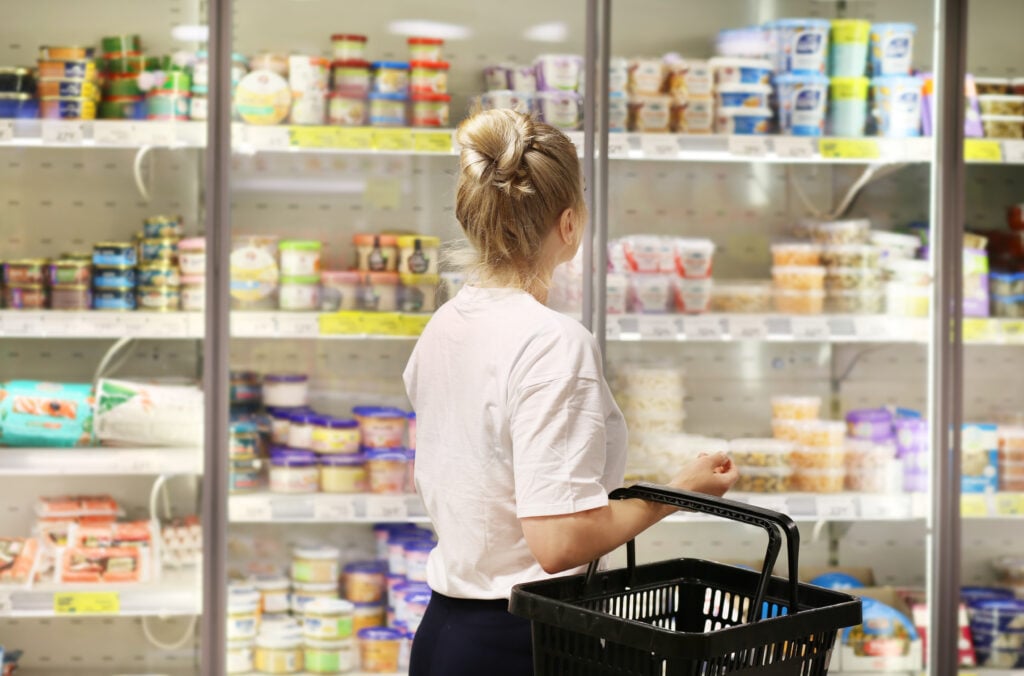 There is no denying that meat and cheese production is catastrophic for the environment. As well as being responsible for at least 14.5 percent of global greenhouse gas emissions, "livestock" farming is also driving deforestation, biodiversity loss, and water pollution. 
The experts from the two German universities determined that the Maasdamer cheese had "hidden costs" of 85 cents for the carbon dioxide (CO2) and methane emissions. They added 76 cents for soil damage, and 63 cents for pesticides. A further 10 cents was given to account for pollution of groundwater through fertilizer use.
Methane is a powerful greenhouse that's 80 times more warming than CO2 in its first 20 years in the atmosphere. It also has a much shorter half life, meaning cutting it has the potential to slow global heating quickly, giving us more time to address carbon emissions. Intensive farming practices also cause significant damage to soil, while pesticides harm the health of farmers, as well as the environment they're used in. 
Should supermarkets take responsibility for the climate?
Acknowledging and accounting for climate costs of foods is an exceptionally rare move from a supermarket. There does, however, seem to be a growing trend towards doing so in Germany.
Earlier this year, it was announced that budget discounter Lidl would be reducing the amount of meat sold in its supermarkets in the country. This was in line with a company-wide push for sustainability, which also included increasing the number of plant-based products available in store.
"We need a more conscious diet all over the world to feed ourselves within our planetary limits," Lidl's chief buyer Christoph Graf was quoted as saying at the time, He went on to state there was "no alternative" to Lidl's meat reduction as there is "no second planet."
Not all countries have seen such moves, however. Last month, it was reported that all major UK supermarket chains are prioritizing sales of meat and dairy over the planet. The study, which came from environmental campaign group Feedback, found that shops like Tesco and Sainsbury's promote climate damaging products while promoting "minor green initiatives." The report likened this to "greenwashing," the practice of marketing something that's environmentally damaging as eco-friendly.
More like this: