In January, Peru and Ecuador fell victim to a string of interconnected oil spills and climate disasters 
The drinking water of tens of thousands of people, including Indigenous communities, was polluted as a result
The growingly vulnerable Amazon rainforest was also impacted, and countless animals lost their lives
An expanding wealth of research is linking human activity, especially industrialized meat production, to an increased risk of extreme weather events including heavy rains, flooding, and droughts, as well as landslides, earthquakes, and tsunamis
Climate activists like Greta Thunberg have urged people to consider how their own actions can affect the planet
---
A series of environmental disasters, including oil spills, have hit parts of South America in recent weeks, with the accelerating climate crisis largely to blame. The Amazon rainforest and local wildlife, including marine life, have taken a blow as a result.
It's one of the latest examples of how anthropogenic activities – those caused by human action or inaction – are maintaining a cyclic pattern of environmental mayhem.
Tonga and Peru: volcano, tsunami, oil spill
Last month, a volcanic eruption in Tonga caused a destructive chain reaction that spanned several countries. The blast, which could be heard from Alaska, churned out a blanket of ash that covered the main Tongan island and contaminated the drinking water of tens of thousands of people.
NASA scientists said that the blast released astonishing amounts of mechanical energy – up to 1,200 times as many as the atomic bomb that destroyed Hiroshima, Japan, in World War II.
Further, the eruption resulted in nearly 400,000 lightning events in the hours after the blast, and the shockwave circled the Earth for days.
Scientists are still working to understand exactly what prompted the volcanic eruption, with some researchers saying an earthquake or landslide set things in motion. A 2017 study published in Geology found that rising global temperatures could increase the likelihood of volcanoes erupting. 
Similarly, the worsening climate crisis is thought to increase the likelihood of earthquakes and landslides.
The explosion in Tonga triggered a devastating tsunami that demolished homes, polluted water, and destroyed crops across surrounding islands. The damage affected more than 80 percent of Tonga's population, according to the United Nations.
This subsequently caused towering waves which knocked over a tanker near the Perusian coast. On January 13, it was reported that the ship spilled 6,000 barrels of oil across Peru, two-thirds of which is covered by the Amazon rainforest – home to at least 427 mammal species.
Foreign ministry officials named it an "ecological disaster." The leak spewed across more than 20 beaches, affecting roughly 7,000 square miles of protected wildlife zones. Countless seabirds and marine animals died as a result.
Two weeks later, on January 31, it was uncovered that actually, nearly 12,000 barrels were spilled – twice as many as originally reported.
Oil spill and landslide in Ecuador 
Around the same time, the Amazon rainforest was also suffering in Ecuador, a neighboring country to Peru. At the end of January, Ecuador experienced 24 hours of heavy rain.
The downpour prompted a landslide in Ecuador's capital, Quito. Three-meter-high waves of mud ripped through the city, and killed at least 24 people.
The landslide caused rocks to fall onto a crude oil pipeline, which then burst and induced a separate oil spill. The pipeline, owned by private firm OCP Ecuador, runs for 301 miles (485 kilometers) and can carry 450,000 barrels of oil a day.
OCP claimed the spill did not contaminate any water. But it was later discovered that oil had seeped into the Coca River, which provides 60,000 people with fresh water.
Further, two hectares (five acres) of protected national park were damaged. The reserve – the Cayambe Coca National Park – is home to 106 species of mammals, including cougars, 395 species of birds, 116 amphibians, and 70 reptiles.
Preventable disasters
Climate activist Greta Thunberg took to social media to slam Ecuador's government for not doing enough to protect its citizens and native wildlife.
"In the heart of the Ecuadorian Amazon, for the second time in two years, the OCP pipeline has ruptured, spilling crude oil into the Coca and Napo rivers. For the 27,000 Indigenous Kichwa living downstream, this is a compounded nightmare.
"This spill could have been prevented, and this pipeline amidst the fragile Amazonian ecosystems should never have existed as we are well aware of the threats these pipelines make up," Thunberg wrote to her 14.2 million Instagram followers.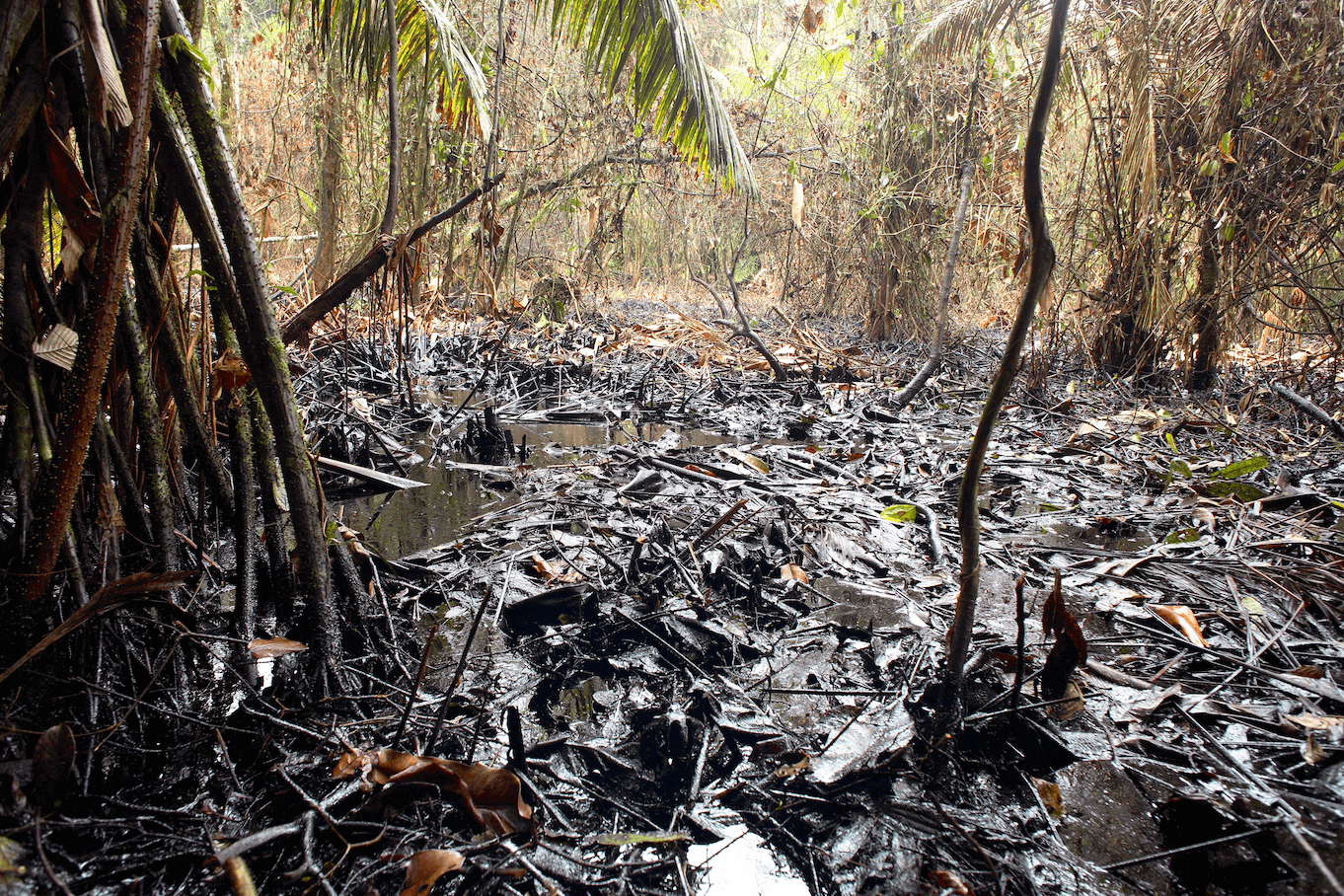 "The Ecuadorian government talks of an 'ecological transition', but has still vowed to double the country's oil production. It is time for governments to take real actions against the climate crisis and environmental disasters. Green slogans will not save us, and we will not be fooled."
The link between food and the climate crisis
Thunberg, a frequent and vocal advocate for environmental protection, has spoken out about humanity's impact on the planet countless times. Along with imploring the world's governments to take meaningful action, the Swedish teen has encouraged the public to look at their own lifestyles too.
Last year, Thunberg urged people to reconsider what they eat and reject destructive animal farming practices. "The way we make food, raising animals to eat, clearing land to grow food to feed those animals. It just doesn't make sense," she said in a video posted online.
The activist elaborated: "If we keep making food the way we do, we will also destroy the habitats of most wild plants and animals, driving countless species to extinction. This really sucks for us too. They are our life-supporting system. If we lose them, we will be lost too."
Indeed, researchers have stressed that an animal-free diet is often the most sustainable. In 2019, the largest-ever meta-analysis of farming's impact on the planet was conducted. Looking at data from roughly 40,000 farms, lead researcher Joseph Poore concluded that "a vegan diet is probably the single biggest way to reduce your impact on planet Earth."
And in September 2021, a separate study discovered that meat production is to blame for nearly 60 percent of global food-related greenhouse gas emissions.
Thunberg, who has been vegan for years, added that we must too consider the "thoughts and feelings" of animals in the food system, who endure "short and terrible" lives.
Threat to the Amazon rainforest
Alongside damage from oil spills, the Amazon rainforest is particularly affected by the way we produce food. According to WWF, 80 percent of deforestation is due to extensive cattle farming.
The world's largest rainforest has lost at least 17 percent of its forest cover in the last 50 years due to human activity, the organization added.

Further, in July 2021, it was reported that the Amazon now emits more carbon than it absorbs for the first time ever. The 6.7 million km² forest – often referred to as the "lungs of the planet" – once helped sequester carbon. But now, it expels 1.5 billion tonnes of it a year.
In an article titled How Big Beef Is Fueling the Amazon's Destruction, Bloomberg accused meat producers of helping drive the Amazon rainforest "to a tipping point at which it's no longer able to clean the Earth's air."
And although awareness of the matter is increasing, critics say governments are not doing enough to curb the issue. In the month of January, Brazil recorded the most deforestation ever in the Amazon. A total of 166 square miles (430 square kilometers) of forest was destroyed last month – five times more than in January 2021.
Mindful consumerism
Still, a rising number of people are adapting their own behaviors in a bid to do their part. More than one in five (21 percent) of those who signed up for Veganuary 2021 did so for environmental reasons. Comprehensive data has not yet been released for Veganuary 2022, but organizers report that the meat- and dairy-free initiative drew in more crowds than ever, with nearly 630,000 people partaking this year.
Further, a report released by Waitrose looked at the growing ubiquity of the "mindful consumer." It found that 38 percent of vegans and vegetarians choose their lifestyles due to environmental concerns.
In her aforementioned video, Thunberg suggested that changes like these can help save us. "It is heartbreaking to know all this [about climate breakdown]. But it is also our opportunity," said the multiple Nobel Peace Prize-nominee.
"We know what we can do. We can change the way we farm. We can change what we eat. We can change how we treat nature," she continued.
"Some of us have lots of choices while some have none at all. Those with the most power have the most responsibility. And most of us can do something. So, what will you do?"