Farmers in the northwestern German state of Lower Saxony will be supported to transition away from pig farming as the country seeks to make its agricultural sector more diversified and sustainable.
The Agricultural Investment Promotion Program (AFP), administered through the Lower Saxony Chamber of Agriculture, accepts funding applications from farmers seeking support for their business. New rules means that pig farmers who reduce their pig herds or quit pig farming altogether will have preferential access to funding.
"Pig farming companies are currently experiencing great economic uncertainty – not least due to the falling demand for pork," said Agriculture Minister Miriam Staudte in a statement (translated from German). "I would therefore like to help companies willing to change to build alternative bases. With the AFP, we are now implementing another important component of our diversification program." 
Funding applications will be ranked using a point system according to the proportion of the pig-keeping capacity that will be dismantled. Farmers wanting to reduce capacity by at least half will be awarded five points on their application, while those wanting to completely exit pig farming will receive 10 points.
The AFP also has a focus on environmental and climate protection, as well as improving housing for farmed animals.
"This is a great example of creating a just transition for livestock farmers, which will be essential to ensure shifts to lower-meat more plant-based diets are fair for everyone," said Martin Bowman, Senior Policy and Campaigns Manager at Feedback, on Linkedin. "A template for Europe to follow."
The state of German pig farming
Lower Saxony has long been a huge pig meat producer, providing a third of all pork in Germany. At the end of 2022, the state had 7.1 million pigs – though that is lowest number in a decade. 
The sector has been allowed to balloon over the past few decades, but now the environmental costs are becoming too severe to ignore. Local waterways are becoming seriously polluted from the spreading of excess manure on agricultural land. Ammonia levels in South Oldenburg have been found to be more than twice environmentally safe upper limits.
Falling demand for pork, low prices, and export bans from China based on outbreaks in Germany of African Swine Fever have forced the sector to contract. Efforts to tackle environmental degradation and climate emissions such as the new AFP funding rules will help to shrink it further.
Many pigs in Germany are farmed intensively. One former butcher and food inspector described the conditions as "catastrophic."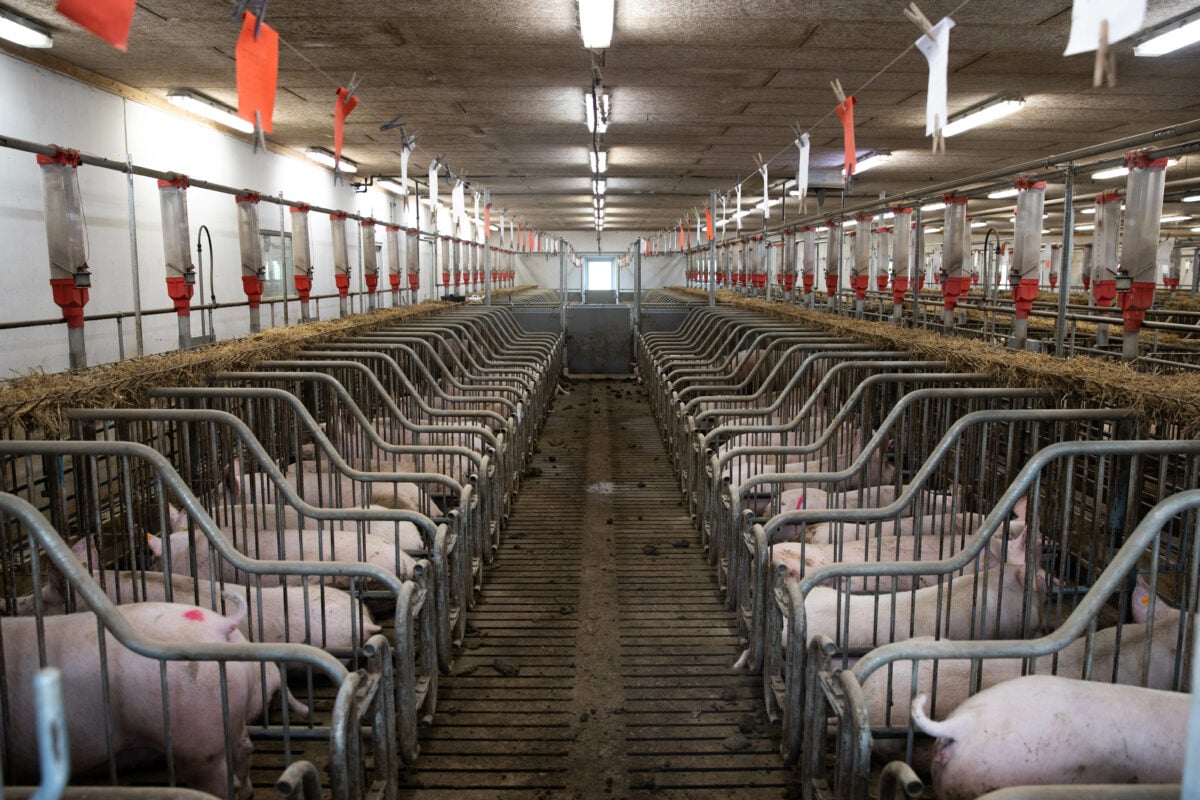 Veganism on the rise in Germany
The number of vegans in German doubled to 2.6 million (3.2 percent of the population) between 2016 and 2020, according to research by vegan supermarket chain Veganz. Around 10 percent of Germans are vegetarian.
Germans are also eating less meat than at any time since records began in 1989. German Agriculture Ministry data shows that meat consumption had dropped to 52kg (115 pounds) per person in 2022. In 2017, the amount was 61kg (134 pounds).
A recent study found that Germany has the highest sales of plant-based milk and the greatest market potential for dairy-free alternatives of six European countries analyzed.
Young people concerned about the climate crisis seem to be helping drive these dietary shifts in Germany. The German government also appears to be more clued up on the climate and environmental impact of animal farming than many other governments. The Federal Government approved a food strategy in December 2022 embraces the need for eating less meat and more plant-based foods to address health and sustainability issues.
In Lower Saxony, new regulations in the AFP also make it easier for fruit and vegetable growers to secure funding, since they "in themselves also provide sufficient improvement in environmental and climate protection."
More like this: