In what sounds like science fiction, cell-based meat is now coming to America. The USDA recently cleared the way for cultivated (sometimes known as "lab grown" or "cultured") chicken to be sold in the US. Two brands – named UPSIDE Foods and GOOD Meat – have both been given the green light to start producing and selling their products across the United States. 
Unlike other popular meat alternatives such as Impossible Foods and Beyond Meat, which are created from plant-based proteins such as pea protein isolate, cultivated meat starts with animal cells that have been reproduced in large numbers.  
This process of creating meat-identical products such as chicken involves cultivating cells in the lab and growing them into products that are "real meat" – but don't involve the killing of animals. This makes them more animal and planet-friendly.
Now that UPSIDE Foods and GOOD Meat have received approval from the USDA, American diners will get to try the cultivated chicken at restaurants. Both brands will debut their product with chefs who have led Michelin-starred US eateries. UPSIDE Foods product will be served by chef Dominique Crenn in whole cut form at Bar Crenn in San Francisco. The launch date has not been announced. GOOD Meat will be plated up by José Andrés at an as-yet-unconfirmed restaurant in Washington DC by the end of July.
What is cultivated meat?
Cultivated meat is developed using a small number of animal cells grown in bioreactors. The cells are compounded with nutrients, including amino acids, to replicate the conventional chicken texture and nutritional value accurately. 
UPSIDE Foods extracts the animal cells from fertilized eggs or live chickens into small vials. The company's founder Dr. Uma Valeti explains that the production process allows the company to turn that small number of cells into a significant amount of saleable meat. In about ten days, the cells can grow into chicken products that are ready to market, cook, and eat. 
"All the cells that make the cut of high-quality cells make it into this seed lab," Valeti said to CBS News. "And from that small amount, we can grow thousands of pounds of meat."
Is cultivated meat vegan?
In short, no. Since cultivated meat involves the use of an animal and is real meat, UPSIDE's – and other brands' – chicken products cannot be considered strictly vegan. However, because the product can be made without slaughtering animals, cultivated meat is supported by some vegans. It's also been heralded by some as a solution to many of the environmental issues brought on by animal agriculture.
Research shows that food production contributes to 25 to 30 percent of global emissions, an issue that motivated Valeti to find an alternative to traditional meat production. As for the real-world application and climate impact of cultivated meat, a recent report published by Boston Consulting Group estimates that if 11 percent of meat were swapped with protein alternatives like cultivated meat by 2035, it would be the equivalent in CO2 savings of using renewable energy to fuel 95 percent of jets now in use by the airlines industry.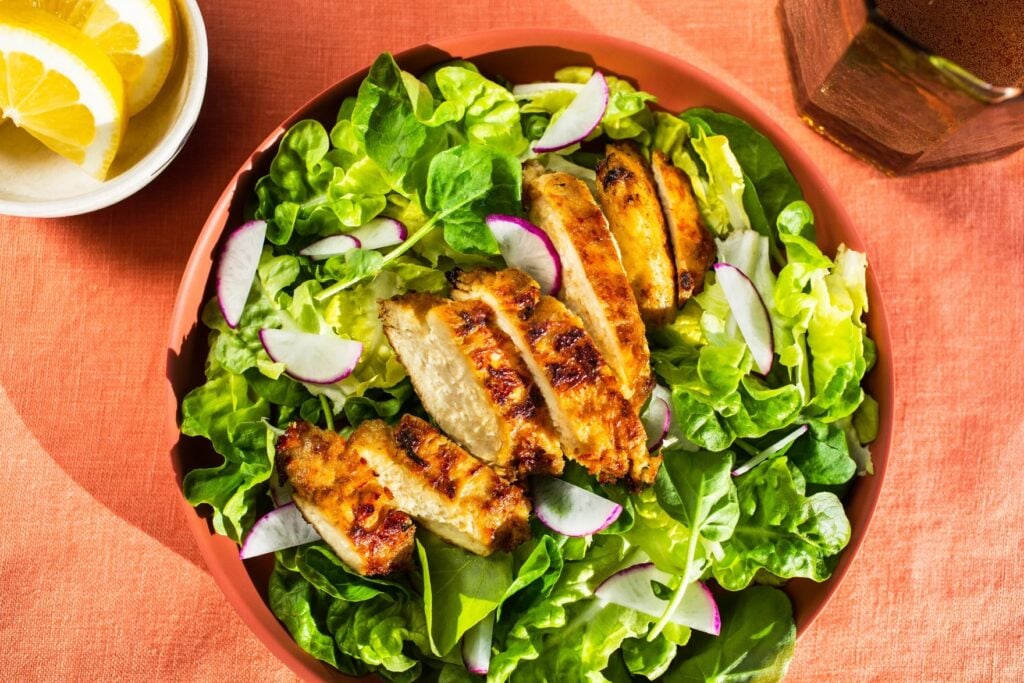 "I realized that we were raising 70 billion animals every year to feed about seven billion people. And when I looked at the environmental impact of that, it was an astronomical impact. And the amount of feed that goes to feed animals, to feed us, that equation just seemed wrong."
"These products are not vegetarian, plant-based or meat alternatives – they are real meat, made without the animal," the company states. UPSIDE's goal is to "not make consumers have to choose between the foods they love and a thriving planet, and is working to build a better food system where everybody has access to delicious, humane, and sustainable meat."
US consumers try cultivated meat
On July 1, Michelin star chef Dominique Crenn celebrated the USDA decision by debuting UPSIDE's cultivated chicken on the menu of her San Francisco restaurant Bar Crenn to a select few customers. 
"The landmark sale of UPSIDE's cultivated chicken at Bar Crenn officially marks cultivated meat's debut into the U.S. market," said Valeti. "It represents a giant leap towards a world where people no longer have to choose between the foods they love and a thriving planet. I can't wait for more people to get their first bite – it's a magical moment that inspires an exciting world of new possibilities."
The initial group of consumers was selected from UPSIDE's social media contest that asked followers to answer the question: Why are you hungry for a better future, and how are YOU making a difference? Crenn prepared the cultivated chicken by frying it in a Recado Negro-infused tempura batter that was served with burnt chili aioli. 
"It's the first time meat has made it back on my menu since 2018 because UPSIDE Chicken is the first meat that I feel good about serving," Crenn said. "From its exquisite flavor and texture to its aroma and the way it cooks, UPSIDE Chicken is simply delicious, and it represents a significant step towards a more sustainable and compassionate food system."
Next steps for commercial cultivated meat production
Since its founding in 2015, UPSIDE has raised $608 million with the help of investors such as Bill Gates, John Mackey, Tyson Foods, and Cargill, as well as Prince Khaled bin Alwaleed's KBW Ventures. The company recently closed a Series C round of $400 million in investment to build a commercial facility with unplanned capacity of tens of millions of pounds of cultivated meat at scale, a round led by Singapore based Temasek and the Abu Dhabi Growth Fund (ADG)among others. 
These investments helped the company develop the Engineering, Production, and Innovation Center (EPIC) in 2021. The facility is designed to produce over 50,000 pounds of finished products per year. At the time of its opening, the company predicted its future capacity would reach over 400,000 pounds per year. 
When will cultivated meat be available to the US public?
Currently, Upside Foods and Good Meat do not have set dates for their commercial debut, but both companies have confirmed that production will begin immediately.
"This approval will fundamentally change how meat makes it to our table," Valeti said. "It's a giant step forward towards a more sustainable future – one that preserves choice and life. We are excited to launch with our signature, whole-textured UPSIDE chicken and can't wait for consumers to taste the future."