Last month, four Greenpeace activists occupied a Shell oil platform on a ship called the White Marlin. They were calling on the organization to stop causing environmental damage, and to make amends for its current impact.
On Sunday (February 12), the occupation came to an end. All the activists (including two more who joined at a later date) disembarked at the port of Haugesund, southwest Norway, after a 13-day occupation.
They had traveled 4,000 kilometers from where they first boarded, north of the Canary Islands. No arrests were made. According to Greenpeace, this was its longest-ever occupation of a moving oil platform.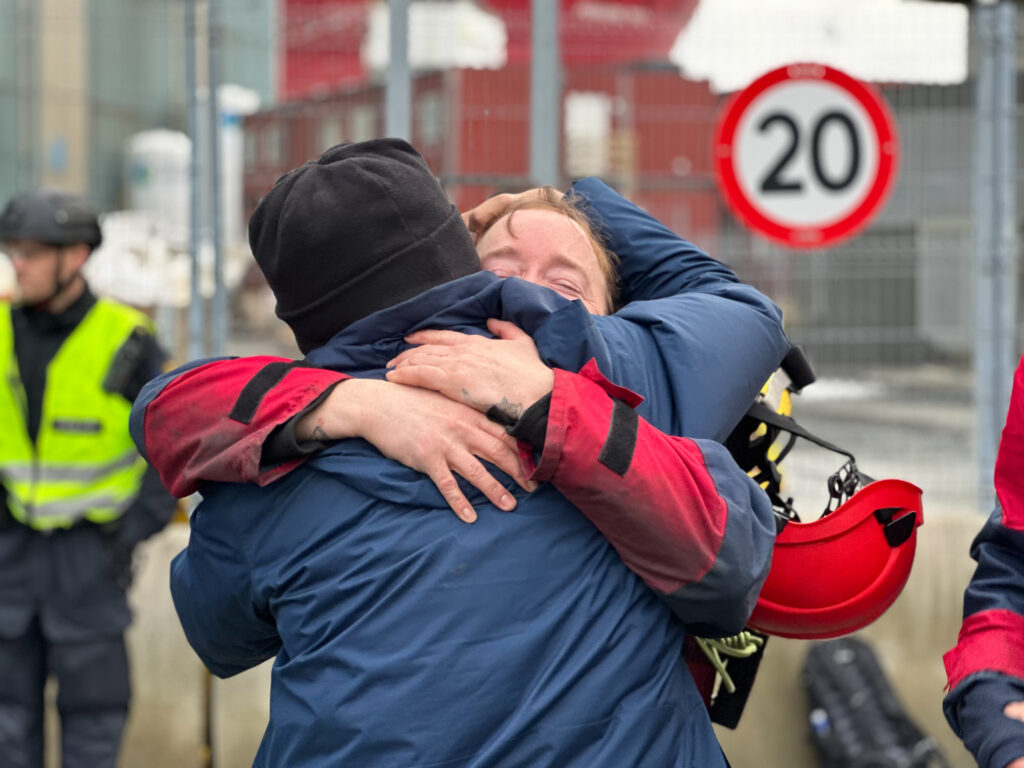 "There are two things I can't wait to see: a real shower and for Shell to pay for the damage they have caused," said Greenpeace activist Imogen Michel, as she walked off the White Marlin.
"This oil giant rakes in obscene profits from a business that's leaving people in the UK shivering in their homes and communities all around the world reeling from floods, storms, and droughts. And this huge platform we've been standing on shows how they'll use that money – to pump out more of the fossil fuels causing the problem."
The occupation
On January 31, the activists successfully boarded the 34,000-tonne oil platform as it was being transported to the North Sea.
To protest the seemingly profit-over-planet mindset of Shell, activists Carlos Marcelo Bariggi Amara, Yakup Çetinkaya, Imogen Michel, and Usnea Granger managed to climb on board the White Marlin after their own vessel, the Arctic Sunrise, caught up to it in the Atlantic Ocean. Approaching in small boats, the campaigners used ropes to scale the Shell vessel and hung a banner that simply stated: "Stop drilling. Start paying."
The non-violent protest was launched two days before Shell announced record profits of $40 billion in 2022. The amount is twice that accrued in 2021 and is largely attributed to the Russian invasion of Ukraine. The latter saw oil and gas prices skyrocket.
"Shell must stop drilling and start paying. We're taking action today because when Shell extracts fossil fuels it causes a ripple of death, destruction and displacement around the world, having the worst impact on people who are least to blame for the climate crisis," Yeb Saño, executive of Greenpeace Southeast Asia, said in a statement.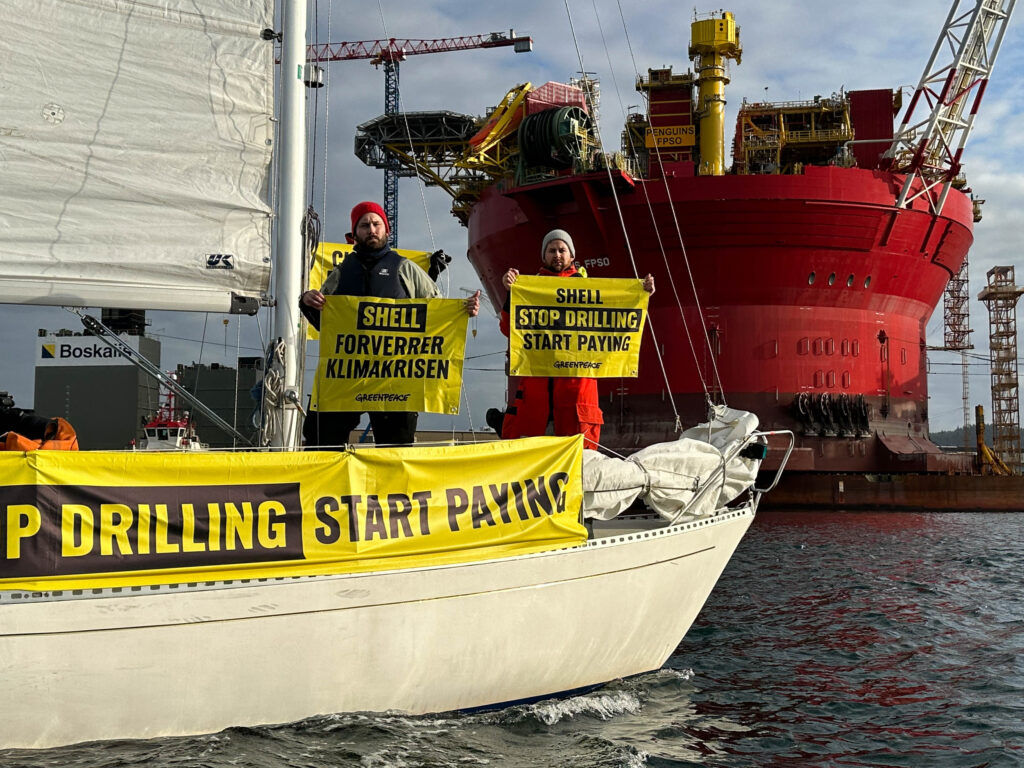 "Shell and the wider fossil fuel industry are bringing the climate crisis into our homes, our families, our landscapes and oceans. So we will take them on at sea, at shareholder meetings, in the courtroom, online and at their headquarters. We won't stop until we get climate justice. We will make polluters pay."
Greenpeace questions Shell's environmental claims
The White Marlin, a 51,000-ton ship, was laden with an oil and gas platform. This is destined to open up eight new oil wells in the Penguins North Sea oil and gas field.
It represents the first new manned platform in the region for three decades. Moreover, it could help Shell generate the equivalent of 45,000 barrels of oil every day. Due to this high yield, the company has not ruled out developing the area even further.
Despite its continued oil and gas exploration, Shell claims that it is compliant with net zero commitments. Greenpeace questions this. Especially as it calculated that the Penguins site emissions could reach more than 45 million tons of CO2 equivalent. This is close to twice the annual emissions of Denmark, which stood at 28 million tons last year.
Greenpeace hit with legal claim
Shell has since ordered Greenpeace to pay at least $120,000 for alleged damage caused by activists. Greenpeace said it has not been provided specific details on what damage had occurred, but the environmental organization stands accused of having "unlawfully" erected solar panels and a wind turbine on the oil platform.
It has also been accused of "intimidation."
Greenpeace highlights that, based on Shell's recently published annual profits, it would take the oil giant less than two minutes to make the minimum amount of $120,000.
Greenpeace's Saño commented: "If Shell is intimidated by being held to account for its decades of causing death, displacement, and destruction around the world – it should buckle in. Because we are armed with hope and determination that we will make polluters pay. The only way forward for the future of humanity is for Shell and all fossil fuel companies to stop drilling and start paying."