Transport company Dublin Bus has been accused of allowing "highly misleading and toxic" advertising posters after it ran a pro-vegan campaign.
Around 120 buses across Ireland carried messaging from the non-profit animal advocacy organization Go Vegan World. Slogans included "it's time to stop using animal products" and "dairy takes babies from their mothers." Billboards were also bought to drive the anti-animal agriculture message home. The ads were taken down on January 12, 2023, after running their paid-for course.  
The criticism of the adverts came from politician Michael Collins. He stated that "Dublin Bus is enabling the thrashing of Irish agriculture for paltry advertising revenue." He went on to claim that Go Vegan World was spreading untruths.
Michael Collins' statement
"On the one hand I just want to laugh at the fringe idiocy that was on full display, in terms of the almost childishly misinformed narrative that was being advocated," said Collins in a statement sent to Plant Based News.
"On the other hand, however, we must be clear that these advertisements are part of a sustained and ongoing ideological assault on Irish agriculture that will not rest until the farmer who sells his stock is equated, in a moral sense, to almost being like a murderer."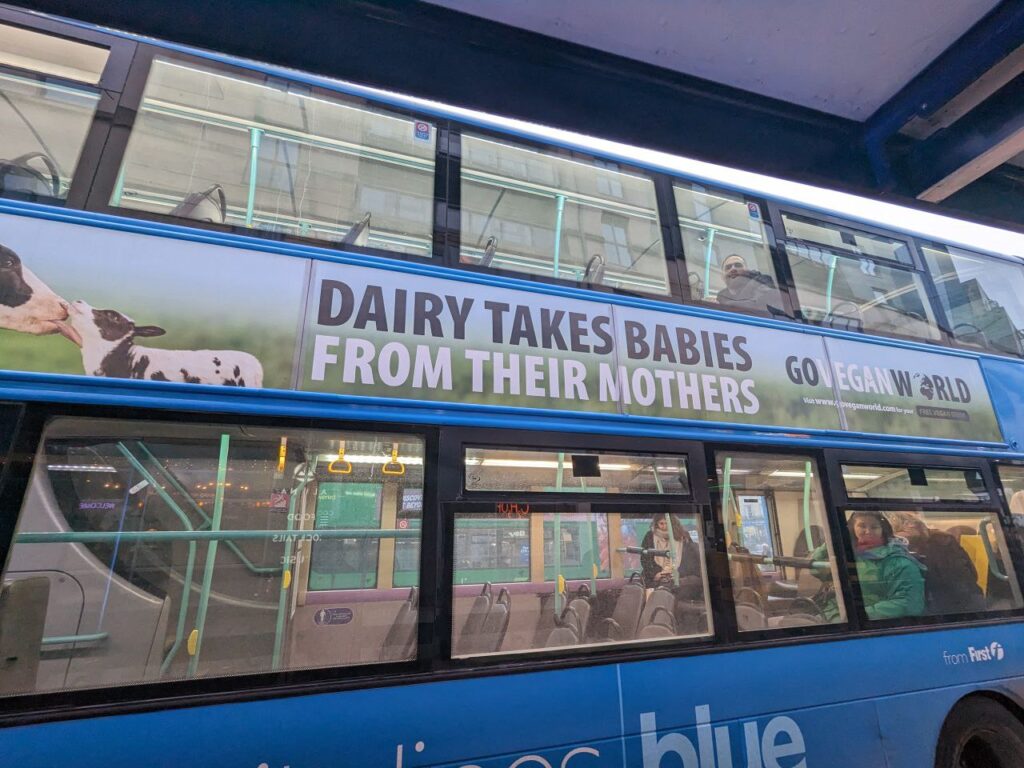 He went on to claim that the transport company was willingly contradicting itself by allowing vegan messaging. This is due to it having previously showcased pro-agriculture companies. 
Bord Bia is one such company. As an Irish food board, it promotes the sale and consumption of domestic food, particularly meat and dairy. It has previously bought advertising space on the Dublin Bus fleet and was directly referenced by Collins as a more worthy recipient of promotion.
Collins is flagrant about his support for Irish agriculture. He has called the agrifood sector a "significant part of the economy" and sympathized with farmers and fishers during what he identifies as a "difficult time" for their livelihoods.
Dublin Bus responds to Michael Collins
Following Collins' public condemnation of the vegan adverts, Dublin Bus gave a statement to Agriland. It demonstrated that the campaign was not in violation of any advertising standards.
"Advertising formats are available to all brands, businesses and organizations," the statement read.
"Commercial advertising and marketing communications in Ireland are subject to the rules and guidelines as set out in the Code of Standards for Advertising and Marketing Communications in Ireland, as published and administered by the Advertising Standards Authority for Ireland."
Despite this, and the campaign having run its course, Collins appears to still be on the warpath. He claims to be set on involving Ireland's minister for Agriculture, Food and the Marine, Charlie McConalogue.
Also calling on McConalogue to condemn the pro-vegan adverts is politician Carol Nolan. She has previously produced a video addressing farmers to reassure them that she is on their side.
Go Vegan World clarifies its position
In a news article on its website, Go Vegan World highlighted that the timing of the ministerial complaints was at best, ineffective.
"We expect that credit will be claimed for forcing Dublin Bus to remove the ads regardless of the fact that the campaign had already ended," the advocacy organization wrote.
"Go Vegan World has a legal right to freedom of expression. Public and semi-state bodies that sell advertising space must apply advertising policies in compliance with that right. They cannot remove ads simply because some people object to the content."