Switching to a plant-based diet was a game-changing decision for Drew Harrisberg, who has lived with type 1 diabetes since the age of 22.
The exercise psychologist, sports scientist, and diabetes educator recently appeared on the Plant Based News podcast with Robbie Lockie.
Harrisberg transitioned to a plant-based diet five years ago, having previously tried using a ketogenic diet to manage his type 1 diabetes.
Swapping keto for a plant-based diet
After some initial positive results following a ketogenic diet, Harrisberg realized that his blood sugar level was still "far more variable" than he would have liked.
He decided to try a plant-based diet. "It was an eye-opening experiment," he tells Lockie on the podcast. "Within a couple of weeks, my insulin sensitivity was back, my fasting blood glucose was fantastic.
"I was able to achieve equivalent flatline blood glucose levels throughout the day as I was on these lower carbohydrate diets… if not better!"
Research has shown that a plant-based diet can improve "insulin sensitivity and other health markers" in type 1 diabetics.
What is type 1 diabetes?
Type 1 diabetes is an autoimmune disease. This means that the body's immune system attacks its own cells.
The disease causes the level of glucose in blood to become too high. This happens because the pancreas cannot produce enough insulin. As a result, anyone with type 1 diabetes needs to inject insulin.
The importance of exercise
Harrisberg describes the "amazing moment" when he discovered the massive impact exercise can have on blood glucose levels.
"I went to the gym and did a workout for an hour, I finished my workout and checked my blood glucose level and my glucose had gone back down basically into the normal range.
"I was able to essentially correct a high blood glucose level just by contracting my muscles!"
Harrisberg explains that, "when you contract your muscles the glucose gateway moves to the surface of the cell, which means it's now open for glucose to enter from the bloodstream."
Studies have shown the link between exercise and lower blood glucose levels, as well as boosts to the body's sensitivity to insulin.
Frustration with conflicting online advice
"It's very easy to demonize carbohydrates," Harrisberg says, reflecting on the proliferation of what he believes to be outdated medical advice and misinformation.
In Harrisberg's experience, replacing a diet high in saturated fats – which is mostly found in meat, eggs, dairy, animal foods – with unsaturated fats from plant sources such as avocados, olive oil, nuts and seeds has helped improve his own insulin sensitivity.
Diabetes UK advises that people with type 1 diabetes should eat a balanced diet. It stresses the importance of eating fruit and vegetables rather than avoiding all carbs.
Even so, some health professionals still rely on the view that removing carbohydrates is the best way to manage diabetes.
Think beyond blood glucose
"A low-carb diet is very sexy and popular online," Harrisberg says. But people with diabetes shouldn't just be thinking about blood glucose.
Diabetes can come with increased risk of other health conditions, including cardiovascular disease and cancer. "Is a ketogenic diet helping you with all of those things or is it just helping with that one biomarker that you're zooming in on?" Harrisberg says in the podcast.
A plant-based diet has been shown to have a whole array of benefits, in addition to helping control blood glucose levels. Research has shown a lower risk of heart disease, stroke, high blood pressure, and obesity, among many others.
"The best thing you can do for your health is to make the change yourself," Harrisberg says.
Carnivore diet is not evidence based
Elsewhere in the discussion, Harrisberg gives his views on the carnivore diet.
"It's short sighted and it's not evidence based," he says, lamenting the growing number of influencers who champion the effects of eating a diet made up of 100% animal products.
"If you want quick fixes, anything can work short term," Harrisberg says. In contrast, a significant number of scientific studies have proven a long-term link between meat consumption and worse health outcomes.
"A ground-up approach" to turning Australia vegan
Harrisberg also speaks about the challenges of changing values around meat in his native Australia.
"I grew up eating so much meat," he explains in the podcast. "We have huge farming industries – dairy and beef – and I think that the government love to support these industries; for them it's like national pride, it's in our body, in our DNA."
Can that be changed? "I think to convert the majority of the Australian population towards eating a more wholefoods, plant-based diet is an uphill battle," he admits.
Even so, Harrisberg sees reasons for optimism. "Social media, Netflix, Gamechangers, those kinds of interventions definitely helped with messaging… it's a ground-up approach."
Masculinity should not be linked to meat eating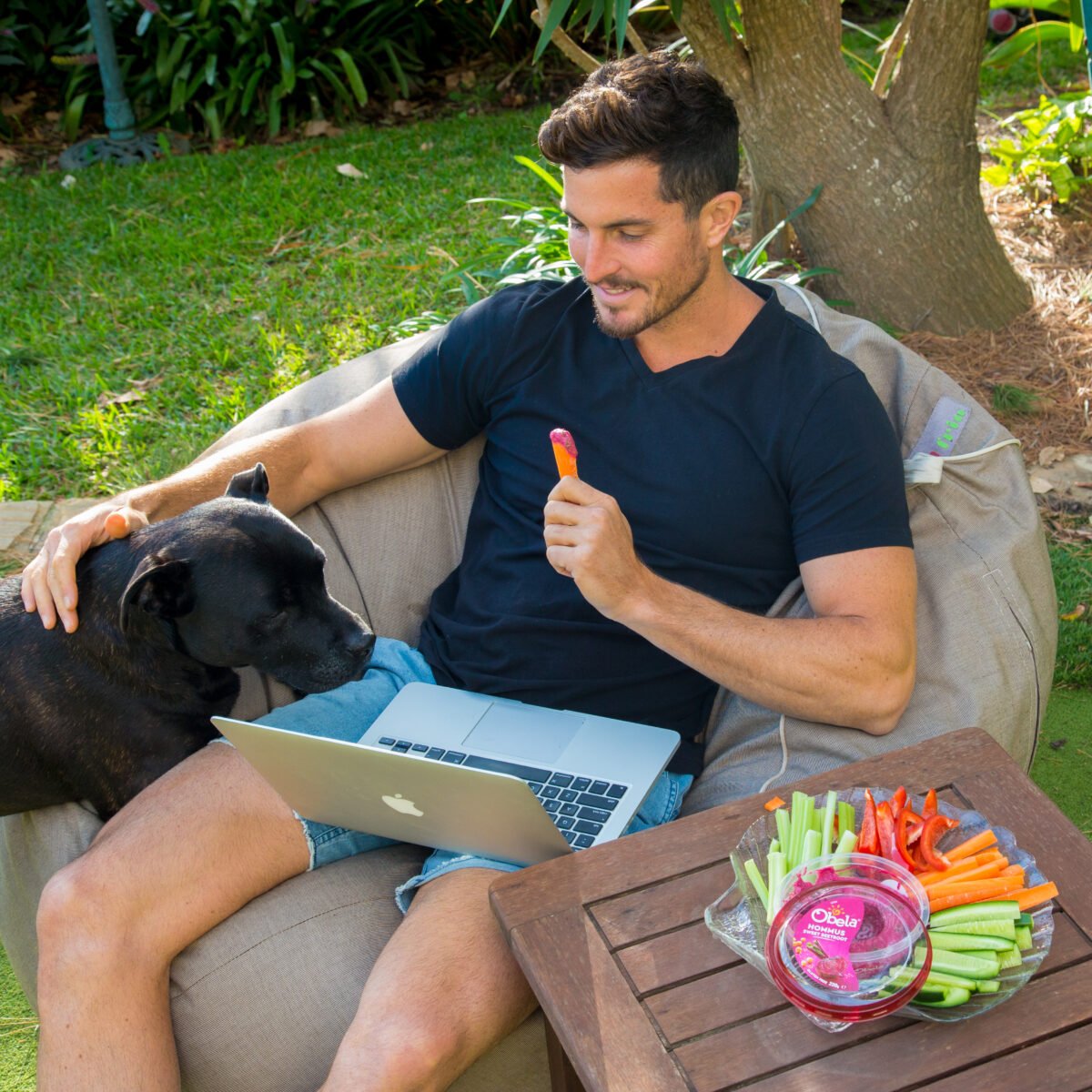 Switching to a plant-based diet in a meat-loving culture is not always simple. This can be especially true for men whose identity sometimes seems to be linked to devouring animal corpses.
Harrisberg is adamant though that this stereotype needs to be challenged. "What makes you a man is standing up for what you believe in despite what culture or social pressure or your friends or family or what the world thinks.
"Very quickly you realize you don't need to eat animals to get protein or build muscle."
Health, animals and the planet
In the podcast, Harrisberg also reflects on his love for animals.
"15 years ago, I would always have said that I loved animals but my actions would beg to differ since I was eating them at every meal."
Harrisberg has lived with a rescued dog for seven years and regularly shares photos of himself with animals on social media.
For Harrisberg, eating a plant-based diet "started as a journey into health." Five years later, "it has evolved into something that is equal parts health, animals and the planet."
Harrisberg is speaking of his own personal experience, and you should always consult with your doctor if you're seeking personal advice on your health.
More like this: