When identical twins Jordan and Jeremy Allen started losing their hair in their early 20s, doctors told them it was due to stress and there was nothing they could do.
They had been suffering from alopecia on and off for most of their lives. Alopecia is an autoimmune disease that's considered to be incurable in the medical community. "We had just graduated from college, all is well in life, and I woke up with a patch on my head," Jordan tells Plant Based News. "I go to see different dermatologists, different barbers, who say I'm stressed. But I'm moving to San Diego, I've just graduated from college, I have a job lined up, I'm very happy. I really believed that it wasn't due to stress and I knew there had to be a cure."
They had recently watched films What The Health and Forks Over Knives, which both explore the impact of plant-based diets in disease reversal. Like many people they were skeptical of veganism, due to preconceived ideas of what the lifestyle entails. "I thought a plant-based diet was for people who did yoga from Oregon," says Jeremy. "I thought I was only going to eat salads… I didn't want to be a rabbit eating vegetables all day every day."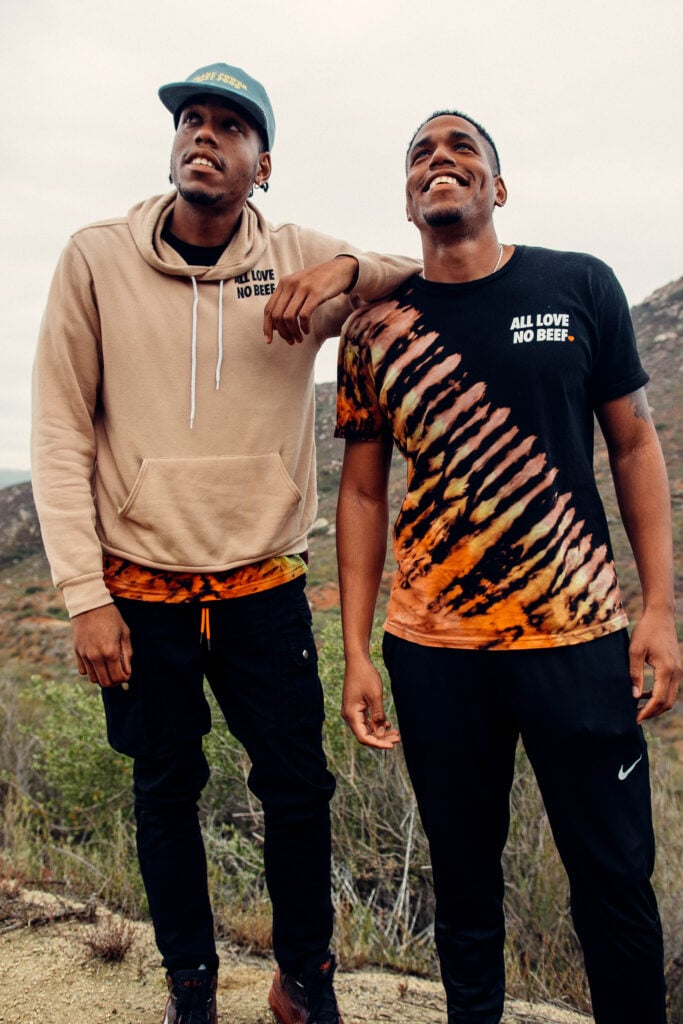 Reversing disease on a vegan diet
Despite their reservations, they decided to give plant-based eating a try. Jordan went down a route that he describes as "cold turkey," adopting a whole foods plant-based diet overnight. In just a few days, he says, his hair was returning.
"It was crazy," he says. "Within days I saw the hair follicles growing in. Within weeks all of it had grown back."
The foods he says helped reverse his alopecia consisted largely of fruits, vegetables, legumes, and nuts. "I was the smoothie king," he says. "Lots of berries. I heard that you definitely want to focus on dark leafy vegetables, dark fruits, the darker the color the better. So a lot of kale, a lot of cherries, a lot of spinach, also a lot of nuts, some nut butters as well. But I try to stay as whole food plant-based as possible. Heavy quinoa, couscous, broccoli, spinach, and asparagus."
Jeremy's plant-based transition was more gradual. "I loved soul food, the food that my family grew up cooking and that I grew up on. I can't just leave fried chicken behind, I love that, so how can I replace it with something thats's vegan?"
After seeing Jordan's transformation, however, he was inspired to follow in his footsteps. Rather than immediately switching to a whole foods diet, he eased himself in with vegan meats and other alternatives. While his hair grew back slower than Jordan's did, he was able to adapt to different foods more easily.
"I was trying everything that could mimic a real animal product," he says. "But then from there that kind of led me into being able to eat a bowl with tempeh and asparagus and the leafy greens. So I just made a ton of stir-fries. I still do that today."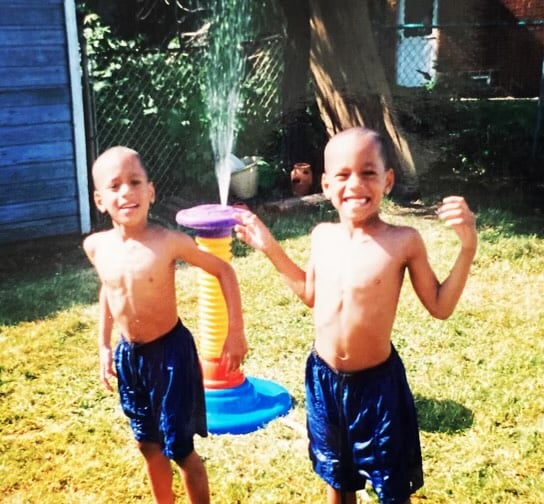 Jeremy points out that there's no need to eliminate the foods you love to enjoy a healthy plant-based lifestyle. He started his journey by eating vegan versions of the foods he'd always enjoyed, including burritos and tacos.
"I would just go to the different Mexican shops," he says. "That was where I was getting alot of my beans, rice, get some fajita vegetables. I was like 'Oh I can do this if I can eat Mexican food, if I can still eat out, and not feel like a loner, I can still go out with my friends.'"
All Love No Beef
Since starting out their journey, Jordan and Jeremy have become well-known advocates for the plant-based lifestyle. They set up a platform called All Love No Beef in 2020, which aims to educate the public about the benefits of healthy eating.
"[At that time] there was just a lot of turmoil going on, at least here in the United States," says Jeremy. "Centered around Black Lives Matter movement, things of that nature, people fighting for food equality. We saw that there was a lot of animosity, hostility, and we decided it would be a great time to introduce a slogan or a brand. It started off as a slogan: All Love No Beef. It led to us putting it on t-shirts, and it just took off from there. It was more of a conversation starter. Positive healthy dialogue with different people."
A certified plant-based nutrition coach, he also focuses on spreading awareness about the link between vegan eating and disease prevention.
"You don't have to take a bunch of medicine and prescriptions and prescribed drugs to treat disease," he says. You can also treat it through nutrition and through food."
Find out more about All Love No Beef on their website.