There is no right or wrong way to fill the vegan tacos in this recipe, so just go at it! Plus, once you have added the filling, black beans and salsa that are recommended, you can add your own favorite toppings. Avocado, lettuce, and tahini dressing all work well to bring a cool and creamy note to the otherwise piquant flavors. But there are literally no rules, so get experimental.
Vegan taco recipe
The best thing about tacos is that you can eat a lot of them before getting full. Unlike their big brother – the burrito – tacos are lighter and smaller, making them a multiple-serving snack.
They are also great for sociable evenings where you want to just dive in and make your own meal. Serving fillings and tortillas in bowls and on plates allows for a mix-and-match approach to construction. Happily, it caters to picky eaters too (we feel your pain parents).
Simply put: there's no downside to food that can be customized to each eater and is consumed with your hands!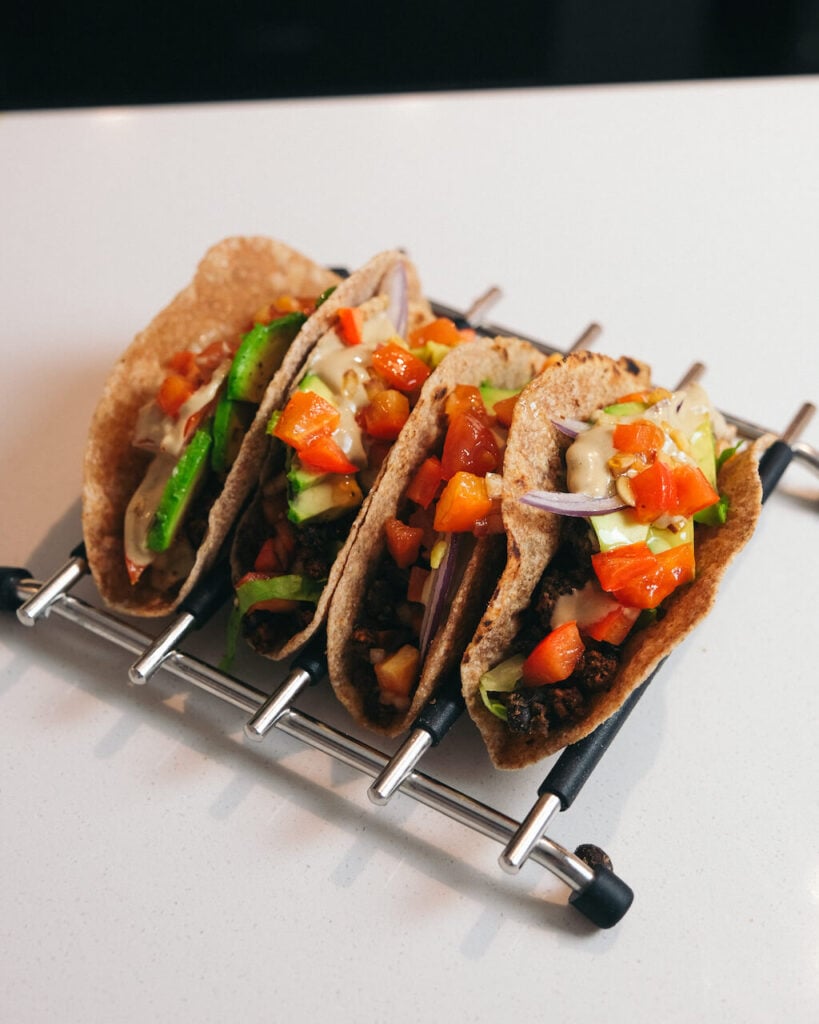 Ingredients
For the filling
1

block

super firm tofus

handful

pecan nuts

4

sun-dried tomatoes

2

cloves

garlic

1/2

red onion

1

tbsp

nutritional yeast

2

tsp

ground cumin

1

tbsp

oregano

pinch

cayenne pepper

2

tsp

smoked paprika

2

tsp

tomato paste

100

ml

soy sauce

(can use tamari instead)

dash

maple syrup

drizzle

olive oil
For the black beans
1

red onion

1

clove

garlic

1

can

black beans

pinch

chilli flakes

pinch

cayenne pepper

pinch

cumin
For the salsa
1

red pepper

1

tomato

1

red onion

1

clove

garlic

dash

soy sauce

dash

apple cider vinegar

drizzle

olive oil

pinch

chilli flakes
For the casing
1

packet

favorite taco shells or tortillas for soft tacos
Instructions
For the taco filling
Place all of the dry ingredients (pecans, diced tofu, sun-dried tomatoes, garlic, and red onion) into a blender or food processor and pulse together. We want to avoid blending so that we maintain a thick and chunky texture.

Once pulsed add in the remainder of your ingredients and return to the blender. Pulse again until you are left with a nice thick mix.

Empty the contents onto a baking tray and spread out before placing into a pre-heated oven (160c) for 20 minutes, stirring and turning half-way through.
For the black beans
Finely chop the red onion and garlic and fry off in a hot pan with a small bit of oil until golden brown.

Once they are golden brown add your black beans, chilli flakes, cayenne pepper and cumin to the pan and stir.

Take off the heat once cooked and place the contents to one side
For the salsa
Finely chop the red pepper, tomato, red onion and garlic and place into a bowl.

Marinade the contents of the bowl with the soy sauce, apple cider vinegar and olive oil. Give it all a good stir to make sure all the ingredients have mixed. leave for 20 minutes.

If you want your tacos a little spicy, I would add some chilli flakes into your salsa.
Build the tacos
Add any combination of the above ingredients into your taco shells or tortillas and enjoy!
Top tips for the best vegan tacos
Try not to get too hung up on the authenticity of your tacos. There's only one place to enjoy a real Mexican taco and that is Mexico. Anything else is simply a delicious homage, made to your own tastes and that's fine!
If you're making these for family mealtime, try adding some less spicy or heavily flavored filling options, to let younger diners navigate a new cuisine with confidence.
—
This vegan tacos recipe was republished with permission from chef Jay Halford. Read the original recipe here.