If anyone knows about game changers, it's James Wilks. The influential producer and star of the 2018 documentary The Game Changers that has been viewed by an estimated 200 million people, now has launched a new plant protein powder, called FYTA, available online only.
We know what you're thinking: Who needs another plant protein powder in a market full of them? We thought the same thing, but because Wilks, a former professional fighter, is known to do his homework, study the science and come up with innovative ideas that no one else has pulled together in quite the same way, we were intrigued.
It took two years to launch FYTA, which is made from a proprietary blend of whole foods, including upcycled barley and lupini beans, meaning it is "more soluble, absorbs quicker, and brings out your inner fighter," he says. "Everyone is fighting for something."
In an exclusive interview with Plant Based News, Wilks was extremely convincing on the subject of FYTA's benefits to humans, the planet, and its unique value proposition, all of which set it apart in a crowded field. "I never could find a protein powder that fit all the criteria that we learned about while making The Game Changers," Wilks tells us. "So I created one."
When Wilks created FYTA (which sounds like "fighter" with a British accent), his goal was to create the most sustainable, healthy, clean protein source for vegans and plant-based athletes that delivers 30 grams of protein per serving. The result is a powder that dissolves easily into coffee, oatmeal, or a glass of ice cold plant-based milk.
Made from Upcycled Barley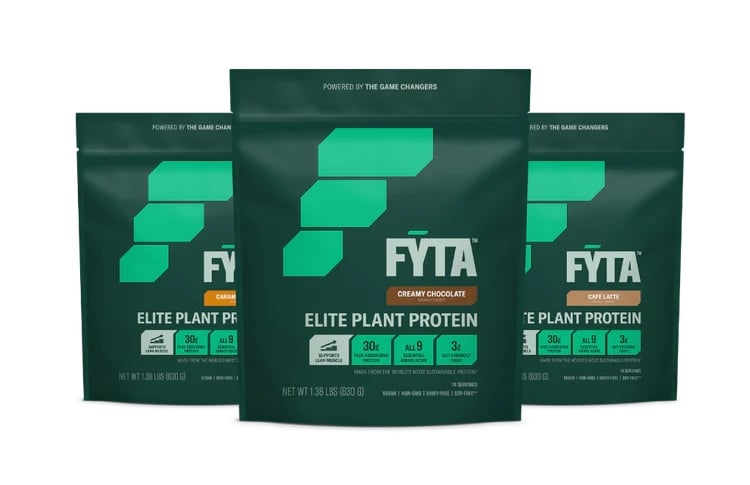 FYTA is not made from the usual ingredients such as pea protein, but instead uses upcycled barley, making it arguably the most environmentally friendly of the category, Wilks explains.
"In that hunt for the optimal protein source, when I came across upcycled barley, which is the primary protein, that was it. Barley was the food of the Gladiators, as you might remember, from The Game Changers."
Wilks explained that the formula was all important in creating FYTA. They use barley, lupini beans (which has one of the highest protein profiles of any plant) and other whole foods to deliver three grams of fiber, phytonutrients, and antioxidants as well as all nine essential amino acids.
He wanted a protein that was sustainable, had all nine amino acids and could dissolve easily, he explained. "The barley in FYTA is a sprouted ancient grain and we've combined that in a proprietary blend that also delivers three grams of plant based fiber," Wilks adds.
"The thing that really blew me away was the solubility of this protein," Wilks says. "Which means you can mix it with water or plant-based milk like you would any other protein powder, but it goes places that other protein can't go, such as coffee! You can't do that with any other plant protein I'm aware of. You can't even do that with whey protein. Because it's chalky.
"So, right now, I've got 30 grams of protein in my coffee, and it just virtually disappears."
FYTA has 30 grams of protein per two scoop serving and dissolves easily into coffee, oatmeal, smoothies or other drinks, and is designed to absorb quickly into the body, to help muscles recover faster and build lean body mass.
"Anyone who is training or trying to lose weight, or when you're over 45, you need more protein, to maintain muscle," Wilks says. He uses the powder throughout the day and encourages anyone who is concerned about protein to make sure they get protein at every meal or snack.
He's heard from fans who have baked FYTA into cookies to add a boost of protein to their baked goods, and suggests that adding FYTA to the batter is a way to make healthier brownie bites.
An environmentally clean protein powder
Because FYTA is made from upcycled barley, essentially the parts of the plant that are not used in making beer, it uses less water, land, and CO2 resources to create than other protein powders on the market, Wilks says.
Other companies may use added sugar or fat, whereas FYTA is sweetened with monk fruit and meets all the recommendations for heart health set out by the American Heart Association.
"Our flagship products have less than 10 percent of calories coming from saturated fat."
Whereas others use crops grown in countries and places that allow pesticides, heavy metals, and other impurities to creep into the soil. His barley is sourced from crops grown in the breadbasket of the US and are non-GMO and grown with the same standards used for baby formula.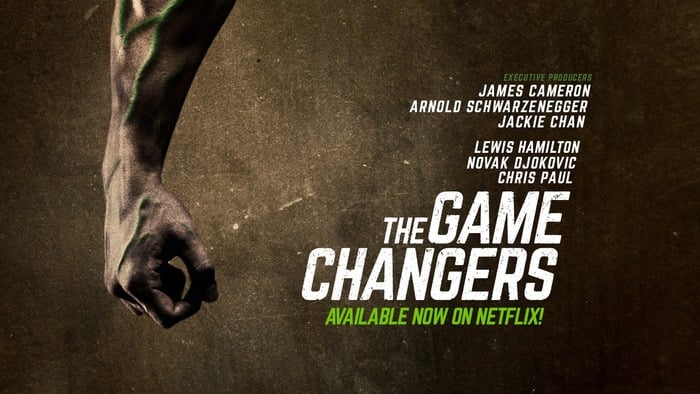 "It's been two years in the making to get this to where it's at," Wilks says, "But obviously there's a lot of pre-work that we've done before that understanding, health and nutrition in the plant-based place."
His next baby is a long-awaited sequel to The Game Changers, which he also expects to take two years to make. "We aren't going to just make the same exact story again," he says. This one will be completely fresh. Wilks explained that it takes time to get things right, but the new film will be worth the wait.
Where to buy FYTA protein powder
FYTA comes in three flavors: Creamy Chocolate, Caramel Vanilla and Cafe Latte. Currently FYTA is only sold online and shipping is limited to the US but Wilks is hoping to change that and expand to the UK, Australia and other countries as soon as production allows. The powder costs $39 per bag, has 14 servings, but you can choose to use one scoop instead of two and get 15 grams of protein in your coffee.
The experts behind FYTA
Along with working with a number of world-class sports dietitians and food scientists, Wilks enlisted a team of nutritionists and doctors to help work on the FȲTA team to help guide ingredient selection and product formulation. They include:
Chief Nutrition Officer TJ Waterfall MSc, RNutr
Chief Health Officer Amanda Brown-Tortorici, PhD, MS, RD, CSCS
Chief Medical Officer Angie Sadeghi, MD
Chief Sustainability Officer Sarah Elizabeth Nájera Espinosa PhD(c), MSc
More like this: