A number of UK mammals, including otters and foxes, are thought to have infected with the H5N1 avian flu strain that has claimed the lives of millions of birds worldwide.
After testing 66 mammals, the Animal and Plant Health Agency (APHA) found that nine otters and foxes were positive for the illness. It is thought that they became infected after eating the bodies of dead and infected birds.
"These are wild mammals that scavenge on sick and dead birds, and there's a lot of dead wild birds at the moment due to the bird flu presence around the globe," Professor Ian Brown of the APHA said in a statement.
"We've recently detected events both here and around the world, evidence that this virus can on certain occasions jump into other species."
The first recorded case of avian flu infecting non-avian UK wildlife came in 2021. Then, a fox in Durham was found to be a victim. Following this, a mix of seven foxes and otters in 2022 were also recorded. The most recent case of an infected fox in Powys, Wales, came last month.
While authorities have been quick to reassure the public that transmission to humans remains unlikely, it is not impossible. However, it has in the past mostly affected people who have been in very close proximity to birds.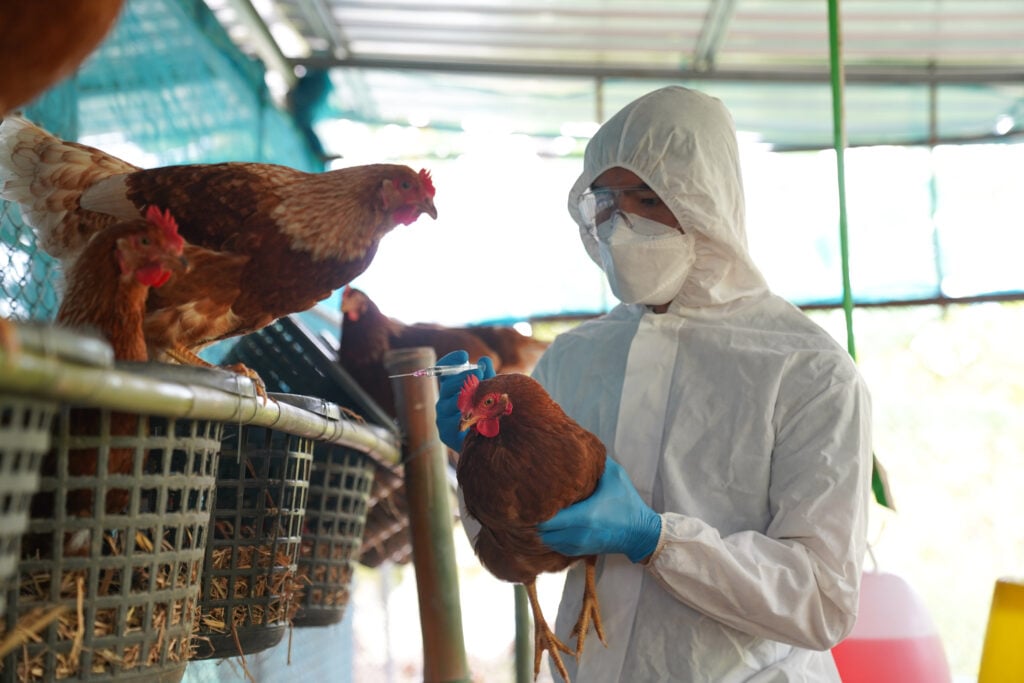 Is avian flu the next pandemic?
The cross-species infection development raises concerns as it could point to potential mutation of the disease.
Should the H5N1 flu strain mutate to spread via human-to-human contact, there is potential for another pandemic.
Though human transmission is still rare, relevant health authorities — including the APHA and the UK Health Security Agency — are keeping a watchful eye on developments. The latter has stated that there are no "signals of increased risk to the general public" as a result of the small mammalian outbreak.
Professor Brown agreed, claiming that avian flu is "a long way" from posing the same threat as COVID-19. However, he calls for vigilance and research into if the H5N1 virus mutates when it jumps between hosts.
Avian flu infects a mink fur farm
The threat of avian flu mutation appears to be elevated in Spain. There, mammalian infection was uncovered in October last year.
A fur farm in Galicia was found to be a hotbed of H5N1 infection after minks started dying. The cause was largely attributed to the cramped conditions in which tens of thousands of animals were housed. It was deemed that this allowed the flu virus to mutate and spread quickly.
The fur farm outbreak resulted in four percent of the animals dying from flu-related pneumonia. A further 50,000 were slaughtered to prevent further spread.
The incident has been called a "warning bell," and prompted experts to issue fresh warnings about the link between intensive farming and pandemic risk.