As with most vegan food products, vegan mayonnaise is growing ever more popular. Thick and creamy, mayo is used for dipping fries in, making potato salad, and as a condiment in sandwiches and hamburgers.
Mayo is traditionally made from oil, egg yolk, and an acidic ingredient like vinegar or lemon juice. But it can easily be made vegan, and there are many egg-free versions available to buy in stores these days.
Back in 2018, it was reported that there had been a boom in vegan mayo sales. The report noted that non-vegan mayo brands would have to add plant-based options to remain successful. Since then, a number of mainstream mayonnaise brands have added plant-based versions to their collections.
Here's everything you need to know about the best vegan mayo brands and recipes, and how healthy the condiment is.
What's vegan mayo made of? Common ingredients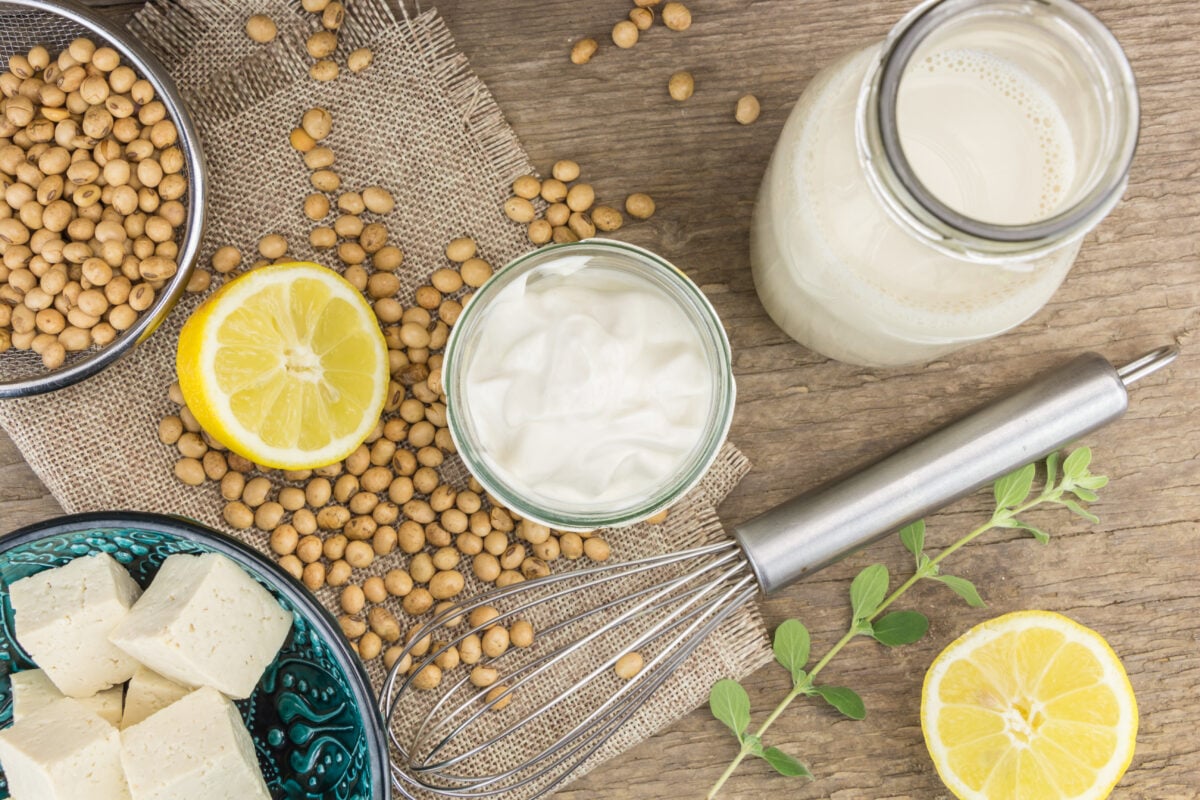 Oil is often the key ingredient in vegan mayo. Lots of different oils can be used, such as sunflower seed, rapeseed, or grapeseed. It needs to be emulsified with something plant-based to thicken it up, like aquafaba (chickpea water). Soy milk is also a popular option to emulsify the oil.
Vegan mayonnaise production will usually involve lemon juice or vinegar as well. This will add flavor but will also help to stabilize the mixture and stop the oil from separating. Other ingredients commonly used for flavor include mustard and salt. Some people prefer a sweeter taste and will add a little sugar or maple syrup.
Vegan mayo recipes
There a tons of recipes for vegan mayonnaise to be found online. Here is a selection.
This one from Loving it Vegan uses avocado oil, soy milk, a little olive oil, maple syrup, white vinegar, and salt.
Simply Vegan Blog uses only four ingredients in its recipe: sunflower oil, soy milk, apple cider vinegar, and salt.
In this recipe by the Minimalist Baker, aquafaba is mixed with ground mustard, salt, apple cider vinegar, and brown rice syrup, before being blended with sunflower oil.
Lemon juice makes an appearance in this recipe by Vegan Heaven. The other ingredients are soy milk, canola oil, Dijon mustard, salt and pepper, and apple cider vinegar.
Is vegan mayo healthy?
Like traditional mayonnaise, vegan mayo generally isn't eaten for its health benefits, but because it's tasty. Being free from egg yolk means it has no cholesterol. But the other ingredients are pretty similar to traditional mayo.
The type of oil used can change the nutritional profile of your vegan mayo. Avocado oil has high levels of healthy monounsaturated fats and is low in polyunsaturated fats, making it healthier for your heart than some other oils. Sunflower oil is high in unsaturated fats and low in saturated fats. It also contains a little vitamin E and K, as well as a monounsaturated fat called oleic acid, thought to have anti-inflammatory properties.
Using aquafaba may make your vegan mayo slightly healthier. Chickpeas are considered healthy, and small quantities of the nutrients transfer into the water, including B vitamins, folate, and iron.
Store bought vegan mayo will list its nutritional information on the packaging. So if you prefer certain ingredients in your mayo over others, it's best to check before you buy.
The best vegan mayo brands
There are different vegan mayo options depending on what country you're in.
US
Follow Your Heart Vegenaise consistently appears in lists of best vegan mayos on food blogs. Available in its first iteration in the 1970s, it's had a long time to be perfected. There are also versions made with different oils, and a chipotle version.
Chosen Foods Vegan Mayo is another popular product. It blends avocado oil and aquafaba. Earth Balance, a popular dairy-free brand, makes two kinds of its Mindful Mayo, an Original with canola oil and one with the addition of olive oil.
Sir Kensington's Classic Vegan Mayo is another popular choice. It's made with sunflower oil and aquafaba.
UK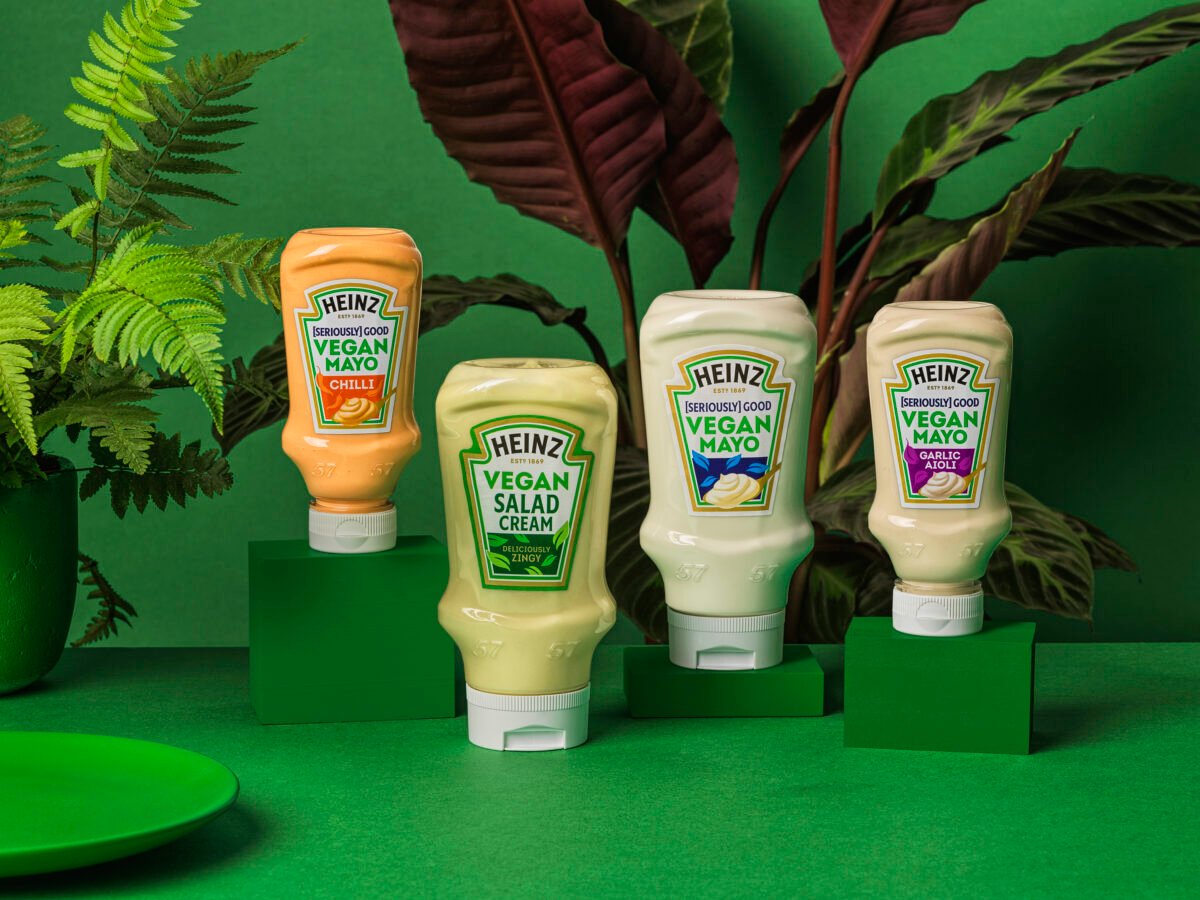 Dr. Will's Vegan Mayo is more like a homemade mayo in that it only uses ingredients you'd find in your kitchen. Some people adore it and others find the consistency strange, but it's free of preservatives and sugar.
Hellman's is probably one of the best-known makers of mayonnaise. Its vegan version, which is also available in garlic and chipotle flavours, is made mainly with rapeseed oil. Heinz, another popular mayo brand, also released a plant-based version in 2020.
The UK also has strong game when it comes to flavoured vegan mayonnaise. The Vurger Co Smoky "Bacon" Mayo (made with rapeseed oil), Thai Dragon Sriracha Mayo (made with soybean oil), and Rubies in the Rubble Chilli Mayo (rapeseed oil and aquafaba) are very popular.
More like this: