Tuna. You either miss it or you don't when you turn vegan but there is a quick and easy way to get the taste and texture you crave with none of the animal cruelty. Yes, with chickpeas and some clever seasonings.
Vegan chickpea tuna is versatile, so don't get sucked into thinking it's only for sandwiches. Although we will admit that on some freshly baked seeded bread, this recipe is amazing. But that's not all it works well with. Jacket potatoes, salad, and even simple tortilla chips all make the perfect vessels for your tuna substitute.
If you're worried about making something with a 'fishy' taste, let those fears melt away. While this is a hearty and recognizable dupe for a traditional tuna mayo, it doesn't have seafood vibes. Capers and lemon juice nod to fish flavors but can't reproduce them on their own. However, if you want to get as close to the taste of tuna as possible, you could try shredding seaweed and adding it to your recipe. This will up the seafood feel.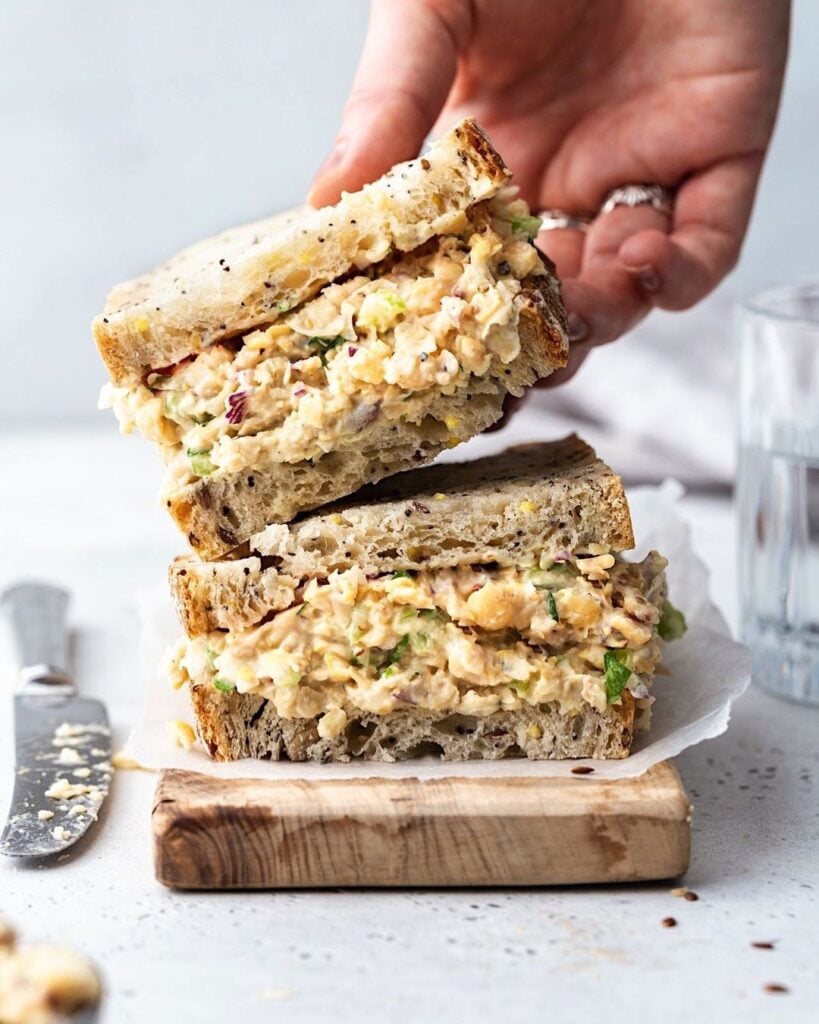 Ingredients
400

g

chickpeas

(drained)

1/2

red onion

1

stick

celery

3

tbsp

vegan mayo

1/2

lemon

1

tbsp

capers

1

tsp

wholegrain mustard

1

tsp

garlic granules

1

tbsp

fresh parsley

(finely chopped)

salt

pepper
Instructions
Place the drained chickpeas in a large bowl and mash with the back of a fork until broken down. You can leave some chunks for added texture.

Finely chop the red onion, celery and roughly chop the capers. Add to the mashed chickpeas.

Add the vegan mayo, juice of half a lemon, mustard, garlic and parsley. Give it a good stir until fully combined.

Taste and season with salt and black pepper and serve however you like best!
Top tips for turning up your vegan chickpea tuna
Everything you add to your vegan tuna or serve it with will either amplify or lessen its impact. Because you are trying to replace something very specific, there are a couple of things you can do to make sure the taste hits the right spot.
Firstly, don't buy generic lemons or use bottled lemon juice. To get the zing of true tuna mayo, you need to use freshly squeezed unwaxed lemons. Meyer is the best variety but anything organic will work beautifully.
Make space for capers. These little pickled powerhouses add an incredible amount of flavor and a subtle seafood vibe. If you're going without the optional seaweed to add fishy notes, then capers are a must.
If you are aiming for lunchtime sandwich perfection buy the best bread you can. Wholemeal, seeded, and crusty would be our choice as it balances out the sharp lemon and caper notes with earthy goodness.
—
This recipe was republished with permission from Cupful Of Kale. Find the original here.