Chewing gum is a hugely popular product that's a staple in many of our lives. There are a huge number of brands available, and it's consumed all over the world. It's chewed for fun, to freshen breath, and sometimes to relieve stress. Given its many uses, some new vegans might be concerned that it may contain animal products and therefore be unsuitable for their lifestyle.
Going vegan is a learning curve, and there are a number of sweets and confectionary items that contain hidden animal products. Gelatin is a particular issue in these. Made from the bones of animals (such as cows and pigs), its presence in many candies renders them unsuitable for vegetarians, as well as plant-based eaters.
But does chewing gum contain gelatin? Or any other animal products? Here's what you need to know.
Is chewing gum vegan?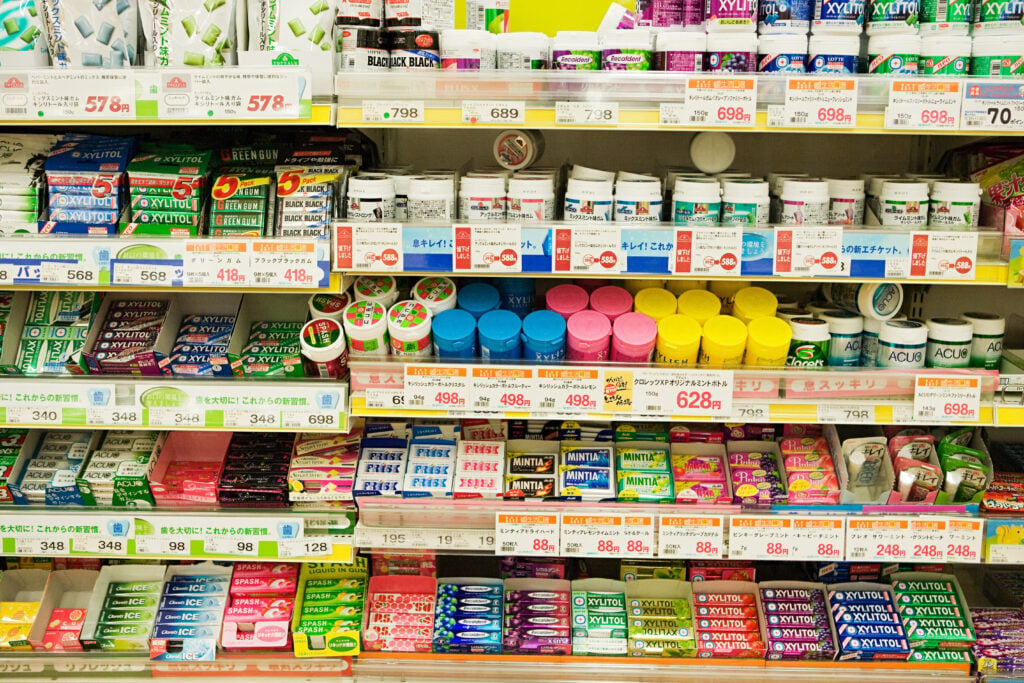 In short, the answer is complicated. Chewing gum isn't inherently non-vegan, and a number of mainstream brands don't contain animal products.
The main ingredient in chewing gum is a gum base, which is typically made with natural or synthetic waxes or resins. Other ingredients are sweeteners (such as sugar, corn syrup, aspartame, and sorbitol), flavorings, softeners, stabilizers, and emulsifiers.
How do I know if chewing gum is vegan?
The ingredients list is a good place to start. Many will list animal ingredients on their labels, meaning they'll be easy to spot if you know what you're looking for. Some ingredients to watch out for include:
Lanolin (which is derived from sheep wool)
Beeswax
Shellac (which comes from insects)
Gelatin (made from animal bones)
Carmine (red food dye derived from insects)
If a chewing gum has any of the above ingredients, it is not suitable for vegans. Things can get tricky, however, as some ingredients can be sourced from both plants and animals. Companies are often not obliged to list this source, and it may therefore be almost impossible to know if a gum is vegan without checking with the manufacturer. Ingredients that can either be plant or animal-based include:
Lecithin (can be made from soy or animal milk)
Stearic acid (an additive also known as E570, which improves gum's plasticity)
Glycerine (a sweetener also known as E422)
What chewing gum brands are vegan?
A number of popular chewing gum brands are entirely vegan-friendly, and some have a few vegan options.
Wrigley's, which is owned by Mars, stocks a number of plant-based chewing gums (though some do contain gelatin). Its hugely popular Extra gum contains no animal products, and neither does Juicy Fruit. Mars brands Hubba Bubba and Eclipse are also suitable for vegans. Orbit has some animal-free products, but some contain gelatin.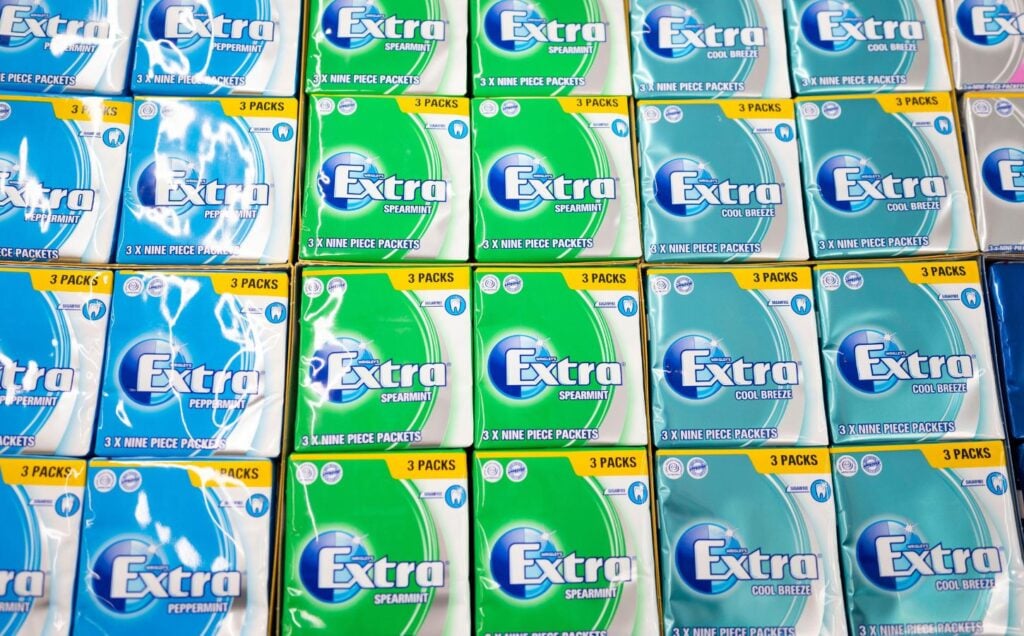 Mentos stocks a number of vegan gum products. It's Spearmint, Mentos Sugar Free Gum Peppermint, Pure Fresh Peppermint, and Spearmint & Mentos Air Action are all plant-based. Its Mentos 3 Layer, Juice Burst gum, and Strawberry Squeeze all contain animal products.
NB: you should always check with the manufacturer if you are not sure of a gum's vegan status. Some ingredients change, and products may vary by country.
More like this:
Are Jelly Babies Vegan? What You Need To Know About The Sweets
Is Sugar Vegan? The Ongoing Debate Explained